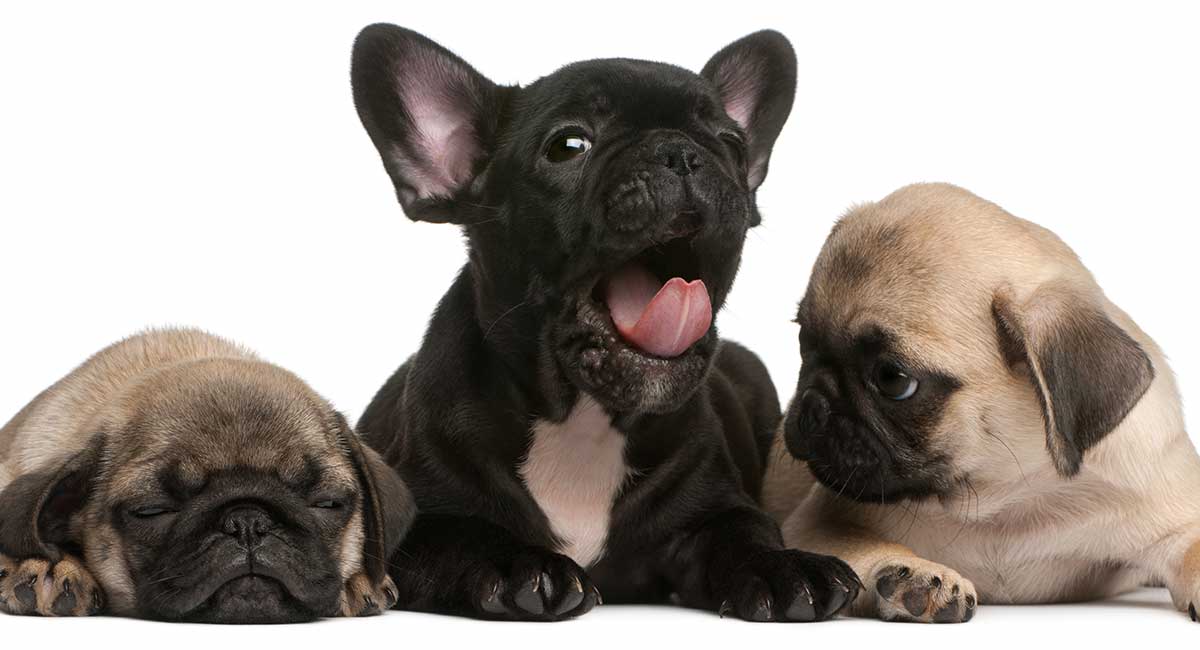 Are you trying to compare the Pug vs French Bulldog to find out which breed will suit you best?
These are both popular breeds and can seem quite similar from their looks! But, they're more different than you might think!
Let's take a closer look at the Pug and French Bulldog to see who will win this battle of the flat-faced pooches.
Which of them will make the best pet for you, if either?
Pug vs French Bulldog History
First, let's look at the history of the Pug and French Bulldog breeds to see how different their origins are!
Do dogs that look similar always have the same origins?
Pug Origins
The Pug actually originates in China.
Pugs were a favorite companion of Chinese emperors and other members of high society in the Chinese imperial court.
Dutch traders brought the pug to Europe around the 16th Century, helping to popularize it in the wider world.
The Pug has even had a wild history of names!
In China, the Pug was known as Lo-sze, in Finland they were known as Mopsi, in Spain they were known as Doguillo – the list goes on!
But has the French Bulldog experienced the same popularity throughout history?
French Bulldog Origins
This breed emerged when the toy Bulldog became popular in England in the mid-19th Century.
Many British people moved to France during this time, giving their dogs a new home!
These toy Bulldogs were bred with other small breeds, producing lovable features like their bat ears!
The breed was named Bouledogue Francais – the French Bulldog!
It became popular in Parisian social circles and soon spread across the rest of the world.
So the origins of these two breeds are quite different!
But let's take a look at the other aspects of their characters!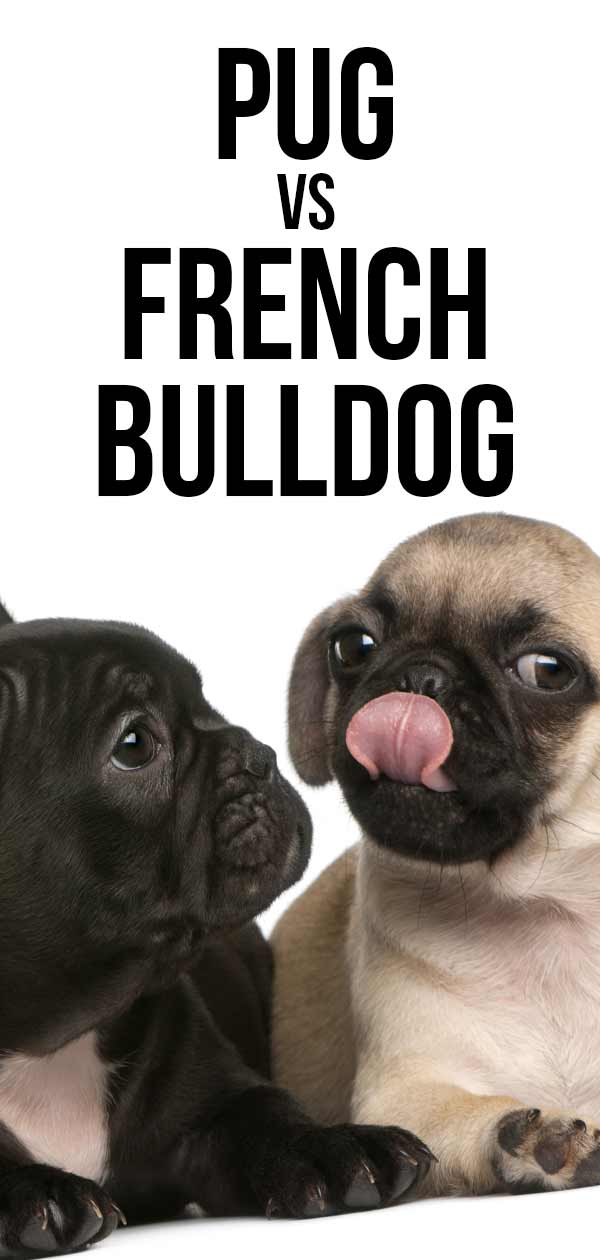 Pug vs French Bulldog Appearance
Both of these breeds are small dogs.
The adult Pug grows to between 10 and 13 inches at the shoulder, and generally weighs between 14 and 18 pounds.
The Frenchie, similarly, grows to between 11 and 13 inches, and should weigh less than 28 pounds as a healthy adult.
Females are usually smaller than males in both breeds.
Pug vs French Bulldog Face Shape
Both breeds are brachycephalic, which means they have 'flat' faces.
This is a popular trend, but unfortunately can have some health consequences – which we will look at in more detail later.
Pugs have round heads, wrinkled faces, large eyes, and a screw tail.
French Bulldogs, in contrast, have quite a square head.
However, they have the same large eyes and wrinkled faces!
Their most distinctive feature is their large bat ears.
Pug Coat Colors
The Pug has a short, smooth coat that comes in three colors.
They can be all black, or silver or fawn with a black face.
French Bulldog Coat Colors
The short French Bulldog fur comes in a huge variety of colors!
They can be
or any combination of these colors!
They can also have the following markings
ticked
brindle
white markings
piebald, or
a black mask.
Pug vs French Bulldog Temperament
Temperament is another important factor when choosing a new dog.
How different are the personalities of the Pug and the French Bulldog?
Pug Temperament
Pugs were originally bred to be a companion dog, so are known for their endearing temperament.
They are friendly and social dogs that love spending time with their family.
Pugs are also great with children, which means they can suit families of any size!
French Bulldog Temperament
The personality of the French Bulldog is similar!
They are another extremely loyal and affectionate breed that love spending time around their families.
Both of these breeds make great lap dogs, and are good choices if you're looking for a dog you can relax with.
So although they differ a little in appearance and history, they have quite similar temperaments!
Pug vs French Bulldog Training
Training is another important element to consider when getting a new dog, especially if it's your first dog!
Getting an agreeable dog with good trainability helps create a well-mannered adult.
Both Pugs and French Bulldogs are relatively eager to please their owners, which makes training a little easier.
However, for best results, you'll need to train and socialize these breeds as early as possible.
Both breeds are known for being people-oriented.
However, early socialization will help ensure that your Pug or Frenchie is happy and confident around unfamiliar people, animals, or situations.
Pug vs French Bulldog Exercise
If you live in the city, you might be hoping to find a dog breed that requires little exercise.
Both breeds require daily exercise, but can suit a more urban environment.
Pugs and Frenchies are known for loving time indoors with their family.
However, all this lounging around can lead to an obese pooch.
Make sure to exercise your pup daily to keep it fit!
Problems with Exercise
Both breeds love active play time with their families – you can play outdoor games like fetch with them to keep them active.
However, there are some issues to be aware of when exercising your Pug or French Bulldog.
Because these dogs are flat-faced breeds, they are known to experience breathing difficulties.
This means they can really struggle in hot or humid weather, and should not be allowed to over-exert themselves. Even if they are enjoying themselves.
Let's take a closer look at some other health problems they can suffer from.
Pug vs French Bulldog Grooming
Both Pugs and French Bulldogs have short fur.
They shed regularly, and should both be groomed weekly to help get rid of any loose fur.
Other than this, neither breed has massive grooming requirements.
Pug vs French Bulldog Health
Unfortunately, despite the attraction of these breeds, both are prone to some pretty serious health issues.
To try and avoid some of these issues, only buy puppies from parents who have been health screened.
There are some more serious issues that both breeds suffer from.
Let's take a look at those, as well as any other health issues these breeds are prone to.
Brachycephalic Breeds
Pugs and French Bulldogs are both brachycephalic breeds, which means they have flat faces and shortened jaws.
Brachycephalic breeds have closed nostrils, and lots of wrinkled skin around their nose.
This isn't an issue these breeds have always had – but something that has been bred into them over the years.
Issues in Brachycephalic Breeds
Brachycephalic breeds can have real trouble breathing, especially in hot or humid weather, or when exercising.
They can be prone to heatstroke in these situations.
The shortened snout does not come with fewer teeth, which means dental hygiene is important.
Studies suggest brachycephalic breeds may also have a higher risk of post-anesthetic complications.
Brachycephalic Ocular Syndrome
Shortened faces can actually also cause problems with Pug and French Bulldog eyes, known as Brachycephalic Ocular Syndrome.
These breeds have shallow eye sockets, which result in protruding eyes.
Protruding eyes are more vulnerable to general damage, as well as other problems such as infections and eye ulcers.
These conditions can actually result in your pup losing his sight.
Another serious issue is the risk of your dog's eyes literally popping out which is distressing and painful for your pup.
Screw Tails
Both Frenchies and Pugs both also have screw tails.
Although they might look cute, screw tails actually cause serious spinal problems.
You will need to regularly check your Pug or Frenchie's tail is clean to avoid infections and other skin problems.
Screw tails can cause back problems such as malformed spinal bones.
Other French Bulldog Health Problems
So we've looked at issues that are common in both breeds, but there are still some that affect Frenchies but not Pugs.
Frenchies all have chondrodystrophy – a form of dwarfism.
Although this is loved by breeders, as it gives the Frenchie some of its well known characteristics, it leads to a lot of health problems.
These include back problems, oversized heads, and malformed hips.
In turn, these issues mean that Frenchies can struggle to give birth naturally.
Unfortunately, these problems are unavoidable in French Bulldogs, and is something to really consider before buying a Frenchie puppy.
Some of the other issues French Bulldogs can be prone to include: cataracts, Von Willebrand's Disease, and hip dysplasia.
Other Pug Health Issues
Although Pugs suffer from health problems shared with other Brachycephalic breeds, there are other issues they are prone to.
These include
hip dysplasia
heart problems like atrial septal defect and aortic stenosis, and
Legge-Perthes disease.
General Care
Making sure your French Bulldog Pug mix is healthy can seem like a tough task!
But we've got some other great guides that can help you.
For instance, here are some articles on the best food for each breed, or similar mixes.
Other Breed Comparisons
If you've loved this breed comparison, we've got plenty more for you to check out!
Take a look at the ones below.
Which Breed Makes a Better Pet?
The French Bulldog and Pug are both really popular breeds.
People love their human-like features and small structures.
Both are loved as family pets, especially by those who live in urban areas looking for dogs that require less exercise.
However, these features and qualities come at a severe price.
You need to be fully aware of the health conditions both breeds suffer from before getting a Pug or Frenchie.
Not only can these health conditions be expensive for you at the vets, but also can really cause suffering in your pet.
Weighing up the Pros and Cons
It's important to weigh up the pros and cons – do the negative health problems outweigh the pros of getting a Pug or Frenchie?
If your heart is set on these breeds, you might want to consider rescuing an adult.
Which breed do you think is best? Drop us a line in the comments below!
References and Resources
Get Pippa's free dog training tips delivered to your inbox