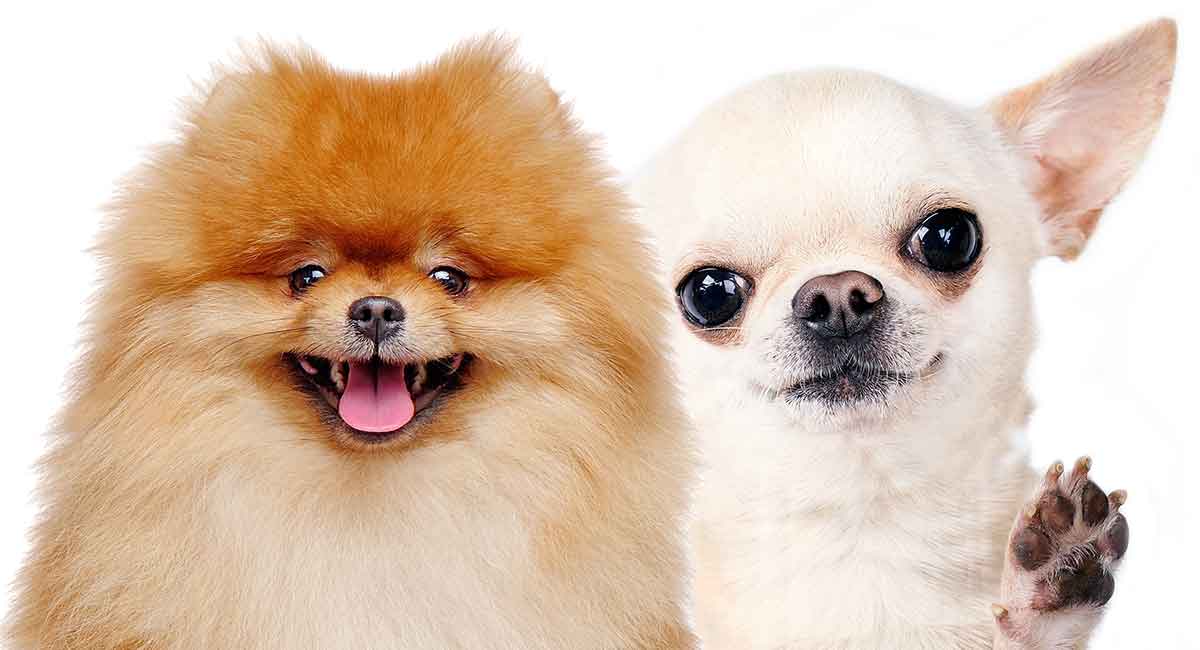 Struggling to choose between Pomeranian vs Chihuahua?
Well, that's no surprise.
Both of these tiny toy dog breeds are adorable!
So how do you choose between them?
It's best to learn all about each of the two breeds, then make your decision based on their health and temperament, and your household and lifestyle.
We've put together this handy guide to compare the Chihuahua and Pomeranian, so you have all the information you need to make the right decision.
Pomeranian vs Chihuahua History
Let's start by looking at the origins of these two tiny breeds.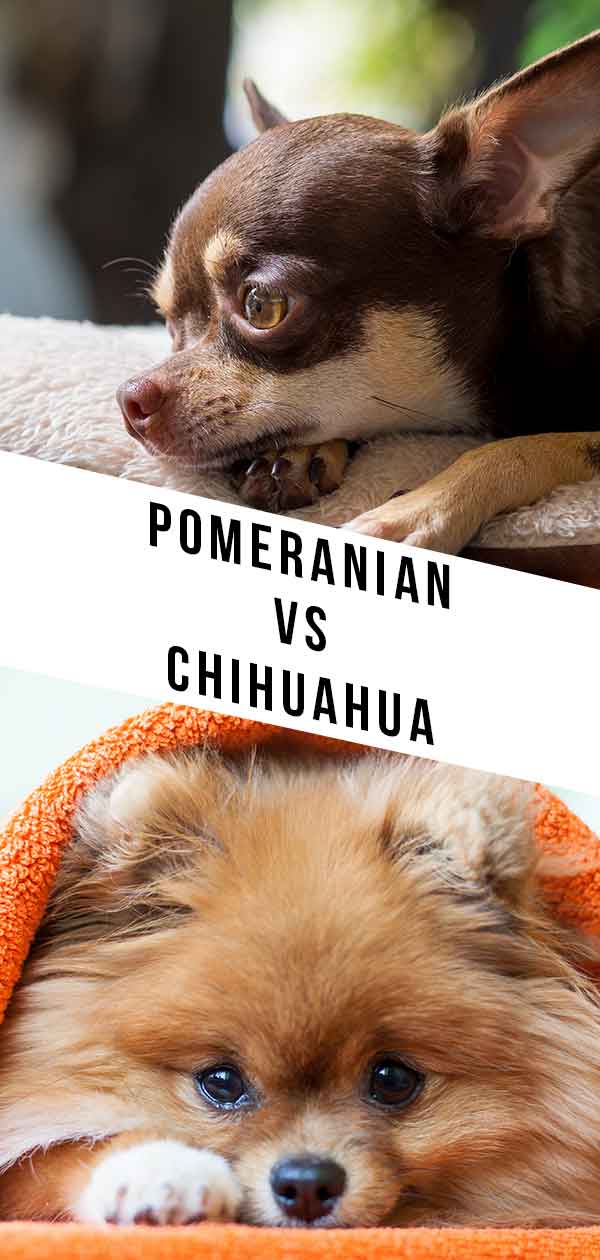 Despite their diminutive size, Pomeranians are a member of the Spitz family, which is primarily made up of working dogs from the Arctic, like the Samoyed, Akita, and Alaskan Malamute.
Pomeranians were bred from one particular member of the Spitz family, the German Spitz.
The first Pomeranians were around 30 to 35 pounds.
But Queen Victoria of England was a Pomeranian enthusiast and favored smaller Pomeranians.
Her enthusiasm led to smaller Pomeranians becoming more fashionable, resulting in the tiny breed we know today.
Chihuahua History
Chihuahuas, on the other hand, hail from a much warmer region.
Chihuahuas are believed to be descended from the Techichi, a now extinct ancient breed of small hunting dog favored by Mexico's Toltec civilization.
Americans, however, didn't begin to take notice of the Chihuahua until the mid-1800s.
And it wasn't until 1903 that the AKC recognized the breed.
In the 1960s, the breed's popularity soared as a practical companion dog for apartment dwellers.
Pomeranian vs Chihuahua Appearance
The Pomeranian has a compact size of just 6 to 7 inches tall and 3 to 7 pounds in weight.
Pomeranians have a pointed, fox-like face and erect ears, a short back, a high-set tail, and a long, fluffy double coat.
Orange is probably the most iconic coat color, but Pomeranians can also be black, blue, brown, cream, red, or white.
The coat can be single-color, bi-color, or even tri-color.
Pomeranians can also have sable, brindle, or merle coat patterns, or they might have white, tan, or merle markings.
Chihuahua Appearance
The Chihuahua is similarly sized, 5 to 8 inches tall and weighing between 3 and 6 pounds.
They can have a domed apple head or a flatter deer head, both of which come with large, upright ears.
They have a straight back and round, narrow body with a slender tail held aloft.
Chihuahuas can have either smooth or rough coats in a huge variety of colors.
They can be single-color or bi-color.
Pomeranian vs Chihuahua Temperament
The Pomeranian's big personality hints at their big dog ancestry.
They are confident, friendly, and bold, and love being the focus of their owner's attention.
They're generally calm, but they're also very chatty and make excellent watch dogs.
Of course, without proper training and socialization, these positive traits can develop into problems, like:
dominance and territorial aggression, especially towards other dogs
separation anxiety
excessive barking
Like Poms, Chihuahuas are fearless, talkative, and can be territorial, but they're less likely to be friendly and are always on high alert.
They're very loving towards their owner, but can also be overly protective of them.
Pomeranian vs Chihuahua Training
Pomeranians are intelligent, but their stubborn streak can make training more difficult.
They can be especially stubborn when it comes to housebreaking.
Even after being housebroken, they may refuse to go outside during poor weather.
Many owners choose to set up an indoor potty station with a puppy pad rather than attempt to fight inevitable messes in their home when it's rainy or cold outside.
This problem is compounded by the limitations on bladder control that all small dogs face by virtue of their size.
Small Bladders
A small bladder means less time that the dog can hold it.
For dogs the size of a Pomeranian or Chihuahua, the maximum is only about 6 hours.
Aside from potty training, Chihuahuas, like Poms, are intelligent but stubborn.
Despite their stubborn dispositions, it's essential for Pomeranians and Chihuahuas to learn certain commands in addition to the normal obedience training necessary for all breeds.
Recall and stay commands can be used to control aggressive or overly friendly pups, while a quiet command is key to prevent excessive barking.
You will need to train both Pomeranians and Chihuahuas not to jump off of beds or couches, which can hurt their delicate joints.
Instead they should learn to wait until a person places them on the floor.
Socialization and obedience training is important for all dogs, but especially so for Chihuahuas to prevent aggression.
Pomeranian vs Chihuahua Exercise
Pomeranians are small, but full of energy.
However, because they're so small, Pomeranians don't have much endurance.
Two to three short walks or active play sessions indoors each day should be plenty of exercise.
Chihuahuas need even less exercise and generally are able to meet their activity needs easily.
But short walks or exploring the yard are great opportunities to give Chihuahuas mental stimulation, work on their socialization, and practice obedience.
Pomeranian vs Chihuahua Health
The Pomeranian has an average lifespan of 12 to 16 years, and the Chihuahua's is even longer, at 15 to 20 years.
Proper care can help maximize an individual dog's longevity.
Pomeranian Care
The Pomeranian's beautiful, soft coat is a major draw for the breed, but it also requires major upkeep.
Many Pomeranian owners take their pup to the groomer every four to six weeks for a complete grooming.
This includes washing, brushing, ears, nails, any necessary fur trimming, and anal glands.
These can also be done at home if the owner knows how.
Visits to the groomer aren't a substitute for brushing at home several times a week (daily during shedding season).
Get their nails trimmed every couple of weeks between groomer visits.
A high quality, age-appropriate food is essential for a healthy Pomeranian, but obesity can be a concern, so treats should be given sparingly.
Chihuahua Care
The Chihuahua's grooming needs depend on whether it has a smooth or rough coat.
The smooth coat sheds very little, so a once-over each week with a rubber brush is plenty to keep their coat shiny and healthy.
If you have a Chihuahua with a rough coat, you should brush them once or twice a week.
Only occasional bathing is needed for either coat length.
Chihuahuas should be thoroughly dried after every bath, however, because they are prone to chill.
They should never be left to air dry.
Clean dirty ears with a cotton ball and a solution safe for veterinary use, and trim the nails every couple of weeks.
Chihuahuas are typically pretty slim, but individuals can be prone to obesity.
A quality dog food appropriate for their age, adult or puppy, will keep them at a healthy weight.
Health Conditions
Even with proper care, there are certain health conditions that each breed is especially prone to.
Since they're both small dogs, many of those health conditions are problems for both breeds.
Small mouths mean crowding teeth are common, causing dental issues.
Injuries like patellar luxation (dislocating kneecap), collapsed trachea, and accidental poisoning are also common.
Hydrocephaly (a dangerous condition where fluid is present in the skull at birth) and an open fontanel (a soft spot on the skull) occur with both Pomeranians and Chihuahuas, but much more so with Chihuahuas.
Both breeds are also particularly prone to seizures, eye disease, and various heart problems.
Pomeranian Health Issues
In addition, Pomeranians are especially likely to suffer from:
hip and elbow dysplasia (improperly developed joints)
ear infection
black skin disease (a combination of alopecia and skin hyperpigmentation)
hypothyroidism
Legg-Calve-Perthes (reduced blood supply to the hip)
Chihuahua Health Issues
Chihuahuas aren't prone to quite as many other health issues, but theirs are far more dangerous.
The breed's large head means they consistently experience complications during birth.
Their bulging eyes makes them especially susceptible to eye injury.
They're also prone to hypoglycemia and necrotizing meningoencephalitis, a condition in which brain tissue swells and dies.
Health Testing
Health testing of parents can ensure that some of these issues aren't passed on.
The Canine Health Information Center recommends that Chihuahuas undergo a cardiac evaluation, eye exam, and patellar luxation exam.
Pomeranians should undergo the same tests, plus a hip dysplasia evaluation, Legg-Calve-Perthes evaluation, and autoimmune thyroiditis evaluation.
Other Breed Comparisons
If you've loved comparing the Chihuahua and Pomeranian, take a look at some of our other great breed comparisons!
There's plenty of choice when you can compare all of these breeds!
Which Breed Makes a Better Pet?
Their tendency towards aggression, especially combined with strong, stubborn personalities and difficulty training means that neither breed is suitable for first-time owners.
These same traits, as well as the delicate nature of these dogs' builds, means that these breeds are also not suitable for families with small children.
Well-socialized Pomeranians get along well with cats and other dogs.
You should supervise them around larger dogs, as Poms may try to challenge or play too rough with them.
Chihuahuas do not get along with other animals, with the exception of other Chihuahuas and Chihuahua mixes.
However, both breeds will do very well in a home with seasoned dog owners, no children, and in the case of Chihuahuas, no other animals besides those with Chihuahua lineage.
References and Resources
Duffy, D., Y. Hsu, & J. Serpell. "Breed differences in canine aggression." Applied Animal Behavior Science, 2008.
Fernoaga, C., M. Codreanu, M. Cornila. 'Hydrocephalus in dogs.'
Higgins, R.J. et al. "Necrotizing Meningoencephalitis in Five Chihuahua Dogs." Veterinary Pathology, 2008.
Vanderlip, S. 'The Pomeranian Handbook.' Barron's Educational Series, 2007.
Get Pippa's free dog training tips delivered to your inbox