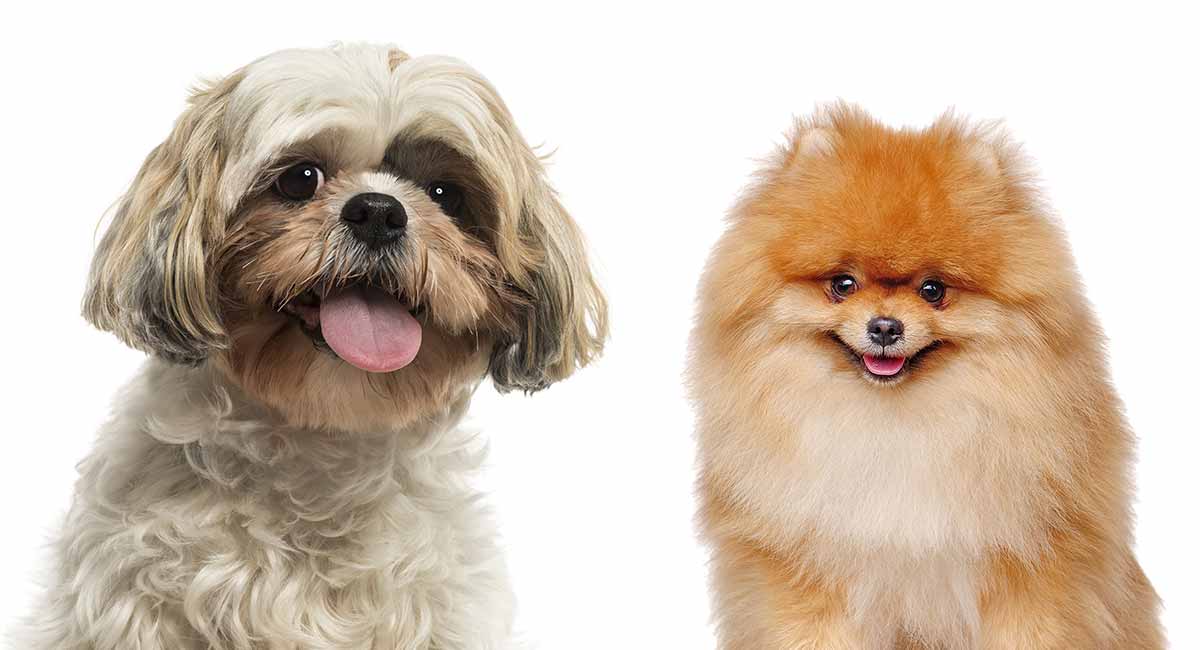 The Pomeranian Shih Tzu mix is generally a friendly, laid back pup. They have a beautiful long, double coat that they inherit from the Shih Tzu and cute, triangular ears.
They go by a few different names and are also called a Shiranian by some.
Where Does the Pomeranian Shih Tzu mix Come From?
Shiranians come from the combination of Pomeranian and Shih Tzu genes. This can happen when both parents are also Shiranians, or when a Pomeranian and a Shih Tzu breed.
Regardless, Shiranians aren't a breed of their own. Rather, they're a "designer breed". Designer breeds are becoming more and more popular!
As for their parent breeds, both have interesting histories. The origin of the Shih Tzu goes back two thousand years.
They originated in China, where they were called "Lion Dogs" and were owned by royalty, who were very possessive of their little dogs. People outside the palace walls could be executed for owning one!
Original Usage
Shih Tzus were not bred as working dogs. Instead, they kept the feet of their owners nice and warm as they lie in bed.
As for Pomeranians, they used to be quite a bit bigger than they are today! Known as Spitz, they worked pulling sleds, guarding, and hunting.
Then they traveled to Europe, where they were bred smaller and smaller. This ended with Queen Victoria of England, whose twelve-pound pup gained the breed increasing popularity with those who wanted them to be even smaller!
Fun Facts About the Pomeranian Shih Tzu mix
This pup's parents are super popular!
Artists such as Mozart and Michelangelo have loved their Pomeranian companions.
As for Shih Tzus, they're owned by a wide range of celebs including Mariah Carey and Beyoncé!
Pomeranian Shih Tzu mix Appearance
Like all mixed breeds, Pomeranian Shih Tzu mixes can vary in appearance, taking traits from either parent breed. For this reason, you won't be able to predict exactly what any given litter will look like.
Shiranians stand from seven inches to a foot tall and can weigh anywhere between four and sixteen pounds.
They inherit a long, double coat from their Shih Tzu lineage, which can be either wavy or straight depending on which parent breed they take after.
Pups' fur can be any Shih Tzu or Pomeranian colors, or a combination of these. This includes black, tan, orange, brown, and more!
Shiranians are a toy breed that often have triangular ears, large eyes, and short muzzles.
Pomeranian Shih Tzu mix Temperament
To best guess a Shiranian's temperament, we must look at their ancestors.
Pomeranian Temperament
Pomeranians are loyal, friendly, and brave. They can also be quite cocky!
Their courage makes them apt to act bigger than they are, and this could bring challenges with large dogs if they aren't properly socialized.
Another characteristic that Pomeranian owners may love or hate is their alertness. They have a knack for knowing exactly what is going on and alerting you to trouble, but this can lead to excessive barking in untrained pups.
Pomeranians are also sometimes stubborn, and, as they're small, they don't like to be handled roughly. If they're kept in a family with children, the children should be taught to be gentle. This will prevent Pomeranians from going on the offense and biting to protect themselves.
Shih Tzu Temperament
Next, we move on to the second parent breed. Shih Tzus are excellent lap dogs. They're super affectionate and love their families deeply.
Like Pomeranians, they are confident and stubborn. They're also super outgoing and intelligent!
Combined Temperament
When we combine these personalities, we get the Shiranian: a super smart dog that loves being around people.
They can also be quite stubborn, which makes patient commitment to training very important.
Depending on which parent breed they take after, Pomeranian Shih Tzu mixes may be more or less active. Regardless, they'll need at least moderate exercise.
Like any dogs, they should never be left alone with children! This can be especially important with toy breeds, who may bite in self-defense if a child is rough. In addition, kids can easily hurt these dogs by underestimating their own strength, or the fragility of the dog.
Training Your Pomeranian Shih Tzu mix
Pomeranian Shih Tzu mixes can take patience and persistence to train. While smart, they're also stubborn, so it helps to start by identifying some rewards and incentives which they really love! Keeping training sessions short and fun will also stop them losing interest.
In addition, these confident dogs need to be introduced to other people and dogs early. Socialization is important for all pups, but especially for this toy breed who sometimes think they're bigger than they are!
Shiranians need at least one walk a day to stay healthy. Activity levels in this mixed breed may vary, with some being couch potatoes and others being quite playful.
This breed cannot take extreme temperatures, so avoid taking them outside when it's very hot or cold. Also keep an eye on their breathing, as dogs with short muzzles can sometimes have issues with overheating.
Pomeranian Shih Tzu mix Health
Pomeranian Shih Tzu mixes can have various health problems. Like all mixed breeds, they can inherit health issues from either parent breed.
Unfortunately, this breed suffers from some serious conformational defects, which are health problems that stem from a dog's size or their features. Other mixed breeds also suffer from these problems, like the Pekingese Shih Tzu mix.
Because of the short snout they may inherit from their Shih Tzu ancestry, some Shiranians can have trouble breathing and overheat easily.
Avoid exercise in the middle of the day on hot summer days, and extreme temperatures in general.
Pomeranian Shih Tzu mixes can also suffer from teeth issues due to their tiny mouths, and Patellar Luxation (dislocation of the kneecap).
Potential Health Concerns
Here are some additional health concerns to watch out for:
Hip Dysplasia – the hip socket develops improperly
Hypoglycemia – low blood sugar
Tracheal Collapse
Eye Diseases and Injuries
Hypothyroidism
Kidney Disease
Liver Disease
Heart Disease
Ear Infections
Allergies
Hair Loss
Pomeranian Shih Tzu Lifespan
Pomeranian Shih Tzu mixes live around fifteen years.
Pomeranian Shih Tzu Grooming and Care
They need to be brushed daily and bathed regularly to keep up with their long, double coats. Owners will likely want to take their dogs to a groomer regularly for a trim to make this maintenance easier.
Their food should be broken into two or three meals throughout the day.
Do Pomeranian Shih Tzu mixes Make Good Family Dogs?
Pomeranian Shih Tzu mixes don't make the best family pets if you have small children. This is because children who play roughly can hurt toy breeds unintentionally.
If you do adopt a Shiranian and have tiny kids, be sure they are taught how to properly interact with one another, and never leave a child and a dog together unsupervised.
Whatever your situation, since this mix introduces the conformational health problems of the Shih Tzu into the Pomeranian family tree, we're reluctant to recommend purchasing a Pomeranian Shih Tzu mix puppy from a breeder.
Due to the risk of spreading brachycephalic disorders through the dog population, we recommend consider healthier breeds and mixes instead, or finding an older Shiranian at a rescue shelter.
Rescuing a Pomeranian Shih Tzu mix
Rescue is always a fantastic option when you're looking for a new addition to the family! For Pomeranian Shih Tzu mixes in particular, we highly recommend rescuing.
Mixed breeds can sometimes be difficult to find, but it's worth checking the shelters and rescues in your area.
If you don't find your pup there, you can try searching Pomeranian rescues, as well as Shih Tzu rescues, as many take in mixed breeds as well.
Finding a Pomeranian Shih Tzu mix puppy
We do not recommend adopting a Pomeranian Shih Tzu mix puppy from a breeder. However, if you decide to adopt a puppy, it's extremely important to avoid pet stores and puppy mills.
Breeders should allow you to see the parents and other puppies, as well as the environment the dogs are being raised in. The area and the dogs should look clean, with all essentials provided such as water and toys.
A breeder should have no problems speaking about health problems the breed is prone to or allowing you to view vet records. Parents and puppies should be vetted and up-to-date on vaccines.
Pros and Cons of Getting A Pomeranian Shih Tzu mix
Cons:
These dogs can be quite laid back and shouldn't be over exercised in the summer as they can overheat or have difficulty breathing. They aren't outside dogs and can't tolerate cold temperatures.
Though they can be more active if they take after the Pomeranian side of their family, those searching for a hiking or jogging companion are looking in the wrong place.
Pomeranian Shih Tzu mixes are also prone to many health problems, and so we only recommend rescue for this breed.
We don't recommend these dogs for families with young children, as they're small and prone to injury if played with too roughly.
Lastly, grooming can be a lot of work for these pups and their long coats!
Pros:
If you're looking for a small indoor dog that requires little exercise, a Pomeranian Shih Tzu mix may be for you!
Though they still need to be walked and played with, they don't need as much exercise as some other breeds.
They can make great lap dogs as well due to their calm Shih Tzu energy.
Shiranians are also super friendly and love people!
Similar Pomeranian Shih Tzu mixes and Breeds
For health reasons, we don't recommend adopting a Pomeranian Shih Tzu mix from a breeder.
If you don't want to rescue, or are just looking for other options, here are some other toy breeds you may like:
Pomeranian Shih Tzu mix Rescues
Below is a list of Pomeranian and Shih Tzu rescues in the USA, UK, and Canada. If you know of any others, please comment below, especially if you know any Australia-based rescues for these breeds.
USA
UK
Canada
Is A Pomeranian Shih Tzu mix Right For Me?
If you're looking for a toy-sized rescue, a Pomeranian Shih Tzu mix may be perfect for you! They do best with adults or in families with older children.
We don't recommend adopting puppies from breeders because of the conformational defects associated with this mixed breed.
They love people and adore being around their families, and they're well-suited for apartment living. They need regular exercise, but nothing strenuous, and they can't handle extreme temperatures.
If you're looking for a very active dog, the Pomeranian Shih Tzu mix likely isn't for you. But if you want a laid-back pup, they might be the perfect fit!
If you do choose this little hybrid, make sure to head over to our Shih Tzu name guide for inspiration!
References and Resources
Get Pippa's free dog training tips delivered to your inbox