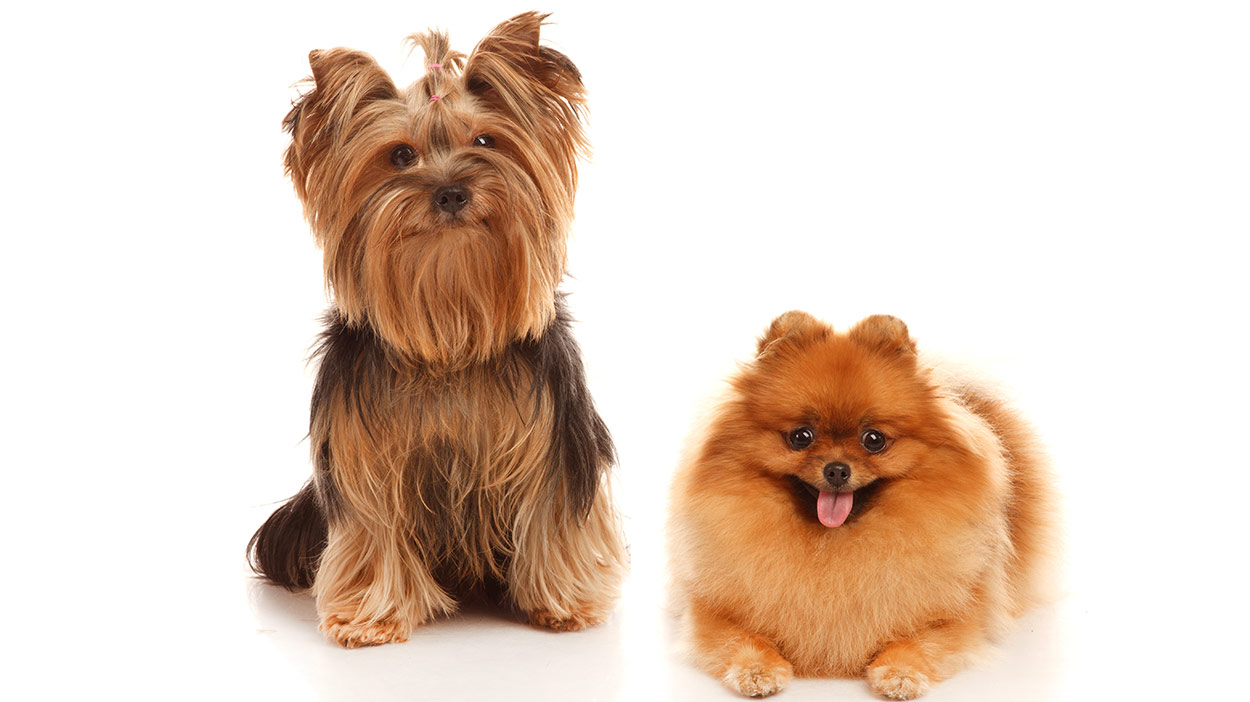 If you have ever set eyes on a Pom Terrier dog, you already know why this petite crossbreed is becoming more popular every day.
Pomeranian terrier mix puppies are particularly cute, of course. It can be very hard to walk away once you have seen one up close and in person!
So it is important to find out in advance if the pom terrier mix is actually a good fit for your lifestyle and home situation before you take that last step of bringing this dog home to stay.
In this article, we take you on a tour of the yorkshire terrier pomeranian mix breed dog.
Find out about the Pom terrier's potential strengths and possible weaknesses. Learn about the Pomeranian Yorkshire terrier personality, temperament, lifespan, health issues, size, coat, how to find Pomeranian terrier puppy breeders, and so much more!
What is a Pom Terrier?
The Pom terrier is a mix breed dog: one parent dog is a Pomeranian and the other parent dog is a terrier. Now, here some confusion can understandably exist, as there are 26 different breeds of dogs in the "terrier" dog group!
Here in this article, we will look specifically at one of the most common and popular pairings, the Yorkshire terrier cross Pomeranian mix.
Pomeranian and Terrier history
Both the Pomeranian and the Yorkshire terrier have enjoyed extensive and colorful histories!
Pomeranian history
The "Pom" or "little lion" is actually a mini version of the Arctic spitz sled dog and originally hails from Pomerania, a region that has now been incorporated into Poland and Germany.
Spitz dogs represent a particularly ancient canine lineage, with written references dating back to 1450.
Notables who have kept and adored Pomeranians included the composer Mozart, Michelangelo, Queen Marie Antoinette, and- more recently- Gwen Stefani and (oh yes) Sylvester Stallone!
Yorkshire terrier history
Like Poms, Yorkies hail from an ancient working-class lineage. Accomplished ratters, these dogs are brave, quick, tough, and even bossy!
The Yorkshire Terrier has fur that has often been described as "human-like." Because of this, the Yorkie is said to be a hypoallergenic dog breed.
Celebrities who own Yorkies include Miley Cyrus, Ivanka Trump, Steven Tyler, and Simon Cowell.
Pom terrier history
To date, very little documented history exists to recount how the Pomeranian cross terrier dog breed came into existence. It may well be the very first Pom terrier mix puppies arose from a "happy accident."
The most common Pomeranian x terrier mix is the Pomeranian x Yorkshire terrier. But other terrier parents can contribute to this mix as well without invalidating the hybrid breed name.
Pom Terrier origins
The Pom terrier's exact beginnings are shrouded in mystery. But, like most hybrid dog breeds, the battle over whether or not mixed breed or so-called "designer" dogs should even exist continues to rage on.
Pom terriers that come from a truly unbroken purebred dog lineage (in other words, a full purebred, pedigreed Pomeranian dog parent and Yorkshire Terrier dog parent) have the potential to be stronger and healthier than either purebred parent.
This is something called "hybrid vigor."
From this perspective, today's popular hybrid dog breeds may have more in common with healthy, hardy mutts than with some of their much more fragile purebred dog breed counterparts!
Pom Terrier size
If you are looking for a sizable pup, you sure won't find it in the Pom terrier dog breed!
Pomeranian size
Full-size purebred adult Pomeranians typically stand no more than seven inches tall (shoulder to paw pads) and weigh anywhere from three to seven pounds.
Yorkshire Terrier size
Full-size purebred adult Yorkshire terriers typically stand no more than eight inches tall (shoulder to paw pads) and weigh just seven pounds.
Pom terrier size
Your best bet to figure out how big your Pom terrier puppy might grow is to look at the adult size of both parent dogs. However, even this will not guarantee an accurate prediction. As with most hybrid dog traits, there is just no telling where the genetic chips may fall!
Pom Terrier temperament
Both Pomeranians and Yorkshire terriers have some intriguing temperament traits in common.
Pomeranian temperament
Pomeranians are in the second-to-top tier of the world's smartest dogs. What this means temperament-wise is that these dogs tend to be obedient 85 percent of the time and can learn a new command in five tries or less.
The Pom is known to be an assertive dog breed in general. They can also bark a lot. While Poms may be small in size, they are big in both coat and personality! Pomeranians are curious, playful, energetic, and loving.
Poms can be a bit stubborn, and some owners report that housebreaking a Pomeranian terrier mix puppy can take lots of patience! But overall, these dogs make fabulous pets and are also great in agility, show rings, and when working as service dogs.
Yorkshire terrier temperament
Yorkshire terriers belong to the third-to-top tier of the world's smartest dogs. What this means temperament-wise is that these dogs tend to be obedient 70 percent of the time and can master a new command in as little as 15 tries.
Yorkies have a very strong desire to please "their" people, which nicely offsets their tendency to bark continuously and boss everyone else around! They are natural tomboys in their love of agility and rally, show ring events, and working dog training. They can be stubborn, but positive training methods are productive in working out any kinks.
Pom terrier temperament
As you can see, the Pom terrier mix is going to be a lively one no matter how the parent dog genes play out! You will get a big dog in a very small dog body. Your Pom terrier pup is likely to be naturally athletic and will easily take to specialty training such as agility, therapy, or dog shows.
If you bring home a Pom terrier puppy, expect to spend quite some time on housebreaking during the first year (one perk of adopting a fully grown Pom terrier is being able to skip this step).
Otherwise, you will find most Pom terriers from strong parent dog lines make affectionate, loving, loyal, and fun pet dogs that can be socialized to work and play well within a diverse family unit. Be prepared for a barker, however, as both purebred dogs have been selected over generations for barking.
Pom Terrier training
Pomeranians and Yorkshire terriers share some training needs and strengths, as you will see.
Pomeranian training
Training your Pomeranian puppy will likely be a breeze in most areas, with the possible exception of housebreaking.
Poms are really smart dogs and can grasp training more quickly than most other dog breeds.
However, Pomeranians are more delicate than they look, and both the dogs and their people often forget this! So, one key training note to really be mindful of is to not let them just jump up and down off chairs,couches, or beds at will. They can easily sprain muscles or ligaments and even break bones!
Yorkshire Terrier training
As mentioned here earlier, Yorkies have a really strong desire to please, which can more than remedy the extra time it can take to help them master certain training exercises. They really like training, mainly because they are smart and enjoy anything they do with you.
However, Yorkies will respond poorly- at best- to anything but positive training and reinforcement. You always want to use praise and treats and steer clear of any harsh corrective training if you want your Yorkie to really bond with you and trust you.
Pom terrier training
With such a complementary mix of traits, a Pom terrier puppy or adult dog from two strong parent dog lines is likely to be fairly easy to train. Your Pom terrier is probably going to like being trained and have a lot of fun with you during training sessions.
You will always want to use positive training and reinforcement to curb any stubbornness and keep training a super-positive experience for you both.
Pom Terrier mix exercise
As you've likely noticed by now, both Pomeranians and Yorkshire terriers are naturally vivacious, active dogs.
Pomeranian exercise
Despite their petite size, Poms make really good watchdogs! They also really like to learn tricks and play interactive games and they thrive in structured activities such as rally and agility.
As mentioned, care must be taken with jumping to avoid injury.
Pomeranians can also really enjoy restful lap time, especially as they get on in years. While Pom puppies can be highly energetic, as adults these dogs become more balanced and thus can make great city or country pets.
Yorkshire terrier exercise
Yorkies are also natural high-energy pups who thrive when they have a job to do. But as they grow up, Yorkies will do just fine with twice-daily walks and some daily playtime.
Pom terrier exercise
Your Pom terrier will likely follow the very similar energy levels of both parent dogs, being quite active as a youngster and more settled in adulthood.
Pom Terrier mix coat
Both the Pomeranian and the Yorkshire terrier have coats that can turn heads.
Pomeranian coat
The Pomeranian coat is the main reason these dogs are sometimes called "Poms" – after all, they do tend to look like little pom-poms, with their wild ruffs of fur! Poms need near-daily brushing and grooming to keep their coat tangle-free and healthy.
Yorkshire terrier coat
The Yorkie's long, silky coat sometimes makes people doubt their long and illustrious heritage as ratters! These dogs do need significant grooming to stay tangle-free and healthy. A short haircut can help with this for the time-pressed dog parent.
Pom terrier coat
The Pomeranian and terrier mix coat is likely to be very full, lush, and eye-catching, regardless of which parent dog your pup takes after more!
Pom Terrier health
Pomeranians and Yorkshire terriers share certain common heritable health conditions.
Pomeranian health
Pomeranians, like all established purebreds, have the tendency to develop certain heritable health issues, including:
"Trick knee" (luxating patella)
Congestive heart failure and other cardiac issues
Eye and ear issues
Dental issues
Tracheal collapse
Alopecia (skin disease)
Hip/elbow dysplasia (malformed joint)
Syringomyelia (unexplained twitching)
Seizures
Hydrocephalus (water on the brain)
Hypoglycemia
Yorkshire terrier health
Yorkshire terriers, like all purebred dog breeds, can contract certain known genetic health issues, including:
"Trick knee" (luxating patella)
Eye issues
Tracheal collapse
Legg-Perthes disease (degeneration of the femur)
Liver (portosystemic) shunt
Hypoglycemia
Pom terrier health
Since both parent dogs share some heritable health concerns, it is best to work only with a breeder who provides written proof of healthy parent dogs/breeding dog lineage.
Pom Terrier cross lifespan
Pomeranian lifespan
Pomeranians are fairly long-lived, with an average lifespan of 12 to 16 years.
Yorkshire terrier lifespan
Yorkies can live anywhere from 12 to 16 years.
Pom terrier lifespan
With both parent dogs enjoying fairly long lifespans, you may have your Pom terrier with you for as long as 16 years!

Pom Terrier breeders
Due to the known health issues of both the Pomeranian and Yorkshire terrier purebred dog lines, you should only work with a breeder of Pom terrier puppies that offers the following:
Written proof that parent dogs have been cleared of all heritable known health issues for their breed.
Initial health guarantee.
Take-back guarantee if the puppy doesn't work out for some reason.
If you decide to rescue an adult Pom terrier, you may want to first invest in genetic health testing or ask the rescue organization to do so on your behalf.
Is a Pom Terrier right for me?
If you fancy a vocal, loyal, and loving small dog breed with high intelligence and confidence, a Pom terrier mix dog breed might be in your future!
References and Further Reading
Get Pippa's free dog training tips delivered to your inbox