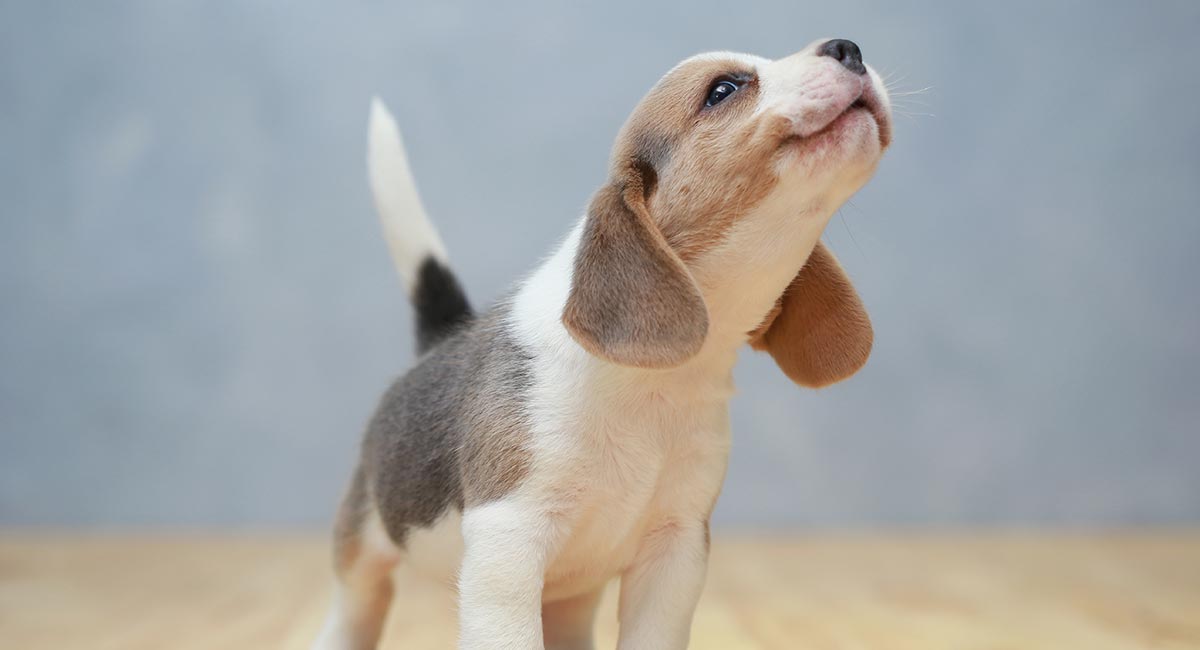 The pocket Beagle is a smaller version of America's favorite hound dog.
There are already two different standard Beagle sizes: those standing under 13 inches, and those between 13 and 15 inches.
The pocket Beagle was created for people who want an even smaller version of this popular breed.
Miniaturizing dogs is achieved by outcrossing with smaller breeds, introducing dwarfism to a breeding line, or selectively breeding from runts over several generations.
Let's take a look at the pros and cons of using these methods to create the Pocket Beagle.
The Beagle
The Beagle is a scent hound that was developed in England for hunting rabbits.
Compact and sturdy, the breed has an overall miniature Foxhound appearance.
An adorable face with big eyes and a beseeching expression is framed by long drop ears.
Their short, sleek coat is most commonly found in a tricolor. But you'll also see them in a range of other shades, including red and white, and lemon.
Beagle Temperament
This breed is highly regarded for their friendly, companionable nature.
Originally bred to hunt in packs, the Beagle gets along famously with other dogs and people.
But, this makes them very social creatures who don't like to be left on their own.
They're also an energetic breed that has a strong instinct to chase.
Nothing makes this cheerful and curious dog happier than tracking an interesting scent.
The Pocket Beagle
As far back as the 13th century, small Beagles that stood only 8 to 9 inches tall were popular throughout England.
These hunting dogs were known as glove Beagles because they could be held in the palm of a glove. Or pocket Beagles since they fit perfectly into hunters' pockets.
However, this genetic line became extinct in the 19th century. So, it should not be confused with the pocket Beagles you'll see today.
Modern pocket Beagles are part of a growing trend towards smaller and smaller versions of purebred and mixed breed dogs.
These pint-sized pups typically stand from 7 to 12 inches and weigh between 7 and 15 pounds. They are roughly half the size of the standard Beagle.
The Appeal Of The Pocket Beagle
Smart, funny, playful, affectionate, and sweet. It's easy to see why Beagles are such a popular pet.
Taking all of these nice attributes and putting them in a smaller package holds plenty of appeal for those who live in apartments or tiny homes.
There's the view that these dogs eat less food. Plus, they don't take up as much space or require as much exercise.
And you can't deny that a pint-sized Beagle is cute.
But where do pocket Beagles come from? And how does miniaturization impact the dog?
Where Do Pocket Beagles Come From?
There are basically three ways that breeders can create a pocket Beagle.
The first is to breed a purebred Beagle with a smaller dog. But this means creating a mixed breed that may not have all the desirable qualities of the Beagle.
Some breeders introduce the gene for dwarfism to create a dog with very short limbs.
Others will use the runts of litters as breeding stock to produce the smallest possible puppies in the next generation.
Each of these breeding techniques comes with certain disadvantages or health risks that we'll look at more closely.
Mixing With A Smaller Breed
The healthiest way to get a smaller Beagle is to cross it with a smaller breed.
A drawback to this method is that you may end up with puppies that resemble the other dog in terms of appearance and behavior.
There's also the chance that they'll inherit the Beagle's size.
Here are some smaller breeds that could potentially make a pocket Beagle.
Cheagle
The Cheagle combines the Beagle with the sassy, little Chihuahua.
These dogs can weigh anywhere from 6 to 30 pounds and measure from 5 to 15 inches tall when fully grown.
Whichever parent the offspring takes after, this is sure to be a dog packed with personality.
You can expect a people loving pup, who may be small, but will expect big-time attention.
Ideally, they'll inherit the gentle, joyful nature of the Beagle. But if they take after the Chihuahua, they could be aggressive towards other dogs.
Borkie
A cross between the Yorkshire Terrier and the Beagle, the Borkie combines two high-energy breeds with a high prey drive who can be quite vocal.
Yorkies are a much smaller dog, standing from 7 to 8 inches and weighing 7 pounds.
However, this cross often combines the silky longer coat of the Yorkie with the build of the Beagle.
Borkies typically measure in the 12 to 15-inch range and weigh from 20 to 25 pounds.
Both parents are friendly, affectionate, playful, and love people, especially their owners.
Poogle
The Poogle mixes the Beagle with the highly intelligent Poodle.
Typically the Miniature Poodle is used to produce this crossbreed.
Poogles usually stand about 10 to 15 inches tall and weigh 20 to 30 pounds.
Using a Toy Poodle who is only 4 to 6 inches and weighs under 10 pounds could produce a smaller dog.
Since these dogs look quite dissimilar, the appearance can vary.
They could have a short or a low-shedding, curly coat.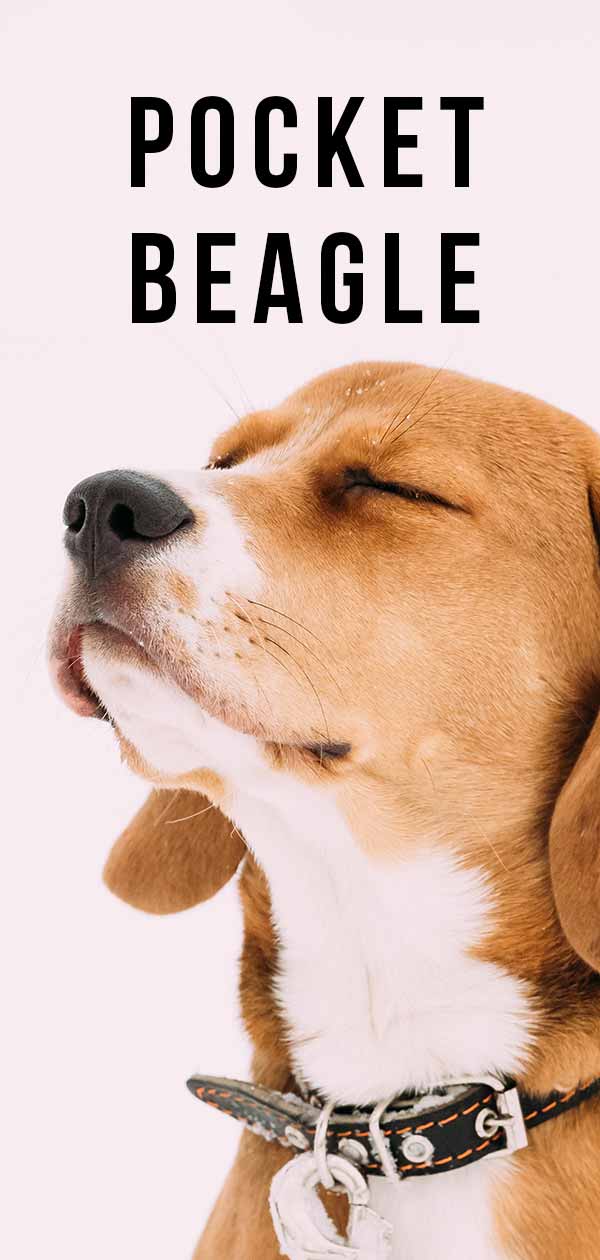 Introducing The Dwarfism Gene
Beagles are already at risk for a type of dwarfism called chondrodystrophy.
So, breeding two Beagles with this condition is a not uncommon way to get a smaller version of the breed.
Instead of miniaturizing the dog entirely, this genetic disorder causes abnormal growth. This creates shorter than normal legs, a large head, and a curved back.
Intervertebral disc disease (IVDD), which affects the spinal cord, is a big problem for dogs with dwarfism.
This condition can be very painful and in severe cases can cause paralysis.
Breeding From Runts
Selectively breeding from the smallest dogs, often referred to as runts, is another way that breeders can create a pocket Beagle.
This technique ensures that the puppies are purebred Beagles that are very likely to be undersized.
But, runts are often weak and subject to numerous health problems that they can pass along to their offspring.
This is in addition to the health problems that Beagles are already at risk for.
Pocket Beagle Health
Beagles have an average lifespan of 10 to 15 years.
Pocket Beagles should be able to reach the same age if they do not inherit certain health conditions.
Epilepsy, hypothyroidism, hip dyslasia, and luxating patella are all conditions for which responsible breeders will screen their breeding stock.
Beagles should also be tested for eye disorders. They're prone to cataracts, glaucoma, cherry eye, and progressive retinal atrophy.
Musladin-Leuke Syndrome (MLS) is a connective tissue disorder that affects Beagles. It's characterized by extensive fibrosis of the skin and joints.
Although there's some evidence that mixed breeds are healthier, puppies are still at risk for health diseases found in either parent.
Is A Pocket Beagle Right For Me?
A pocket Beagle may suit your lifestyle and living accommodations. But the health and welfare of the dog should always come first.
Dogs that have the dwarfism gene are subject to an array of skeletal problems. Such as, enlarged joints, bowing forelimbs, spinal deviations, and abnormal bone shapes.
Of the three methods that breeders commonly use to miniaturize dogs, mixing with another breed is the most humane.
Although there's no guarantee what the puppies will be like, it poses the least risk for the offspring.
Finding A Pocket Beagle
Due to the popularity of the breed, contacting shelters that specialize in Beagles is a good place to look for an older mixed breed.
This will allow you to see exactly what you're getting in terms of appearance and temperament.
If you still want a pocket Beagle puppy, be very selective when choosing a breeder.
It's crucial that they have proof of health testing for inherited conditions.
Good breeders will also allow you to visit where the puppies are housed and let you meet the parents and siblings.
Buying online or from pet stores means running the risk of buying a dog who came from a puppy mill.
In addition to the health problems we've discussed, these dogs are also at risk for health and temperamental issues due to lack of proper care.
Do you have a pocket Beagle? How big are they?
Tell us about them in the comments below!
Similar Breeds
If you love learning about miniature breeds, you might also want to take a look at our other guides.
References And Resources
Get Pippa's free dog training tips delivered to your inbox