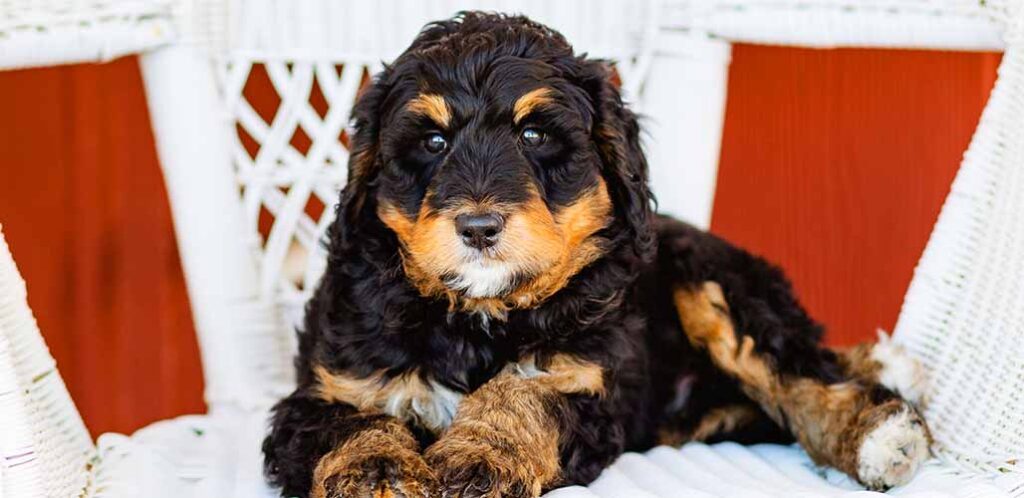 The Phantom Bernedoodle is an adorable Poodle Bernese Mountain dog mix. These affectionate, loyal dogs have one main dark coat color and a lighter shade on their chest, nose and legs. Their coat is generally curly or wavy, inherited from the Poodle parent, which is hypoallergenic and low-shedding. Cute, fun-loving, and intelligent, this hybrid breed makes an excellent family pet who brings joy and happiness to any home. Today we check out this loveable designer dog's typical traits, care requirements and exercise needs.
Contents
What is a Phantom Bernedoodle?
The Phantom Bernedoodle is a designer dog which combines the intelligence of the Poodle with the calm, easy-going nature of the Bernese Mountain dog. But no two Bernedoodles are the same, and a puppy can inherit traits and characteristics from one or both parents making the outcome unpredictable.
However, "phantom" refers to the colors of the Bernedoodle, whereby the coat is one primary color and has patches of another lighter color on specific areas such as the nose, chest, and legs, making this a stunning-looking dog!
Where does the Phantom Bernedoodle Come from?
The Bernedoodle is a relatively new breed which came about in 2003 in Canada and is considered one of the best Doodles around! However, the parent breeds, the Poodle and Bernese Mountain dog have a long, rich history as working dogs. To understand this mixed breed better, we must look at its heritage.
The Standard Poodle originates from Germany and is intelligent, fun, and easy to train. Their excellent temperament and non-shedding coat are some of the main reasons they are used so often for crossbreeding.
The Poodle comes from a long line of hard-working animals bred to retrieve game from the water and have excellent swimming skills. As well as standard, Poodles come in miniature and toy sizes.
The Bernese Mountain dog hails from Switzerland and is a highly versatile working dog developed to pull carts, herd cattle, guard farms, and be a loyal companion. They are good-natured dogs who show unconditional love and loyalty to their owners.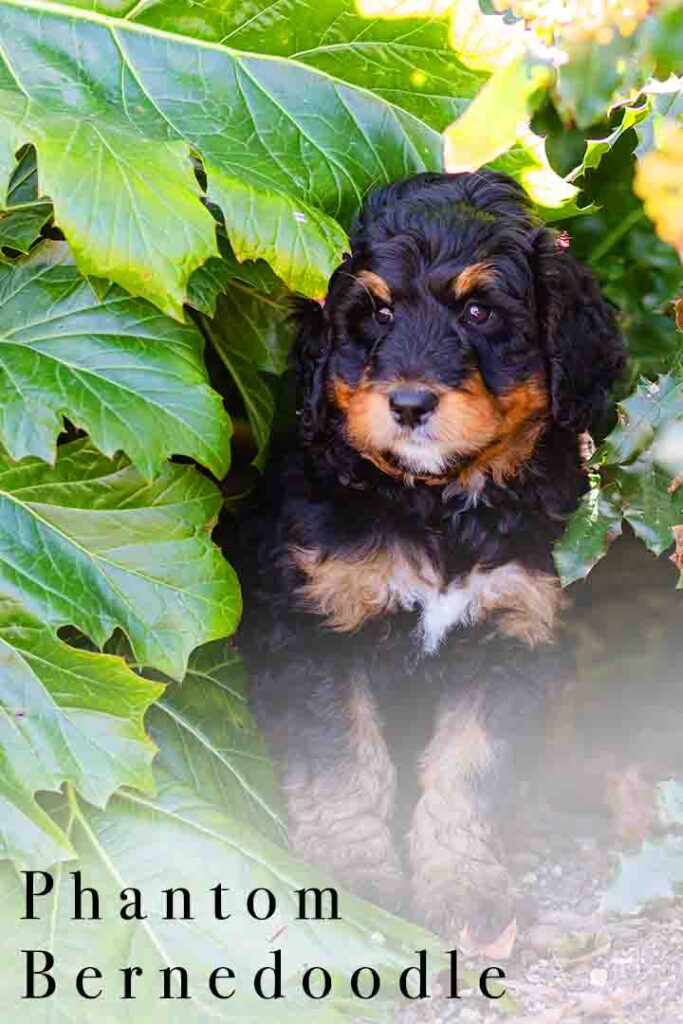 Phantom Bernedoodle Appearance
The appearance of a Phantom Bernedoodle is challenging to predict as the outcome can vary dramatically depending on which parent their genes tend to favor. The phantom coloring is where the dog has one main color with light tips of another color.
Bernese Mountain dogs sport black, tan and white coats, whereas Poodles come in a much wider range of solid coat colors. Phantom Bernedoodles are usually black and tan, but because of the Poodle's influence, they can occur in any color combination, such as silver with white points, chocolate with cream points and so on. Your Phantom Bernedoodle's coat colors may lighten over time if they have inherited the 'fading gene' from the Poodle parent.
Most Bernedoodles have a wavy, low shedding coat, but those with a curly coat like the Poodle will not shed. Although this mixed breed can have straight hair like the Bernese Mountain dog, it is rare.
Phantom Bernedoodle Size
You can find the Phantom Bernedoodle in three different sizes: standard, miniature and toy.
The standard size ranges from 23 to 29 inches in height, weighing 70 to 90 pounds, while a mini Phantom Bernedoodle can vary from 18 to 22 inches high and weighs 25 to 49 pounds.
Finally, the Toy or Tiny Phantom Bernedoodle measures 12 to 17 inches tall and weighs between 10 to 24 pounds. In this case, the Bernese Mountain dog is always the mother as too many problems would occur in labour with a Poodle mother.
Grooming A Phantom Bernedoodle
Most Phantom Bernedoodles have a curly or wavy low shedding coat that requires frequent brushing to prevent painful matting.
Remember, though, that dogs with curly coats need regular haircuts by a professional groomer. A Phantom Bernedoodle with a straight coat is less maintenance but will shed all year round, so it is unsuitable for those with allergies.
Phantom Bernese Temperament and Personality
One thing the Phantom Bernese doesn't lack is personality, often described as goofy, energetic, and loving. These dogs come with a sense of humour, and their hilarious antics will always put a smile on your face!
This playful mixed breed is friendly and affectionate, patient with children, and devoted to its family. However, the downside is that they hate being left alone and can become anxious and destructive if they are on their own for long periods.
The Phantom Bernese is an intelligent dog, but despite their steady and calm temperaments, they show a stubborn side in training and prefer to do things their way.
Training and Exercise
Despite the parent breeds having a working background, the Phantom Bernese has moderate exercise requirements needing approximately 30 to 60 minutes daily to keep them happy and healthy. However, much depends on their size, age, and personality.
When it comes to training, the Phantom Bernadoodle always wants to be with its owner, so you need to train them to your schedule and lifestyle. Although they inherit the intelligence of the Poodle, they can also inherit the stubbornness of the Bernese Mountain dog, which can make training challenging. If you start their training and socialization early, you will find that much of their stubbornness goes away.
Always use positive reinforcement to encourage them to have good behavior and social skills.
Potential Health Issues
The Bernese Mountain dog has a few health problems, like cancer, and is short-lived, living an expected lifespan of only seven years which is one of the main reasons they crossbred them with the healthy, long-living Poodle. The Phantom Bernedoodle is prone to health issues and conditions such as:
hip dysplasia
elbow dysplasia
eye disease
hear disease
von Willebrand's
Reputable breeders will always screen their breeding stock for these conditions to increase the chances of healthy offspring.
How long do Phantom Bernedoodle dogs live?
The Bernedoodle lifespan is 12 to 18 years, but much depends on its size. The smaller the dog, the longer they live. Like many mixed breeds, the Phantom Bernedoodle is far healthier than purebreds, but they can still be predisposed to many of the health conditions common in the parent breeds.
Does the Phantom Berneadoodle Make a Good Family Pet?
The Phantom Bernedoodle is a friendly, affectionate dog fiercely loyal to its owners. They are lovely with children and other animals and make excellent family pets. Provided you have plenty of space, time for training and care, and a lot of love to give.
Learn More About Poodle Mixes
Resources
Ruple et al. Risk Factors Associated with Development of Histiocytic Sarcoma in Bernese Mountain Dogs. Journal of Veterinary Internal Magazine, 2016.
Malm et al. Genetic variation and genetic trends in hip and elbow dysplasia in Swedish Rottweiler and Bernese Mountain Dog. Journal of Animal Breeding and Genetics, 2008.
Vredegoor et al. Can f 1 levels in hair and homes of different dog breeds: Lack of evidence to describe any dog breed as hypoallergenic. Journal of Allergy and Clinical Immunology, 2012.
Get Pippa's free dog training tips delivered to your inbox