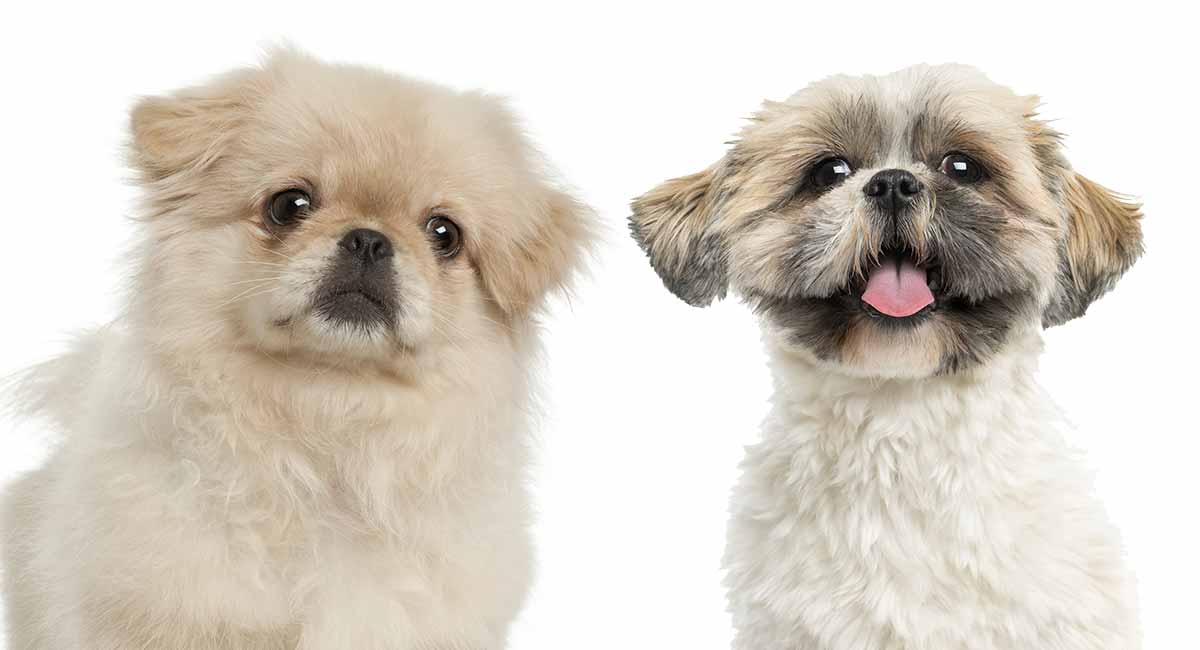 The Pekingese Shih Tzu mix is the result of breeding a Pekingese dog with a Shih Tzu dog.
The result is likely to be a small, affectionate companion dog. But, it is impossible to predict the exact traits your puppy will have before it arrives. This is because your mixed breed can inherit any traits from either parent breed.
However, the Pekingese Shih Tzu mix will inherit a very short muzzle from both their parents. This is likely to cause them serious health problems.
So let's take a closer look at the Pekingese Shih Tzu mix dog. Will it fit in your family?
Where Does the Pekingese Shih Tzu Mix Come From?
The Pekingese breed comes from China originally. It existed there at the time when only royalty could own these dogs, which were confined to palaces.
Only around the year 1860 did these dogs capture the attention of Western countries. And from there on they gained in popularity.
The Shih Tzu breed comes from Tibet originally. It was bred from the Pekingese and the Lhasa Apso dogs. Like the Pekingese, it is viewed as a toy dog breed.
The Pekingese Shih Tzu Mix vs. Purebred Debate
The inherent mix of the Pekingese Shih Tzu is surely a part of the ongoing purebred vs. mutt debate.
A cursory look at this debate from several sources will reveal that proponents of purebred dogs argue superiority based on careful and controlled breeding.
On the other hand, those in favor of mixed breeds (mutts) claim greater genetic diversity as the main reason for avoiding many of the health issues found with purebred dogs, such as joint problems.
Fun Facts About the Pekingese Shih Tzu Mix
This is an endearing dog with a sweet appearance, and a long mane.
It is also referred to as the "Shinese" or "Peke-a-Tzu "due to its hybrid nature.
It is known to have a desire to be the center of attention.
Celebrities such as Elizabeth Taylor and Frank Sinatra had Shih Tzu dogs as pets.
Pekingese Shih Tzu Mix Appearance
This is a smaller dog with a height of 8-12 inches, and a weight of 10-16 pounds. They have somewhat flat faces, which is a characteristic of both Pekingese and Shih Tzu dogs.
They usually have long and thick coats, which may have color variations. The coat colors are black, brown, red, white, or light yellow. As for the color of the eyes and nose, they are usually brown.
In reality, mix breeds can inherit physical traits from either parent in varying proportions. Meaning they can take on a variety of appearances.
Pekingese Shih Tzu Mix Temperament
The attentive and adaptive nature of the Shih Tzu combined with its affectionate personality can be at odds with a stubborn streak too. But it is generally a cheery and happy dog.
They are typically not aggressive. A well socialized Shih Tzu is only usually aggressive if they are frightened, or feeling vulnerable because they are in pain.
Pekingese Temperament
The Pekingese is sometimes described as loyal and charming, and appears to have a dignified air. This isn't surprising considering they were once palace dogs.
The Pekingese is known to be independent, strong-willed, and uncooperative. Which can make training a challenge.
They basically need to understand that this "training business" is worth their while. Patience and consistency is key.
Their protective nature means that they can be good watch dogs. Which isn't as true for the Shih Tzu breed.
Temperament of the Mix
A dog bred from both of these breeds will have some combination of the characteristics of both parents, possibly producing a moderate personality. But certain traits present in either parent can also dominate the dog's temperament.
The bottom line is that you don't always know what you're going to get. Even if you know the precise qualities of the parents.
The fact that both breeds can be difficult to means that there's a good chance that the mix will have a stubborn streak as well.
Neither dog has natural tendencies towards aggressiveness. Plus, a well socialised Pekingese Shih Tzu puppy is unlikely to become aggressive either.
Training Your Pekingese Shih Tzu Mix
The stubborn streak that exists in both these dogs means that they can be difficult to train.
If training is begun very early when they are puppies, and consistency is maintained, then they will prove to be quite trainable. Positive training techniques work best.
This will include being potty and crate trained, as well as not barking at every new person they see. Socialization carried out early on will go a long way in preventing or reducing this from happening.
When it comes to potty training small dogs, some trainers recommend using indoor potty spots. Which is similar to a cat litter box.
This is an active little dog which doesn't need a lot of exercise. But it demands lots of interaction and play time at home. Short daily walks for formal exercise should be sufficient.
A Word of Caution
Care in training should be taken since they are brachycephalic dogs which can make them prone to exercise intolerance.
The term "brachycephalic" means that their nose is short. And as a result of this anatomical abnormality they have trouble breathing. Especially during physical exertion.
Pekingese Shih Tzu Mix Health
This mix is vulnerable to a number of health problems which affect its parents. But most worryingly is brachycephalic airway syndrome.
Brachycephalic airway syndrome
Brachycephalic airway syndrome occurs when a dog with a flat face has difficulty breathing or cooling down during hot weather or exercise.
The problem can range from uncomfortable to lethal.
Lameness
Lameness is another possible issue with this mix.
Pateller Luxation
Pateller Luxation is another possible issue with these dogs, in which the dog's kneecap is not in its normal position due to dislocation.
Intervertebral Disc Disease
They are prone to Intervertebral Disc Disease. This is a painful condition due to their disproportionately long backs and short legs. This disease can even cause paralysis.
Other Health Issues
Other issues can include skin and ear inflammation or infection, eye problems, and mouth abscesses.
Cleanliness, good hygiene, and proper grooming is important to reduce or prevent these problems.
Pekingese Shih Tzu Mix Lifespan
This mix can live 12-15 years, and is more likely to live towards the upper range by properly addressing its health care needs.
Do Pekingese Shih Tzu Mixes Make Good Family Dogs?
This mix has many ingredients of a good family dog. They are likely to be a lot of fun to be around, and also very loyal and good around children.
However, due to their exaggerated flat faces, and the health and welfare risks of deliberately breeding for this appearance, we believe that other, healthier small dog breeds are a better choice.
If you have your reasons for wanting this mix specifically, we recommend rescuing an older dog from a shelter rather than purchasing a puppy.
Rescuing a Pekingese Shih Tzu Mix
Rescuing dogs from bad conditions can be a rewarding experience, and local humane societies are the first point of contact to enquire about these dogs.
Due to the traumatic experience many of these dogs are subjected to they will not always warm up to people. At least not right away.
For those that have rescued such dogs, they will say that the experience was worth it. Many have touching stories to share of the transformation that their dog made from frightened animal to loving companion.
Older Pekingese Shih Tzu rescue dogs are also more likely to come with an honest appraisal of their health from a vet. You might even get an idea of the lifetime costs of managing their breathing problems.
Finding a Pekingese Shih Tzu Mix puppy
When looking for a puppy skip pet stores and puppy mills, along with internet sites! Instead, focus on finding a puppy at a shelter or rescue first. These places have many great dogs to choose from. They are just waiting to be adopted, whether they are mixes or purebreds.
Most pet stores sell puppies that come from puppy mills. Both of these places are well known for treating dogs inhumanely. Don't help them stay in business!
Mixed breed dogs are growing in popularity. This is possibly an indication that people realize that these dogs are generally healthier. Not to mention they have significantly fewer genetic disorders than purebreds.
Most of the world's dogs are mixed-breed. And there is evidence to suggest that they are more trainable. This may also be a contributing factor in their popularity.
But, unscrupulous breeders are also keen to cash in on the trend for so-called designer dogs. Here is a helpful guide to finding a puppy from an ethical source.
Raising A Pekingese Shih Tzu Mix Puppy
For good information on dog and puppy care, as well as training, check out our dog training and puppy care guides.
Pekingese Shih Tzu Mix Products and Accessories
The thick hair of this mix needs extra grooming work. Here is a brush designed for the dense fur of the Shih Tzu.
Small dogs need only small spaces to sleep. So why not consider a small dog bed.
Also, take a look at dog whistles to help with training.
Pros and Cons of Getting A Pekingese Shih Tzu Mix
Cons:
Can be stubborn and difficult to train
Possible breathing difficulties which can make physical exertion something to restrict
Prone to skin and ear infection, eye problems, and tendency to develop joint problems
Pros:
Affectionate and loyal
Good family dog
Protective and can be a good watch dog
Similar Pekingese Shih Tzu Mixes and Breeds
Rather than the unhealthy Pekingese Shih Tzu mix, we recommend looking at other small companion dogs instead.
For example you might consider one of these:
Pekingese Shih Tzu Mix Rescues
We couldn't find many breed specific rescues for this mix. Perhaps contact your local shelter and they may be able to point you in the right direction.
USA:
If you know of any great rescues that specialize in either breed please let us know in the comments.
Is A Pekingese Shih Tzu Mix Right For Me?
Now that you have an idea of the history, health, and temperament of this dog you are better able to make an informed decision about whether to get one.
Ultimately, it's a balancing act between what you desire in a dog, and the dog's well-being.
For our part, we believe that there are healthier small dogs who are just as loving and loyal, which make better pets.
If you've decided this dog will be part of your family, make sure you also choose the right name!
References and Resources
Packer, RMA, et al., "Impact of Facial Conformation on Canine Health: Brachycephalic Obstructive Airway Syndrome"
Kim, E., et al., "Major medical causes by breed and life stage for dogs presented at veterinary clinics in the Republic of Korea: a survey of electronic medical records,"
Vidoni, B., et al., "Diagnostic and genetic aspects of patellar luxation in small and miniature breed dogs in Austria," Wiener Tierarztliche Monatsschrift, Volume 92, Issue 8, 2005
Priester, WA, "Canine intervertebral disc disease — Occurrence by age, breed, and sex among 8,117 cases," Theriogenology, Volume 6, Issues 2-3, 1976
Bellumori, TP, et al., "Prevalence of inherited disorders among mixed-breed and purebred dogs: 27,254 cases (1995-2010)," Journal of the
American Veterinary Medical Association, Volume 242, Issue 11, 2013
Turcsán, B., et al., "Owner perceived differences between mixed-breed and purebred dogs," PLOS ONE, Volume 12, Issue 2, 2017
Get Pippa's free dog training tips delivered to your inbox