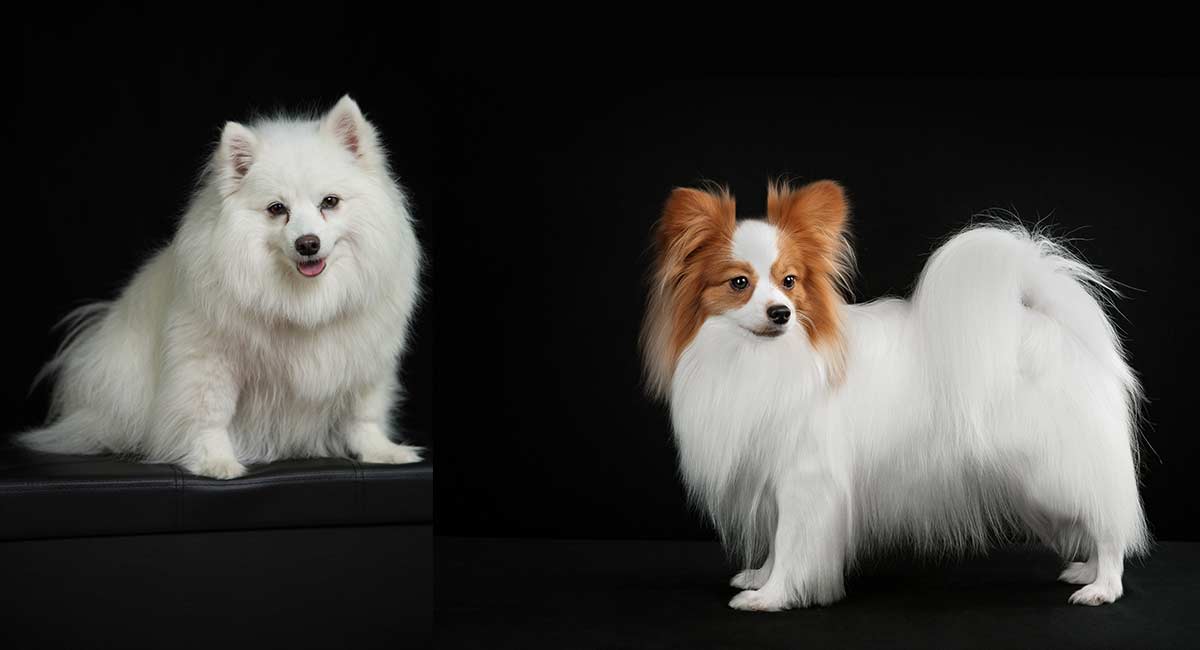 Welcome to our complete guide to the Papimo! The Papimo is a mix between a Papillon and an American Eskimo.
This hybrid dog is highly intelligent with plenty of energy and loves spending lots of time with their owner.
In this article, you'll find out all you need to know if you're considering bringing home a Papillon American Eskimo Mix puppy.
Purebred vs Designer Dogs – The Controversy
The Papimo is what is known as a designer dog. So what's with all the controversy over designer dogs?
Many owners of purebred dogs think that creating mixed breeds is a bad idea. They believe there are benefits to keeping closed registers of purebred dogs.
Potential advantages include being able to predict, with a higher degree of accuracy, the health problems and characteristics of puppies.
The flipside is that by limiting the gene pool, the greater the chance that certain illnesses become more common.
To combat this, those in favor of designer dogs say that mixed breed dogs are healthier than their pedigreed counterparts.
But is there any science to back this up?
The Science Behind Designer Dogs
"Hybrid vigor" refers to the fact that increasing the gene pool by creating mixed breeds is thought to increase vitality and health of the resulting puppies.
It's useful to remember that the pedigree dogs of today were the mixed breeds of yesterday.
Whatever side of the fence you sit on, choosing reputable breeders who carry out a range of relevant health checks as well as providing a high level of care is always a must.
Now, let's take a look at the mixed breed we're interested in—the Papillon American Eskimo Mix, known as the Papimo.
The Papillon American Eskimo Mix
The Papimo is a new mix, so there isn't a huge amount of information about this dog. It can be hard to predict what your Papimo puppy will grow up to be like.
However, for any mixed breed, it's always a great idea to take a look at the history of both parent breeds.
This can help you learn more about the possible characteristics of your dog.
So let's take a look at the Papillon and American Eskimo breeds in a little more detail.
Origins of the Papillon
The Papillon is one of the oldest breeds within the toy dog category.
They were kept as companion dogs for royalty, with Louis XIV and Marie Antoinette both having Papillons.
Papillons originated from crossing the toy breeds of the time with spaniels.
The breed was initially known as "dwarf spaniels" before gaining the name Papillon, due to their large and often erect ears.
In French, "papillon" means "butterfly".
The breed is mainly associated with France but the Papillon was initially refined in Spain and Italy, where they gained popularity before coming to Europe and America.
The breed was registered with the American Kennel Club in 1915.
Origins of the American Eskimo Dog
There is no link between Eskimos and the American Eskimo dog. Instead, this breed can be traced back to the German Spitz.
Initially brought over to America as a farm dog, the breed became known as the American Spitz.
In 1917, their name was changed to the American Eskimo.
This was due to the onset of the First World War and a desire to separate the breed from its German roots.
You might also hear these characterful dogs referred to as "Eskies".
Eskies were famous as circus performers and could be seen tightrope walking or dancing.
Despite their popularity in the early 20th Century, the American Kennel Club only registered the breed in 1995.
What Will Your Papimo Look Like?
Predicting what your Papimo puppy will grow up to look like can be tricky.
With any mixed breed puppy, they are equally likely to show characteristics of either parent breed or a mixture.
This means knowing what to expect with a designer dog like the Papimo is less predictable than a pedigree breed.
You may hope your Papimo puppy has those distinctive erect ears of the Papillon and American Eskimo breeds.
But be aware that some Papillons have ears that drop down.
It's best to spend a bit of time researching the features of each parent breed.
This will give you a better idea of what to expect as your American Eskimo Papillon mix puppy grows up!
Papimo Size, Height, and Weight
To get a better idea of the average size, height and weight of your Papimo, let's take a look at the parent breeds.
This may give us some clues as to which bracket the Papimo will fall into.
The Papillon belongs to the toy dog category, meaning you're getting a lot of dog in a tiny package!
Papillons usually have an average weight of 5 –to 10 pounds and a height of just 8 to 11 inches.
The American Eskimo is bred in three sizes—toy, miniature, and standard.
The toy Eskie weighs between 6 to 10 lbs with a height of 9 to 12 inches, the miniature Eskie comes in at 10 to 20 lbs and 12 to 15 inches, and the standard version weighs 25 to 35 lbs and is 15 to 19 inches.
So, the size of your Papimo will depend more on the size of their American Eskimo parent.
Be sure to speak to your breeder about meeting both parents of the puppy you're interested in.
Papimo Coat Colour and Type
Papillons have a single coat of long and soft hair, with a range of colors and markings.
The white base coat can have markings in black, lemon, red or sable.
You may also see white, black and tan. Markings will usually be concentrated on the face and tail, with some Papillons having marks across their back and sides.
American Eskimos have a distinctive dense white double coat, which is thicker around their chest, shoulders, and hindquarters.
Sometimes their coat contains areas of cream colored hair, known as "biscuit" color.
The coat type, color, and markings of a Papimo puppy can vary greatly, so your puppy could end up with any combination from the parent breeds!
If you're hoping for a puppy with the long silky coat of a Papillon, there's no guarantee that this will be the case.
Papimo Grooming and Care Requirements
Even though the Papillon's coat is impressively long, it is relatively easy to look after.
They only require a short brush every week with a longer grooming session every month.
Their nails grow quickly and therefore require frequent trimming.
Eskies double coats are reasonably easy to keep clean.
They do shed almost constantly, so brushing at least two times a week will remove hair and prevent any mats from forming.
Their ears should be checked weekly for wax buildup.
Your Papimo puppy will likely end up with a coat which only needs grooming once a week or so. Regular nail trimming, teeth brushing and weekly checks of your puppy's ears will keep them in top shape.
Papimo Temperament and Behavior
Despite their small size, Papillons are brave and alert dogs.
They often forget how small they are and will happily join in any family activities.
Be careful to keep an eye on them around larger dogs and children, as they can get hurt more easily than larger breeds.
They also have a tendency to be quite vocal, so you can expect a lot of barking!
American Eskimos are clever and keen to please their owners. They love being involved in every aspect of family life.
They have enthusiastic natures and pick up new tricks with remarkable ease.
Whether your Papimo puppy ends up taking after their Papillon or American Eskimo parent, you can be reasonably certain that they will be both clever and enthusiastic about life.
Papimo Socialization and Training Requirements
Papillons are intelligent and keen to please, meaning they are usually easy to train. This breed benefits from early socialization with other dogs.
Given their history as a companion animal, Papillons do not enjoy being left home alone for long periods of time.
They much prefer being involved in activities with their families.
American Eskimos dogs are very clever and can easily learn new tricks. This also means that they can be quick to learn undesirable behaviors, and as a result, puppy training classes are a great idea.
Eskies also love being with and interacting with their owners, so do not cope well if left alone all day.
Given the tendency of both these breeds to enjoy companionship, you can be fairly certain that your Papimo puppy will inherit this trait.
Training and Exercise Requirements of Your Papimo
Don't be fooled by their small size, Papillons are active dogs and love playing both indoors and outdoors. They enjoy chasing and retrieving games as well as regular walks.
Eskies are an energetic breed and love to run off some of their high spirits. If you forget to take this breed for daily walks, they can quickly develop destructive behaviors.
Both breeds enjoy a reasonable amount of exercise as well as spending quality time with their owners.
Papimo Puppy Health
As with many breeds, both Papillons and American Eskimos can be prone to a number of health issues.
Papillon Health Concerns
The Papillon Club of America recommended that the following health tests are carried out:
Patellar exam
Cardiac exam
Ophthalmologist examination
Papillons are prone to patellar luxation (dislocated kneecap) can be inherited so ask to see the results of patellar exams for both parent dogs.
A cardiac exam is recommended due to the potential for congestive heart failure.
This is not a common problem but most reputable breeders will still carry out this exam and you should ask to see the results.
Progressive retinal atrophy (PRA) is an eye disease found in Papillons.
Because this condition is inherited, The Papillon Club of America recommends a DNA test for PRA-1.
This type of PRA is responsible for early onset of retinal degeneration and night blindness.
Papillons can also have an issue whereby their fontanel (soft spot of the skull) doesn't close properly, so you'll need to ensure there's no history of this in the breeding line of your puppy's parent.
American Eskimo Health Concerns
American Eskimos are also prone to patellar luxation and progressive retinal atrophy (PRA). They can also suffer from hip dysplasia.
Hip dysplasia is an inherited condition where the hip joints don't develop correctly. Ask to see the hip test scores of any parent dog.
The American Eskimo Dog Club of America recommends performing the following health checks:
DNA testing for PRA
Hip evaluation
Ophthalmologist examination
Eskies can also develop diabetes, for which a blood testing is available.
Health Concerns of Papimo Dogs
Given that both Papillons and American Eskimos can suffer from patellar luxation and PRA, these are important health checks to speak to your breeder about.
A responsible breeder will be happy to go over the test results of both parent dogs.
Life Expectancy of the Papimo
Papillons have a life expectancy of around 14 to 16 years and American Eskimo dogs have an average lifespan of 12 to 14 years.
Therefore, you can expect your Papimo to fall somewhere within this range.
How to Choose Your Papimo Puppy
Take the time to find a reputable breeder who is happy to allow you spend time with the parents and puppies.
Also, talk through any health checks with the breeder to ensure, you're giving yourself the best chance of finding the perfect puppy.
Due to their small size, it's important to take extra care with Papimo puppies.
They can injure themselves easily by falling off furniture or playing roughly with other dogs or children.
What is the Ideal Home for a Papimo?
The ideal home for a Papimo puppy is one where the dog is included in all aspects of family life.
It's likely that they will not enjoy being left alone for long periods of time and may become vocal or destructive as a result.
Given the intelligence of both parent breeds, Papimo puppies will enjoy training classes and agility.
Does the Papimo Make a Good Family Dog?
Both Papillons and Eskies enjoy frequent interactions with their families, and it's likely that your Papimo puppy will share this trait.
It's important to take care if you have young children since they may be too rough with this small breed and cause unintentional injury to your pup.
If you're an active family with older children and looking for a fun-loving and energetic small dog, the Papimo may just fit the bill.
Is the Papillon Eskie Mix the Right Dog for You?
The Papimo is a small dog that is packed full of energy and will enjoy spending plenty of time with you.
If you're looking for an intelligent small dog and have time to spare for your new companion, the Papillon American Eskimo mix may just be the right choice!
Are you thinking about taking home a Papimo puppy? Or maybe you already own one and have some interesting experiences to share. Let us know in the comments.
References and Further Reading
American Kennel Club (AKC)
American Eskimo Dog Club of America
Ahonen SJ et al. 2013. A CNGB1 Frameshift Mutation in Papillon and Phalene Dogs with Progressive Retinal Atrophy. PLoS One.
Clark RD. 2017. Medical, Genetic and Behavioral Risk Factors of the Toy Breeds.
Leighton EA. 1997. Genetics of canine hip dysplasia. Journal of the American Veterinary Medical Association.
Get Pippa's free dog training tips delivered to your inbox