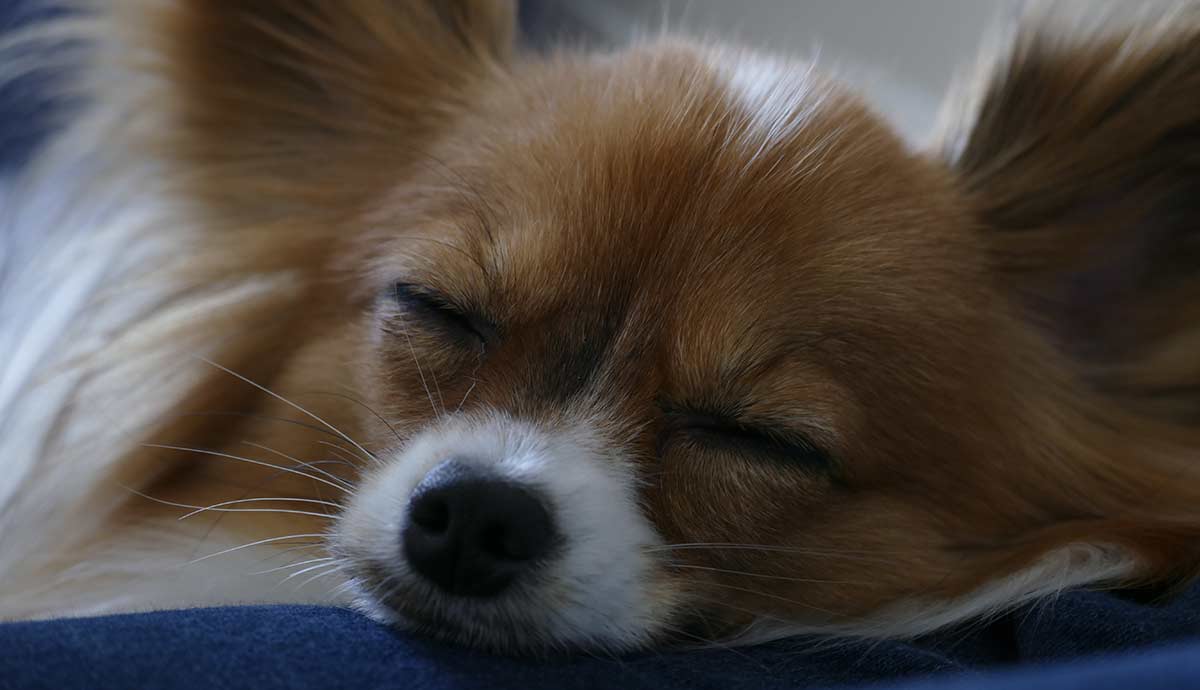 Welcome to our complete guide to the Papillon Pomeranian Mix.
Sometimes called a Paperanian, this cute little dog is the result of cross-breeding a Papillon with a Pomeranian.
This Papillon Pom mix is considered a designer dog, since it is a first-generation mix.
Since there is currently a lot of controversy around designer dogs, we will discuss those general concerns first, before jumping into all the cool details of this specific little crossbreed.
Designer Dog Controversy
Designer dogs are the result of someone intentionally mixing two purebred pups to create or design a new mixed breed.
There is a lot of controversy surrounding designer dogs, since many people argue about whether mixed breeds are "better" than pure breeds.
We all love our dogs, so you can see how this can become a heated debate with strong supporters on both sides of the fence.
Is A Designer Dog Healthier?
A common argument in support of mixed breeds is that they're healthier than purebred dogs.
Research has shown that purebreds do have reduced vigor compared to mixed breed dogs.
This means they tend to have shorter life spans and a lowered ability to procreate. It does not necessarily mean purebreds have more health problems.
However, research has proven that inbreeding (which is how you get purebreds) results in a smaller genetic pool.
When you shrink the gene pool, you increase the likelihood of passing on genetic traits that cause health problems.
Less common or less popular purebreds would have even smaller gene pools than other pure breeds.
This means that on average a purebred, especially a rare one, is more likely to have a health problem than a mixed breed.
However, when you're talking about individual puppies, any dog could end up being the healthier one, based on parents, genetics, and 'luck of the draw'.
The health and welfare of your individual puppy should always be the main concern, whether it's a purebred, a designer dog, or a mutt.
Papillon Pomeranian Mix Origin
The Pomeranian Papillon is a relatively new mixed breed so there's not a lot of history about it yet.
To give you a better idea of where this dog came from and what it's likely to be like, we'll go into the background of both of the parent breeds.
Pomeranian Origin
The Pomeranian comes from Pomerania, hence the name. This was an area in Northeast Europe that has now become part of Poland and western Germany.
Pomeranians are considered part of the 'Spitz' group of dogs. They're originally descended from the sled dogs of Iceland and Lapland.
These dogs were originally much larger. They have slowly been bred down in size over hundreds of years.
Queen Victoria came across the breed in Italy and fell in love. She became a breeder of the small dogs and is a huge contributor to the popularity of the breed today.
Queen Victoria is also believed to have been responsible for further reducing the Pom's size from about 30 pounds to their current 'toy' size today.
Marie Antoinette, Emile Zola, and Wolfgang Amadeus Mozart are all also said to have been Pom owners.
Papillon Origin
They were originally bred to be lap dogs for noblewomen.
For hundreds of years they were popular in the European royal courts.
They were developed during the Renaissance by crossing Spaniels with toy breeds.
Marie Antoinette was said to have a Papillon as well as a Pomeranian. Other French nobility such as Louis XIV also had one of these dainty dogs.
However, they were primarily bred in Italy and Spain.
The AKC first registered the breed in 1915.
Appearance of a Papillon Pomeranian Mix
A Papillon Pomeranian mix can look like either parent breed or some mixture of the two.
We'll discuss the appearance of each purebred to give you an idea of what your Papillon Pom mix might look like.
Papillon
The Papillon is in the Toy group of dogs.
These little guys only weigh between 5 and 10 pounds, and normally stand between 8 and 11 inches tall.
The Papillon is considered an elegant dog with fine bone structure.
The word 'papillon' is French for butterfly. The breed got the name due to their big beautiful ears that look like butterfly wings.
Their coat is long and silky with no undercoat. They have a long tail which arches high over their back.
The coat should always be partly white or white with patches of another color.
There are a number of possible color combinations, but the standard colors are:
White & black
White & lemon
White & red
White & sable
White, black & tan
Pomeranian
The Pomeranian is also in the Toy group.
They're even smaller than the Papillon, usually weighing between 3 and 7 pounds. They typically stand between 6 and 7 inches tall.
Despite being smaller than the Pap, Poms are sturdier dogs.
They are a compact little dog with a big, dense double coat. There's a short, dense undercoat and a longer, coarse outer coat.
Pomeranians have a plumed tail that sits high and lies flat on their back.
All color coats are accepted, although orange and red varieties are the most popular.
Papillon Pomeranian Mix Grooming & General Care
As a mixed breed, the Papillon Pomeranian Mix could end up with either coat, or something in between.
Pomeranian
The Pom's large coat requires brushing every day or two.
A pin brush or slicker should be used once a week to make sure you get right down to the skin. It's important to do this to prevent matting.
You should never shave your Pom's coat, but trimming is okay.
Pomeranians aren't huge shedders, but they do shed seasonally.
Poms should be bathed every month and their nails trimmed to keep them short.
Papillon
Papillons have a slightly lower grooming requirement than Pomeranians.
They should have weekly brushing with a slicker brush or comb and a full grooming once a month.
Papillons should be bathed every few months or when they get dirty, and their nails should be trimmed regularly.
These dogs also tend to shed seasonally.
Temperament of Papillon Pomeranian Mix Dogs
Pomeranians are known for being inquisitive, bold, and lively little dogs.
They are intelligent, curious dogs who appear confident and happy.
Poms are excellent competitive show dogs but also social companion animals.
Papillons are generally considered to be friendly, alert, and happy companions.
They are quick and curious animals that are neither shy nor aggressive.
While small, these dogs are athletic and energetic little creatures that enjoy agility courses.
This means that a Pomeranian cross Papillon is likely to be an intelligent, energetic dog that is typically happy and lively.
However, temperament of a puppy is never guaranteed.
Proper socialization and training is important to ensure you end up with a wonderful tiny companion.
Health Issues of a Papillon Pomeranian Mix
Both of these breeds are fairly healthy dogs with lifespans of 12 to 16 years.
It's important to know that because they are small in stature you need to be careful with them around stairs, furniture, and larger animals, especially when they're puppies.
Two common health conditions in both breeds are a fontanel (or soft spot) at the top at the skull and patellar luxation.
Papillon Health
Papillons are also known to have Progressive Retinal Atrophy (PRA) – a genetic eye disorder that can cause eye damage and eventual blindness.
Pomeranian Health
Pomeranians have been known to inherit the following health problems:
Low thyroid
Collapsing tracheas
Congestive heart failure
Seizures
Alopecia X (black skin disease)
Hip dysplasia or elbow dysplasia
Hydrocephalus
Syringomyelia
Pomeranians can also be prone to ear infections and various eye problems such as ectropion, dry eye, cataracts, and distichiasis.
Both Poms and Paps are prone to dental issues; their teeth should be brushed frequently to help avoid this.
When buying Papillon Pom cross puppies, it is important to make sure that the parents and the puppy have had all the necessary health tests, vaccinations, and vet visits.
This will help ensure that your newest family member is as healthy as possible.
Exercise and Training Needs of a Papillon Pomeranian Mix Dog
Pomeranian Exercise
Pomeranians love being companions and lapdogs.
Poms need regular exercise and they enjoy being able to run, play, and go for walks.
They are generally a very agreeable breed but patience and lots of positive reinforcement may be needed for house training.
Poms are alert and highly intelligent, and they enjoy and can excel in canine activities like agility, rally, and obedience, or work as therapy dogs.
Papillon Exercise
Papillons are also active and smart dogs that love to play.
They are companion dogs who are very eager to please.
Paps are very outgoing and are excellent agility dogs. They will enjoy obedience and sports training.
Be careful allowing a Papillon Pomeranian dog loose outside as they may chase after squirrels, chipmunks, and other small rodents.
They can also easily be hurt by larger dogs or predatory birds that might mistake them for prey.
You should consider preventing these dogs from jumping on and off couches and beds, so they don't injure their joints or break their bones.

Ideal Home for a Papillon Pomeranian Mix
Both Pomeranians and Papillons tend to be social animals bred to be companions and lapdogs.
They are outgoing, active, and social creatures who generally have happy temperaments.
An ideal home will involve plenty of attention and regular exercise.
Although too small for long walks, these pups still need regular play time and interaction to keep them healthy and happy.
Due to their tiny size, these toy dogs might not do well in houses with other larger dogs or cats.
Make sure that any children are old enough to understand that these petite puppies are not toys and need to be treated gently, as they can be easily injured.
They may require frequent grooming, depending on which coat is inherited, but shedding is primarily seasonal.
Remember that training and socialization are always important to ensure your Pom Papillon is a proper house mate.
Papillon Pomeranian Mix Puppies
Papillon Pomeranian mix puppies are still fairly new. Due to this, it can be difficult to find a reputable breeder.
Currently there appears to be no registered breed standard or club for Papillon Pomeranian puppies.
However, you will likely be able to find these adorable puppies online, either being offered through animal sale or adoption websites.
Whenever you are considering bringing home a puppy, it is important to ensure it is coming from a reputable source.
Pay careful attention to the type of living conditions the puppy is in.
Ask about both parents and get as much information as you can to understand the background of your puppy.
The more information you have, the better you will be able to predict any potential issues or areas of concern.
Of course, it's impossible to guarantee your puppy's long-term health and temperament. This is why health testing, vet check-ups, proper socialization, and training are all so important.
References and Further Reading
Get Pippa's free dog training tips delivered to your inbox