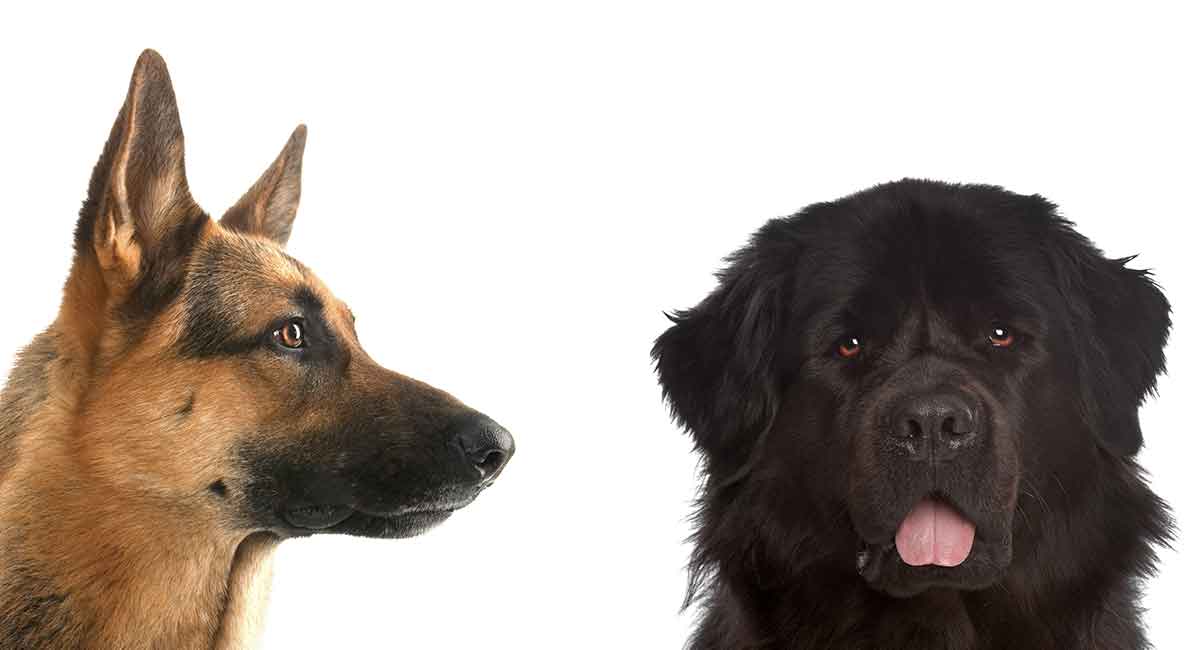 Fancy a dog with the smarts of the impressive German Shepherd and the sweetness of the gentle Newfoundland? What about the Newfoundland German Shepherd Mix?
Why not learn a little more about the Newfoundland German Shepherd Mix?
If you are a fan of big dogs, with big hearts then a Newfoundland German Shepherd Mix might just be the dog for you!
Where Does the Newfoundland German Shepherd Mix Come From?
Origins of the Newfoundland
Newfoundland dogs have long been relied on by Canadian fishermen to help on fishing boats. They would bring in the nets of fish and pull them to the markets on carts.
Their strength and natural swimming ability also earned them a reputation as lifeguards. They are skilled at saving people in trouble in the water.
The Newfoundland's courageous yet kind nature has won them many celebrated positions throughout history.
These included accompanying Lewis and Clark on their American Overland Expedition, providing companionship to Lord Byron, and minding Senator Kennedy's children.
Origins of the German Shepherd
The German Shepherd, known as the Alsatian in Britain, was created in 1889 by Captain Max von Stephanitz.
The Captain's aim was to develop a breed with "utility and intelligence." He spotted a dog which possessed these characteristics and used it as the foundation of the breed.
The first German Shepherd showed up in America in 1907 and by 1913, the first German Shepherd club has been established.
During World War II, the German Shepherd was famed for its bravery, intelligence, and work ethic.
At this point, it is worth addressing the controversy which surrounds the purebreds versus mutts.
The Mixed Breed Controversy
Advocates of purebred dogs claim the size, temperament, and health of a purebred can be reliably predicted. Moreover, their lineage can be traced back for many generations.
They also assert that supporting purebred dog breeders encourages the betterment of breeds.
This is mainly because breeders will ensure the characteristics and abilities inherent in purebreds can be improved upon and preserved for generations to come.
On the other hand, advocates of mixed breeds voice concern that inbreeding and exaggeration of certain physical characteristics in purebreds often result in dogs with serious health problems.
They point out that breed standards, which dictate the desirable physical attributes of purebred dogs, can at times have more to do with aesthetics than the welfare of the dog.
This has led to dogs with breathing difficulties, back and joint problems, and even difficulty giving birth.
Many believe hybrid dogs are healthier since they are purportedly less predisposed to inherited conditions than purebreds.
Indeed, one study has suggested that dogs with genetically diverse backgrounds are healthier and appear to live longer than their purebred counterparts.
Advocates of mixed breeds state that a truly responsible breeder will encourage traits that make the dog healthier and happier, even if that results in a divergence from the "standard."
Fun Facts About the Newfoundland German Shepherd Mix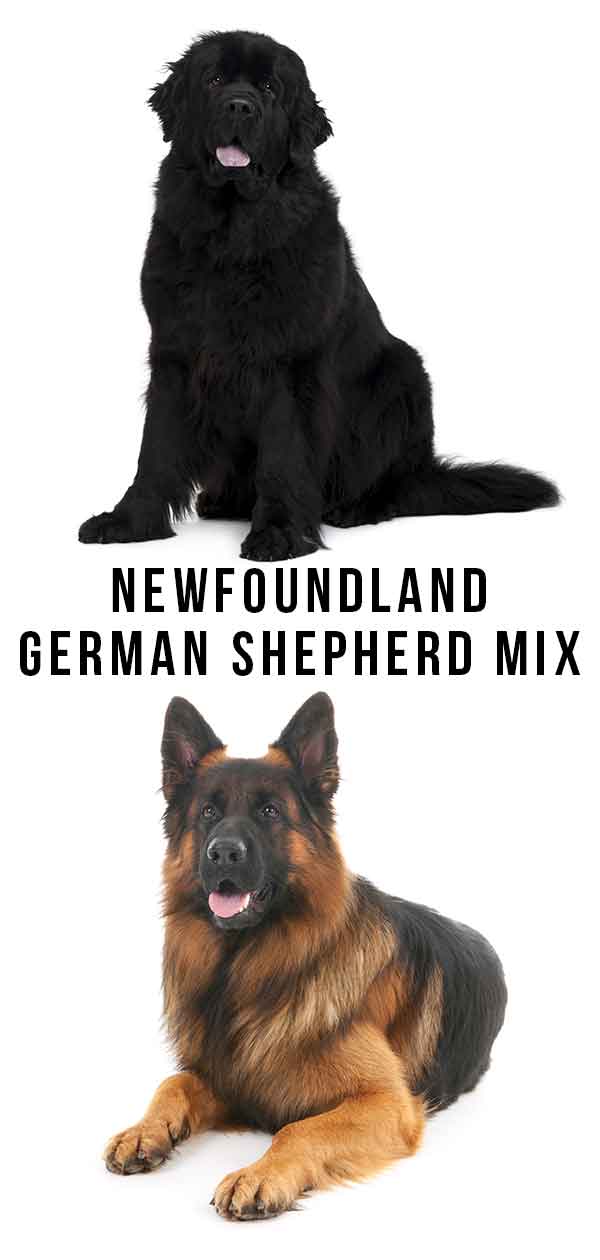 There are plenty of fascinating facts about the parent breeds of the Newfoundland German Shepherd mix. Here are some that stand out:
The actions of one Newfoundland may have had a hand in how history played out.
In 1815 a Newfoundland reportedly saved the life of none other than Napoleon Bonaparte when he went overboard while fleeing the island of Elba.
In the 1920s, one German Shepherd named Rin Tin Tin was arguably just as famous as any Hollywood star.
Rin Tin Tin starred in 27 films throughout his life. It's rumored that he won the most votes for the most popular actor category in the 1929 Academy Awards.
In the end, the Academy decided the award must be given to a human.
Newfoundland German Shepherd Mix Appearance
The Newfoundland stands between 26 and 28 inches at the shoulders and weighs between 100 and 150 lbs.
They are sturdy and strong in build and appearance. Their thick double coat is water resistant and comes in black, brown, grey, and black and white.
White patches are the only markings seen in this breed.
The German Shepherd stands 22 to 26 inches at the shoulders and can weigh from 50 to 90 lbs.
While strong and muscular in build, the German Shepherd also has great agility.
They have a thick, wiry outer coat which comes in variations of black, tan, solid black and sable. This coat needs regular grooming.
Both dogs are large, so a mix of the two is going to be a large dog.
While the German Shepherd's coat is not as long as that of the Newfoundland, both these breeds do have thick coats, so you can expect any mix will be quite furry.
The coloring could be any combination of the parent breeds markings.
Newfoundland German Shepherd Mix Temperament
The large Newfoundland is famed for its sweet, gentle nature. As a result, it has earned a reputation as a "nanny dog" for kids.
Owning a dog of this size may bring with it challenges in terms of caring and housing for your dog. But the Newfoundland wins big points for being so agreeable.
Temperament-wise, the German Shepherd is quite different from the Newfoundland. Its definitive qualities are loyalty, intelligence, and courage.
Perhaps the greatest evidence of this is their status as the preferred breed for law enforcement and military organizations.
In the family setting, a German Shepherd will make a loyal protector. As such, they tend to remain a little reserved when introduced to strangers.
The sight of a German Shepherd may incite fear amongst many, and they have a reputation for being good watchdogs.
A study published in 2008 found that German Shepherds did score higher than other breeds when it came to dog on dog aggression as well as aggression toward strangers.
In terms of aggression towards owners, however, you have more to fear if you live with a Dachshund than a German Shepherd.
A mix of these breeds could produce a dog that takes after one breed more than the other.
However, the sweet nature of the Newfoundland could balance out the more serious and protective tendencies of the German Shepherd.
Training Your Newfoundland German Shepherd Mix
First things first, you'll want to potty train your puppy, particularly if they are going to be spending time inside with you (as just about every dog would prefer).
Both these dogs are large and powerful. The German Shepherd is by nature a little wary of strangers and protective of their human family.
Socialization, which involves exposing your puppy to as many new situations and experiences as possible, is an absolute must if you decide to adopt a mix of these two dogs.
German Shepherds are active, intelligent dogs. It is important that you keep them busy and engaged mentally.
Both of these dogs enjoy regular exercise. the Newfoundland, in particular, is a natural swimmer and loves playing in the water.
Both breeds enjoy canine sports such as agility, dock jumping, and herding.
Sadly, German Shepherds are prone to conformational issues, so keep an eye on your pup's gait to ensure they not experiencing any pain.
Crossing with a Newfoundland might reduce such problems. Ultimately, checking that their parents did not suffer from these issues before choosing your puppy is the wisest course of action.
Newfoundland German Shepherd Mix Health
Both these breeds are susceptible to elbow and hip dysplasia. You should check the parent's history to see if your puppy might be at risk.
The German Shepherd Club of America does not require any further health tests. But you can read the American Kennel Club (AKC) health statement here.
However, as we mentioned, German Shepherds are prone to conformational problems. They may also suffer from von Willebrand's disease, degenerative myelopathy, and hemophilia.
The Newfoundland is susceptible to heart problems and cystinuria, a condition in which stones form in the urinary system.
You can find the Newfoundland Club of America's health statement here.
Both dogs can be expected to live up to 10 years.
If your puppy has taken after their Newfoundland parent and has floppy ears, check them regularly for infection.
As with any breed, feed your dog a well-balanced, high-quality diet to keep them healthy. Being big dogs, make sure you have the budget for this.
Both dog breeds have thick coats, so they will have to be brushed regularly even when they are not shedding. In shedding season, these bushings may need to be daily.
Does the Newfoundland German Shepherd Mix Make a Good Family Dog?
The combination of these two breeds can make great a family dog.
Taking into consideration the size, power, and temperament of the parent breeds, however, socialization and appropriate training is an absolute must.
Ideally, your family should have enough time and space to devote to training and exercising this mixed breed.
Rescuing a Newfoundland German Shepherd Mix
If you are looking to rescue one of these dogs, check local rescue groups dedicated to the parent breeds.
Sometimes these groups will help find homes for crosses as well as purebreds.
Otherwise, check at your local shelter.
Get as much information as you can about the background of the dog, as they might have some special requirements if they have been abused or neglected in the past.
How to Find a Newfoundland German Shepherd Mix puppy
The growing popularity of mixes can be good news for the general health of dogs.
However, some unscrupulous individuals have taken advantage of the demand, and view the production of puppies as nothing more than a way to make a profit.
While it may seem to be the easiest option, getting your new puppy from a pet shop is not recommended. Sadly, these puppies have more often than not been bred in puppy farms.
Dogs kept in puppy farms are housed in appalling conditions and often suffer untreated injuries and health problems.
Not only are they often neglected physically, but mentally these dogs are deprived of the chance to socialize and play.
First and foremost, make sure you can meet the parents of your dog, and see where they have been raised in person.
Pros and Cons of the Newfoundland German Shepherd Mix
Cons
The Newfoundland German Shepherd Mix is a big dog and will, therefore, eat a lot.
Care needs to be taken with training and socialization due to the size of both breeds, and the protective traits of the German Shepherd.
This dog will have a thick coat which will shed.
Pros
The Newfoundland German Shepherd Mix will be loyal to their family and eager to please loved ones.
This mix is great for those who like swimming and the outdoors.
The kind nature of the Newfoundland mixed with the intelligence of the German Shepherd is an appealing combination.
Similar Mixed Breeds and Purebred Dogs
Newfoundland German Shepherd Mix Rescue Dog
If you have read and considered carefully the information in this article and think this is the right dog for you, then consider rescuing one.
Here is a list of rescue organizations dedicated to the parent breeds.
If you know of another rescue organization with particular ties to the Newfoundland, the German Shepherd, or the resulting mix, then please tell us in the comments section below.
Is the Newfoundland German Shepherd Mix Right For Me?
If you have the time and patience to socialize, train and exercise your dog, then a Newfoundland German Shepherd Mix can make a great companion.
One of these dogs is likely to be a big, smart, loyal, and devoted companion.
Do you own a Newfoundland German Shepherd Mix or are you considering making one of these beautiful dogs part of your family? Let us know in the comments.
References and Further Reading
The German Shepherd Dog Club of America
O'Neill DG et al. 1997. Longevity and mortality of owned dogs in England. Veterinary Journal. DOI: 10.1016/j.tvjl.2013.09.020
Orlean, S. 2012. Rin Tin Tin: The Life and Legend of the World's Most Famous Dog. Atlantic Books.
Duffy DL, Hsu, Y, and Serpell JA. 2008. Breed Differences in Canine Aggression. Applied Animal Behavior Science. DOI: 10.1016/j.applanim.2008.04.006
Get Pippa's free dog training tips delivered to your inbox