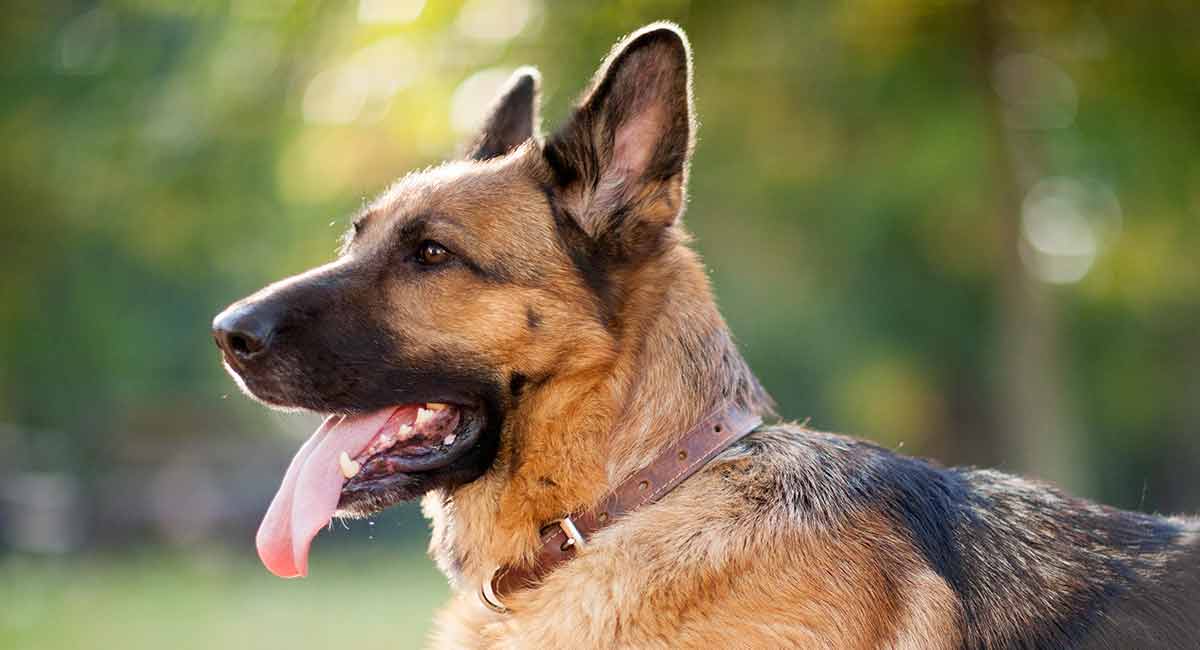 My German Shepherd won't stop barking, and it's driving me crazy!
Sound familiar? You aren't alone!
German Shepherds were bred to be watchdogs, and they excel at it. But when you bring one into a family home, you also need peace and quiet. And not to have the entire neighborhood baying at your door!
Luckily, you can train your German Shepherd to stop barking. And, if you can identify barking triggers, you can prevent them to reduce barking in the first place. Read on to learn more about why your German Shepherd won't stop barking!
Why Dogs Bark
There are a number of reasons that dogs bark.
Dogs use barking to communicate, with us or each other. But they also sometimes just enjoy the sound of their own voice.
To solve issues with barking, we first need to look at what is setting them off!
The most common reasons include:
Early morning wake-ups
Vehicle noise
Barking in the backyard
My German Shepherd Won't Stop Barking In The Morning
Puppies are very early risers, mostly because they have small bladders.
This part of your life is usually short lived, and by the time they are around six months old you aren't leaping out of bed at 6am any more.
But older dogs do cause some owners issues in the mornings too.
And that's when it's time to act.
The best way to stop your German Shepherd barking in the morning is to wake up before them.
Which sounds slightly counter productive, but stick with me here!
How It Works
Your dog is in the habit of telling you it's time to wake up.
But you want to be in control of that role in the household.
So you need to break the habit and get them back into seeing you as the rouser of the house.
It's tough at first because the thing you want most, sleep, is taken even further away from you.
But if you can stay with it, you'll get it back pretty soon and have a major sleep fest in your near future.
Ready, Set, Wake!
Set your alarm for half an hour earlier than the time your dog is waking you.
Get up as soon as it buzzes, and go straight downstairs.
Calmly collect your dog and let them out for a pee. Don't chat or get excited, and wait until their normal breakfast time to feed them.
Begin your day otherwise as usual (albeit a little bleary eyed).
The next day set your alarm 25 minutes earlier.
Follow the same routine.
Each day, decrease the time by just five minutes, until you reach the dog's natural waking time.
Then continue in this pattern until you reach a reasonable morning time!
Just make sure that you don't go too far. There will be a point where your dog can't wait any longer for a pee.
Top tip – this method not only works with dogs, but with young children too!
My German Shepherd Won't Stop Barking In The Vehicle
Jumping into your vehicle is very exciting for your dog.
It almost always means they are going somewhere fun.
Whether it's to a dog park, or to visit a friend and have a run around their backyard.
The trick to stopping your dog barking with excitement is to enact a Go Slow.
That means every time your dog makes a noise, you stop doing anything.
A Quick Example
Let's say your dog starts barking when you park the car.
There are a few steps to getting out and removing them from the vehicle and each step will wait until there is silence.
To crack this you'll need to use a week where you don't have any time sensitive activities at various points in the day.
And you'll need to make sure you don't take your dog with you if you can't afford to wait.
Each of these activities is a step:
Stop the car
Turn off the ignition
Reach to pick up your belongings
Open the car door
Get out the car
Walk over to their door
You must not proceed with each step if your dog is making any noise.
Breaking it Down
Each movement you make must can as soon as there is a pause for two seconds of silence, but must pause immediately that they make a sound.
The first time you do it, this might take a long time.
Hopefully each time you make a journey it will get faster, as they realise what is getting the result they want.
So only begin when you know you can take your time, and remember to do nothing that rewards their noise.
My German Shepherd Won't Stop Barking In The Backyard
A lot of dogs bark in the backyard, but some are more persistent than others. If your German Shepherd won't stop barking in the yard, this will help you.
Dogs that are bred to let you know when there are potential intruders are very likely to bark outdoors.
This is a tricky one as it is very self rewarding:
Your dog sees someone approaching
They bark
The person walks past without coming in
Your dog concludes that their barking kept the person away
This means that it's highly unlikely your dog will stop barking if you ignore him.
How To Stop This Type of Barking
It is possible to create an elaborate setup to stop this behavior.
Doing so involves getting several friends, that are not known to the dog, to walk past the backyard.
Stopping whenever your dog barks, and only passing by once they are quiet.
But to do this you need to guarantee no strangers will keep walking until they have learned not to bark, and have enough willing volunteers to make it happen.
For this reason, the best solution for most families is to create a barrier.
Prevent your dog from seeing when people walk past with a thick hedge or fence.
Although this involves effort, time and money, it is often more practical than setting up training for such a specific set of circumstances.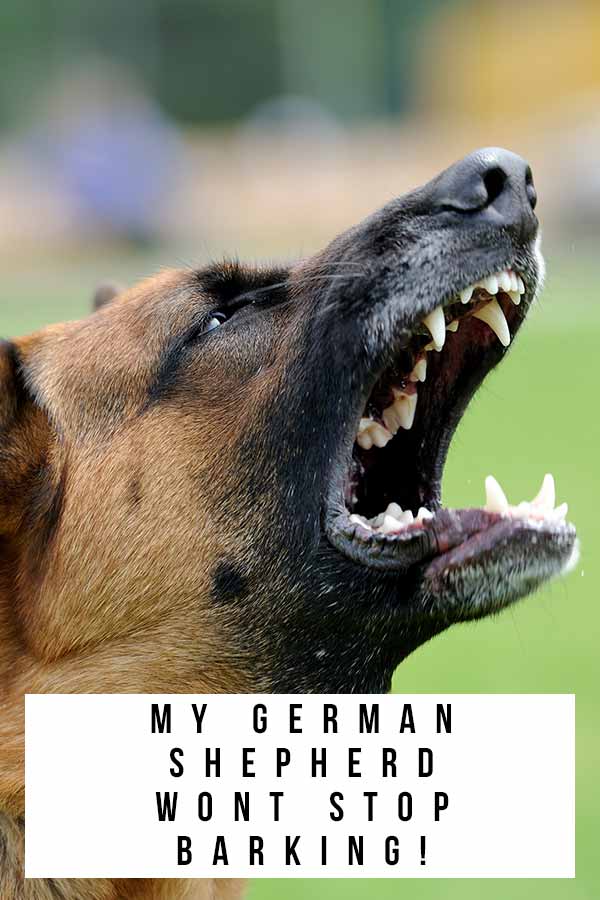 My German Shepherd Won't Stop Barking!
Bringing home a naturally protective watchdog means that you might have to deal with noise.
Most barking can be reduced if not stopped entirely if you have the time to dedicate to training.
But the best thing to do is prevent the barking from happening in the first place.
If you are expecting a new puppy, then make a note to never reward noise.
This includes not looking at them when they bark, reacting physically to their noise or even letting them out for a pee on request.
If you can do this from day one, you will increase your odds of having a quiet and peaceful life together.
Readers Also Liked
Get Pippa's free dog training tips delivered to your inbox