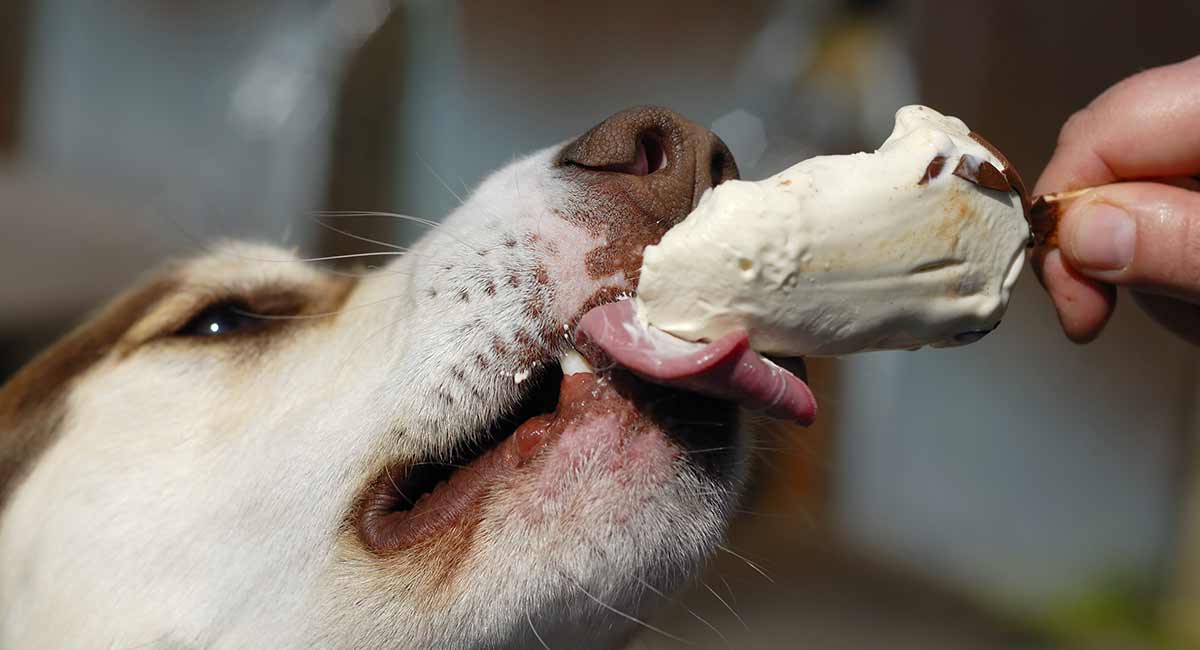 Oh no, my dog ate a popsicle stick!
What now?
Our furry friends can get into all sorts of trouble.
Even when we think we're keeping a close eye on them, they seem to find things to eat that they really shouldn't be eating!
If your dog ate a popsicle stick, you are probably worried for your little companion's safety.
This article will answer your questions and calm your nerves!
Is It Safe for My Dog to Eat a Popsicle Stick?
First off, we always recommend calling your veterinarian's office if you have any concern over something that your dog ate.
We can give you general advice, but nobody can help as much as your vet, who already knows your dog's health conditions and other factors that might contribute to the best plan of action.
So if your dog has eaten a popsicle stick, and you are concerned, go ahead and give your vet a a call to ask for advice!
With all that said, here's our rundown of the risk of dogs eating popsicle sticks.
Generally speaking, a popsicle stick shouldn't do much harm to your dog.
However, it really depends on a number of factors.
First is the size of your dog.
If you have a smaller breed, their throats and digestive systems are less likely to be able to handle the rough wood fragments.
Second is how much they chewed up the stick.
Dogs love to chew things up, which is probably why your pet got a hold of a popsicle stick in the first place!
If your dog thoroughly chewed up the popsicle stick, it's likely to pass without much issue.
However, if it was swallowed in larger pieces (or whole), it could potentially get stuck somewhere it shouldn't be.
Also keep in mind that popsicle sticks are made using treated wood, so they are unlikely to break down much or be fully digested.
This means that your dog will likely pass (or throw up) the stick in the same condition they swallowed it in.
You'll want to check feces and/or vomit carefully to ensure the stick passes.
Again, we recommend calling a veterinarian if you have concerns.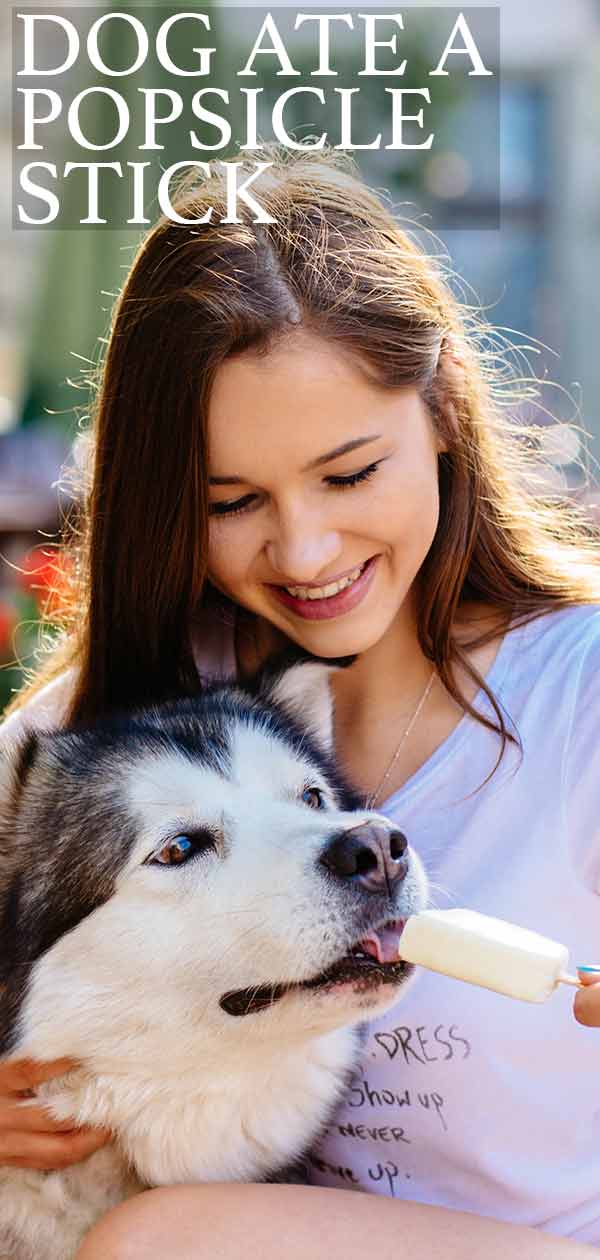 My Dog Ate a Popsicle Stick – What Should I Do??
Do you know for a fact that your dog ate a popsicle stick?
If so, here's what to do:
Call your veterinarian to ask their opinion.
Monitor your dog's behavior, and take note of anything abnormal.
Monitor your dog's feces, watching for signs of wood fragments or the whole stick (a good sign) or blood (a bad sign).
Watch for any warning signs, like vomiting, diarrhea, bloody stools, lethargy, or disinterest in food.
If your dog is behaving abnormally, call your vet immediately.
Keep an eye on your dog for up to a week to ensure no adverse effects.
Most of the time, a dog should pass a swallowed object in 24–48 hours, but it could take up to several weeks.
Some veterinarians will recommend you feed your dog some white rice or white bread, which can bind around the object and help it pass.
This is not strictly necessary, but it's something to discuss with your vet.
What Symptoms Will My Dog Show If They Have Eaten a Popsicle Stick?
Hopefully, your dog will show no symptoms at all.
Dogs can eat all sorts of stuff and come away with no ill effects.
With that said, it's important to keep a close eye on your pet and watch for symptoms.
Some things to watch out for are:
vomiting
diarrhea
bloody stools
lethargy
abnormal eating behavior
other abnormal behavior
Basically, watch out for anything outside of your dog's normal behavior.
If you see something off, call your vet immediately.
Why Would My Dog Want to Eat a Popsicle Stick?
Some dogs just like to eat everything!
Others love to chew on sticks and other objects and will occasionally swallow one on accident.
And, of course, if your dog found a popsicle, cake-pop, ice cream bar, etc., on a stick, there's a good chance that they will eat the whole thing – stick and all!
In more serious cases, dogs can experience pica, a behavioral disorder.
Dogs with pica will continually crave non-food items and will wind up eating all sorts of potentially harmful objects.
If your dog eats a single popsicle stick or other non-food item, there's no reason to fear a real issue.
However, if it becomes a habit, you should speak to your vet about pica.
How to Stop My Dog From Trying to Eat a Popsicle Stick
In general, you should strive to keep your dog away from objects that may harm them.
That means keeping things out of their reach.
And not allowing them to chew on items that could be harmful.
Training can also help.
Puppies will tend to eat anything they can – and if this behavior is not challenged early on, it can become a lifetime habit.
Ensure that your dog is properly trained, ideally from a young age.
This will help prevent all sorts of problem behaviors, including problem eating.
Lastly, if you give your dog treats or human food, ensure that it's safe for your pup.
For instance, you might not think twice about giving your pup a lick of a popsicle.
But what happens if he swallows the whole thing, stick and all?
Remember that dogs don't think about the potential consequences of what they eat, so it's your job as a pet parent to keep harmful items away from them.
Dog Ate a Popsicle Stick – Wrapping Up
So your dog ate a popsicle stick.
Here's what to do, summed up:
First, call your vet and ask if they have any recommendations.
It's unlikely that they will advise coming in unless your dog is clearly uncomfortable, but it's still good to check in.
Next, just keep a close eye on your furry friend.
Make sure they continue eating normally, and watch for vomiting, diarrhea, etc.
You should also check their poop for the popsicle stick (or fragments of it).
You might have to comb through it a bit – gross, we know!
If you observe abnormal behavior, it's time to call your vet again, and this time, you may have to bring your pup in for a checkup.
If no abnormal behavior is observed, your dog will probably be just fine.
Just keep a close eye on them, and try to confirm that the stick has passed by finding it in their feces.
That's all you need to know about dogs eating popsicle sticks!
If you have specific questions or concerns, we recommend calling your veterinarian.
References and Resources
Ingestion of Feces and Foreign Objects in Dogs, PetMD.
Landsberg, Gary, Wayne Hunthausen, and Lowell Ackerman. Behavior Problems of the Dog and Cat
Get Pippa's free dog training tips delivered to your inbox