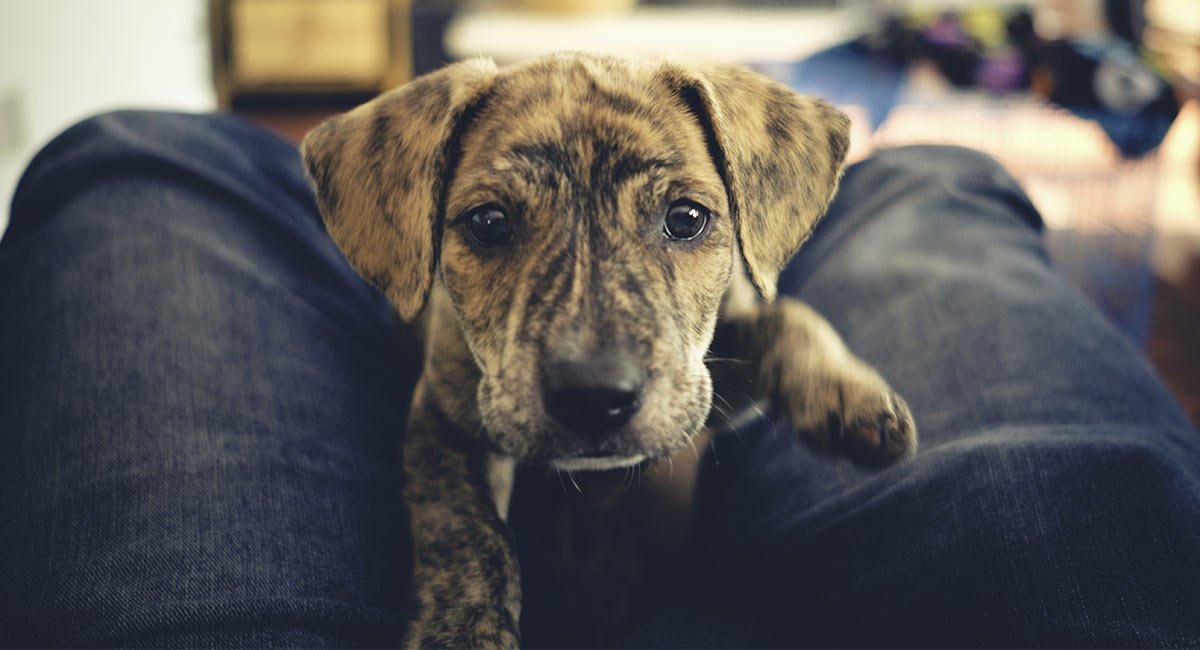 So, you think you might want a Mountain Cur dog?
These dogs are quiet, courageous, and protective.
They're beautiful, too, with gorgeous brindling and long, lean bodies.
We can see why you want one!
These working dogs are adorable and high-energy.
They are also smart and hardworking.
But are they a suitable pet for your family? That's what we're here to investigate!
Keep reading for all the Mountain Cur Info you need.
What is the Mountain Cur Dog Breed?
Mountain Curs are medium-sized dogs in the hound family.
They're considered all-American frontier dogs, because they traveled with the pioneers into the south and west as the United States was being settled.
These dogs are strong and agile dogs, with squared bodies and long legs for rough terrain.
They are most often black, blue, brindle, brown, red, yellow, blonde, or buttermilk buckskin.
Mountain Cur dogs may have white markings, tan markings, or brindle points.
White Mountain Curs also exist.
They have broad heads, folded ears, and stout muzzles. Their bark can be heard over long distances.
They are most closely related to hounds and terriers.
Mountain Curs are considered tree dogs, which means they are adept at "treeing" animals such as squirrels.
Sending them up into trees for refuge, where they can no longer escape.
They have also been called "bear dogs".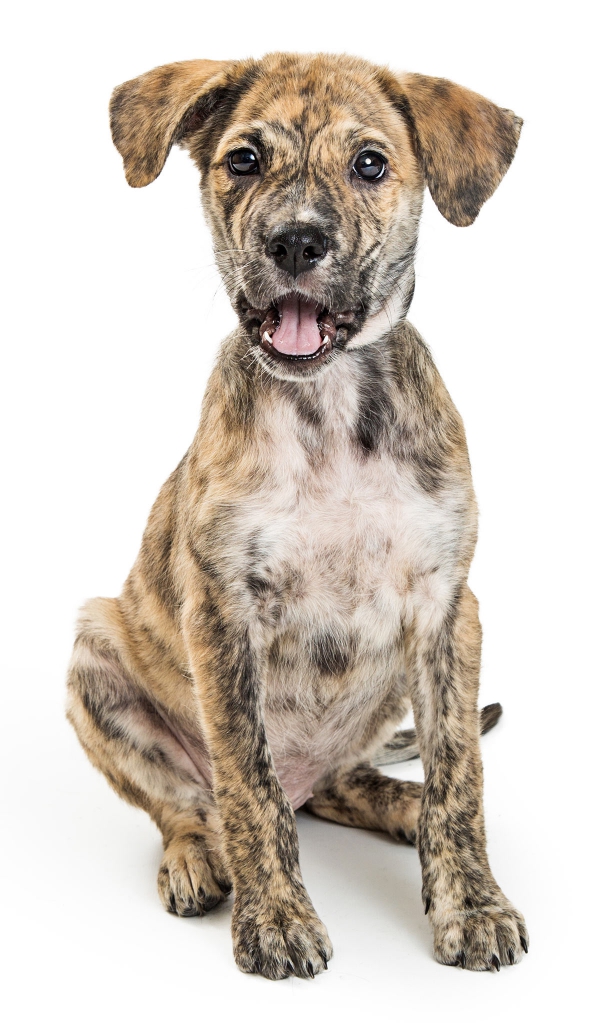 The Mountain Cur Squirrel Dog!
Originally, the dogs came from Europe, possibly with Spanish explorer Hernando de Soto in the 1500s to drive hogs and provide protection.
They developed in the Shenandoah and Appalachian mountains, until they moved west.
As their owners settled the mountain ranges of Kentucky, Ohio, Tennessee, and Virginia, their dogs were very helpful in catching small animals for food and for trade.
Squirrel hunting with Mountain Curs was a way of life as pioneers moved into the southern United States!
To help their owners, Mountain Curs caught small animals that their families turned into furs to be sold and trade for the necessities of life.
Mountain Cur History
Mountain Cur dogs were also helpful in guarding.
So they were truly vital to their families' success in living in an untamed environment.
For that reason, Mountain Cur puppies were considered very valuable in new homesteads.
For several centuries the breed was maintained, but as people left the mountains to work toward the war effort in World War II, the Mountain Cur breed started to decline.
That's when several individuals came together to create breed standards.
In 1957 the Mountain Cur was recognized as a breed by the Original Mountain Cur Breeders of America.
The United Kennel Club recognized it in 1998.
The Foundation Stock Service of the American Kennel Club did not recognize the Mountain Cur until 2017. This means that they are not yet eligible for registration with the AKC.
The Foundation Stock Service is an optional record-keeping service for purebred canines that can often be the first step to getting AKC recognition.
Some other breeds of cur, including the Stephens Curs and Mountain View Curs, are considered descendants of the original Mountain Curs.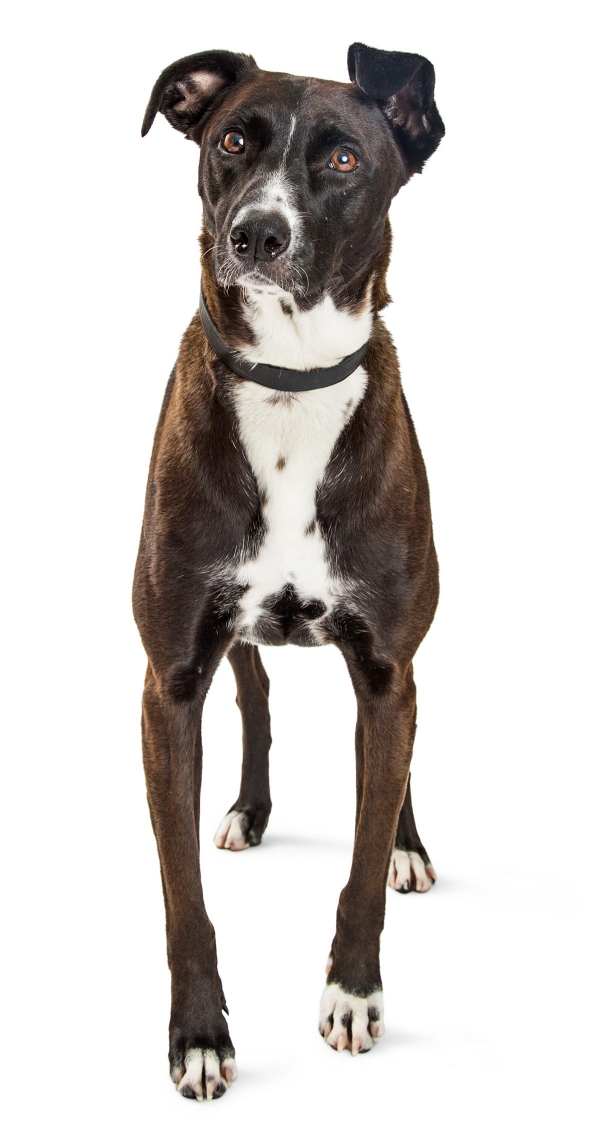 Mountain Cur Weight
So we know where they came from, but how big are they?
Mountain Cur males can be 18-26 inches tall, and females can be 16-24 inches. They have a muscular appearance.
Their weight is proportional to their size, so they generally weigh between 30-60 lbs. However, some have been known to weigh more.
Mountain Cur Temperament
Mountain Curs are determined hunters with a great deal of courage and superior scenting abilities.
They are intelligent and eager to please, which is good because they respond well to training as long as human contact is abundant.
Mountain curs are intelligent and powerful.
They are also reserved with strangers.
These dogs are tough and protective, so they make good watchdogs.
But this means they also need a lot of socialization to adjust to being family pets.
Mountain Cur Socialization
When you bring your puppy home at 8 weeks old, you will need to commit to spending the next few weeks focusing on socialization.
This means ensuring that you have visitors to the house every day. When they come in let them give a treat to the pup, or play a game with him.
Make sure that he sees visitors as normal and a pleasant experience.
Also bring him somewhere new every day, where he will interact with lots of people.
Before his final set of injections, you will need to carry the puppy and not put him on the ground where foxes or other uninnoculated pups might have been.
If you do this until he is 14 weeks old, then once a week from that point, you will give yourself a good chance of having a socially confident adult dog that won't inappropriately guard your family from your friends.
Mountain Cur Training
As well as socialization, Mountain Curs require a great deal of stimulation both of mind and body. They must stay active.
This means in general they need a job. They are easily bored otherwise, and may become destructive in the home.
The United Kennel Club recommends these dogs only for homes in which they will be working and hunting, so that their natural instincts and talents are properly used.
If you can't provide that kind of enrichment for a dog, make sure you are able to take long walks and give your Mountain Curs plenty of exercise throughout their life.
But you will also need to do lots of training using positive reinforcement methods, to keep their big brains busy!
Given the right environment, they can be loyal pets and may get along well with people and other animals.
Mountain Cur Shedding
Mountain Curs have dense, short coats that can be either silky or rough. They have soft, fine undercoats beneath.
These coats are easy to take care of, and require just a bit of regular brushing to remove dead skin.
They do shed, but not much. They are considered a low-shed breed.
This isn't a dog that should have lots of baths. They don't need them because of their short hair, and can develop skin problems if bathed too often.
Mountain Cur Health
Due to their history as a pioneer dog and their development in wild and untamed environments, Mountain Curs are generally hardy and have no known hereditary diseases as a breed.
That doesn't mean that every Mountain Cur will always be healthy.
Like all dogs, and all individuals, they may experience certain issues.
And less healthy canines can pass on undesirable traits to their offspring.
One potentially hereditary disease that have been studied in Mountain Curs is tooth malocclusion, but it is not clear if there is a genetic component.
Another is canine degenerative myelopathy, which is a neurological disorder in the spinal cord that looks much like amyotrophic lateral sclerosis in humans (Lou Gehrig's disease).
However, there is no indication within the current scientific literature that Mountain Curs have these conditions more than other canines.
One thing you should note is that, as working dogs with a high energy level, Mountain Curs may be more prone to injury than other dogs.
They are also prone to diseases that all dogs have in common, so you still need to make sure you keep them fit and sound.
With excellent care, Mountain Curs can live up to 12-16 years on average.
The actual number of years individual dogs will live depends on their environment, diet, quality of life, genetics, and other factors.
Mountain Cur Breeders
If you are looking for a breeder of Mountain Curs, you shouldn't have any trouble finding one. You can look online, or contact experts at the Original Mountain Cur Breeders Association
If you are interested in getting one of these dogs through a breeder, make sure you ask a lot of questions and are satisfied with the answers.
Research your breeder to make sure they are ethical and responsible. If you are able to visit the site where puppies are kept, see the place for yourself.
This way, you can examine the conditions that have contributed to the well-being of your potential pet.
Make sure you are satisfied with the health history of your potential pet's family, and get documentation.
Ensure that you meet both parents to ensure that they are tolerant of strangers and good natured.
Before you commit to a purchase, make sure you are comfortable that you are getting the dog you want, with bloodlines and physical health that meet your needs.
We know it's hard to think of these things when you're looking at cute puppies, but it's important!
Mountain Cur Puppies
Mountain Curs typically have litters with 3-8 puppies, and are weaned at around eight weeks.
Setting your Mountain Cur puppy up for success involves feeding it a nutritious daily diet.
Limit snacks, and note that puppies need more calories and nutrients than adult dogs do.
As medium-sized dogs, they have smaller stomachs than big dogs and metabolize food faster. They'll need a few extra feedings per day as puppies.
These pups will benefit from crate-training and basic obedience early in life. As well as that all important socialization.
Remember to exercise them daily! Mountain Curs are eager to please, but require consistency.
Mountain Cur cost
But what's the price of a Mountain Cur puppy?
If you are purchasing from a breeder, you can expect to pay $250 or more.
Dogs with great lineages can cost over $3,000! You can get a great purebred family pet for around $300, however.
Mountain Cur Rescue
It's definitely possible to find a Mountain Cur at a rescue or shelter. And, as with many purebred dogs, breed-specific rescues are available.
Rescuing a Mountain Cur is a great idea, but you should also consider the risks.
For one thing, you'll have fewer options regarding the age and condition of your potential pet.
For another, you won't necessarily know the history of the Mountain Cur you wish to adopt.
You will likely also have less information about its health, and none about its genetic predisposition to dog diseases.
You may have to contend with behavioral issues that may have arisen as a result of the dog's background, such as ones stemming from anxiety.
Patience and effort may be required to undo bad habits.
On the other hand, rescuing any dog has its own rewards.
You're giving a dog a second chance at a loving home, and improving the dog's quality of life. Rescued dogs are often loyal and grateful.
If that works for you, go for it! Just be prepared, and be patient.
You may not be able to find the perfect dog immediately, because purebred Mountain Curs are not incredibly common in shelters.
However, you may have better luck with a Mountain Cur mix. if you think you might be willing to take on a dog that's not purebred, you may have more options!
Is the Mountain Cur a good pet?
The answer to this question depends on what you want in a pet. Yes, these dogs can absolutely be wonderful, amazing, loving pets.
But they need a lot of socialization and positive reinforcement training from puppyhood.
As hunters, Mountain Cur hounds are skilled. These active dogs do best with families that will put them to work.
They require yards and space to roam, and may not do as well in urban apartments.
If you think this is the type of dog you want, then a Mountain Cur might be the right pet for you!
Resources
Coates, J. R. et al (2007). Canine degenerative myelopathy. Veterinary Clinics of North America: Small Animal Practice, 40(5).
Lamb, V. The ultimate hunting dog reference book: A comprehensive guide to more than 60 sporting breeds.
Smith, M. M. (2013). Gingivectomy, gingivoplasty, and osteoplasty for mandibular canine tooth malocclusion, Journal of Veterinary Dentistry, 30(3)
United Kennel Club, "Breed Standards: Mountain Cur."
Zeng, R. et al, Breed distribution of SOD1 alleles previously associated with canine degenerative myelopathy. Journal of Veterinary Internal Medicine, 28(2).
Get Pippa's free dog training tips delivered to your inbox