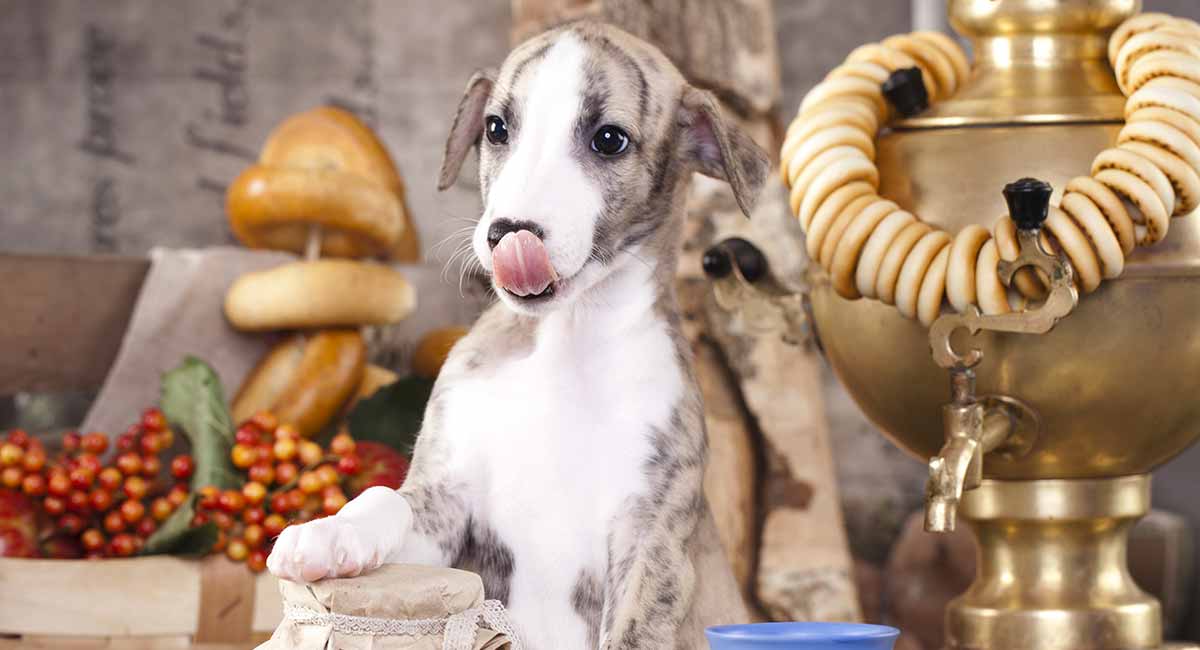 A miniature Whippet is a smaller version of a Whippet.
There are several ways a breeder might try to produce a miniature Whippet, each with pros and cons. These are breeding with a smaller breed, like a Chihuahua, introducing the dwarfism gene, or choosing runts.
However, the health of a miniature Whippet needs to be considered for each of these methods.
Crossbreeding a Whippet with a Chihuahua, or choosing an Italian Greyhound instead, are two of the best ways to fit the charm of a Whippet into a smaller dog.
Your Miniature Whippet
Welcome to our article all about the miniature Whippet.
Whippets are, in fact, thought to originate from the larger Greyhound.
They combine a mix of affectionate nature, and lightning quick speed, wrapped up in a streamlined and elegant silhouette.
First of all, we'll consider the appearance of the average Whippet. Next we'll find out how this breed can be adapted to create the Miniature Whippet.
Whippets
Whippets weigh between 25 to 40 pounds, and stand 18 to 22 inches high.
The huge range of colors and markings includes black, fawn, cream, red, and many more. Whippet are also commonly see with brindle coats in fawn, red, or blue.
Despite this wide variation, or perhaps because of it, the breed standard mentions that color is 'immaterial' when judging these dogs.
Now we know a little more about this breed, let's move onto the appeal of the Miniature Whippet.
The Appeal of the Miniature Whippet
Many of us love the idea of having a smaller dog.
If you live in a tiny house, or city apartment, then having a dog which doesn't take up much room is a definite bonus.
A miniature Whippet can curl itself into a tiny ball, and once exercised, is happy to spend the majority of the day sleeping. And of course, small dogs eat less, so your feed bill will be smaller as a result.
One factor which appeals to many people is simply that miniature dogs are pretty adorable.
Stepping out for a walk with your miniature Whippet, especially if they're protected from the cold in a cute coat, is sure to make others smile when they see you.
There are disadvantages to take into consideration as well. Some miniature breeds can suffer from additional health complications due to the way they were bred.
Where Do Miniature Whippets Come From?
Whippets stand at 18 to 22 inches high. Which certainly isn't that small.
So what sort of methods can breeders use to 'shrink' this down into a miniature Whippet?
There's 3 main methods used. But it's important to understand that each of these compromises the health of the resulting puppies to some degree.
Any breeder should be happy to discuss their favored method. And what health checks any puppies require as a result.
Mixing with a Smaller Breed
It's possible to create a miniature whippet by crossing a standard Whippet with a smaller breed.
The resulting puppies will hopefully be smaller. Of course, this isn't always the case!
Some possibilities of breeds to cross with the Whippet include:
Chihuahua
The Chiwhip is the result of breeding a Whippet with a Chihuahua.
Puppies can potentially weight between 6 to 40 pounds. But the majority will be towards the lower end of this range.
Chihuahuas are fragile dogs, any care needs to be taken with any mixed breed as well, in order to avoid injury.
Poodle
The Poodle is a popular choice for mixed breed dogs. And the Whipoodle is a blend of the Whippet, and Poodle.
If this cross uses a Miniature Poodle or Toy Poodle as one of the parents, the resulting pups are likely to weigh somewhere between 4 to 40 pounds when fully grown.
Poodles and Whippets are both low shedding breeds. So this mix won't leave too much evidence of their nap times on your sofa.
Italian Greyhound
The Italian Greyhound and Whippet share a lot of similarities in terms of their appearance. So you can expect your puppy to retain many of the characteristics of the parent breeds.
Puppies are likely to weigh 7 to 40 pounds when fully grown.
Italian Greyhounds have quite different personalities to Whippets. And there's no guarantee what sort of traits your puppy will develop.
Puppies from all 3 of these possible mixed breeds show a huge weight variation. That's because it's hard to predict exactly how a mixed breed puppy will turn out when fully grown.
Some breeders who have an established breeding program which has been running over quite a few generations of dogs, will have a better idea of the weights their puppies will reach when fully grown.
Introducing the Dwarfism Gene
Some breeders use this method to create smaller dogs.
Certain dog breeds carry the gene for dwarfism. This commonly includes dogs with shorter legs, such as Dachshunds and Corgis.
But, as we'll cover in a moment, this method can result in puppies which have a range of health problems, and that look distinctly unlike a Whippet
The gene for dwarfism acts by making a dog's legs shorter, which is also called achondroplasia. This process explains the shape of breeds like Corgis.
Dwarfism Complications
As well as shortening a dog's legs, the dwarfism gene can bring with it a range of other health problems.
These can include spinal deviation, bowed forelegs, arthritis, stunted growth, and enlarged joints.
And of course, one of the main features of the Whippet is their long, graceful legs.
Choosing to introduce the dwarfism gene may well remove that recognizable trait in the resulting pups. You may also find that your puppy requires more veterinary care than average.
This method doesn't seem to be that popular for the miniature Whippet. We can find anecdotal evidence of Whippets crossed with Corgis, for example, but there's very little information out there.
Both of the methods above result in a mixed breed puppy. While this isn't of concern to some owners, others prefer a pedigree, papered dog.
Whippeting From Runts
Finally, another method used to produce miniature whippets is to breed from successive generations of runts.
Runts are the smallest puppy in a litter, and often won't grow as large as the other puppies even when fully grown.
By breeding two purebred whippet runts, you can maintain their pedigree. This is unlike the other two methods discussed above, with both of those options involving creating a mixed breed dog.
Bear in mind though, that you may not be able to show your miniature Whippet. If their height measures more than half an inch below the height stated in the breed standard then they would be disqualified.
One downside with breeding from two runts is that it can take many generations before the decrease in size is obvious.
Runts are often not as healthy as their other litter-mates. If a breeder is prioritizing size over health, there's a risk that these health conditions may be passed onto their puppies.
Is A Miniature Whippet Right For Me?
If you're looking for a miniature Whippet, selecting a breeder who crosses Whippets with another breed of dog is probably your safest bet for getting a healthy puppy.
Mixed breeds are often healthier than pedigree dogs.
Crossing with an Italian Greyhound is the mix most likely to result in puppies which look like miniature Whippets.
Whippets tend to have a gentle and kind nature, making them suitable for many different types of homes.
Whippet Behavior
While they love exercise, especially sprinting, they're more than happy to curl up at home. This means that generally, they don't mind being left alone while you're out.
While they might be laid-back at home, care needs to be taken to make sure your Whippet has excellent recall skills.
Due to their high prey drive, you may find a home with cats, guinea pigs or other small rodents to be a bit of a challenge.
Whippet Health
Whippets are on the whole, very healthy and robust dogs. But there are a few health concerns you need to take into account. They can be prone to eye problems , canine pattern baldness, and heart murmurs.
The American Whippet Club recommend the following health tests:
BAER testing (for hearing)
Cardiac examination
Ophthalmologist examination
Bear in mind though, that if the breeder of your miniature Whippet has crossed a Whippet with another breed of dog, then the puppy's characters and health issues may be significantly different to that of a pedigree Whippet.
Finding A Miniature Whippet
There aren't that many breeders specializing in producing miniature Whippets.
You might find that some breeders label their puppies as miniature Whippets. When really they might just be standard size Whippet puppies.
It's important to speak to any breeder at length about their breeding program and the health tests that they carry out. It's also a good idea to ask to meet both parents of the puppies.
After reading through all the pros and cons of the miniature Whippet, you might decide that it's better to buy a standard Whippet, from a reputable breeder.
And of course, if you're still keen to track down a miniature Whippet, we suggest instead considering the Italian Greyhound as a realistic alternative.
While this breed does have a different personality and health concerns to the Whippet, they certainly look very similar.
Whippet Rescues
Another option is to consider rescuing a miniature Whippet instead.
Some rescues may well have miniature Whippets available for adoption. Just Whippets Rescue in the UK, and Whippet Rescue and Placement in the USA, are a specialist rescue organization who rehome Whippets.
Do you have a miniature Whippet? Let us know in the comments below!
More Miniature Breeds
If you've eager to learn about some other miniature breeds available to you, we have some more helpful guides.
Take a look at some of the links below for more information:
References and Resources
Official Standard of the Whippet. American Kennel Club.
Parker and Glynn. 2012. Myxomatous mitral valve disease in dogs: Does size matter? Journal of Veterinary Cardiology.
Somma et al. 2016. Characterization of a novel form of progressive retinal atrophy in Whippet dogs: a clinical, electroretinographic, and breeding study. Veterinary Ophthalmology.
Beuchat. 2014. The myth of hybrid vigor in dogs… is a myth. The Institute of Canine Biology.
Health Statement for the American Whippet Club. The American Whippet Club.
Bavegems et al. 2005. Vertebral heart size ranges specific for Whippets. Veterinary Radiology and Ultrasound.
Whippet Dog Breed Information. The American Kennel Club.
Get Pippa's free dog training tips delivered to your inbox