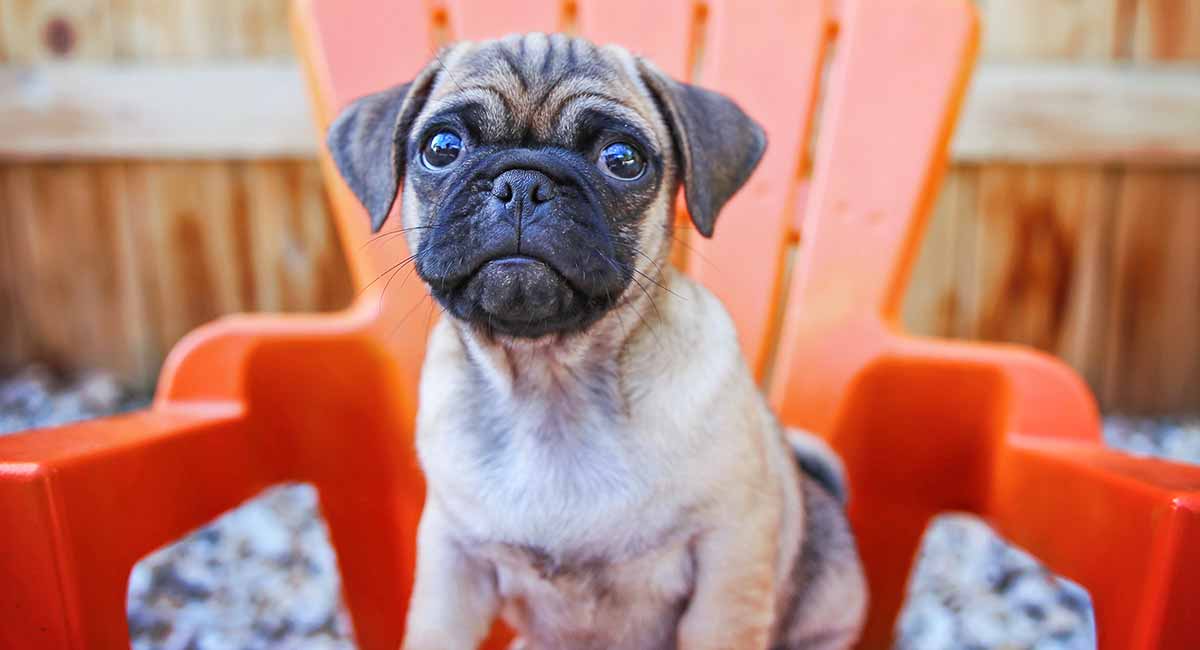 A miniature Boxer is a dog bred to have the looks and temperament of a Boxer. But in a smaller frame.
Miniature Boxer dogs appeal to people who love the full-sized breed, but perhaps lack the space to house one.
The three main ways of creating a miniature Boxer are: a mixed breed, introducing the dwarfism gene, and breeding from runts. But, these methods of creating smaller versions of popular breeds can have unwanted side effects on their health.
Let's take a closer look at this small dog.
Your Miniature Boxer
The Boxer is a beloved dog breed in many households around the world. It is prized for its famous looks and enthusiastic behaviors.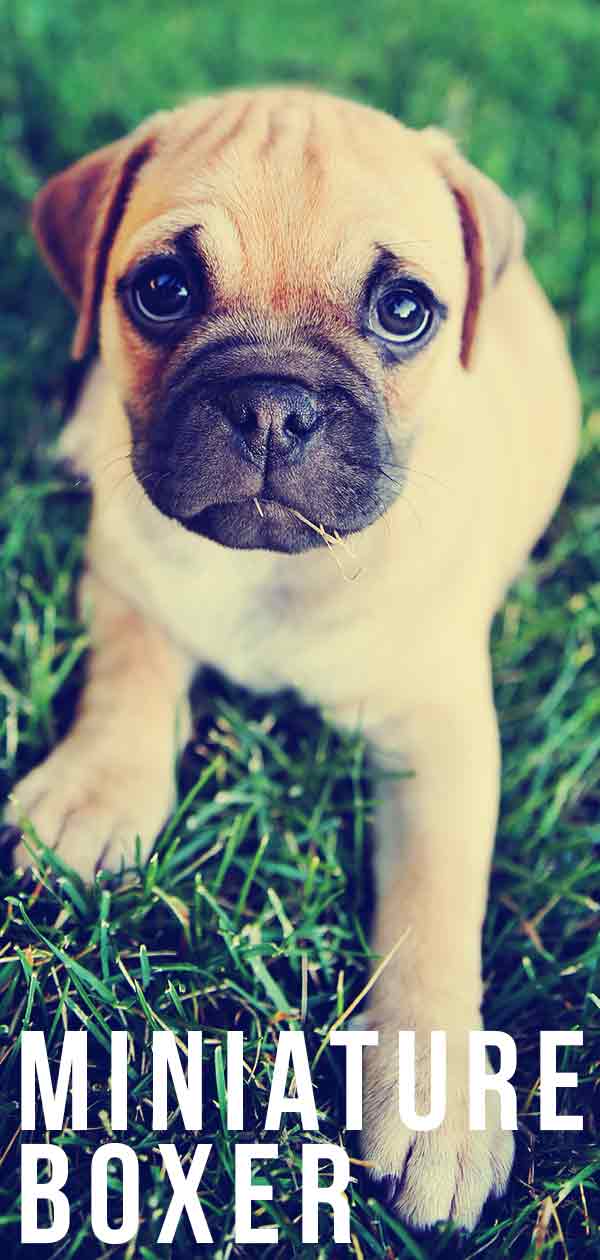 Breeders simply intend the mini Boxer to be a smaller version of the full-sized dog we know and love.
None of the major dog breed registries recognize a "Miniature Boxer" breed.
But, smaller Boxer, or Boxer-like, dogs can be achieved by out-crossing with smaller breed.
Breeders do this by deliberately introducing the genes for dwarfism from another breed.
Alternatively, they selectively breed from several generations of runts from purebred Boxer litters.
Miniature Boxer Appearance
Often considered "designer dogs," miniature Boxers might only reach 22 inches long and 25 to 55 pounds. This is small compared to a 70lb full grown male Boxer.
With small snouts, round faces, and large eyes. These dogs are prized for their "cute" appearance.
But, their strength and agility is nothing to mess with. It is not for the faint of heart.
The Appeal of the Miniature Boxer
Full sized Boxers are active, clever, and loyal. But they are sometimes challenging to control.
Fully grown, an excited and impatient Boxer who hasn't yet mastered loose-lead walking can easily end up dragging their owner along behind them.
They take up a lot of space at home and on the couch. And eat a lot of food too.
Miniature Boxers are appealing because they hold the promise of being easier to manage, feed, and care for.
Where Do Miniature Boxers Come From?
Many miniature Boxers are mixtures of Boxers and other, smaller dogs.
So, they are not strictly Boxers at all. They could possess characteristics of both parents. Not just the Boxer.
This means there is no predicting whether your mixed breed miniature Boxer will have the Boxer-like traits you are looking for.
Mixing with a Smaller Breed
Let's have a look at some of the crosses which could pass for miniature Boxer dogs.
Boston Terrier Boxer Mix
Most miniature Boxers are bred from Boston Terriers and Boxers.
It's easy to see why. The mix is likely to be much smaller than a purebred Boxer. The overall outline and facial features of a Boston and a Boxer are very similar. As a result the mix will likely still look like a small Boxer.
But, Boston Terrier Boxer mix puppies are certain to have very flattened faces. Dogs with flat faces are very vulnerable to brachycephalic airway syndrome. This is where the structure of the skull makes it hard for dogs to breathe, and regulate their body temperature by panting.
This issue is uncomfortable and miserable at best. But at worst it can be lethal in hot weather.
For this reason, we don't recommend homing a miniature Boxer achieved by out-crossing with a Boston Terrier.
Beagle Boxer Mix
The Beagle Boxer mix is a fun blend to consider.
Beagles rarely weigh more than about 22 pounds. So a Boxer Beagle mix is likely to be much smaller than a purebred Boxer.
Beagles are popular dogs for families because they are good-natured and energetic. They are bred to be healthy working dogs. So, they are usually free from the conformational defects of the Boston Terrier.
Beagles tend to make a lot of noise. As with Boxers, they need significant amounts of exercise.
This high-maintenance mix is not for the faint of heart. But it might fit well with an active family who enjoys an outdoor lifestyle.
Introducing the Dwarfism Gene
Another way that miniature Boxers may be developed by breeders is through introducing genes for dwarfism.
Dwarfism in dogs a hereditary condition known as achondroplasia.
Affected dogs have disproportionately short limbs. This gives them a shorter stature.
Achondroplasia is uncommon in Boxers. But it is a standard characteristic of other breeds, such as the Corgi.
By refinement over several generations, later puppies might have a high proportion of Boxer ancestry but retain the short legs.
But, this usually has serious implications.
Health Implications
A dog with dwarfism may have misshapen or under-developed bones. As well as other structural abnormalities.
It can also cause a reduction in overall lifespan and quality of life.
Introducing the dwarfism gene to a Boxer breeding line is not the most humane way of getting a miniature Boxer.
Breeding From Runts
A runt is the smallest member of a litter of puppies. Some runts are small but healthy. They may catch up in size with their littermates.
Others are abnormally small. They can remain below the normal healthy weight range for their breed their whole life.
Some breeders pursuing a miniature Boxer might mate two unusually small Boxers to create a litter of equally-tiny puppies.
This is a method of shrinking the dog breed while maintaining the temperament and appearance of a Boxer. And keeping the bloodline "pure".
The Pitfalls
Unfortunately, abnormally small puppies might also be the result of underlying congenital health issues.
As newborns they are likely to have difficulty getting their fair share of milk from mom.
This is linked to a weakened immune system in later life. Which can make them prone to issues in pregnancy and whelping.
So, we don't recommend bringing home a miniature puppy bred from runts either.
Is A Miniature Boxer Right For Me?
As with many dog breeds, the Boxer faces some a high prevalence of some hereditary health problems. Such as heart disease, degenerative myelopathy, and certain cancers.
Recent generations have become increasingly brachycephalic as well. Increasing the risk of respiratory disorders.
Miniature Boxers can be prone to these problems too. As well as the drawbacks of the process used to create them.
It's important that you do a great deal of intensive research before you purchase or adopt a miniature Boxer.
Finding A Miniature Boxer
If you're ready for all the fun of the Boxer breed but in a smaller dog, we recommend choosing a mixed breed dog with one Boxer parent. The other parent should be a smaller, healthy breed with similar traits, like the Boxer Beagle.
Visit the puppies and meet both of their parents before you commit to bringing one home.
Ask to see where the puppies are living. They should be inside the home, clean, and warm.
Both parents should clearly be loved pets, who know their name.
Adopting a Miniature Boxer
Alternatively, look into adopting a miniature Boxer.
Many shelters receive their fair share of Boxer crosses. Including Boxers crossed with smaller breeds. And Boxers crossed with Corgis and other dwarf breeds.
Often these dogs are surrendered because their owner's circumstances changed beyond their control. Or they were unable to keep up with their vet fees.
Adoption fees tend to be less than those charged by a breeder. But a breeder will be able to give you specific information regarding the parents of your miniature Boxer.
This can be beneficial if you are looking for a miniature Boxer that was bred from healthy parents. And in the most humane ways possible.
Similar Breeds
For more articles on mini breeds, we have some handy links!
Tell Us Your Experiences
Do you have a miniature Boxer? Tell us about your experiences with this breed in the comments!
References and Resources
Get Pippa's free dog training tips delivered to your inbox