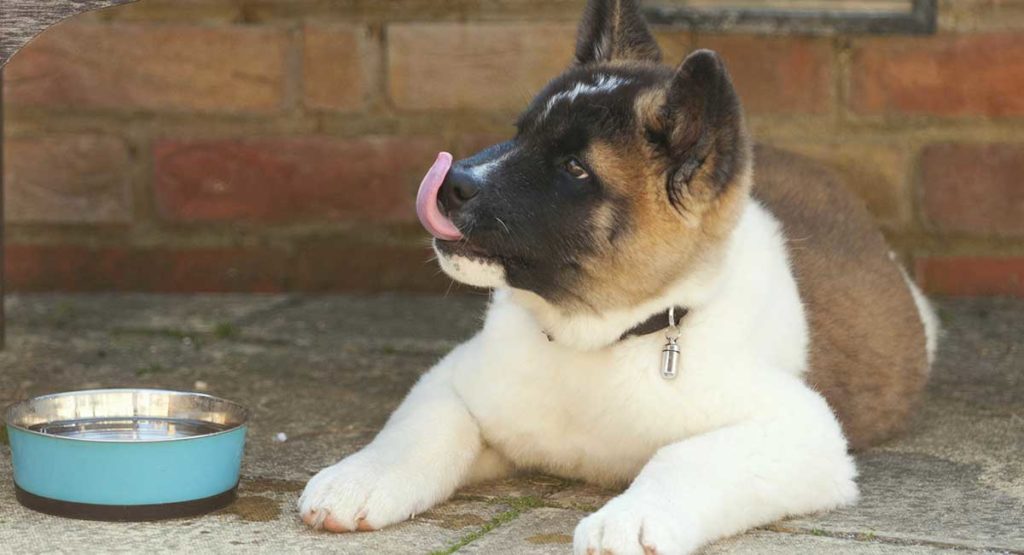 The miniature Akita is a smaller version of the imposing, dignified Japanese Akita breed.
Miniature versions of dogs are often created by crossbreeding, introducing dwarfism, or breeding from several generations of runts. However, all of these have potential drawbacks.
Luckily another alternative to the miniature Akita also exists: the Shiba Inu.
The Akita
These heavy-boned Spitz-type dogs are very large.
Males stand from 26 to 28 inches and weigh between 100 and 130 pounds.
Females stand from 24 to 26 inches and weigh from 70 to 100 pounds.
Alert, courageous, and deeply loyal, the independent Akita is known for being inherently protective of those they love.
But what exactly is a miniature Akita?
And how do you get one?
In this article we'll take a look at the miniaturization process and why it's such a hotly contested topic in the canine world.
What is a Miniature Akita?
The miniature Akita is not an official breed, they're a smaller version of a standard Akita.
We'll look at the ways that miniaturization of a breed is achieved.
But before we do, there's already a dog breed that's often described as being a miniature Akita.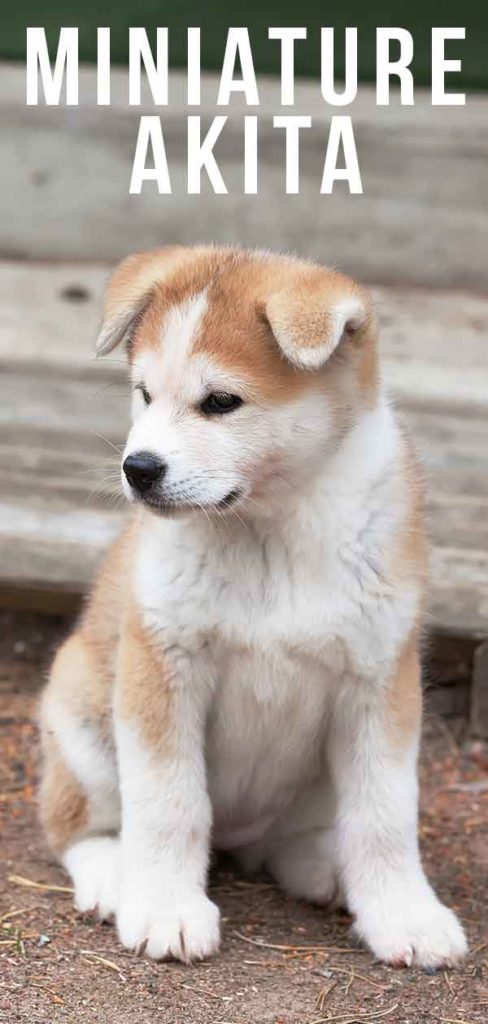 What is a Shiba Inu?
The Shiba Inu is another Japanese Spitz breed with many of the same physical and temperamental traits as the Akita.
Although related, this smaller dog is an entirely different breed.
Males stand from 14.5 and 16.5 inches and weigh about 23 pounds.
Females measure between 13.5 and 15.5 inches and weigh about 17 pounds.
Other than size, the most noticeable physical difference is color.
Both breeds come in black, red, and white.
But only the Akita's coat comes in brown and only the Shiba Inu comes in tan.
In terms of behavior, the Shiba Inu will bark more but is typically less stubborn.
The Akita will become very close to one person, whereas the Shiba Inu will love all family members equally.
Shiba Inus also have a longer lifespan – 13 to 16 years – compared to the Akita's 10 to 13-year average.
The Appeal of the Miniature Akita
There are plenty of reasons why people are interested in a smaller version of the handsome Akita.
While they're loving and friendly with family members, these dogs can be very territorial.
This makes them terrific watchdogs, but they can be overly protective and even very aggressive.
Some consider the Akita to be a dangerous breed.
For this reason, they're even banned in a number of regions.
As you can see, the Akita can be a handful.
Many people would simply be unable to manage a forceful dog of this size, but a smaller version would be easier to handle.
Space could be another factor in wanting a more petite dog.
A miniature Akita would be more suitable for apartment living or smaller homes.
Larger dogs also typically cost more to feed and require more exercise than smaller ones do.
Where do Miniature Akitas Come From?
There are basically three ways to create a miniature Akita.
The first is to breed a purebred Akita with a smaller breed.
Some breeders introduce the gene for dwarfism to get a smaller version of the Akita.
Finally, it's possible to get a miniature Akita by repeatedly breeding from runts.
However, each of these methods is not without problems.
Mixing with a Smaller Breed
Breeding a female Akita with a smaller dog is the most common and also the most humane way to get a smaller version of a larger breed.
The major drawback is that when you combine two different dogs you never know exactly what you're going to get.
The offspring could be smaller but have none of the physical or behavioral traits of an Akita.
On the other hand, there's a chance that the puppies will take after the Akita parent and not be any smaller in size.
Here are some Akita mixes that could be used to create a miniaturize Akita.
Akitapit
The American Pit Bull Terrier Akita mix will weigh anywhere from 30 to 130 pounds and stand from 17 to 28 inches.
American Pit Bull Terriers are medium-sized, but powerfully built dogs.
They're the most popular Pitbull breed, clearly recognizable for their broad, wedge-shaped head and short, shiny coat.
This combination will inherit strong protective instincts from both parents.
Pitbulls are also banned in some areas, and like the Akita, have been known to show serious aggression toward unfamiliar dogs.
Akita Collie
The Border Collie Akita mix could weigh anywhere from 30 to 130 pounds and stand from 18 to 28 inches.
Border Collies are a highly intelligent, high energy herding breed.
They're friendly dogs but typically have a strong herding instinct.
These handsome dogs with a traditional wolf-like appearance are most often seen in black and white, but come in a range of colors.
The Akita Collie would not be a good choice for a novice owner.
Corgita
The Pembroke Welsh Corgi Akita mix weighs from 25 to 130 pounds and stands from 10 to 28 inches.
Pembroke Welsh Corgis are instantly identifiable for their foxy face, large bat ears, stubby legs, and long body.
There's a good chance that the Corgita would inherit the Pembroke Welsh Corgi's shortened legs.
Despite their size, these strong, sturdy dogs are powerful and possess a strong prey drive.
Huskita
The Siberian Husky Akita mix can weigh from 35 to 135 pounds and stand from 20 to 28 inches tall.
This combination is likely to make a very loyal and active dog.
The Siberian Husky possesses a very wolf-like appearance.
These athletic dogs were built for speed and endurance.
Although they can be reserved, they don't have a guarding instinct, which can temper this tendency on the Akita side.
Introducing the Dwarf Gene
Introducing a dwarfism gene is another way that breeders can create a miniature Akita.
Dwarfism is a medical condition in dogs that's also known as chondrodysplasia.
"Chondro" means relating to cartilage and "dysplasia" implies abnormal growth.
Some breeds with very short legs, such as the Pembroke Welsh Corgi, are considered to be true dwarf breeds.
Chondrodysplasia doesn't completely miniaturize the dog.
But, using a dwarf gene can create a dog with shorter than normal legs.
Unfortunately, it also causes skeletal abnormalities, such as enlarged joints, intervertebral disc disease, and bowing of the forelimbs.
Breeding From Runts
Repeatedly breeding runts is another way to get a miniature Akita.
Since a puppy's size depends on how big the parents are, continuously breeding smaller dogs together seems a logical way to eventually create a miniature Akita.
And it can definitely work.
Unfortunately, this method often leads to some very unhealthy puppies.
Although the term runt refers to the smallest or weakest member of the litter, it doesn't necessarily mean they'll have health problems.
However, their size definitely puts them at a disadvantage.
They may have a hard time competing with their siblings for their mother's milk.
Failing to get proper nutrition from an early age may lead to a susceptibility to illness.
When you breed two dogs who were runts together, it increases the chance of passing along health problems to the offspring.
Health concerns that are known to affect the Akita include the bleeding disorder known as von Willebrand disease and an immune disorder called myasthenia gravis.
Progressive retinal atrophy (PRA), which can cause blindness, and hip dysplasia are also found in the breed.
Is a Miniature Akita Right For Me?
None of the three methods of creating a miniaturized dog will necessarily create a smaller dog that looks and acts exactly like a miniature Akita.
You may get a little dog by crossing it with a smaller breed, but it doesn't guarantee the dog won't take after the other breed.
Using the gene for dwarfism or breeding two Akita runts together opens the door to a wide array of potential health problems.
Ensuring that the dog is healthy should be a prime consideration.
Before deciding on a miniature Akita, it's recommended to check and make sure that you're allowed to have an Akita where you live.
Since these dogs can be highly protective and wary of strangers, they need to be thoroughly socialized from a young age.
Akitas can also be very aggressive with other dogs.
If miniaturization is achieved by crossbreeding, there's a possibility that the other dog's temperament will curb these tendencies.
However, it's recommended that a miniature Akita is the only pet in the home.
Finding a Miniature Akita
Finding a responsible breeder who deals in miniature Akitas may be difficult since they're not an officially recognized breed.
Adopting an adult dog from a shelter allows you to see exactly what kind of a dog you're getting, not only in terms of size but in other attributes as well.
Alternatively, choosing a Shiba Inu allows you to have a dog that's very close to being a miniature Akita in both appearance and temperament.
But since they're an entirely different purebred dog, none of the problems associated with miniaturization techniques apply.
Are you looking for a miniature Akita?
Let us know in the comments.
If you've liked this article, make sure you also check out Mini Goldendoodle! Or you might prefer the miniature Whippet!
References and Resources
Stafford, KJ, "Opinions of veterinarians regarding aggression in different breeds of dogs," 1996
Parker, HG, et al., "An Expressed Fgf4 Retrogene Is Associated with Breed-Defining Chondrodysplasia in Domestic Dogs," Science, Vol. 325, Issue 5943, 2009
Duffy, DL, et al., "Breed differences in canine aggression," 2008
Brown, EA, et al., "FGF4 retrogene on CFA12 is responsible for chondrodystrophy and intervertebral disc disease in dogs," PNAS, 2017
Mattoso, CRS, et al., "Prevalence of Von Willebrand Disease in Dogs from São Paulo State, Brazil."
Shelton, GD, et al., "Risk factors for acquired myasthenia gravis in dogs," 1998
Zangerl, B., et al., "Independent Origin and Restricted Distribution of RPGR Deletions Causing XLPRA," Journal of Heredity, 2007
Zhou, Z., et al., "Differential Genetic Regulation of Canine Hip Dysplasia and Osteoarthritis," PLOS One, 2010

Get Pippa's free dog training tips delivered to your inbox