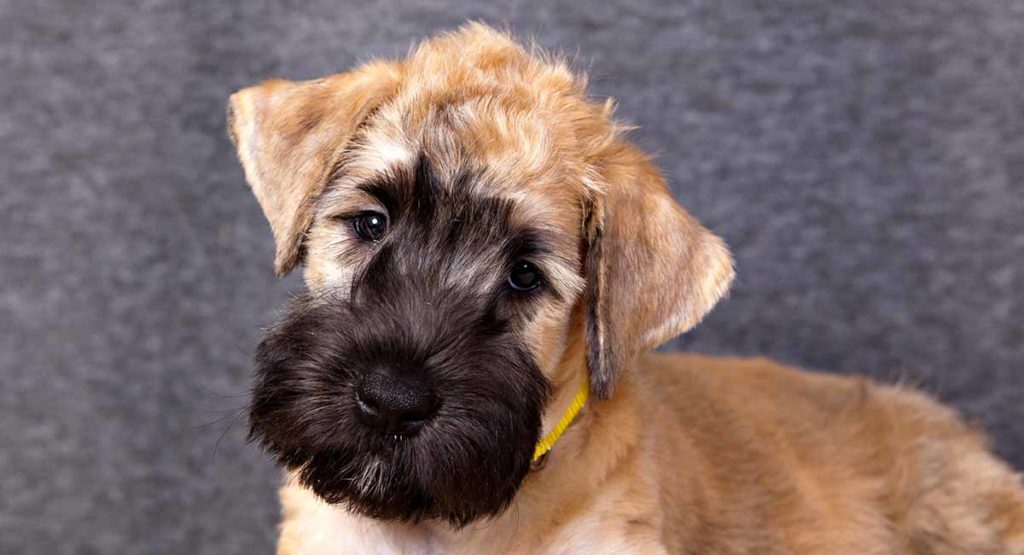 While the mini Wheaten Terrier isn't an official breed, crossbreeds like the Hava-Wheat and Whoodle can bring some of that Wheaten charm and devotion in a smaller package.
Any mini Wheaten Terrier is likely to be lively, energetic, and intelligent. They need lots of exercise and attention!
The Mini Wheaten Terrier
If you've fallen in love with the Soft-Coated Wheaten Terrier but wish all that fun-loving fluff came in a smaller package, the idea of a miniature Wheaten Terrier may have its appeal.
The Wheaten Terrier is an active, intelligent dog, and makes for a loving companion. Its distinctive silky coat and cheerful disposition have helped this breed become a family favorite.
But does its miniature counterpart have those same endearing characteristics? And how do you create a mini Wheaten Terrier anyway?
In this article, we'll go through everything you need to know about the mini Wheaten Terrier, so you can be as informed as possible when you're searching for your new best friend.
The Appeal of the Mini Wheaten Terrier
Miniature versions of well-loved larger dog breeds have long been gaining popularity.
Part of that is undoubtedly a result of the baby schema response. Human beings quite literally just can't help adoring dogs with round skulls, big eyes, and smaller snouts.
But there's more to it than that.
Smaller dogs are easier to transport, cost less to feed, and are more readily accepted by landlords who might disallow larger pets.
There's also the question of actually handling the dog. A full-sized Wheaten Terrier generally weighs between 30 to 40 lbs and can stand up to 20 inches high.
While that's certainly much more manageable than a 130 lb Rottweiler, some people still may not be comfortable with handling a dog of that size.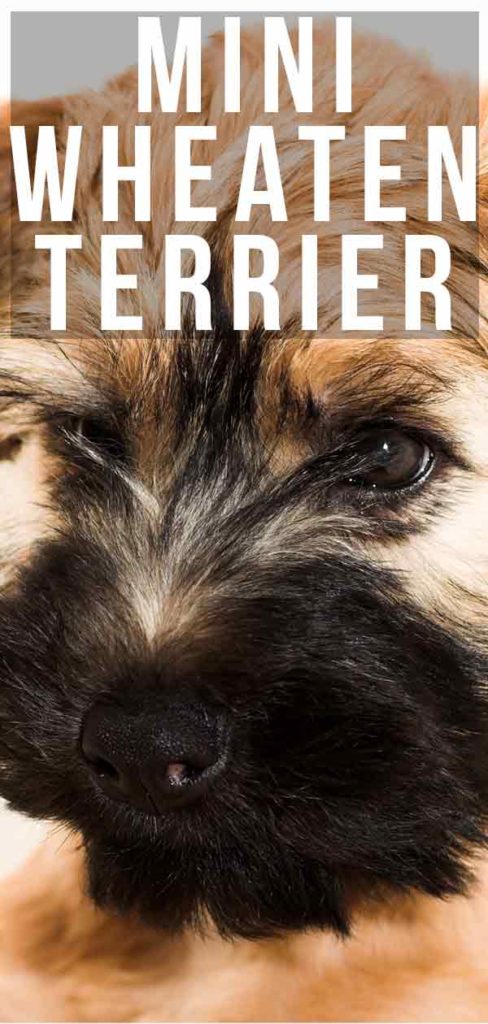 Where Do Mini Wheaten Terriers Come From?
There is no officially recognized mini Wheaten Terrier breed. Instead, most dogs advertised as "miniature Wheaten Terriers" are crossbreeds.
But there are actually three different ways breeders can create a miniature version of a larger breed like the Wheaten Terrier.
Possibly the most controversial way to produce a miniature version of a larger sized dog would be to introduce the gene for dwarfism. Canine dwarfism is a genetic health condition that affects the dog's bone structure.
Another way to get a mini Wheaten Terrier would be to breed repeatedly from runts, or uncommonly small Wheaten Terrier pups.
Finally, a breeder can choose to mix the purebred Wheaten Terrier with a smaller breed, like a Miniature Poodle. This is the most common and least risky way to "miniaturize" a larger breed.
But each of these methods has potential consequences for the health of the animal.
Mixing with a Smaller Breed
The most common way to create a mini Wheaten Terrier is to cross the Wheaten Terrier with a smaller breed.
Of course, you're not guaranteed to end with a puppy that has the same traits as a purebred Wheaten Terrier.
Instead, the puppy will resemble a blend of both its parents and exhibit personality traits of each.
The earlier the generation, the less predictable those traits will be, and the puppy may look and act more like one parent than the other.
Let's take a look at the two most popular Wheaten Terrier crosses you'll find when you're searching for a mini Wheaten Terrier.
The Whoodle: A Poodle and Wheaten Terrier Mix
The Whoodle — or Poodle and Wheaten Terrier mix — is the most common Wheaten Terrier mix out there.
Some Whoodles are bred from Wheaten Terriers and Standard Poodles.
But to get a miniature version, the highly trainable Miniature or Toy Poodle is mixed with the hardy and lively Wheaten Terrier.
Poodles are athletic, intelligent dogs who are eager to please. When crossed with the Wheaten Terrier, their biddable nature may soften that typical stubborn terrier attitude.
Both breeds are energetic and sociable, making them great family pets, so you can expect the Whoodle to have a similarly cheerful outlook on life.
However, Poodles are unfortunately prone to a range of genetic health issues.
These include such serious conditions as Addison's disease, von Willebrand's disease, Progressive Retinal Atrophy, thyroid problems, and epilepsy.
Toy Poodles have additional health concerns, such as cataracts, tracheal collapse, and patella luxation.
While the Wheaten Terrier is fairly healthy in comparison, it's not guaranteed that crossing these two breeds will necessarily eliminate the chance of health issues altogether.
So if you're looking for a Whoodle, it's extremely important that you purchase your puppy from a responsible breeder.
The Miniature Poodle weighs anywhere from 10 to 15 lbs, and stands 10 to 15 inches tall. The Toy Poodle weighs between 4 and 6 lbs, and stands under 10 inches tall.
The Hava-Wheat: A Havanese and Wheaten Terrier Mix
The less popular but endearingly named Hava-Wheat is a mix of, you guessed it, the Havanese and the Wheaten Terrier.
The Havanese is toy-sized but sturdy, with a silky coat and a playful disposition. Bred as a companion dog, this Cuban breed is extremely affectionate and only needs moderate exercise.
You can expect a Hava-Wheat to be a friendly and loving companion. In fact, so much so that he will probably want to be by your side at all times!
His exercise needs will vary depending on what traits the pup inherits since the Wheaten Terrier is significantly more athletic than the Havanese.
The Havanese has a long lifespan at up to 15 years but also faces a long list of potential health problems.
These include joint issues like hip dysplasia, luxating patella, elbow dysplasia, and Legg-Calve-Perthes disease. He's also prone to allergies, ear infections, cataracts, and deafness.
Any mix between a Havanese and a Wheaten Terrier may also be at risk for these conditions, so keep this in mind when searching for a Hava-Wheat puppy.
The Havanese stands 8.5 to 11.5 inches tall and weighs anywhere from 7 to 13 lbs.
Introducing the Dwarfism Gene
Another way to wind up with a miniature version of the Wheaten Terrier is to introduce the gene for canine dwarfism.
Wheaten Terriers with dwarfism are most likely to be suffering from achondroplasia, a disorder which causes the dog's bones to not grow to a normal size. This disorder is also referred to as chondrodysplasia.
Achondroplasia is very rare in Wheaten Terriers. If it does occur, however, it is a serious condition that causes chronic joint and bone pain.
Dogs with achondroplasia have shortened lifespans, and will likely experience pain throughout their lives.
Deliberately breeding dogs with achondroplasia is a controversial practice at best, and isn't considered humane.
Breeding From Runts
Contrary to popular belief, the runt of the litter isn't just the smallest puppy of any given litter. The term "runt" actually refers to a severely underweight puppy.
Puppies who are abnormally underweight may have underlying health defects. As they get older, they often need extra care and are more vulnerable to health issues than their littermates.
Breeding two unusually small Wheaten Terriers can be a way to down-size the breed without losing its structure or temperament — and without introducing a painful genetic disease like dwarfism.
But this also carries a high risk of passing along congenital defects to the pups. So while repeatedly breeding from runts might eventually get you a Mini Wheaten Terrier, it could be at the cost of the dog's health.
Is A Mini Wheaten Terrier Right For Me?
If you lead an active lifestyle, you want to spend lots of time with your dog, and you don't mind putting in extra grooming time, then a Wheaten Terrier could be an excellent choice for you.
If you would like an especially small one, we recommend you look for responsible breeders offering Wheaten Terrier mixes.
Finding A Mini Wheaten Terrier
Finding a healthy mini Wheaten Terrier puppy might be a challenge. Unscrupulous breeders can capitalize on the "designer dog" trend and may crossbreed without any concern for health or temperament.
If you still want to go with a puppy from a breeder, make sure you ask the right questions and look out for any warning signs of irresponsible breeding practices.
Adopting a mini Wheaten Terrier from a rescue is another option to consider.
Rescues don't just have adult dogs — you'll find plenty of puppies for adoption as well! Adoption fees are usually much less expensive than buying a dog from a breeder, and you'll be able to give a home to a dog in need.
Adult rescue dogs do have the advantage of being a known quantity — there's no mystery as far as their temperament, looks, or general behavior.
Many adult dogs in rescues are already housetrained and even know basic obedience commands.
By searching rescues online, you might also find unusual Wheaten Terrier mixes that aren't otherwise bred or well-known.
Whether you end up getting an adult dog or a puppy, any Wheaten Terrier mix is sure to bring plenty of love and joy to your home.
Similar Breeds
Take a look at other miniature breeds in our other handy guides.
For instance, the mini St Bernard!
References and Resources
Get Pippa's free dog training tips delivered to your inbox