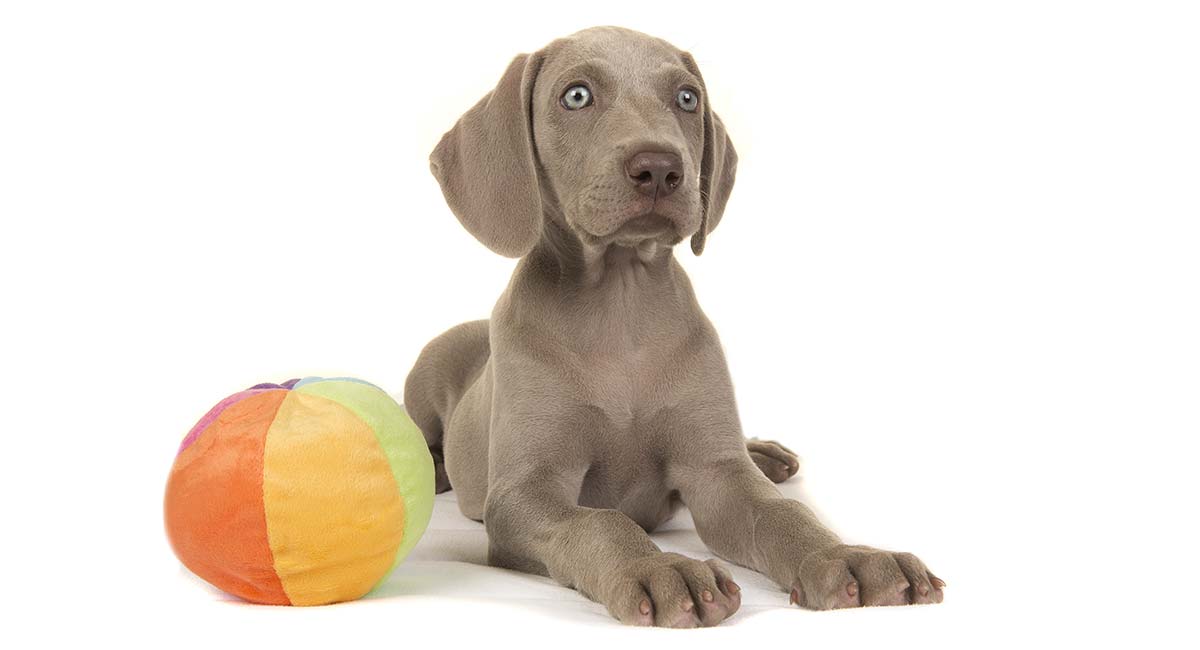 Mini Weimaraners are smaller versions of Weimaraner dogs. Breeders may try to produce them to appeal to people who love the breed, but lack space to keep one. However there are risks in miniaturizing dogs, and the smaller version may not be recognized as a true Weim.
Mini Weimaraners
With miniature variations of dogs still enjoying a huge amount of popularity and attention from enamored dog lovers, many find themselves wondering if their favorite breed has a miniature version.
The Weimaraner is one of the most popular large breeds, due to its beautiful appearance, unique character, and strong athleticism.
Many of the Weimaraner's loyal fans are curious as to whether a miniature version of such a large breed could possibly exist.
In this article, we take a look into whether the miniature Weimaraner is actually a viable size in the breed. We also discuss details on how they may be miniaturized in the first place.
The Appeal Of The Mini Weimaraner
As mentioned earlier, miniature variations of breeds are very popular. Many dog lovers would happily pay a premium just to own one. But why is this the case?
Simply, it comes down to the fact that we as humans find baby-like features cute!
It's the reason we are so drawn to puppies; while they are so small and helpless with big innocent eyes, we just can't help but feel the need to protect them.
A major appeal of the miniature dog is the fact that they remain "puppy-like" their entire lives. They remain small with puppy characteristics and never grow into adult size.
Alongside the cute factor that mini dogs bring, there is also the question of practicality. This doubly applies to the Weimaraner. They are a beautiful dog, but they are very large. They commonly stand at 23-27 inches tall.
Many don't have space or the time to care for such a large dog.
However, a miniature Weimaraner may be a different story. They would make a much better fit for an apartment dog due to the fact they take up less space. And their grooming and exercise requirements will naturally lessen.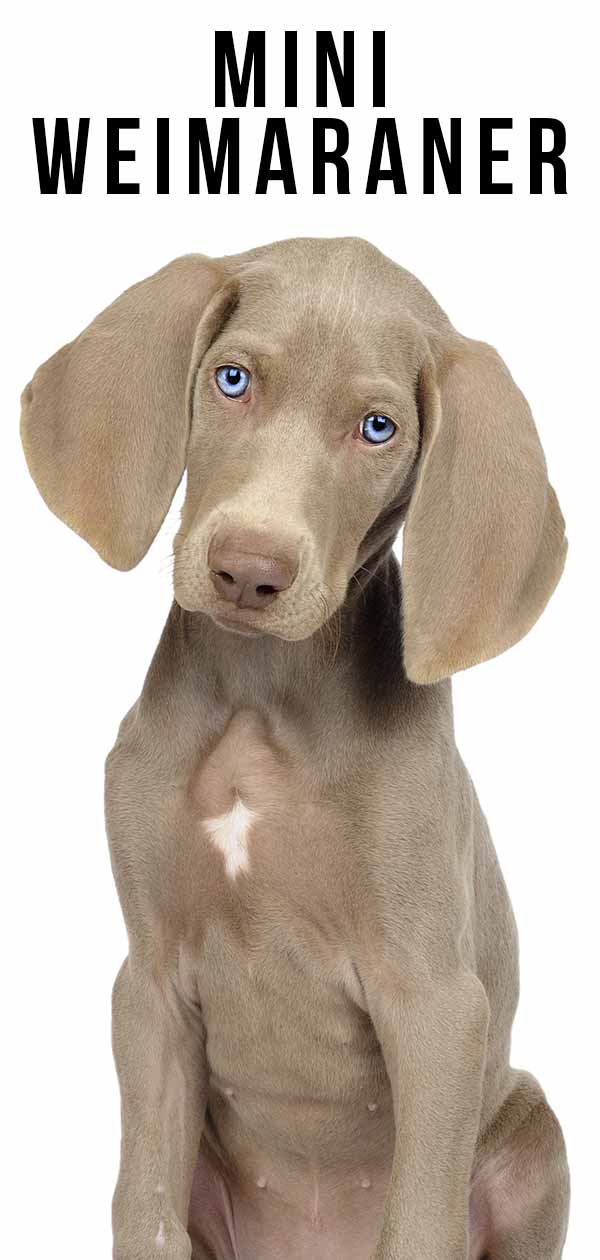 Where Do Mini Weimaraners Come From?
So how are mini Weimaraners actually bred in the first place?
There are three distinct ways to miniaturize a breed. Each comes with its pros and cons.
These approaches are crossbreeding, introducing a dwarfism gene, and repeatedly breeding from runts.
We will cover each approach to miniaturization in detail below.
Mixing With A Smaller Breed
A common way of miniaturizing a breed is to simply cross them with a smaller breed.
This will result in a dog that still retains traits of the original breed, but will potentially be much smaller.
The benefit of this method is that it's by far the healthiest option. This approach does not introduce any severe health problems in most cases.
Also, crossbreeding leads to generally better health due to genetic diversity.
However, crossbreeding comes with the drawback that it will result in a puppy that is not a true Weimaraner. It is very likely that the puppy will hold both physical and temperament traits of the other introduced breed.
It's impossible to predict what traits of the Weimaraner will be carried over into the puppy. This means the cross could be a wholly different dog from what you expect.
There are a few popular crossbreeds involving the Weimaraner that will likely result in a smaller dog.
Weimardoodle
The Weimardoodle is a popular mix with a Poodle. It can result in a dog similar to the Weimaraner but significantly smaller.
It's possible to have a Weimardoodle at a height of 15-20 inches tall.
Both being intelligent and active breeds, you can count on the cross still being as smart and athletic as a Weimaraner. On top of this, it is a relatively healthy cross with no big temperament concerns.
However, the Weimaraner's signature sleek coat is at risk of disappearing for the more corded coat of the Poodle.
Beagiraner
While a much more obscure cross than the Weimardoodle, the Beagiraner is another cross that can create a significantly smaller Weimaraner-like dog.
The Beagiraner is created by crossing a Weimaraner with a Beagle.
Like the Weimardoodle, a Beagiraner is likely to stand at around 15-20 inches tall.
Again, as they are both intelligent and active breeds, you can expect that aspect of the Weimaraner to remain intact within the cross.
The coat of the Weimaraner will be under risk again, as it may be replaced with a longer, coarse Beagle coat. There is also the potential for many colors and patterns to appear, rather than just the usual gray of the Weimaraner.
It's also possible for Beagiraners to be a lot more vocal than a usual Weimaraner.
Introducing The Dwarfism Gene
Another way a breed may be miniaturized is by introducing a dwarfism gene into the breed.
This could be done via crossbreeding as above. Breeds such as the Dachshund and the Corgi carry a genetic mutation that causes their signature stumpy legs and long back.
You could theoretically introduce that gene into the Weimaraner, creating a smaller dog. However, it would bring with it the potential for severe joint and spine issues that already plague the Corgi and the Dachshund.
You may also lose traits of the Weimaraner due to crossbreeding, as previously described above.
However, Weimaraners can be prone to their own genetic disorder that can cause dwarfism, known as Pituitary Dwarfism. Dogs affected would still be 100% Weimaraners as there would be no crossbreeding involved.
Unfortunately, this genetic condition is very serious. Many affected do not survive past a few weeks of age. Therefore, it is neither humane nor viable to breed Weimaraners this way.
Breeding From Runts
Another way to breed miniature variations of dogs is to breed runts together.
A runt refers to a puppy within a litter who is significantly smaller than the rest. They will usually grow to be smaller than average.
Breeding such dogs together, you should get a smaller than average litter. By doing this over generations you could create much smaller Weimaraners than normal for the breed.
The main perceived advantage of this method is that it creates mini Weimaraners that are 100% purebred. They will hold the same temperament and appearance of the breed, just be smaller.
However, runts are usually runts for a reason. Born smallest, they often struggle in the battle with their siblings to get food and warmth from Mom. They may already have congenital health problems, and struggle to thrive.
Therefore, you could potentially be breeding unhealthy dogs together, creating a miniature dog that is riddled with genetic health problems.
Breeders must be careful and know what they are doing to go down this path safely. As a potential buyer of a mini Weimaraner, you must be extra vigilant that any puppy you consider is free of any genetic health conditions.
Is A Mini Weimaraner Right For Me?
Whether a mini Weimaraner makes a good choice for you depends on a few factors.
Firstly, you must be aware of how any mini Weimaraner you are looking at has been miniaturized. Are they a crossbreed? If so, with what other breed?
Have they been bred from runts? Can the breeder show they are free of health problems? Do they have short, stumpy legs and a long back?
Depending on how they have been bred, they may be at more or less risk of health issues. You need to take this into account when you are searching for a mini Weimaraner.
We would advise looking into crossbreeds, as they are the healthiest option.
A mini Weimaraner will make a good fit for families who are able to keep on top of their exercise requirements. While they may be smaller, they still require a large amount of exercise each day to remain happy and healthy.
They are also not a dog for first-time owners. They can be strong-willed and independent, needing a confident owner to train them without feeling overwhelmed. Keep this in mind before making any decisions.
Finding A Mini Weimaraner
Finding a mini Weimaraner may be tough in itself. They are still quite obscure.
When finding a breeder, you must be incredibly careful and prudent in your search. There are, unfortunately, many bad breeders out there who would willingly sell you an unhealthy puppy.
Be sure to check the trustworthiness of any breeders before making any decisions. They should be able to show proof of their puppies' genetic health. If they cannot do this, walk away.
Genetic health conditions to watch out for in this breed include:
bloat
hip dysplasia
elbow dysplasia
hypothyroidism
cataracts
retinal dysplasia
Adopting A Mini Weimaraner
If you are unable to find a breeder, you could potentially rescue an adult mini Weimaraner from local rescue centers.
This comes with the benefit that you will know exactly what size and temperament you will be getting. Adoption fees are usually much easier on the wallet than purchasing from a breeder too!
What do you think about the mini Weimaraner?
Let us know below!
Similar Breeds
Maybe the mini Weimaraner isn't for you! But there are plenty of other mini breeds you might fall in love with.
Make sure to take a look at some of our guides below.
References And Resources
Borgi, M, et al, Baby schema in human and animal faces induces cuteness perception and gaze allocation in children, Frontiers in Psychology, 2014
Brown, EA, et al, FGF4 retrogene on CFA12 is responsible for chondrodystrophy and intervertebral disc disease in dogs, Proceedings of the National Academy of Sciences of the United States of America, 2017
Ogbu, KI, et al, A Review of Neonatal Mortality in Dogs, International Journal of Life Sciences, 2016
Battaglia, CL, Bloat and the Risk Factors, Breeding Better Dogs
Hou, Y, et al, Monitoring Hip and Elbow Dysplasia Achieved Modest Genetic Improvement of 74 Dog Breeds over 40 Years in USA, PLOS One, 2013
Maggs, DJ, et al, Slatter's Fundamentals of Veterinary Ophthalmology – Fourth Edition, Elsevier Health Sciences, 2007
Daminet, S, et al, Evaluation of thyroid function in dogs suffering from recurrent flank alopecia, The Canadian Veterinary Journal, 2000
O'Neill, DG, et al, Longevity and mortality of owned dogs in England, The Veterinary Journal, 2013
Roth, JA, et al, Improvement in clinical condition and thymus morphologic features associated with growth hormone treatment of immunodeficient dwarf dogs, American Journal of Veterinary Research, 1984
Get Pippa's free dog training tips delivered to your inbox