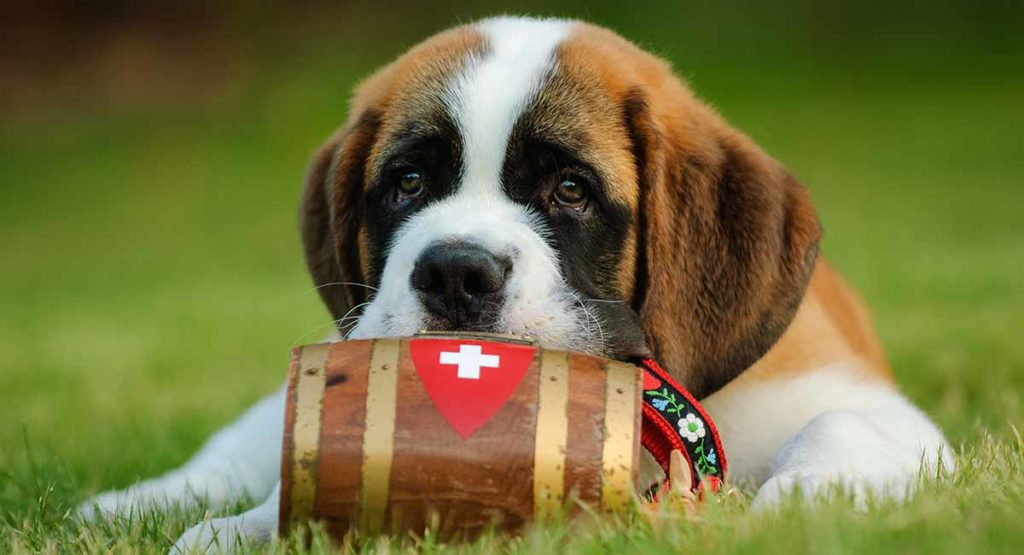 A mini St Bernard is a smaller version of the famous and beloved St Bernard. The safest and most common way of creating a mini St Bernard is by crossing a St Bernard with a smaller breed.
The best-known type is the Mini Saint – a St Bernard crossed with a Cocker Spaniel. This mix typically weighs between 40 and 60 pounds, growing between 17 and 19 inches tall.
Mini Saints and other mini St Bernard dogs aim to pack all the best qualities of a St Bernard into a dog who needs less space, and less food!
St Bernard Dogs
St Bernards, with their long history of rescuing lost travelers in the treacherous Swiss Alps, are the stuff of legend.
These large, powerful dogs are instantly identifiable, with a huge head that features a wrinkled brow, distinctive jowls, dark mask, and intelligent expression.
Males stand from 28 to 30 inches and weigh between 140 and 180 pounds.
Females stand from 26 to 28 inches and weigh from 120 to 140 pounds.
Known for their kind, eager-to-please temperament, it's not surprising that people would want this gentle giant as a pet. But in a more manageable package.
The Appeal of the Mini St Bernard
Let's face it, not everyone can handle or house a dog who weighs more than a full grown man.
Even one that's as sweet-natured as the St Bernard.
Miniaturizing different dog breeds has become extremely popular.
If you're an apartment dweller or live in a home with minimal space, it's not unreasonable to want a smaller dog.
A smaller dog also means less mess, lower food bills, and in the case of the Mini St Bernard, less drool.
And of course, it's hard to argue with the fact that small dogs are extra cute.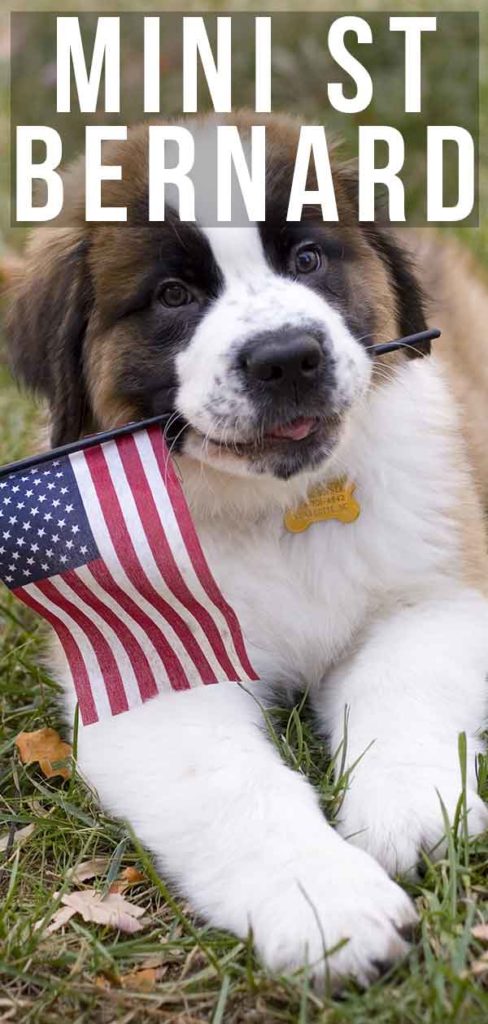 Where Do Mini St Bernards Come From?
Mini St Bernards are becoming increasingly popular.
Most of these dogs are a purebred St Bernard crossed with a smaller breed.
However, anytime two different dogs are crossbred there's no guarantee what the puppies' appearance or temperament will be like.
There are two other methods that some breeders use to create miniaturized versions of popular breeds.
This includes introducing the gene for dwarfism and repeatedly breeding from runts.
Unfortunately, both of these methods have some serious health implications for the animals.
Mixing with a Smaller Breed
The safest, easiest, and most common way for breeders to create a mini St Bernard is to cross a purebred St Bernard with a smaller breed.
Let's take a look at some of the most popular mixes.
Mini Saint
Crossbreeding the St Bernard with the Cocker Spaniel creates the mixed breed known as the mini Saint.
This gentle, playful Cocker Spaniel is renowned for their big, dreamy eyes and long, floppy ears.
They stand from 13.5 to 15.5 inches and weigh from 20 to 30 pounds.
This crossbreed could potentially weigh anywhere from 20 to 180 pounds.
But, these dogs typically weigh between 40 and 60 pounds and stand between 17 to 19 inches.
Other Names
These dogs are also known as Nehi Saint Bernards.
This name comes from the fact that these dogs reach a height that's about knee level on a person.
Their medium-length coat can be wavy and course, or straight and silky, and comes in a wide array of colors.
Temperament and Training
Since both parents are known for their sweet, affectionate personalities, you can expect this mix to make a wonderful family pet.
These dogs are also smart and trainable.
They'll be patient with children, love being around their family, and get along with other pets.
But, they're not as keen on strangers. Which can make them good watchdogs.
On the downside, this is a dog who may be prone to separation anxiety if left alone too often.
Saint Berdoodle
Combining the St Bernard with a Poodle creates the mixed breed known as the Saint Berdoodle.
Poodles are one of the most popular dogs for crossbreeding.
It's why there are oodles of different doodle mixed breeds.
Not only is their curly coat famously low shedding, but they're also loyal, highly intelligent, and easy to train.
Another reason Poodles make popular mixes is because they come in different sizes.
Poodle Sizes
Standard Poodles typically stand over 15 inches tall and weigh between 40 and 70 pounds.
The much smaller Miniature Poodle stands from 10 and 15 inches tall and weighs between 10 and 15 pounds.
There's also the tiny Toy Poodle who stands under 10 inches and weighs only 4 to 6 pounds.
Although the Standard Poodle is typically used in this cross, a Miniature Poodle crossed with a Mini Saint could result in a much smaller dog.
Border Bernard
Mixing the St Bernard with the Border Collie will make a dog that weighs anywhere from 30 to 180 pounds and stands from 18 to 30 inches.
The Border Collie is known for their off the charts intelligence and herding ability.
Their extreme high energy mixed with the St Bernard's much lower activity level is likely to create a dog with moderate exercise needs.
The Border's healthier 12 to 15-year lifespan could also help to increase the life expectancy of the Border Bernard.
Introducing the Dwarfism Gene
Another way that some breeders create a mini St Bernard is to give them the gene for dwarfism.
Doing this will not create a dog that's miniaturized. Instead, dogs that have this gene typically have very shortened legs.
Chondrodysplasia is the term for the condition in which the bones and cartilage do not form properly.
In some dogs, such as the Dachshund, dwarfism is part of the breed standard.
Unfortunately, this skeletal abnormality can cause painful joint conditions, bowed limbs, lameness, and intervertebral disk degeneration.
Breeding From Runts
Repeatedly breeding runts is another way that some breeders will create a mini St Bernard.
Breeding together two smaller than average dogs is likely to produce what could be considered mini St Bernards.
This method ensures a miniaturized version will retain all of the desirable physical and temperamental qualities of the breed.
But, it can take several generations before a mini version is produced.
Plus, more troubling is that runts are typically the smallest and weakest puppy in the litter.
While runts are not always unhealthy, those that have an extremely low birth weight are at an increased risk for congenital problems.
St Bernard Health Problems
Unfortunately, like many large breeds, the St Bernard doesn't have a very long lifespan.
8 to 10 years is the average.
Bloat
Gastric dilatation and volvulus syndrome, more commonly referred to as bloat, is a problem for many large, deep-chested breeds.
This stomach condition can develop suddenly.
An abnormal accumulation of gastric gas can become life-threatening if the stomach twists, cutting off blood flow, and putting pressure on other organs.
Heart Problems
Heart problems, like dilated cardiomyopathy, are also an inherited condition in the St Bernard.
This disease is characterized by an enlarged heart that causes the dog to be tired and short of breath.
It's a progressive condition that typically affects older dogs and eventually leads to heart failure.
Other Problems
Other problems that affect the St Bernard include hip and elbow dysplasia.
They are also prone to eye disorders.
Is a Mini St Bernard Right For Me?
There is no way to miniaturize any breed that guarantees a smaller version of the dog without putting the animal at risk for some severe health issues.
Breeding the St Bernard with another dog is the most humane way to get a smaller version of the breed.
The downside to this method is that the offspring could have the appearance and temperament of the other parent.
But There Are Benefits
However, the Mini Saint combines two very appealing breeds.
This combination is likely to produce a friendly, lovable pet who wants to please their family.
Even though they may be a little stubborn, this dog should be fairly easy to train.
These dogs are suitable for almost everyone.
First time owners, families with children, and even other pets would be a good match.
But, if there's no one at home for most of the day, you may want to consider another breed.
Finding a St Bernard
Like many mixed breeds, Mini St Bernards are becoming increasingly popular.
This is a bit of a double-edged sword.
Anytime a dog is in demand it means there's an increase in breeders, making these dogs easier to find.
But it also means there are more disreputable breeders who are looking to make a fast buck on a hot trend.
Find Responsible Breeders
Take the time to seek out a breeder who's able to answer all of your questions.
It's also very important to make sure both parents have been tested and cleared for inherited health conditions.
Alternatively, you can choose to adopt an older dog from a shelter.
This way you'll be able to see for yourself exactly what you're getting.
Are you interested in bringing a mini St Bernard into your life?
Let us know in the comments.
Similar Breeds
We've got plenty more miniature versions of dogs for you to read about. If you love learning about smaller breeds, click some of these links for more great guides.
References and Resources
Get Pippa's free dog training tips delivered to your inbox