The mini Goldendoodle is a smaller version of one of the world's most popular mixed breeds.
The Goldendoodle combines the friendly Golden Retriever with the highly intelligent Poodle. So it's not surprising that this dog is such a fan favorite.
But are you interested in a more compact version?
You're not the only one. Many people want smaller dogs these days. However, it does make you wonder if there's a downside to downsizing.
In this article we'll take an in-depth look at how breeders create smaller dogs and offer some advice on what to look for in a breeder.
But first, let's get to know the Goldendoodle.
The Appeal Of The Goldendoodle
When the mixed breed craze began in the early 1990s, Goldendoodles were touted as being excellent family dogs.
They're affectionate, highly sociable, and very trainable.
Another reason these dogs became so favored was the claim that they were hypoallergenic due to the Poodle parent.
In reality, there is no such thing as a hypoallergenic breed and any dog can potentially trigger allergic reactions. This is because it's the protein found in the dog's saliva, skin, and urine that is the cause of allergens.
Many people also mistakenly believe that Poodles don't shed.
They actually do. It's just that you don't notice it because the excess fur gets caught in their curly coat.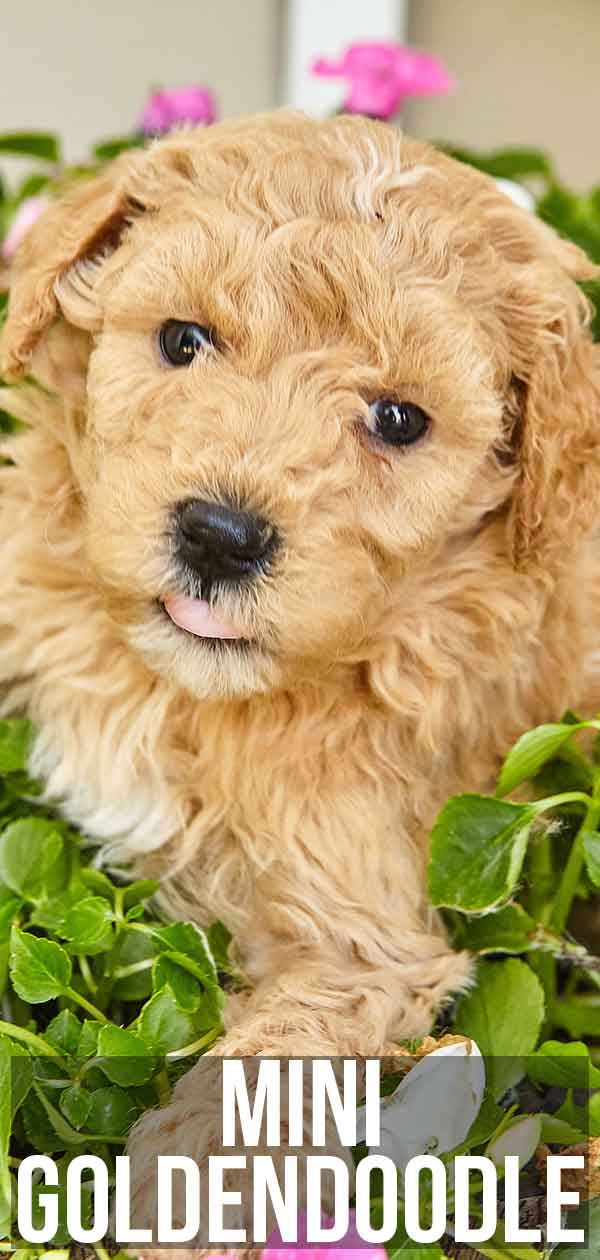 The Appeal Of The Mini Goldendoodle
If you're already familiar with the adorable Goldendoodle, you can understand why having a smaller version would be so tempting.
Goldendoodles possess a furry teddy bear quality.
The standard Goldendoodle is a fairly large dog who can stand over 21 inches and weigh over 50 pounds. This makes them ill-suited for apartment living.
A mini Goldendoodle is more adaptable to smaller spaces. They even take up less space on the sofa or in bed.
Smaller dogs eat less and are easy to take anywhere. They also tend to require less exercise than larger dogs and this can be a very appealing attribute for busy people.
Perhaps the most desirable quality smaller dogs have is their cuteness.
Adult miniature dogs keep their baby-like features. There's something about a dog who stays puppy-sized that people adore.
Where Do Mini Goldendoodles Come From?
There are basically three ways to make a miniature dog, and each method has potential drawbacks.
The first way is to crossbreed with a smaller dog breed.
Introducing the gene for dwarfism will reduce the dog's stature.
Finally, some breeders will repeatedly breed from the smallest, or runts, of a litter to miniaturize a dog.
Mixing With A Smaller Breed
The Poodle is a unique breed in that they come in three size varieties.
Standard Poodles stand over 15 inches and can weigh between 40 and 70 pounds.
A Miniature Poodle measures from 10 to 15 inches and weighs between 10 and 15 pounds. Toy Poodles are even tinier, standing under 10 inches.
They carry the same official breed standard and each dog has the same build and proportions. The only difference is their size.
Mini Goldendoodles are the result of crossing the Golden Retriever with a Miniature Poodle or a Toy Poodle.
This means a mini Goldendoodle will have all of the same physical and temperamental traits that make the standard Goldendoodle such a well-liked crossbreed.
Other Mini Mix Breeds
For other dogs, miniaturization is more complicated and less predictable.
This is because getting a smaller version requires using a smaller, but altogether different breed.
When using this method there's no way to know for sure which parent the puppies will take after.
In fact, there's no guarantee that this will make a smaller dog.
Introducing The Gene For Dwarfism
Dwarfism is a medical condition known as achondroplasia.
Introducing the gene for dwarfism is another way that breeders can get a smaller dog.
This method doesn't exactly miniaturize the dog.
However, shorter limbs, a longer back, and sometimes an overly large head are often the result.
While this is a fairly easy way for breeders to create a smaller dog, it results in a lack of normal bone growth and structural deformities.
Some breeds like the Dachshund and the Pembroke Welsh Corgi carry this gene.
Using the gene for dwarfism to create smaller dogs is associated with joint and back problems, including intervertebral disc disease (IVDD).
What Is A Runt?
A runt typically refers to the smallest puppy in the litter.
This doesn't necessarily mean that this puppy won't grow up to be strong and healthy as long as they're within what's considered a normal weight range for their breed.
However, there are some puppies who are born at an abnormally low weight. In this case there could be more than one runt in a litter.
These dogs might be small due to an underlying congenital condition such as a heart defect.
Being smaller than their littermates also puts these puppies at a disadvantage when it comes to getting their fair share of mom's milk. When they don't get the proper nutrition from the start, their immune systems could be compromised.
These puppies often have trouble gaining weight and will often be at risk for health problems throughout their lives.
Breeding From Runts
As you can imagine, breeding two very small dogs of the same breed would be another way to create a miniaturized version.
The only benefit to this method is that it's sure to keep the unique physical and temperamental characteristics of the breed intact.
However, breeding two tiny dogs increases the chance of passing along health problems to the puppies.
Mini Goldendoodle Health
Whenever you combine two different dogs, their offspring can potentially inherit health conditions that either parent is prone to.
It's important to be aware of the problems the mini Goldendoodle is at risk for.
Both parent breeds are prone to hip dysplasia. This is a common problem for many breeds and refers to an abnormally formed hip socket.
Eye disorders also affect both the Miniature Poodle and the Golden Retriever.
Patella luxation, von Willebrand's disease, diabetes, and epilepsy are other health conditions Miniature and Toy Poodles are susceptible to.
Heart diseases, including aortic stenosis, affect the Golden Retriever. A good breeder will have health tested their breeding stock for this condition, which causes obstruction or blockage of the blood flow through the heart.
Is A Mini Goldendoodle Right for Me?
With his gentle nature, sweet face, and quick intelligence, the mini Goldendoodle has a lot going for him. If he's well-bred and properly socialized, he'll make a wonderful pet for almost any family.
According to the Goldendoodle Association of North America an adult mini Goldendoodle stands from 14 to 17 inches and weigh between 26 to 35 pounds.
They will be a fairly active dog who requires a daily walk. This is a good time for them to get out and meet other people and dogs.
The mini Goldendoodle doesn't make much of a watchdog, as they're simply too eager to be friends with everyone.
These dogs love to be around people and will want to follow you wherever you go.
If there is a drawback to owning a mini Goldendoodle, it's the potential for genetic diseases.
They can also be prone to separation anxiety if left on their own too much. Mini Goldendoodles are best suited for people who are home during the day.
Finding A Mini Goldendoodle
As downsized versions of established breeds continue to grow in popularity, more and more breeders will emerge.
Some will try to entice people by advertising that they have micro-mini Goldendoodles or use similar adjectives to suggest that their puppies are the smallest ever.
These undersized puppies will often be priced higher because they're touted as being extremely rare.
Don't be swayed by this marketing ploy. Undersized puppies are often in danger of suffering from serious health problems.
Breeders And Rescues
A reputable breeder will always put the welfare of their dogs first. This means they will be able to provide health tests for genetic conditions.
Good breeders will be happy to show you where the dogs live and introduce you to the puppy's parents and siblings.
Another option is to adopt a dog from a rescue.
Although many people want the experience of raising a puppy from a young age, an older dog will have outgrown some of the difficult puppy stages.
This may be a better option for first-time dog owners.
Do you have a mini Goldendoodle? We'd love to hear about them in the comments below.
References and Resources
Goldendoodle Association of North America
Vredegoor, DW, et al., "Can f 1 Levels in Hair and Homes of Different Dog Breeds: Lack of Evidence to Describe Any Dog Breed as Hypoallergenic," The Journal of Allergy and Clinical Immunology, 2012
Almlöf, J., "On Achondroplasia in the Dog," Zentralblatt für Veterinärmedizin, 1961
Brown, EA, et al. "FGF4 retrogene on CFA12 is responsible for chondrodystrophy and intervertebral disc disease in dogs." US National Library of Medicine National Institutes of Health. 2017.
Paster. ER, et al., "Estimates of prevalence of hip dysplasia in Golden Retrievers and Rottweilers and the influence of bias on published prevalence figures," Journal of the American Veterinary Medical Association, 2005
Aguirre, G., et al., "Pathogenesis of progressive rod-cone degeneration in miniature poodles," IOVS, 1982
Yasukawa, S., et al., "Toy Poodles with medial patellar luxation using computed tomography," Vet Comp Orthop Traumatol, 2016
Randolph, JF, et al., "Factor XII deficiency and von Willebrand's disease in a family of miniature poodle dogs," The Cornell Veterinarian, 1986
Hess, RS, et al., Journal of the American Veterinary Medical Association, 2000
Gaskill, CL, et al., "Pancreatitis associated with potassium bromide/phenobarbital combination therapy in epileptic dogs," The Canadian Veterinary Journal, 2000
Tidholm, A., "Retrospective study of congenital heart defects in 151 dogs," Journal of Small Animal Practice, 2008