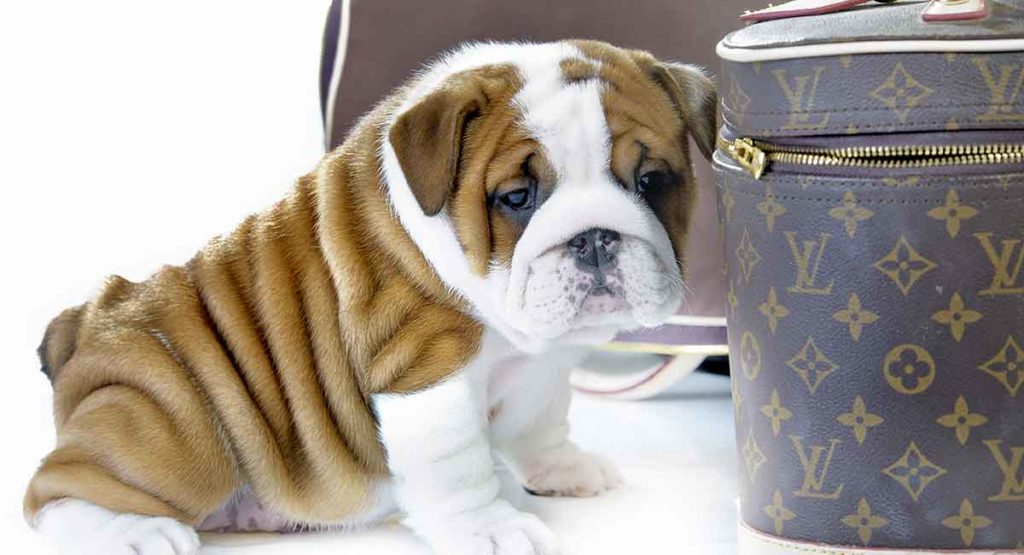 Mini Bulldog is a marketing term used by dog breeders to promote Bulldog puppies which are expected to reach a smaller than average size in adulthood.
This might be because they have been crossed with a smaller dog breed, bred for especially exaggerated dwarfism traits, or descended from runts of earlier generations.
Finding a healthy mini Bulldog is very difficult.
The Mini Bulldog
The Bulldog, with his steadfast loyalty and comic charm, is a cherished family member in households around the world.
At about 40 to 50 lbs and 14 to 15 inches tall, the Bulldog is a medium-sized dog. He has a stocky frame and wide jaws — features exaggerated from those of his ancestors, who were bred for the bloodsport of bull-baiting.
Today's Bulldog is a kinder and gentler soul with people and pets alike. As of 2019, he ranks at number 5 out of 193 on the AKC Breed Popularity list.
So what is the mini Bulldog? Simply a tinier version of this beloved bully?
Well, while there was once a breed called the Toy Bulldog, the mini Bulldog today is something else entirely.
In this article, we'll go over exactly what the term "mini Bulldog" really means.
The Appeal of the Mini Bulldog
First thing's first: why do some dog owners want a smaller version of the brave and brawny Bulldog anyway?
The baby schema response is definitely a factor. Humans just can't help adoring animals with bigger eyes and rounder skulls, and miniature versions of dog breeds tend to exaggerate exactly those features.
But that isn't the only reason miniature dogs have become more popular in recent years.
Smaller dogs cost less to feed, are more convenient travel companions, and are often allowed at rental properties that prohibit larger dogs.
For people with physical limitations, smaller dogs can also be easier to manage.
And for first-time dog owners, a smaller dog may be less intimidating than a larger breed.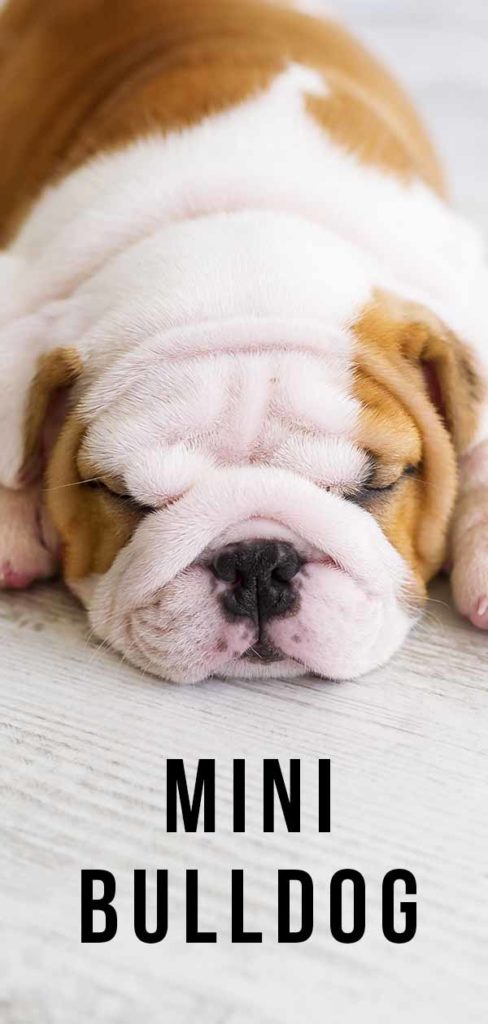 Where Do Mini Bulldogs Come From?
In the 18th and early 19th centuries, there was a now-extinct breed called the Toy Bulldog.
The Toy Bulldog was first created by breeding Bulldogs with extreme dwarfism. When that failed to produce a healthy dog, breeders tried crossing the French Bulldog with the English Bulldog.
Ultimately this effort also failed, and the breed went extinct.
Nowadays, neither the Toy Bulldog nor the mini Bulldog are official breeds recognized by the American Kennel Club or United Kennel Club.
Instead, dogs referred to as "mini Bulldogs" are most often actually crossbreeds of the Bulldog and the Pug, or in rarer cases the Bulldog and French Bulldog.
But there are actually two other ways to create a miniature Bulldog.
The first way is to introduce the gene for dwarfism. Canine dwarfism is a genetic health condition affecting the dog's bone structure.
The second way to get a miniaturized version of the standard Bulldog is to repeatedly breed from runts, or abnormally small Bulldogs.
All three of these methods have consequences for the dog's health.
Mixing with a Smaller Breed
Usually, crossbred mini Bulldogs are the offspring of the Bulldog and the Pug.
As with all crossbreeds, the puppy will likely resemble both parents, and carry personality traits of each breed.
In earlier generations of these crosses, the puppy's traits will be less predictable. She may look and act more like one parent than the other.
Let's take a look at the two most popular mixes you'll find when you search for a mini Bulldog.
Bulldog and Pug
From dwelling in Buddhist monasteries to passing secret notes for Josephine and Napoleon Bonaparte, the Pug has been a part of our history for about 2,000 years.
This compact little dog has a big personality and a wonderfully expressive face. He does well with people of all ages and is tolerant of other pets.
The Pug is a natural choice to cross with the Bulldog if you're looking for an affable, Bulldog-like personality in a smaller package.
But just like the Bulldog, the Pug is a brachycephalic breed. This means his short snout predisposes him to significant health problems, including upper respiratory problems, eye issues, and intolerance to extreme temperatures.
Any cross of these two breeds can be expected to suffer from those same health problems.
The Pug stands at about 10 to 13 inches tall and can weigh anywhere from 14 to 18 lbs.
Bulldog and French Bulldog
Although nowadays this cross is less common, you will still find the occasional Bulldog and French Bulldog mix marketed as a mini Bulldog.
The French Bulldog already looks a bit like a miniature version of the Bulldog — just with much bigger, pointier ears!
French Bulldog enthusiasts love this breed for its intelligence, adaptability, and charm.
You can expect a French Bulldog and English Bulldog cross to be an affectionate companion, able to adapt to any type of living situation.
Just as with the Pug, however, the French Bulldog is a flat-faced breed and therefore suffers from brachycephaly.
The French Bulldog is also prone to autoimmune skin disorders, cherry eye, heart disease, and spinal disorders.
Any cross between the Bulldog and French Bulldog is also at risk for these health issues.
The French Bulldog stands at 11 to 13 inches tall and weighs less than 28 lbs.
Introducing the Dwarfism Gene
Another way to create a miniature Bulldog is to select for dogs with canine dwarfism.
Canine dwarfism is a hereditary bone disease called chondrodysplasia. Chondrodysplasia is essentially a disorder that prevents the dog's bones from growing to a normal size.
Bulldogs actually have already been selectively bred for chondrodysplastic traits, like shortened legs and a disproportionately large head.
To create an even smaller Bulldog, you could select for dogs with more exaggerated forms of chondrodysplasia.
But dogs with severe canine dwarfism usually have chronic pain and a shortened lifespan, so this isn't generally considered a humane practice.
Breeding From Runts
A runt isn't just a very small puppy — for breeders, the term "runt of the litter" actually means a puppy that is severely underweight, often because of an underlying health defect.
Runts tend to need extra care starting from day one. Even as they get older, they're more vulnerable to health issues than their siblings.
Breeding two unusually undersized Bulldogs might result in smaller puppies, but it also has a higher likelihood of producing puppies with congenital defects.
So while breeding from runts can be a way to miniaturize the Bulldog without crossbreeding or encouraging severe dwarfism, it isn't the safest method.
Is A Mini Bulldog Right For Me?
Just like the regular Bulldog, a mini Bulldog is likely to be a gentle, loyal companion with a kind temperament toward adults and children alike.
Mini Bulldogs will not need (or tolerate) very much exercise, in part because of their breathing problems. They'll also need a temperature-controlled home with good air quality.
Bulldogs are infamously prone to a whole host of health issues, and unfortunately even crossbred mini Bulldogs don't fare much better.
Besides the issues associated with brachycephaly, Bulldogs can also suffer from idiopathic head tremors, degenerative spine disease, moderate to severe skin problems, and a higher rate of cancer than any other purebred dog.
Bulldogs also have a very short average lifespan, at about 6-8 years. While crossbred mini Bulldogs may have a longer lifespan, this isn't a certainty.
If you still want to bring home a mini Bulldog, it's wise to do your homework. Make sure you're financially and emotionally prepared for any health problems and limitations your new dog may have.
And be aware that you may need to provide extra care and maintenance for your Mini Bulldog throughout his life.
Finding A Mini Bulldog
The mini Bulldog isn't officially recognized by any reputable kennel club. This means it can be harder to find a reputable breeder — that is, a breeder concerned with health instead of capitalizing on the trend of miniature dogs.
But if you really have your heart set on a mini Bulldog, we can enthusiastically recommend looking for a rescue organization.
Rescue organizations often have both puppies and adult dogs. Because there is no true "Mini Bulldog" breed, there aren't currently any mini Bulldog-specific rescues.
But Bulldog rescue organizations do sometimes have smaller-than-average dogs available, or smaller Bulldog mixes.
Alternatively, if you let your local shelter know what you're looking for, they can help you find a dog that suits your needs.
Bulldog Rescues
Do you currently share your home with a Mini Bulldog, or are you hoping to get one in the future? We'd love to hear all about it in the comments!
References and Resources
American Kennel Club

Borgi, M., et al. "Baby schema in human and animal faces induces cuteness perception and gaze allocation in children." Frontiers in Psychology, 2014.

Everts, R.E., et al. "Bone disorders in the dog: A review of modern genetic strategies to find the underlying causes," Veterinary Quarterly, 2000.

Jezyk, P.F. "Constitutional Disorders of the Skeleton in Dogs and Cats," Textbook of Small Animal Orthopaedics, 1985.

Monnet, E., "Brachycephalic Airway Syndrome," World Small Animal Veterinary Association, 2015.

Pederson, N., et al., "A genetic assessment of the English bulldog," Canine Genetics and Epidemiology 3, 2016.
Get Pippa's free dog training tips delivered to your inbox