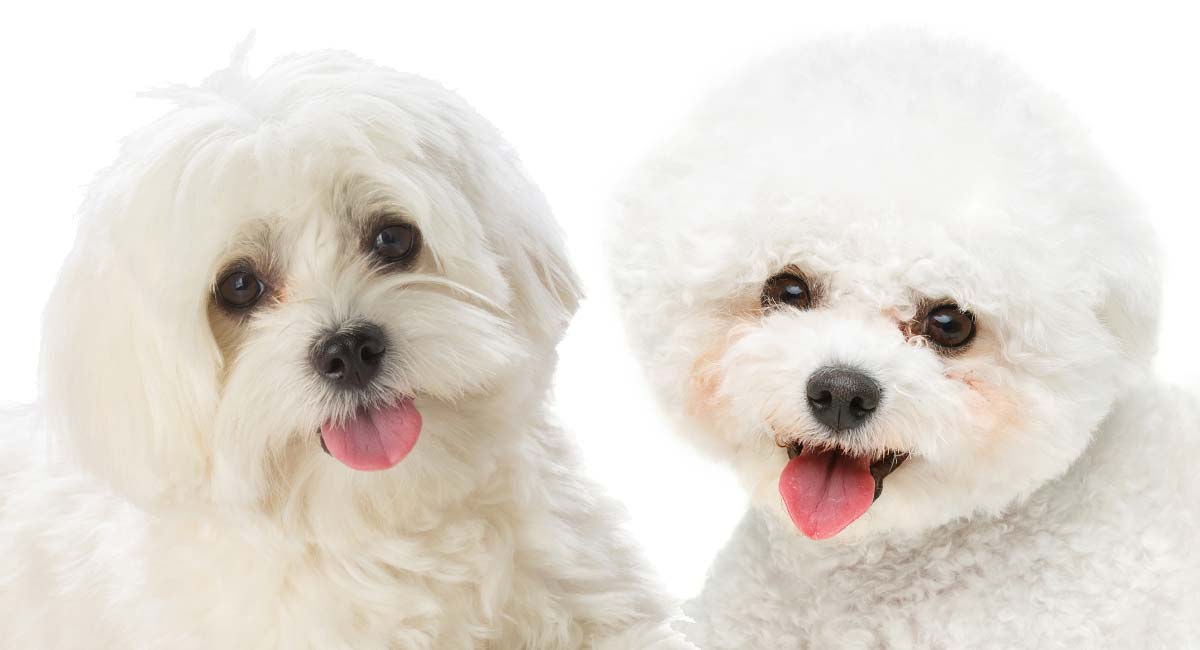 The Maltichon dog is a cross between the Maltese and Bichon Frise breeds.
This small dog will almost certainly be white, curly coated, and very playful!
In fact the Maltichon's parents have so much in common that their offspring are remarkably predictable. But they do differ in their size, and in their health.
Introducing the Maltichon
Maltese and Bichon Frise dogs have been cherished for centuries.
Their compact size, pristine white fur, and charisma made them favored companions for many, from the ancient Greeks to modern-day celebrities.
It's no surprise that a mix of these two beloved breeds would become popular as well!
The mix is called a Maltichon but sometimes referred to as a Maltese Frise or Bichon Maltese.
Is this petite, fluffy pup right for you? Keep reading to learn more about the Maltichon.
Where Does the Maltichon Come From?
Maltese History
The Maltese breed origin dates back to 1500 B.C. The Mediterranean island of Malta was a gateway for empires to exchange commodities, including this popular lapdog.
The Maltese was featured on ancient Greek art and a fashion statement for Roman aristocrats. The breed symbolized loyalty in Roman writings.
During the Dark Ages, Asian breeders kept the breed alive. It was cross-bred with Eastern breeds and refined into the Maltese we know today.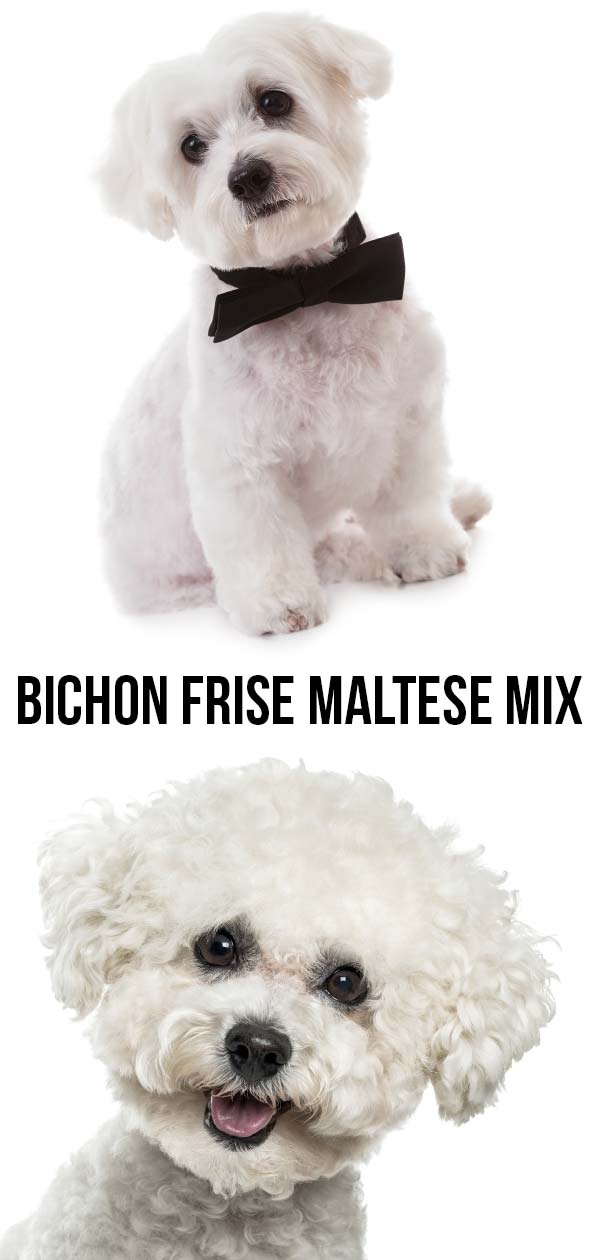 Bichon Frise History
Like Maltese, Bichon Frises were bartered throughout the Mediterranean region for thousands of years.
Thirteenth-century European nobles became enamored with the breed, leading to its status as a royal sidekick. Many famous paintings of nobility feature the breed.
By the end of the 18th century and fall of aristocracy, the breed lost its noble status and ended up on the streets.
Street performers used stray pups for their agility and smarts, which led to the Bichon Frise becoming a popular circus act.
The Bichon Frise breed barely survived the turn of the 20th century. A handful of French breeders kept the breed alive.
Bichon Frises have been capturing titles at dog shows worldwide since the breed was officially recognized in 1964.
Maltichon History
Like many mixed breeds, the official history of the breed is not well-documented.
It's suspected that breeders began intentionally mixing Maltese and Bichon Frise within the past two or three decades.
The Purebred vs. Mixed Breed Health Debate
The rise of mixing dog breeds for aesthetic or behavioral qualities has created a debate about which type of dog is healthier.
The short answer is, it depends!
Genetics, breeder reputation, and environmental factors all play a role in a dog's health.
Purebred dogs from dwindling genetic pools can face serious health issues, as do breeds that have undergone selective breeding for desirable physical traits.
Also, to ensure the best health for your dog, ask the breeder about its parents—whether purebred or mixed.
A responsible breeder will be careful not to pass health issues onto puppies.
Fun Facts About the Maltichon
The Maltese breed has had many famous owners, including Marilyn Monroe, Elizabeth Taylor, and Elvis Presley.
Barbara Streisand famously owned both Maltese and Bichon Frise dogs.
Maltichons haven't reached celebrity-owned status yet, but their petite and elite qualities are likely to catch the eye of some A-listers!
Maltichon Appearance
A Maltese and a Bichon Frise are very similar in appearance, and the two breeds blend impeccably.
A Maltichon will be bigger than the largest Maltese, but smaller than the largest Bichon Frise—about 8 to 13 pounds.
However, it will not exceed the height of a Bichon Frise, so it will be under 11.5 inches tall.
Both parent breeds are pure white, sometimes with minor shading on the ears or elsewhere on the body. A Maltichon puppy will definitely be white as well! It will have a black nose.
Maltese have a long, flat, silky coat. Bichon Frise have a double coat of soft and coarse, curly fur giving it an overall velvety, plush texture.
A Maltichon's coat may resemble one parent's more than the other's. As a result, it may be silky, fluffy, or both.
Maltichon Temperament
Both parent breeds are playful, affectionate, and outgoing.
A Maltichon will also have these qualities and is considered a very good-natured mixed-breed.
It will be an excellent companion for humans of all ages. It is an ideal lapdog, but also acts as a watchdog.
Both parent breeds are known to bark, sometimes excessively. A Maltichon can be prone to excessive barking, too. Don't leave a Maltichon alone for long stretches of time.
You can foster positive personality traits by socializing and training a Maltichon young.
Training Your Maltichon
Even though both parent breeds are lapdogs, they still need exercise and playtime! So will their offspring.
The Maltichon requires short daily walks or playtime. For this reason, don't leave it outside for long periods of time.
Both parent breeds are intelligent and good at obedience and agility training. This will be beneficial to a Maltichon as well.
Small breeds are sometimes difficult to housetrain, and the Maltichon is no exception.
A Maltichon is small and therefore a bit fragile. Use caution around larger dogs.
Supervise small children with a Maltichon until they learn how to handle it delicately.
Maltichon Health
Puppies of any breed are at risk of inheriting health issues from their parents.
Let's examine common health issues with each parent breed.
Maltese Health Issues
The Maltese breed is considered healthy. Their small size renders the younger and smallest of the breed delicate. Always handle them with care.
Common health issues include:
Patent ductus arteriosus (PDA) – an inherited heart defect
luxating patella – an inherited condition in which the kneecap dislocates
microvascular dysplasia (MVD) – an inherited blood vessel abnormality in the liver
inherited deafness
shaker syndrome.
Bichon Frise Health Issues
The Bichon breed is generally a healthy breed. Health issues that may arise include:
Cushing's Disease – occurs when the dog overproduces cortisol
luxating patella – an inherited condition in which the kneecap dislocates
allergies
hip dysplasia – the breakdown of cartilage in joints caused by abnormal development or damage
cataracts – an inherited abnormality of the eye lens causing cloudy tissue, which can lead to vision impairment.
Maltichon Health Issues
A Maltichon can inherit any of the disorders listed above.
However, responsible breeders should screen potential parents to avoid passing any genetic health problems onto their offspring.
When searching for a Maltichon puppy, you'll want to ask a breeder about the health of the parent dogs.
Genetic Testing and Health Screening
There are health screening tests available for potential Maltichon parents as well as puppies.
Firstly, the American Maltese Association recommends a cardiac exam and patella evaluation. Get your puppy bile-acid tested to assess liver health.
The Bichon Frise Club of America recommends a hip, patella, and ophthalmologist evaluation.
You can learn more about these tests through the Orthopedic Foundation for Animals.
Maltichon Expected lifespan
Each parent breed lives 12 to 15 years, and with proper health and daily care, a Maltichon will live this long as well.
Grooming a Maltichon
A Maltichon's thick, fluffy coat will need grooming several times each week to prevent mats and tangles.
The Maltichon sheds infrequently. Regular bathing and conditioning will keep its fur in good shape.
Likewise, professional groomers can keep the Maltichon's coat at the desired length.
Small breed dogs are prone to dental disease. You'll want to brush your Maltichon's teeth frequently to keep its teeth as healthy as possible.
Maltichon Tear Stains
A Maltichon will be predisposed to tear stains, just as both parent breeds are.
There are many causes of tear stains. Hence, you may need to seek veterinary care to determine the root cause.
In most cases tear staining is simply caused by overactive tear ducts and is only a cosmetic issue.
Do Maltichons Make Good Family Dogs?
The friendly, playful, and gentle nature of a Maltichon makes it an excellent option for a family dog.
Small children should be supervised with a puppy until they are used to handling it with care.
Their small size, low exercise requirements, and lapdog nature make Maltichons an excellent option for seniors as well.
Rescuing a Maltichon
Rescuing a Maltichon from a shelter is a wonderful option. It gives the animal a second chance at life.
You may also be able to rescue an older dog that might require less training than a puppy.
Alternatively, websites such as Adopt a Pet will help you find a rescue organization in your region.
Finding a Maltichon puppy
We do not recommend purchasing puppies from a pet store or puppy mill.
Unquestionably, the rise in mixed breed popularity has led to irresponsible breeding and expensive, unhealthy animals.
Responsible breeders are the safest way to find a Maltichon puppy. Do thorough research on the breeder and don't be afraid to ask them questions.
Raising A Maltichon Puppy
Raising a puppy is a very serious commitment. The whole family need to help.
A Maltichon puppy will be very small and should always be carefully handled.
Also, early training and socialization will keep a Maltichon puppy happy and healthy.
Pros and Cons of Getting a Maltichon
Cons of Choosing a Maltichon
Can be challenging to housetrain
May bark excessively
Requires regular brushing and grooming
Pros of Choosing a Maltichon
Good for small households
Loving and friendly companion
Adorably small and fluffy
Similar Maltichons and Breeds
Perhaps the Maltichon isn't quite right for you, and that's okay! There are some similar mixes that you should check out:
Maltichon Rescues
There currently are not specific rescue sites for Maltichons. However, plenty are available for the parent breeds.
Please add your Maltese, Bichon Frise, or Maltichon rescue organization in the comments below.
United States
American Maltese Rescue
Southern Comfort Maltese Rescue
Maltese Rescue California
Bichon Rescue
Small Paws Rescue
Canada
Happy Tails Rescue
Canada Maltese Rescue
Canada Bichon Frise Rescue
United Kingdom
Bichon Frise Rescue
Many Tears Animal Rescue
Australia
Seniors and Silkies
Second Chance Animal Rescue
Dog Adoption Australia
Is A Maltichon Right for Me?
A Maltichon is a perfect companion for you if you're looking for a small, cheerful, lapdog who requires light exercise.
Maltichons are adaptable to all household sizes and thrive with families, seniors, singles, and cautious children.
In conclusion, if you can dedicate adequate time to its training and grooming, and not leave it home alone for long stretches of time then this petite pup may be your perfect fit!
References and Resources
Bellumori, T.P., et al., 2013, "Prevalence of inherited disorders among mixed-breed and purebred dogs: 27,254 cases (1995-2010)," Journal of the American Veterinary Medical Association
"Cushing's Disease in Dogs," PetMD
Get Pippa's free dog training tips delivered to your inbox