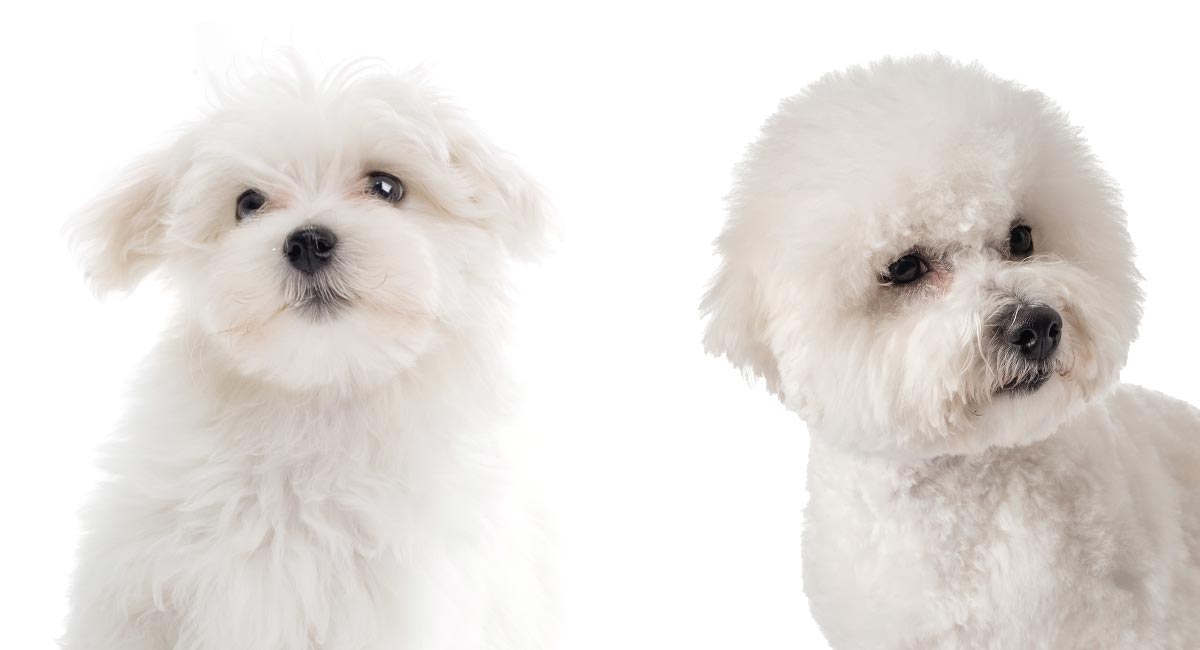 Both the Maltese and Bichon Frise are longstanding and enduringly charming small dogs.
They both brim with playful energy under long, curly, white coats. And they both love the companionship of people.
Perhaps the one surefire way to tell them apart is that one is much smaller than the other!
Choosing Between a Maltese and a Bichon Frise
If you're a fan of small dogs, there are surely several on your radar. With so many to choose from, the choice can become overwhelming!
Two very popular, very small dogs are the Maltese and the Bichon Frise.
Through their searching, many people decide to go with one of these adorable breeds.
If you're considering the pros and cons of the Bichon Frise vs Maltese, this is the guide for you!
Maltese vs Bichon History
The Maltese is an ancient breed, whose roots date back thousands of years.
Unlike most ancient breeds, the Maltese was bred to be a lap dog, not a working dog – and they play the same role today!
Because of their ancient roots, the history of the Maltese is a bit unclear. Although they are named after the island nation of Malta, they likely originated in Italy or Egypt.
It's likely that they were bred from a mix of Poodle and Spaniel, but this, too, is unclear.
It's possible that the Maltese's history dates back to 600 BC. In more recent history, the breed made its way to North America in the late 1800s.
As for the Bichon, this breed also has an impressive history.
The Bichon dates back to at least the 13th century. It's thought to have originated in the Canary Islands, in Spain.
The adorable Bichon found favor in the courts of European nobles and aristocrats. It enjoyed the comfortable life of a lap dog for many years.
After the French Revolution in 1789, the breed fell on hard times and many were forced into the streets as their formerly wealthy owners were jailed or killed.
Eventually, the breed bounced back to the laps of the wealthy and important, and finally made its way to North America in the early 20th century.
Looking at the history of these two breeds, it's clear to see that both are quite similar.
In fact, the Maltese and the Bichon Frise are both part of the same group of breeds. This group of small, white lapdogs was popular with breeders and owners alike for many centuries.
The group was formerly known as the Barbichon group and consisted of the Bichon, Maltese, Havanese and Bolognese.
Today, the group is referred to as the Bichon group. This can create some confusion, as the Bichon Frise itself is often called simply "Bichon".
Whatever the name, these two breeds – Bichon Frise and Maltese – share a common history. But, they also have some key differences. Let's dive in and explore Bichon Frise vs Maltese below!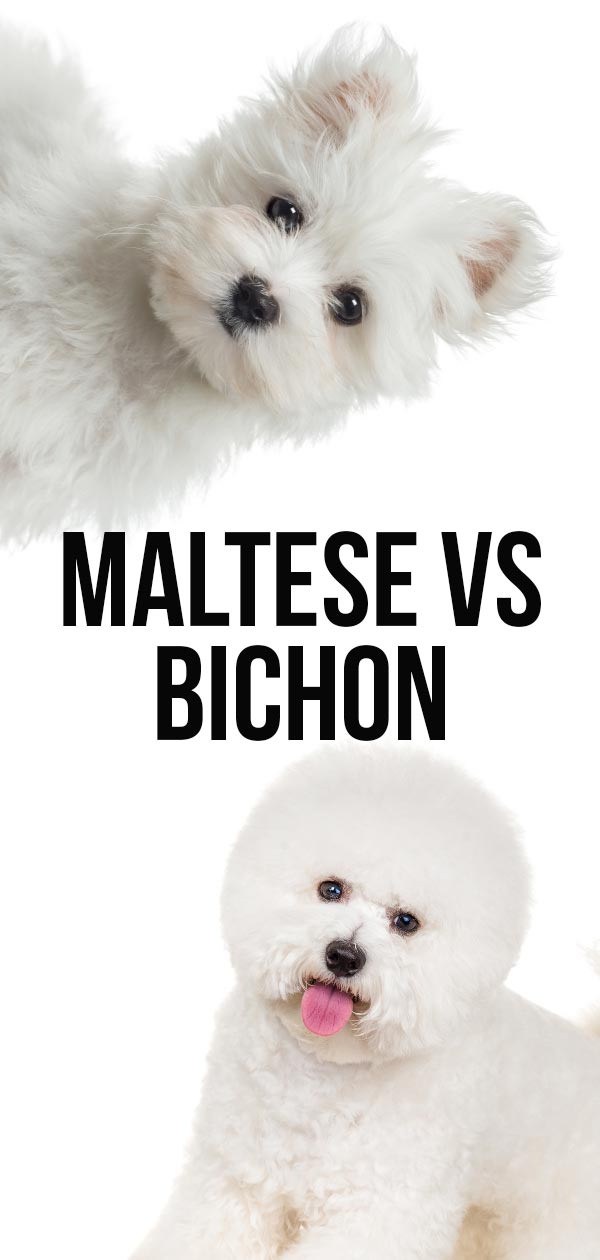 Maltese vs Bichon Appearance
Now we know the history, let's explore the differences between the Maltese and the Bichon Frise when it comes to their physical appearance!
Both dogs are a part of the Bichon family, which are all petite, mostly white-colored breeds.
Thus, the two have a somewhat similar appearance, with some notable differences.
The biggest difference is in the size of the two dogs.
The Bichon Frise can reach 12-18 pounds and 9-12 inches, while the much smaller Maltese typically measures only up to 10 inches and rarely exceeds 4-7 pounds.
Both dogs have coats almost all white, however, the Bichon Frise sometimes has some cream and/or apricot colored markings around the paws, ears, and nose.
The Maltese has a longer, silky white coat that can fall almost to the floor (due in part to the breed's short legs). Frequent grooming is needed to prevent matting.
The Bichon can have more dense, curly hair – although some also have straighter white locks.
There is some variability in appearance with both breeds, mostly due to the genetics of the parents. This is true of all breeds.
Neither dog sheds very much, and although no dog is truly hypoallergenic, many allergy sufferers report lower sensitivity to these breeds.
Maltese vs Bichon Temperament
Both breeds are highly intelligent, playful and loving. Both are generally quite friendly, and enjoy spending plenty of time with their people.
The Bichon and the Maltese both respond well to training.
Both the Bichon and Maltese will require a lot of attention, grooming, and love. Both can suffer from separation anxiety if left alone for too long.
In general, the Bichon has a bit more patience with children and other animals, when compared to the Maltese. This, of course, varies depending on how the dog was raised, but if you're looking for a family pet for children, the Bichon may be a better choice.
Both breeds are compatible with small living spaces, like apartments. Neither requires a ton of exercise, although the Bichon is a bit more energetic than the Maltese, in general.
Keep in mind that both of these dogs can be frequent barkers, and do love the sound of their own voices! If you are noise-averse or live in an apartment complex, these breeds may not be the best choices.
Overall, the two breeds have a fairly similar temperament. Both are loving, loyal, generally friendly, and highly intelligent. Both enjoy the company of their people, and may get anxious when left alone for long periods.
Maltese vs Bichon Training
Both the Bichon and the Maltese are intelligent dogs and will take well to training.
They are generally eager to please and will respond well to positive reinforcement training techniques.
Like many small dogs, they can be sociable around other dogs and other animals, but they can also be aggressive at times.
Early socialization is key in order to avoid this. Be sure your dog has plenty of interaction with other pups, on a regular basis, from a young age.
Socialization with children, and other people, is also important. However, both the Bichon and the Maltese are generally friendly towards all people.
Both the Maltese and the Bichon can at times suffer from separation anxiety. Getting them used to their surroundings, and ideally crate training them can help.
If you get your dog as a young puppy, you will of course need to potty train it. For help with this, check out our puppy potty training guide.
Overall, both breeds respond well to your training efforts, thanks to their intelligence and friendly personalities.
Maltese vs Bichon Exercise
Both the Maltese and the Bichon Frise are relatively high energy dogs. However, their small size means that they do not require all that much exercise.
A few short walks a day should be sufficient, when combined with some indoor playtime.
The Bichon Frise, being a larger dog, will require a bit more exercise, but it's not a huge difference.
Both breeds are intelligent and enjoy a challenge and mental engagement. Indoor games, training sessions, and playtime are all favorite activities.
Owners of both breeds, but particularly the smaller Maltese, should be cautious in the first 6-9 months of their puppy's life.
During this period, the bones are not fully developed and can be fragile. The Maltese, in particular, is prone to injury during its early life. Maltese owners should avoid extra long walks for the first 9 months or so, and should always handle their dogs with caution.
Maltese vs Bichon Health
An important consideration when choosing a dog is the health of the breed. You should closely consider the likelihood of potential diseases for the breeds you are looking at.
There is no predicting the health of your dog, but knowing the potential problems ahead of time will be helpful.
Both the Maltese and the Bichon are overall healthy breeds. The Maltese has an expected lifespan of 12-15 years, while the Bichon is more like 14-15 years.
Both breeds can have some inherited diseases, but the risk of most of these can be reduced significantly by choosing a reputable breeder.
A good breeder will conduct health tests on their breeding stock, to reduce the risk of passing on health problems. Be sure to ask your breeder for test results!
Other than keeping inheritable health concerns in mind, there are other things you can do to help keep your pups healthy.
First and foremost, make sure you establish a relationship with your veterinarian early on, and take your dog in for regular check-ups.
Follow proper feeding instructions, remembering that these are small breeds that do not require very much food.
Another consideration is ongoing maintenance and care. Both breeds will require frequent grooming, but the Maltese is usually considered more high-maintenance than the Bichon.
You will need to groom your Maltese quite frequently to prevent matting and keep your dog's coat healthy.
Bichons also need frequent grooming. Some people find that their coats can be challenging to tame, and many seek the help of a professional groomer.
Which Breed Makes A Better Pet?
For the right people, both the Bichon and the Maltese can make for an excellent pet! They are both loving, intelligent breeds that make for great companion dogs.
For households with small children, the Maltese is probably not the best choice. This is due to the breed's very small size, which makes them prone to accidental injury caused by children.
The Maltese is also somewhat less tolerant of children and other pets than the Bichon. Thus, the Maltese is probably a better choice for multi-pet households or households with children.
Both dogs can bark frequently, so keep your noise tolerance (and your neighbors!) in mind when considering either breed.
Overall, we do not recommend the Maltese for households with small children. Other than that, it's tough to pick a "better" breed – they both make fantastic pets!
Which is your favorite, Maltese or Bichon Frise?
References and Resources
Richard G. Beauchamp, The Bichon Frise Handbook
Ross D. Clark, DVM, Medical, Genetic & Behavioral Risk Factors of Bichon Frises 
Gelatt, K. N., et al. Cataracts in the Bichon Frise.
Various Authors, The Maltese Dog.
Bobbie Linden, 1998. The Maltese: An Owner's Guide to a Happy Healthy Pet 
Get Pippa's free dog training tips delivered to your inbox