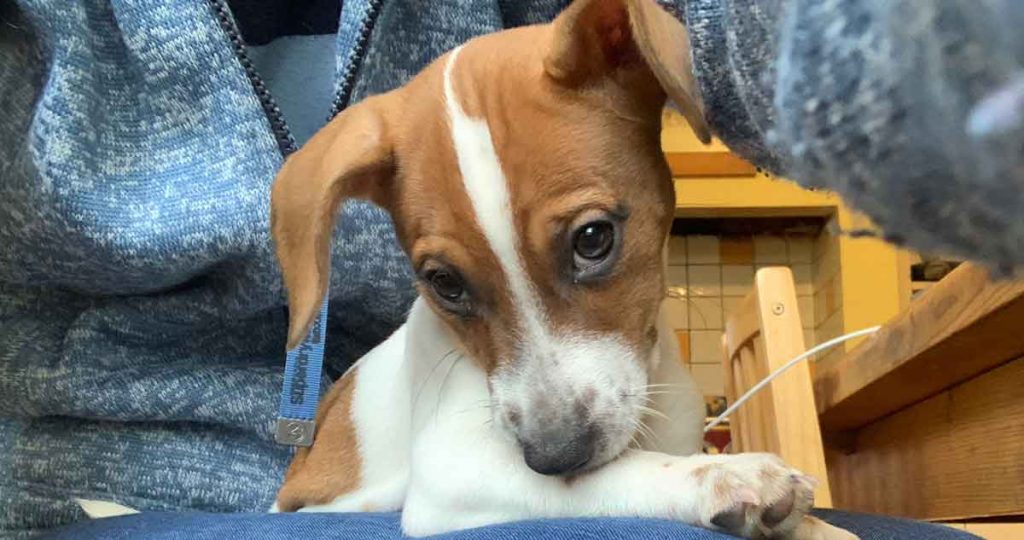 Pippa is the author of Total Recall, and The Happy Puppy Handbook, and the founder of the Dogsnet Online Training Program
A lot of people are tweeting me and emailing me for socialization tips for puppies where families are in quarantine or lockdown.
And almost all of us are currently expected to practice some form of social distancing.
So how is this going to affect our puppies?
The impact of social distancing on puppies
This impact of social distancing on puppies is something that concerns me, and many others, greatly at the moment.
I'm afraid that while I can help a bit, and I'll come to that, I can't solve this problem. And the news is not all that good.
The last twenty years have seen a sweeping change in our understanding of the role that socialization plays in canine temperament. This has been a change for the good.
In more normal times
In more normal times, we now take puppies into crowds, on trains and buses, to friends houses, and busy streets, to make sure they grow up fearless in our human world.
These strategies have been hugely successful.
No longer are entire breeds of dog dismissed as 'aggressive' or 'ill-tempered'. And many thousands of dogs have benefited from the protocols of proper socialization that kennel clubs, veterinarians, and behaviorists have worked so hard to establish.
Preventing aggression
It is now widely accepted and understood, that socializing puppies plays a vital role in the development of their characters and in the prevention of fear based aggression and nervousness.
Anyone that has owned a reactive or anxious dog will know how important this is.
Effective socialization
I tweeted recently that a puppy cannot be effectively socialized while in isolation.
I also offered to provide some tips for puppy owners on confidence building exercises that can be done within the home that may mitigate the impact of this isolation to some degree. And I will do that shortly.
Socializing at home
It was quite rightly pointed out, in response to my tweet, that there is a good deal of socialization that can be carried out at home, exposing puppies to new textures, sounds etc.
And while this is true, it is simply not a replacement for that all important exposure to lots of different people and the bigger world outside the home.
Going out during lockdown
It was also pointed out that you can take a puppy out during isolation as you are allowed to exercise your dog, sit outside, or go for drives.
Some of this is true for some areas but not others.
Here in the UK, no-one is permitted to sit outside in public places. You may only go outside once daily for exercise and to buy essential supplies. Nor is visiting or collecting a puppy considered a reason to be out. The situation is similar or worse in some other countries and in some cities in the USA.
Vaccinations during lockdown
Be aware that some vets are no longer carrying out routine shots. And you won't be able to put your puppy on the ground in busy public places until your puppy has completed a full course of vaccinations.
So that could be a further month after the end of lockdown for everyone else.
If your puppy is ill and needs veterinary treatment in the meantime, you could be exposing yourself and your family to extra social contact. These are all things to consider.
Can you visit or collect your puppy?
The American Kennel Club doesn't seem to have addressed the question of collecting puppies during the pandemic, or issue of puppy socialization on its website yet. Though it does recommend you:
"Practice social distancing measures by walking your dog in uncrowded areas when possible."
And as lockdown rules vary widely in the USA from one state to another you will need to be guided by regulations in your area. In the UK, the Kennel Club has been more forthcoming.
What the Kennel Club says
The Kennel Club has set out FAQs for breeders and made this statement.
"As the government measures only allow absolutely essential travel – and this can now be enforced – new owners will not be able to pick up puppies during the current lockdown."
Unfortunately this information doesn't appear to be on the puppy buyers page but you can check that link for updates.
What happens now?
The UK Kennel Club claims to be in discussion with DEFRA on this important topic.
But for the moment, even if you are able to collect your puppy, not being able to go into crowds and the normal everyday hustle and bustle of life is going to be a disadvantage.
Which is very regrettable
A more positive approach
So why am I being a party pooper and pointing all this out.
Wouldn't a more positive approach be better?
Well, I believe that potential puppy buyers, especially those that have not yet made a firm commitment to buy a puppy, have a right to be made aware of the risks of raising a puppy in the current circumstances.
And there are risks. Though we can't predict how great your individual risk will be.
So many unknowns
As you probably know, some dogs require more socialization than others, and the impact on those puppies may be greater than the impact on more naturally friendly and confident dogs.
The problem is, we don't know for sure which puppies these are.
And we won't know for sure what the impact is on our puppies until this is all over.
My Labrador puppy plans
This is one reason that I have put off my own plans for a Labrador puppy this spring. Even though this is a breed well known for its easy going temperament.
I have five, soon to be six grandchildren. I have no idea when I will be able to see them again, or to socialize a puppy to being around children, or all the other aspects of normal life.
And I just don't want to risk bringing up another puppy in these conditions.
Your plans
What you decide to do will depend on your own circumstances. But please think carefully.
It may seem very appealing to have a puppy while you are working from home. But the downsides of isolation for your puppy could be serious.
It is vital in my view, not to underestimate the importance of the ability to expose a puppy to normal life, including busy streets, public transport, children, crowds etc, before it is three months old.
The importance of 'effective'
The most important part of the tweet I made and mentioned above was the word "effectively".
There are some socializing activities you can do with puppies during lockdown. But truly effective socialization cannot be completed by a family whose social interactions are severely restricted.
Sadly, that's the bottom line
But I have my puppy now!
We have a young puppy here that is just 14 weeks old. So I really understand your concerns if you have collected your puppy already.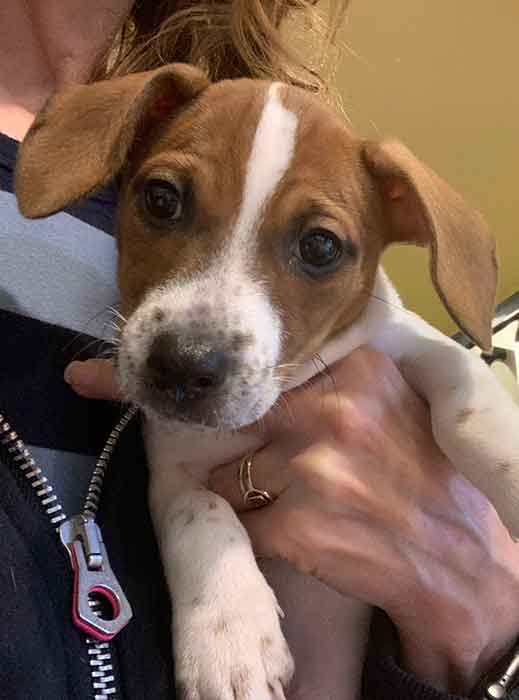 My husband's little terrier puppy Polly (in the photos on this page) had a certain amount of socialization before lockdown, as things were very different when we collected her in February.
Missing out
But the world Polly now lives in is very different from the one we were expecting. And she has never experienced the normal world outside from the ground on the end of a leash.
She is missing out on that post vaccination experience of the outside world. And from now on we just have to do our best and hope for the best.
If you have just collected your 8 week old puppy, you may be missing out to an even greater extent.
Your 8 week old puppy
So what can be done for very new puppy owners that have just collected their puppies?
There are activities that you can engage puppies in that will help to build their overall confidence, and their ability to tolerate new and unusual experiences.
I'll be looking at those in Lockdown With A Puppy Part 2. I'll post that up here in a day or two. I'll post up the link on Twitter and Facebook.
I'm also sending out lots of tips for coping with being stuck indoors with a dog of any age which you can access by dropping your email address into the box below.
To buy or not to buy?
If you don't have your puppy yet my personal view is that this is probably not a good time to get a puppy of any breed.
I feel that the disadvantages of limited opportunities to socialize your new puppy may outweigh the advantages of the extra time you may have at home together initially.
But of course its a very individual decision and may depend on how far you have gone down the road to finalizing arrangements for your new friend.
Whatever you decide, I wish you and your family all the best through these difficult times.
Get Pippa's free dog training tips delivered to your inbox