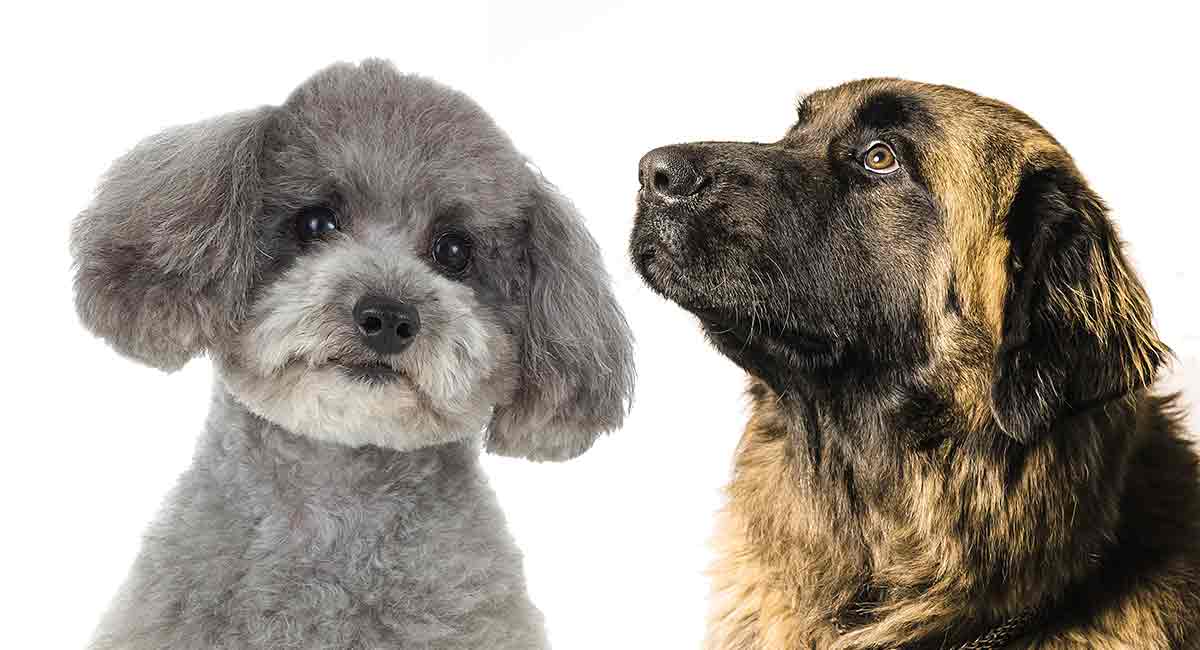 The Leonberger Poodle mix is a crossbreed between the Leonberger and the Poodle.
If you are wondering whether a cross between these two breeds could be right for you, it's important to do your research before deciding.
This article aims to provide everything you need to know about the Leonberger Poodle mix.
Designer Dog Controversy
As this is a cross between two recognized purebred breeds, the Leonberger Poodle mix is known as a designer dog.
Designer dogs have been the subject of a lot of scrutiny over recent years, with many concerns being raised about the health of this new breed.
Accusations have also been made towards breeders of designer dogs.
Many believe that they are only in it for the money and do not care about the welfare of the litters they are producing.
However, according to a study that took place in 2013 that analyzed over 27,000 dogs, purebred dogs were actually at a higher risk than crossbreeds for certain genetic disorders.
Another study in 2013 also found that mutts tend to live 1.2 years longer on average than their purebred counterparts.
Hybrid Vigor
This is suspected to be due to a concept known as hybrid vigor, where increased genetic diversity promotes better general health within a dog.
There are many misconceptions when it comes to crossbreeds, especially when they are compared with pedigree breeds.
Advocates of purebred dogs also state that it is very hard to predict the outcome of a crossbreed.
As the puppy could inherit traits from either parent or get a combination of them, unexpected and undesirable traits could arise.
Purebred breeds, however, are a lot easier to predict.
This is a true statement, but many dog owners enjoy the random aspect that comes with crossbreeding.
Breeder Regulation
Many also believe that due to crossbreeding being less regulated than pedigree breeding that there is a much higher chance of running into a bad breeder.
However, even with the tighter regulations within pedigree breeding, bad breeders still exist on that side of things too.
Regardless of whether you are buying a crossbred or a purebred puppy, it is imperative that you check the trustworthiness of any given breeder beforehand and ask to see the parent dogs before making any decisions.
So now that we have cleared that up, let's take a look at everything you need to know for the Leonberger cross Poodle.
Origins of the Leonberger
The Leonberger was first bred to be a companion dog within the 19th century by a politician named Heinrich Essig.
They originate from Germany in a town called Leonberg, hence their name.
He wanted to create a large dog of regal bearing to serve as a noble companion for European royalty.
Once he succeeded in creating the Leonberger, it did indeed catch on amongst the nobility.
Notable owners of Leonbergers include Napoleon III and King Edward VII.
While the Leonberger was bred to be a companion dog, it also found a place as a working dog using its strength to pull carts.
Origins of the Poodle
The Poodle is well-known as the national dog of France, but despite this, the breed originally hails from Germany like the Leonberger.
Back in the breed's early days, they were bred to be an astounding water retriever.
Their fantastic swimming ability and protective corded coat served as valuable tools retrieving fallen game for their owners.
Later on in history, they found themselves in the lap of luxury, with many members of nobility approving of their extravagant coat and dignified nature.
They became popular first with French aristocrats, and then eventually all of the European nobility.
Size, Height, and Weight of the Leonberger x Poodle
Leonberger Size
The Leonberger is one of the largest dog breeds, hitting heights of around 28–31.5 inches if male and 25.5–29 inches if female.
They can outweigh a full-grown human, with the male weighing in at 110–170 pounds and the female at 90–140 pounds.
Three Types of Poodles
As for the Poodle, there are three distinct size variations to be aware of: the standard, the miniature, and the toy.
The standard is the biggest of the three variations and commonly reaches heights over 15 inches. The male weighs in at around 60–70 pounds, while the female is usually around 40–50 pounds.
Miniature Poodles are usually around 10–15 inches in height and 10–15 pounds in weight.
At less than 10 inches tall, the toy Poodle is the smallest of the three. They can weigh as little as 4–6 pounds.
The variation of Poodle within the cross can affect the potential height and weight ranges of a Leonberger Poodle mix puppy.
Leonberger Poodle Mix Size
However, this cross is most commonly bred from a Standard Poodle parent.
Therefore a common range in height for puppies of this cross is 15–31.5 inches. As for weight, 40–170 pounds is possible.
It is more likely that the puppy will be somewhere within the middle of these ranges, rather than at one end.
For a closer estimation, inquire about the height and weight of both parent dogs.
Characteristics of the Leonberger Poodle Mix
Leonberger Coat and Other Traits
The Leonberger has a medium-length straight double coat, with mature males also sporting a mane that extends over their neck and chest.
They have a strong muzzle and a black face mask with triangular medium-sized ears that hang flat on the side of the head.
They have a long and rather bushy tail.
Poodle Coat and Other Traits
The defining, flashy coat of the Poodle is naturally corded and waterproof.
Dense and curly, it can be trimmed down if necessary.
Poodles also have a strong muzzle with alert and intelligent eyes.
They have long floppy ears and a short fluffy tail depending on their trim.
Dogs of the Leonberger Poodle mix could take after either parent with their coat.
It is possible they could acquire the naturally corded coat of the Poodle or have the longer straight coat of the Leonberger.
They may also acquire the mane of the Leonberger if the puppy and the parent Leonberger are both males.
It's also possible for dogs of the Leonberger Poodle mix to have the black facemask of the Leonberger, and their tail could be either long or short depending on which parent they take after.
Temperament of the Leonberger Poodle Mix
The Leonberger has a reputation for being one of the gentle giant breeds.
They can be very kind and loving and have actually been used as therapy dogs in the past, due to their caring nature.
They are eager to please and tend to be quite calm.
Poodles carry with them an air of elegance and dignity.
They are loyal and intelligent and are a lot more active than many realize.
They also want nothing more than to please their owners.
As for dogs of the Leonberger Poodle mix, they are usually also very eager to please their owners, since that trait is present in both breeds—as long as they have been raised well.
They could tend to be a bit more energetic than your standard Leonberger if they take after the Poodle however.
Caring for the Leonberger Poodle Mix
Leonberger Poodle mix dogs do well on high-quality dog food.
However, it is important to never overfeed, as obesity can have a severe impact on a dog's health.
Both the Leonberger and the Poodle have heavy grooming requirements, although for different reasons.
Leonberger Grooming
The Leonberger sheds a huge amount: all throughout the year with two seasons where they shed even more.
Due to this, they require a daily brush to remove the dead hair and prevent matting.
On top of the daily brushes, a more thorough weekly brush is also recommended.
Poodle Grooming
As for the Poodle, they shed very lightly.
However, they still require a thorough daily brush to stop their coat from matting.
Their grooming requirements could potentially be lessened, however, by trimming their coat.
Regardless of which parent your Leonberger Poodle mix puppy takes after, it is very likely you will find that they have very heavy grooming requirements.
Consider whether you have the time to fulfill this daily grooming before purchasing this breed.
They will also need to have their nails trimmed and teeth brushed regularly.
Health Issues of the Leonberger Poodle Mix
Unfortunately, both parent breeds are known to suffer from health conditions that could potentially present themselves within a Leonberger Poodle mix puppy.
Therefore, it's important to have an understanding of what health issues are common in both parent breeds.
Joint Issues
The Poodle is known to suffer from patellar dislocation, also known as patellar luxation.
This is where the kneecap can easily slide out of place, causing sudden pain and lameness within the dog.
Both the Leonberger and the Poodle can suffer from hip dysplasia.
This is a developmental disorder where the hip joint does not grow correctly, causing arthritis from a young age.
The Leonberger, in particular, can suffer from elbow dysplasia, which is the same kind of disorder but affecting the elbow joint instead.
Bloat
Both the Leonberger and the standard Poodle have can suffer from bloat.
This is a very serious condition where the stomach fills with gas and then twists, blocking proper blood flow around the body.
It has a very rapid onset and can lead to death within a few hours.
Prompt treatment from a vet is necessary to save the dog's life.
It is very important to read up on the early signs of bloat if you own a breed at risk.
Thyroid and Eye Problems
Both the Poodle and Leonberger can suffer from thyroid issues, such as hypothyroidism.
This can cause a variety of symptoms such as hair loss, weight gain, lethargy, and intolerance of the cold.
The Poodle and Leonberger are also prone to eye problems.
Cataracts are common in both breeds and therefore is the highest risk for dogs of the Leonberger Poodle mix.
Other eye conditions to watch out for include progressive retinal atrophy, glaucoma, entropion, and ectropion.
There are sadly a lot of health issues the parent breeds share, meaning it is doubly important to make sure that both parent breeds have cleared recent health evaluations.
This can help reduce the risk that these health issues will present themselves within the puppy.
Exercising and Training the Leonberger Poodle Mix
Both the Poodle and the Leonberger require regular exercise daily to stay healthy.
They need a long walk each day, at the minimum.
It is ideal to let them off the leash to run around and play when you can, assuming that you are in a secure area and the dog has been trained well.
This will be true of dogs of the Leonberger Poodle mix too.
As both parent breeds are active, you can count on this trait being present in any puppy of the cross.
Both the Poodle and the Leonberger are famed for being very easy to train.
They want nothing more than to please their human!
Therefore, you can expect that puppies of the cross will also be easy to train.
Positive, reward-based training will likely be very effective with this breed.
Ideal Home for the Leonberger Poodle Mix
This mix could be quite a large and powerful dog, so a spacious home for them to stretch their legs and relax in is a good idea.
A well-sized secure yard can also do wonders in giving them somewhere to run about and play.
However, this breed might not be good with very young children.
If they are trained well, they are very likely to be a calm and gentle breed, but due to their size, they could still accidentally injure a child.
The Leonberger Poodle mix is generally friendly with other pets within the home, provided that they have been socialized well from a young age.
There is potential for issues with separation anxiety within this breed.
Therefore, it is best for this breed to live with a family who always has at least one person around the house to keep them company.
Finding and Purchasing a Leonberger Poodle Mix Puppy
As this is quite an obscure and rare cross, it may be a struggle to find a local breeder.
Therefore, it pays to be patient and to keep checking regularly.
Methods such as browsing online and local avenues like newspapers offer up chances to find a breeder.
Also check the local dog rescue centers, as a dog of this cross could potentially be found there too.
It's important to find a breeder that can be trusted.
Positive feedback from previous customers and recognition from recognized breeding societies can be good signs that this is a trustworthy breeder.
What to Look for in a Puppy
Once you find a puppy you would like to purchase, check over the parent dogs as well as the puppy itself.
Are they moving without pain or lameness?
Do their eyes seem healthy?
Is their coat full without any patchy areas?
It's also important to see proof of recently passed health evaluations for both parents.
For the Leonberger, these include:
Hip Evaluation
Elbow Evaluation
Ophthalmologist Evaluation
Thyroid Evaluation
As for the Poodle, you will need:
Hip Evaluation
Ophthalmologist Evaluation
Patella Evaluation
Seeing proof that the parent dogs are free from any health conditions can help promote better health in the puppy, and can ensure that genetic disease will not be a problem for them.
Are They Right for Me?
Dogs of the Leonberger Poodle mix have the potential to be loving and fulfilling companions.
However, it is not a breed for everyone.
Their possibly large size means that they will not do too well in small houses or apartments and need some space to stretch their legs.
A well-sized yard for them to run about in is ideal.
Small children and pets could easily get injured by accident because of the breed's large size.
This breed is not recommended for families where this could be a concern.
This breed also has heavy grooming requirements.
Potential owners must ensure they are able to fulfill their grooming needs daily.
As separation anxiety could be a potential problem, this breed might not be a good idea for families who are not home for long periods during the day.
First Time Owner Approved
For first-time owners, this could potentially be a good dog, due to their ease of training and standard exercise needs.
However, you must understand how to groom this breed correctly and thoroughly, daily, if you wish to care for them properly.
Ultimately, it is up to you whether this dog is right for you.
But before purchasing any breed, it is always good to consider whether you have the time and knowledge to care for them correctly.
Be sure to let us know what intrigues you about this mix in the comments below.
If you've enjoyed this guide, make sure to also check out our guide to the Black Irish Wolfhound!
References
Bellumori, TP, et al, Prevalence of inherited disorders among mixed-breed and purebred dogs: 27254 cases (1995-2010) Journal of the American Veterinary Association, 2013
O'Neill, DG, et al, Longevity and mortality of owned dogs in England The Veterinary Journal, 2013
American Kennel Club
Priester, WA, Sex, Size, and Breed as Risk Factors in Canine Patellar Dislocation Journal of the American Veterinary Medical Association, 1972
Witsberger, TH, et al, Prevalence of and risk factors for hip dysplasia and cranial cruciate ligament deficiency in dogs Journal of the American Veterinary Medical Association, 2008
Krontveit, RI, et al, Housing and exercise-related risk factors associated with the development of hip dysplasia as determined by radiographic evaluation in a prospective cohort of Newfoundlands, Labrador Retrievers, Leonbergers, and Irish Wolfhounds in Norway American Journal of Veterinary Research, 2012
References Continued
Petrick, SW, The incidence of eye disease in dogs in a veterinary academic hospital: 1772 cases Journal of the South African Veterinary Association, 1996
Maggs, DJ, et al, Slatter's Fundamentals of Veterinary Ophthalmology – Fourth Edition Elsevier Health Sciences, 2007
Battaglia, CL, Bloat and the Risk Factors Breeding Better Dogs
Uhrikova, I, et al, Risk factors for gastric dilation and volvulus in central Europe: an internet survey Veterinární Medicína. 2015
Segalini, V, et al, Thyroid Function and Infertility in the Dog: A Survey in Five Breeds Reproduction in Domestic Animals, 2009
Nesbitt, GH, et al, Canine hypothyroidism: a retrospective study of 108 cases Journal of the American Veterinary Medical Association, 1980
Get Pippa's free dog training tips delivered to your inbox