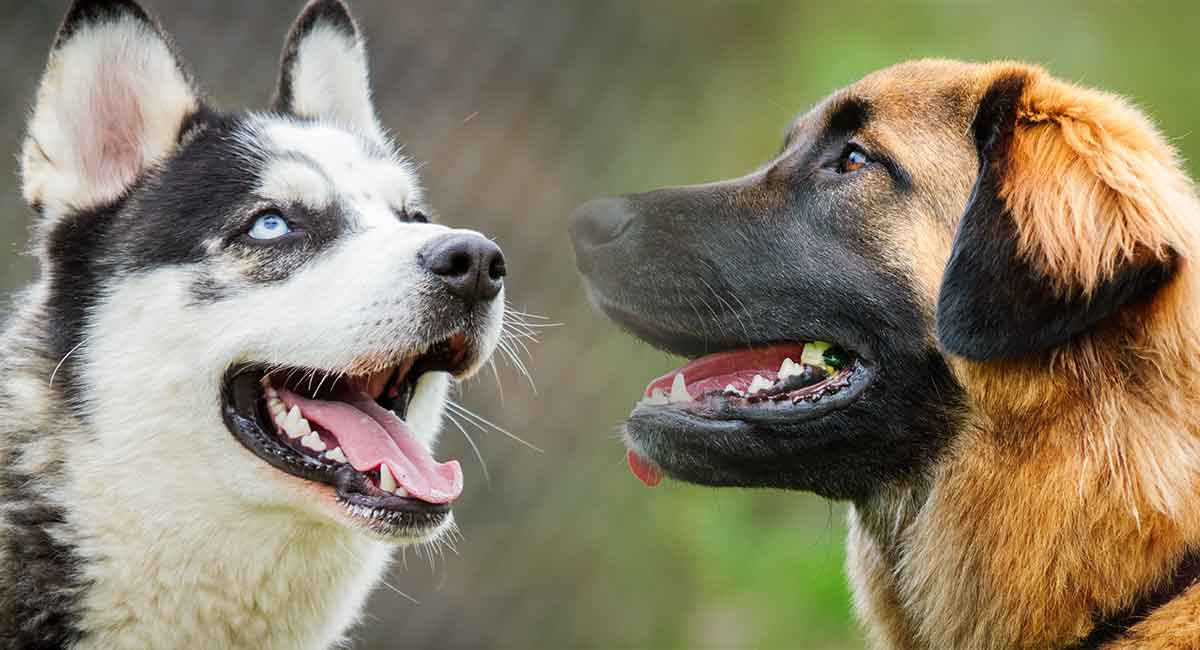 Could a Leonberger Husky mix be your next dog?
If you're giving it consideration, check our our guide to this mixed breed.
You'll want to know everything to give your pup the best life possible!
The combination of the gentle Husky and the furry, lush-coated Leonberger can make a great pet!
But Leonberger Husky mixes are first-generation, and you should know there's some controversy surrounding such "designer dogs."
So, let's start with that as we discuss this cute combo!
The Designer Dog Controversy
Pedigree – also known as purebred – dogs are selectively bred to match an ideal breed standard as closely as possible.
This enhances desirable qualities. Responsible pedigree breeders also commit to minimizing hereditary health problems in their breeding lines.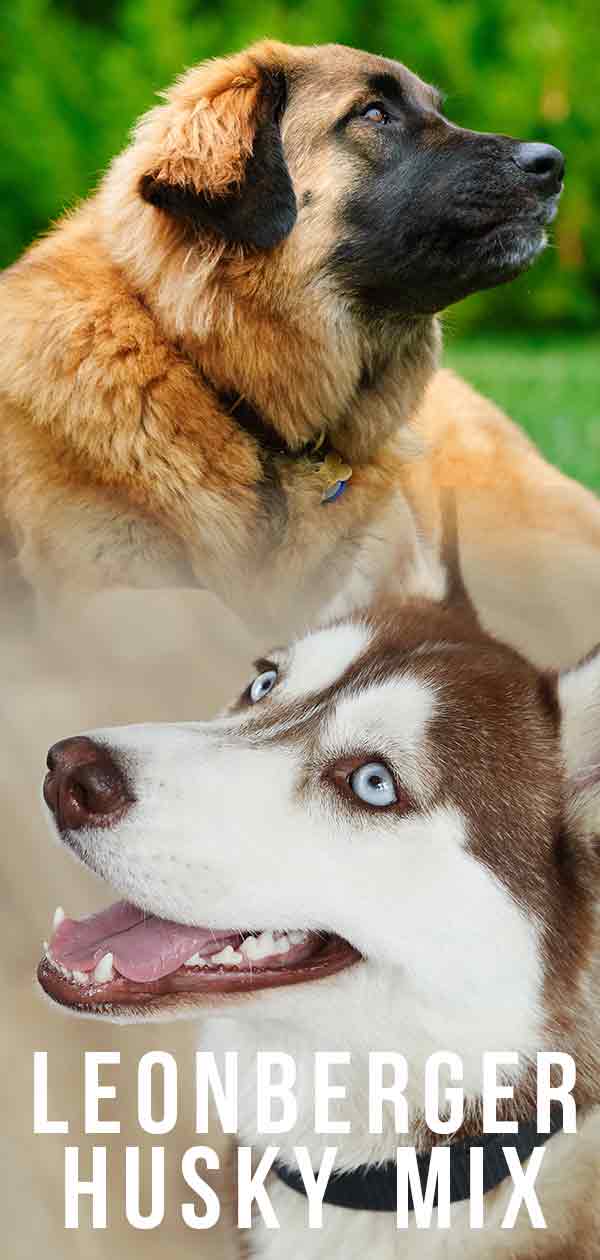 Hybrid – or crossbred – dogs have parents of different pedigrees.
Breeders with a strong preference for preserving pedigree breeding lines sometimes regard hybrid dogs, like the Leonberger Husky mix, as still just "mutts."
These breeders use the term "designer dog" scathingly, and view it as a poor excuse for raising puppy prices.
They are also often skeptical about the health of crossbred dogs.
Finally, they point out that puppies of different pedigree parents are unpredictable in terms of appearance and personality.
They say this step into the unknown is at best pointless, and at worst reckless.
Are They Right?
However, putting two dog breeds together isn't necessarily a bad thing.
After all, keeping breeds totally pure means breeders have to draw from a limited gene pool. This causes inherited problems and weaknesses to be magnified in the next generation.
If you want to know more, read our article on purebreds vs. mutts.
Hybridization adds more genes to the mix, which may improve a breed's chances of survival.
In fact, crossbreed dogs are generally healthier and live longer, because genetic weaknesses they inherit from one parent are likely to be counterbalanced by the other parent.
Actually, hybridization has allowed many of our current pure breeds to evolve to what they are now. And they may be key to helping them survive the future.
Want to delve into the science of crossing genetic subpopulations? Visit this page.
Is a Designer Dog Right for You?
In the end, though, it's all about the individual dog. Some mixed breed pups will be healthier than purebreds. And vice versa.
Plus, genetics aren't the only factors in a dog's health. Environment, diet, and stress all play a part.
Only you can decide whether you could raise a Leonberger Husky mix puppy, regardless of what mix of physical and behavioral traits they inherit.
Ultimately, if you can give your pet a good quality of life no matter what his breed, that's what matters, right?
The Leonberger Husky Cross
Now let's get back to looking at Leonberger Husky mix dogs specifically.
We don't know a whole lot about the origins of the Leonberger Husky mix.
Actually, it can be hard to know exactly who first bred many of our designer dog mixes, and under what circumstances.
These crosses are still somewhat rare, as Leonbergers are a newish breed.
Origins of the Leonberger
Heinrich Essig, an official from Leonberg, Germany, started breeding these dogs to be companions for European royalty. It is said he wished them to resemble the lion on the town crest.
And in fact, Napoleon III, Tsar Alexander II, and the Prince of Wales owned Leonbergers. Other notable Leonberger aficionados include composers Richard Wagner and Sergei Rachmaninoff.
In the US, the breed became popular after 1900, when a show-business couple toured their pet around the country.
However, Leonbergers almost died out around World War I, and today's Leonbergers descend from just 25 dogs.
In the States, Leonbergers experienced a resurge in popularity in the 1970s and 1980s when five different families brought them from Germany.
The Leonberger today
Modern-day standards for the breed were written in 1948. They were not recognized by the American Kennel Club until 2010.
Leonbergers have been utilized as work dogs on farms, pastures, and along waterfronts.
In case you're not familiar with this breed, they're related to St. Bernards, Landseers, Newfoundlands, and Pyrenees Mountain Dogs.
Leonbergers are known to be good at pulling carts and swimming. They are agile and strong.
They also make good therapy dogs, because they love kids!
Origins of the Siberian Husky
Siberian Huskies originate in Asia, where they were bred by the Chukchi people as sled dogs.
These dogs were designed to travel long distances, carrying loads with minimum energy expenditure.
The Chukchis were able to maintain the breed's purity until the 20th century, when Americans in Alaska discovered them.
In 1909, the All Alaska Sweepstakes Race featured a team of Huskies.
After that, people showed interest, so they were imported into the state and started to dominate sled-dog racing there.
Their jobs also included delivering medication and search and rescue missions. Siberian Huskies registered with the AKC in 1930.
What Are Siberian Husky Leonberger Mixes Like?
A Leonberger crossed with a Siberian Husky can take after either parent.
It's very hard to predict what a pup will be like in advance.
Whenever you mix breeds together, their offspring can show the traits and qualities of either parent dog, in varying amounts.
So, let's look at the parent dogs!
Size, Height, and Weight of A Husky Leonberger Mix
Leonbergers range from 25.5-31.5 inches in height.
They generally weigh from 90-170 pounds.
Huskies tend to be about 20-23.5 inches in height.
They tend to weigh between 35-60 pounds.
Both breeds are dimorphic, so males are much larger than the females. Females are at the lower end of the scale, with males at the higher end.
Your mix is likely to be a medium- to large-sized dog, powerful and compact.
Defining Characteristics of a Leonberger Husky Mix
Both dogs have thick double coats.
A Leonberger is a big dog, with a broad head, substantial bones, a bushy tail, and a lion-like mane.
Coat colors can be lion-yellow, golden, red, red-brown, or sand, including combinations of each. They sport a black face mask, and the fur may have black tips.
For Siberian Huskies, coats come in six colors that range from black to white.
Huskies may have interesting facial or head markings, or be solidly colored. Blue eyes are common in this breed.
You can get any combination of these colors and markings in a mixed pup!
Temperament and Behavior of a Leonberger Husky Mix
Leonbergers are known for their intelligence, enthusiasm, and easygoing nature.
They're friendly and good with kids, and make good watchdogs.
They have lots of energy, but are also elegant and dignified.
Huskies like being part of a pack, and prefer not to be alone.
They are known for their friendliness and energetic nature.
They're smart, eager to please, and like to work.
Your pup will likely have a combination of these traits, but may take more after one side of the family.
Grooming and General Care of the Leonberger Husky Mix
Both dogs have a double coat – a thicker, more waterproof outer coat, and a fluffier inner layer.
Huskies are fastidious dogs that clean themselves frequently. They need only weekly brushing.
Meanwhile, Leonbergers must be brushed daily to prevent matting, with a thorough weekly grooming.
A metal comb may be required to rake out the undercoats of both dogs.
Leonbergers shed a lot. Huskies are medium shedders, and tend to do it seasonally.
And don't forget to trim those nails!
Health Issues of Leonbergers
Cross breed puppies are not immune to the health issues their purebred parents face. Genetic diversity doesn't guarantee good health!
Leonbergers have been known to be prone to Addison's disease. They can be affected by cancer, hypothyroidism, and bloat.
They may also get a genetic disorder sometimes called Leonberger Polyneuropathy or canine leukoencephalomyelopathy.
This is a neurogenerative disorder with symptoms that include general weakness and gait abnormalities.
As with most large breeds, Leonbergers are also prone to hip and elbow dysplasia and osteochondritis dissecans.
They may also suffer from eye problems, such as cataracts, entropion, and ectropion.
Siberian Husky Dog Health
Huskies, luckily, don't have too many inherited disorders.
However, they do experience eye problems such as cataracts, corneal dystrophy, and progressive retinal atrophy.
They may be vulnerable to an inherited breathing problem called laryngeal paralysis.
They also may have hip and elbow dysplasia issues.
Looking for a Health Leonberger Husky Puppy
When you meet a litter of Leonberger Husky mix puppies, among the first things the breeder should share with you are the results of a recent health exam for both parents.
Don't be shy to ask for these – a good breeder will be delighted to show off the quality of the parents they choose.
Since Leonbergers and Huskies are both large dogs, a breeder should also have recent hip scores for both parents.
Ideally they will also have kept records of any hereditary health problems further back in the litter's family tree – after all they should have had this exact same conversation with their own breeder once!
Exercise and Training Requirements for the Leonberger Husky Mix
Both dogs, as large breeds, require exercise and basic training for their well-being.
Leonbergers are calm but need once-a-day vigorous exercise. Puppies are very active. Drafting and agility are good for them.
Huskies were originally bred to run, and they too are working dogs. They're social, so it's essential to keep them busy and active.
They have quite a reputation for escape artistry and trouble making if they're not given enough proper doggy jobs to do!
A Leonberger Husky mix dog could inherit a mix of the Husky's energy and the Leonberger's adult placidity, or they could resemble one much more than the other.
However you probably won't find out until they're grown up, so it's important to know you'd be happy with either.
The Ideal Home for the Husky x Leonberger
Your mixed breed will be a big, sweet dog that requires lots of room to run.
She'll probably be quite social, and love kids. She will need lots of interaction with people.
If you can provide activity and exercise and quality time, this might be the designer dog for you!
How To Find Leonberger Husky Mix Puppies
Think you can handle a Leonberger Husky Mix? It might be hard to find one online, so be patient.
You could try approaching the Leonberger Club of America and the Siberian Husky Club of America to find out if they're aware of any crossbreed matings taking place.
Make sure to check a breeder's environment personally, and ask about health-testing.
If you love the idea of this furry, energetic pup, you might want to get this mixed breed immediately!
Similar Breeds
Perhaps you're not sure this is the best breed for you.
If not, take a look at some of these similar breeds and mixed breeds!
Do you have a Leonberger Husky mix?
Let us know how it's going in the comments!
Resources and Further Reading
American Kennel Club, Leonberger.
American Kennel Club, Siberian Husky.
Leonberger Club of America, A Brief History of the Leonberger.
Leonberger Health Foundation International, Leonberger Health.
Siberian Husky Club of America, Your Siberian: Its Hips and Its Eyes.
Ekenstedt, K. J. et al (2014). An ARHGEF10 deletion is highly associated with a juvenile-onset inherited polyneuropathy in Leonberger and Saint Bernard dogs. PLOS Genetics.
Heinrich, C. L. (2006). Cataract in the UK Leonberger population. Veterinary Opthalmology, 9(5).
Jaderlund, K. T. et al (2011). Inherited polyneuropathy in Leonberger Dogs. Journal of Veterinary Internal Medicine, 25(5).
Minor, K. M. et al (2018). Canine NAPEPLD-associated models of human myelin disorders. Scientific Reports, 8(5818).
Get Pippa's free dog training tips delivered to your inbox