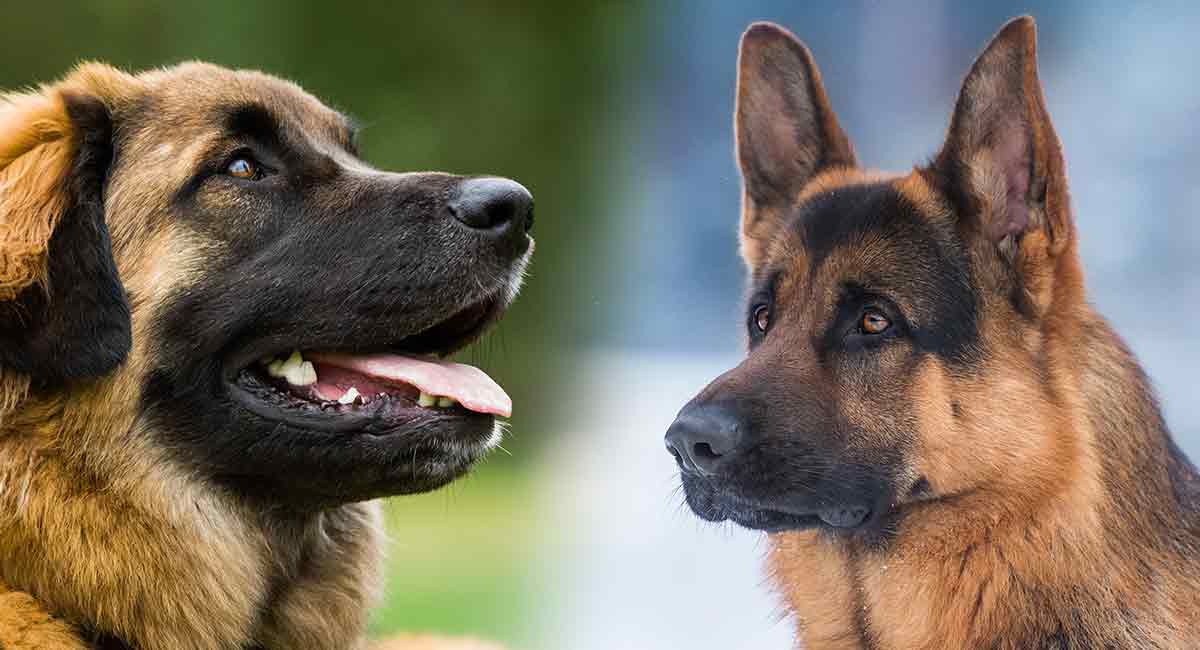 The Leonberger German Shepherd mix was created by crossing two German breeds.
The giant, gentle Leonberger and the loyal, intelligent German Shepherd.
Energetic and fluffy-tailed, this mix has potential as both a family pet or guard dog.
If you're interested in the Leonberger German Shepherd mix, you've come to the right place.
Here, you will learn everything you need to know, including information about the mix's history, temperament, training needs, health, and more.
The Designed Dog Controversy
Designer dogs — dogs created by mating two different purebreds — are becoming increasingly popular.
Though loved by many, they also face a lot of criticism.
There is much debate about whether mixed breeds or purebreds are healthier.
According to Carol Beuchat, genetic diversity keeps animals from inheriting problematic recessive traits.
Both purebreds and mutts alike can have enough genetic diversity to be healthy.
For purebreds, this means avoiding inbreeding.
Inbreeding and linebreeding do not provide enough genetic variance.
This can cause issues such as lowered lifespans and infertility.
As well as early deaths of puppies still in the womb.
History of the Leonberger
The Leonberger was meant to be a companion animal rather than a working dog.
It was created by Heinrich Essig, a dog trader in the 19th century.
Essig was from Leonberg, Germany, which is how the breed got its name.
His main goal was to create a large, white dog, as white dogs were popular.
He wasn't ever entirely successful in this aim, however, so today's Leonbergers are definitely not white.
Essig claimed to have bred Landseers, Saint Bernards, and Great Pyrenees over a handful of generations to create the Leonberger.
However, some still question the truth of his claims.
Thanks to his marketing skills, Essig's Leonbergers became popular with royals, nobles, and celebrities of the time.
Essig never wrote a breed standard.
After he died, his nephew began breeding the dogs, and they came to look more like the Leonberger as we know it today.
Both world wars were detrimental to the breed.
In WWI, it nearly went extinct, and saw a reduction in numbers in WWII as well.
Luckily, dedicated clubs were able to pick up the pieces, keeping the breed alive.
History of the German Shepherd Dog
Originally sheep herders, GSDs were valued for their work ethic rather than their looks.
At the end of the 19th century, an effort was made to create the dog of Germany.
Thanks to Max Emil Frederick von Stephanitz, the German Shepherd became this dog.
Stephanitz created a club to maintain and regulate breed standards, and also bred a dog that he viewed as the ideal German Shepherd.
With his efforts, GSDs became increasingly popular.
However, like the Leonberger, the German Shepherd decreased in number during WWI and WWII.
Its popularity plummeted in the US and the UK due to anti-German sentiments.
Luckily, the breed has recovered with time.
Its abilities as a working dog make it a top choice for both the military and the police force.
Leonberger German Shepherd Mix Size
German Shepherds stand between 22 and 26 inches tall and weigh 50 to 90 pounds.
Leonbergers are between 25.5 and 31.5 inches tall and weigh anywhere from 90 to 170 pounds.
As you can see, a Leonberger German Shepherd mix will be a big dog!
What Will a Leonberger German Shepherd Mix Look Like?
Leonbergers come in four colors:
red
reddish brown
sandy
yellow
One of their signature traits is a black mask on the face.
Their fluffy double coat sometimes becomes a ruff that resembles a lion's mane.
Their ears are triangular, flat, and lay close to the head.
German Shepherds, on the other hand, have ears that point up to the sky.
While not as fluffy as a Leo, GSDs also have a double coat that needs regular grooming.
When imagining the German Shepherd, most of us will see a black and tan dog.
However, GSDs actually come in 11 different colors.
Based on these two breeds, we know that a Leonberger cross German Shepherd will have a double coat.
However, color, ear shape, and fluffiness are all up to chance.
Leonberger German Shepherd Mix Grooming and General Care
Both German Shepherds and Leonbergers are shedders.
A mix's coat will require at least weekly brushing to manage shedding and prevent mats.
If the coat takes after the Leo parent, more frequent brushing may be necessary.
Teeth should be brushed often and nails trimmed as needed.
If the ears hang like the Leonberger's, they should be regularly checked for infection.
Leonberger x German Shepherd Temperament and Behavior
Leonbergers are often considered gentle giants.
They are friendly, patient companions who are eager to please.
This also means they are good with kids.
However, being spirited and energetic, a Leonberger German Shepherd could easily knock children over when excited.
Leonbergers often make good watchdogs, as they will alert you to anything they deem suspicious.
This trait, combined with the German Shepherd's propensity to be protective of its family, means the Leonberger German Shepherd mix may excel as a guard dog.
However, German Shepherds can sometimes be overprotective.
Though loyal and companionable with their family, GSDs may be aloof or even nervous with strangers.
Some studies have found German Shepherds to be more aggressive than other dogs.
Along with this, they were one of the highest offenders of dog bites in children.
However, it's important to understand that different studies observe different breeds and sources of information to come to a conclusion.
A small breed dog may bite more often than a GSD, but those bites are rarely reported.
Not all GSDs are aggressive.
It's important, though, to get Leonberger German Shepherd mix puppies from a responsible breeder who has made an effort to breed dogs with agreeable dispositions.
Leonberger Cross German Shepherd Exercise and Training Needs
A German Shepherd Leonberger mix will have a lot of energy and need exercise to keep them from troublesome behaviors.
A bored dog is too often a destructive dog.
Playing fetch is great exercise.
While some dogs naturally love the game, others can be taught to enjoy it.
Both physical and mental enrichment are important for this mixed breed.
Mental enrichment can be achieved through training.
Because GSDs tend to bond more closely with those who train them.
It's important to get everyone involved when training a Leonberger German Shepherd mix.
Training during puppyhood should be taken seriously, as a fully grown Leonberger German Shepherd mix is a strong dog.
With positive reinforcement, a puppy can grow into a gentle, well-mannered adult.
Socialization is also vital.
Proper socialization can greatly reduce the likelihood of fearful and aggressive behaviors.
Considering reports of aggression in GSDs, a socialization routine with all different types of stimuli is a must.
You should start socializing your puppy right away, as the most crucial period for socialization is between 5 and 12 weeks.
Leonberger German Shepherd Mix Health Risks: GSD
German Shepherds are at risk for:
Bloat
Cardiac problems such as patent ductus arteriosus and chronic degenerative radiculomyelopathy
Chronic superficial keratitis
Epilepsy
Hypothyroidism
Megaesophagus
Von Willebrand's disease
They have also been plagued with back problems due to breeding causing them to have increasingly arched backs.
Leonberger Health Risks
Leonbergers are at risk for:
Cancer, including hemangiosarcoma, lymphoma and osteosarcoma
Cardiomyopathy
Elbow and hip dysplasia
Eye diseases including cataracts, entropion, ectropion, and progressive retinal atrophy
Hypothyroidism
Osteochondritis dissecans
Panosteitis
Polyneuropathy
It is also important to keep in mind that neither of these breeds has an especially long life span.
Sources vary, placing Leonbergers between 7 and 9 years and GSDs between 9 and 13 years.
There are many potential health risks to these breeds, but some can be ruled out via health testing.
Therefore, it is vital to only purchase a puppy from a breeder who has health tested their dogs.
Ideal Home For a Leonberger German Shepherd Mix
A Leonberger Shepherd mix is a big dog. It isn't a great fit (literally) for most apartments.
Though Leonbergers are gentle by nature, their large size and adolescent energy make it easy for them to accidentally knock children over.
Furthermore, though some GSDs are great with children, others do better in a calmer environment with older kids.
It's impossible to know which parent the mix will take after in terms of size and temperament.
So consider carefully if this mix is an appropriate companion for your family.
Young dogs need plenty of mental and physical stimulation and therefore do not do well when left alone for long periods of time.
If you cannot afford services like doggy daycare or pet sitting, then you may want to consider if this is a good time for you to get a puppy.
If you are interested in this mix, think about adopting an adult dog.
This is a good compromise.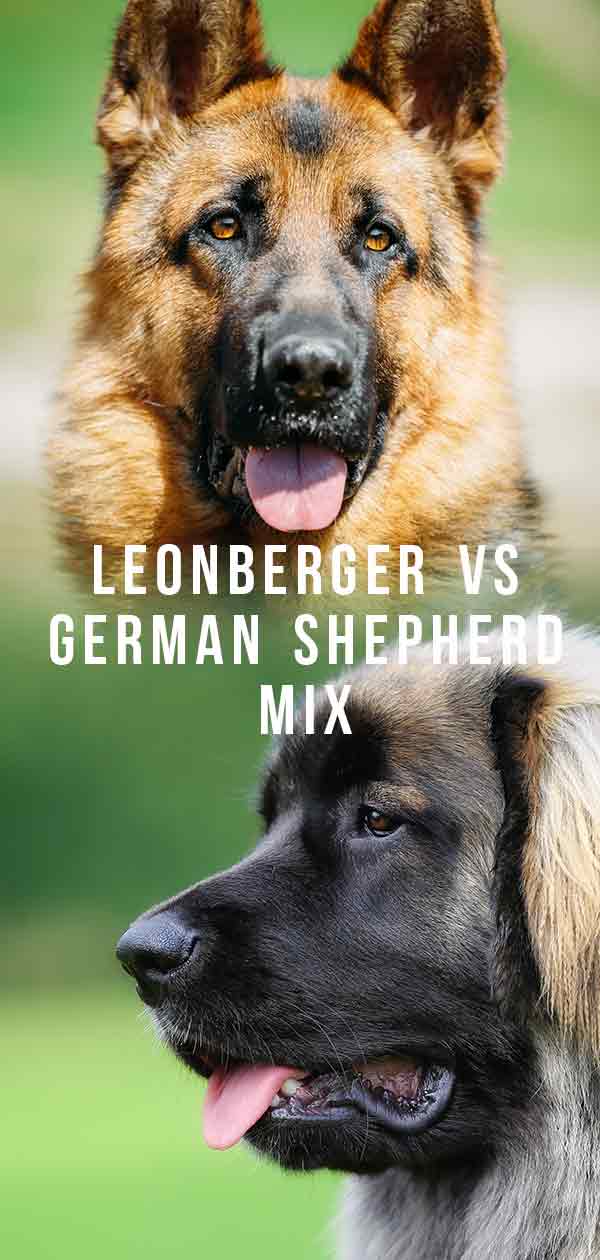 Finding the Right Leonberger German Shepherd Mix Breeder
Though designer dogs are growing in popularity, it can still be difficult to find the cross you're looking for.
You can check the web and the newspaper, or even post ads of your own to let people know you're looking for a Leonberger German Shepherd mix.
Once you find a breeder, it's important to have a conversation with them about their animals.
If you can visit and meet the animals beforehand, it's always a good idea.
Visiting the breeding facility lets you test out the early environment for your potential pup.
You can also meet the parents.
Ask about health tests as well as a general health history, since some issues cannot be tested for.
The Leonberger is more likely to be friendly.
The German Shepherd might be a little indifferent toward you.
If either dog seems aggressive, you should look elsewhere.
Similar Breeds
If you aren't sure that this is the right mix for you, there are plenty of similar ones to choose from.
Take a look at some of our other breed guides, to find the perfect pup for your home!
Summary
This cross is smart, energetic, and loyal, and it has potential as both a family and guard dog.
Because of its size and GSD ancestry, a Leo Shepherd mix may not be the best choice for a family with small children.
This mix sheds a lot and may require frequent grooming.
Unfortunately, being a larger dog, a Leonberger German Shepherd mix may not have a long lifespan.
Is the Leonberger German Shepherd mix right for you?
Let us know what you've decided in the comments!
References
American Kennel Club
Beuchat, Carol. "The myth of hybrid vigor in dogs…is a myth." The Institute of Canine Biology, 22 Dec. 2014.
Blackshaw, Judith K. "An overview of types of aggressive behavior in dogs and methods of treatment." Applied Animal Behavior Science, vol. 30, no. 4, May 1991.
Cargill, John, and Susan Thorpe-Vargas. "Hypothyroidism: A Highly Inheritable Canine Health Hazard." Dog World, vol. 83, no. 1, Jan. 1998, p. 20.
Kennedy, L. J., et al. "Risk of Anal Furunculosis in German Shepherd Dogs Is Associated with the Major Histocompatibility Complex." Tissue Antigens, vol. 71, no. 1, Jan. 2008, pp. 51–56.
"Leonberger Polyneuropathy and Leukoencephalomyelopathy." College of Veterinary Medicine – University of Minnesota.
Mattinson, Pippa. "Purebred Vs Mutt – Common Objections to Cross Bred Dogs." The Labrador Site, Red Cat Media Ltd, 8 Jan. 2018.
McConnell, Patricia B. "What every puppy needs from the start." The Bark Magazine, 2003.
Schalamon, Johannes et al. "Analysis of Dog Bites in Children Who Are Younger Than 17 Years." Pediatrics, vol. 117, no. 3, Mar. 2006.
Scott, D. W., and M. Paradis. "A Survey of Canine and Feline Skin Disorders Seen in a University Practice: Small Animal Clinic, University of Montréal, Saint-Hyacinthe, Québec (1987-1988)." The Canadian Veterinary Journal – La Revue Veterinaire Canadienne, vol. 31, no. 12, Dec. 1990, pp. 830–835.
Stock, K. F., et al. "Genetic Analyses of Elbow and Hip Dysplasia in the German Shepherd Dog." Journal of Animal Breeding & Genetics, vol. 128, no. 3, June 2011, pp. 219–229.
Szewczyk, M., et al. "What Do We Know about Canine Osteosarcoma Treatment? Review." Veterinary Research Communications, vol. 39, no. 1, Mar. 2015, pp. 61–67.
Wargo, M. "Beware of BLOAT." Dog World, vol. 96, no. 7, July 2011, p. 40.
Get Pippa's free dog training tips delivered to your inbox