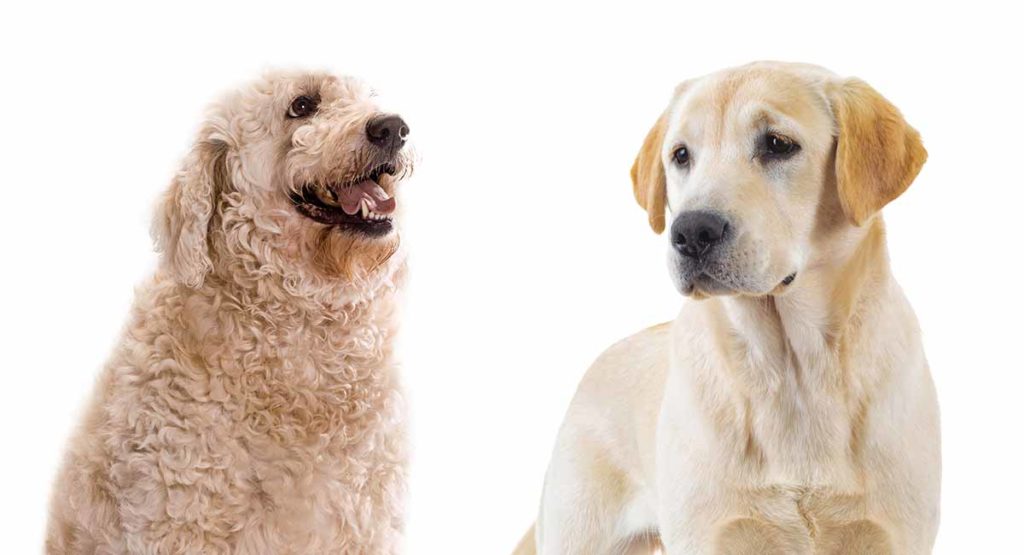 While the Labrador has been a popular family dog for many years, the Labradoodle is something of a newcomer, first appearing in the '70s.
Choosing between a Labrador and the Labradoodle can prove tricky, thanks to their shared traits.
Labradoodles may shed less than a Labrador, but be more nervous around unfamiliar people.
Let's have a look at these two loveable breeds and work out which one would be happiest in your family.
Labrador vs Labradoodle History
The Labrador had its beginnings in Newfoundland. Settlers from England brought dogs with them to this rugged and inhospitable area. These dogs worked with the fishermen, putting in long hours of work out at sea in frigid conditions.
The dogs came to be known as St Johns Water Dogs, and it is from these dogs that the modern-day Labrador came to be.
These dogs had earned a good reputation for their work ethic and amazing retrieving skills. Some were brought back to England, and it is from there that they were bred and refined into what we have come to know as the Labrador.
Aside from being immensely popular as a family dog, the Labrador is still a prized gun dog and is also widely used as a service dog.
The Labradoodle is a mixed breed which was created for a specific purpose.
In the 1970s, a blind lady in Hawaii contacted the Australian Guide Dog Association hoping they might be able to help her.
She needed a guide dog that would not aggravate her allergies.
While they had nothing on hand, the idea came up to cross a Labrador with a Standard Poodle – an intelligent breed which has a non-shedding coat.
A Swedish Poodle was brought to Australia, and the first Labradoodles soon followed.
These days, the Australian Labradoodle Association has a list of 6 parent breeds which have been used in the development of the Labradoodle.
Since then, the Labradoodle has also gone from strength to strength as a family pet.
However, whilst many owners with allergies report that they can tolerate a Labradoodle, we should mention that no kind of dog is completely hypoallergenic.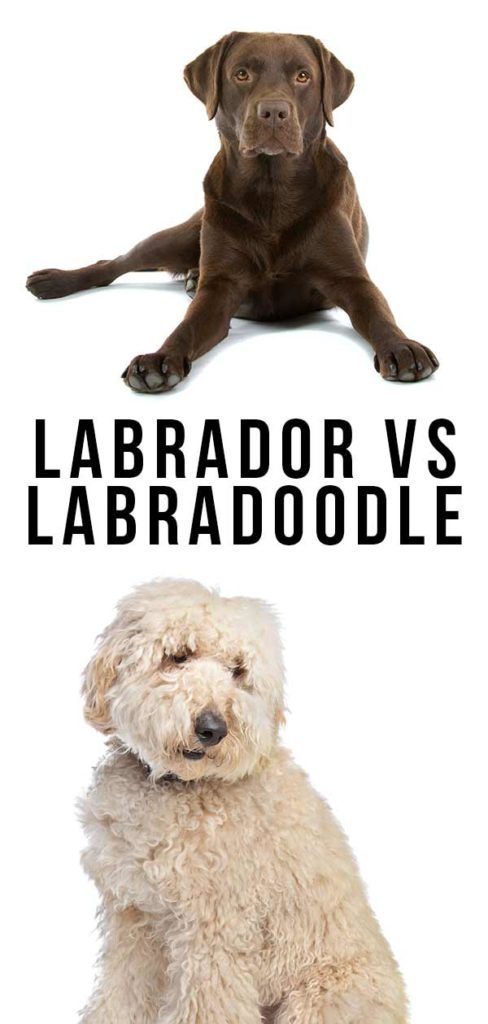 Labrador vs Labradoodle Appearance
The Labrador is one of the most recognizable breeds around the world. It is well known for its kind face, soft, floppy ears, and thick, weather resistant coat.
The Labrador is a medium-sized dog, standing anywhere between 21.5 and 24.5 inches at the withers, depending on gender. Male dogs are typically larger.
A healthy Labrador should weigh between 55 and 80 pounds depending on gender and build.
Labradors are a sturdy dog, and seeing as they were bred as a working dog, it is important that they are well balanced and sound in structure – neither too lanky nor too heavy.
They have a short, dense coat that comes in three solid colors – yellow, chocolate, and black.
Another distinctive feature of the Labrador is their thick "otter tail" which is used as a rudder when swimming.
Due to the introduction of the Poodle, the Labradoodle comes in 3 sizes, standard, medium, and miniature.
The standard stands between 21 and 24 inches and weighs 50 to 65 pounds, the medium stands between 17 and 21 inches and weighs 30 to 45 pounds, while the miniature stands 14 to 16 inches and weighs 15 to 25 pounds.
The Labradoodle should also be athletic, without being too heavy. The Labradoodle has a deep chest, and the body is square and compact.
Probably the most distinctive feature of the Labradoodle is their curly, even shaggy looking non-shedding coat.
The Labradoodle comes in a variety of colors and patterns, including chalk, cream, gold, caramel, red, black, silver, blue, chocolate, café, lavender, parchment, parti, phantom, abstract, sable, brindle, and multi-pattern.
Labrador vs Labradoodle Temperament
The Labrador is known for its loveable personality. They are eager to please, outgoing, kind and non-aggressive.
While they are a medium sized dog with a wide skull and strong jaw, their gentle and friendly personality mean they make a hugely popular family dog.
Aggression toward humans or other animals is not typical of the breed.
Bear in mind that they were bred as a working dog, so keeping them busy through exercise and training is essential.
The Labradoodle shares many traits of the Labrador – friendly, sociable, and gentle.
Labradoodles from service dog breeding lines may show a great level of intuition and learn to observe their owners closely.
However, Poodles have more of a tendency to be nervous of strangers than Labradors. A first generation Labradoodle of pet dogs might also inherit this reserve. To get an idea what their personality might be like, insist on meeting both parents first.
Again, they are energetic and intelligent dogs, so they need to be kept busy with training and exercise.
An honest assessment of your lifestyle and living arrangements should be made before getting a puppy as both breeds need time and attention every day – don't take their kind and lovable nature for granted!
Labrador vs Labradoodle Training
Both breeds are easy to train thanks to their eagerness to please.
Of course, when any dog is small, some work will need to be put into potty training them.
If you would like some tips and guidance on how to potty train your puppy, you can find plenty of helpful information here.
All breeds also need to be socialized from a young age to ensure you have a dog that enjoys both human and animal company and is not fearful of experiences that would otherwise be new and exciting.
You can find tips on how to socialize your puppy here.
You can also find information about socializing a Labrador puppy here, and you will find this information applies just as well to a Labradoodle.
You may also have heard of crate training, the process of teaching your dog to relax in their dog cage or crate. If you would like to know about this, read this article.
Thankfully, both the Labrador and the Labradoodle are usually outgoing, friendly breeds, so with the socialization and proper training from a young age, you should have a very friendly and outgoing dog.
But remember that as with a puppy of any breed, you will need persistence and patience!
Labrador vs Labradoodle Exercise
Both of these breeds are energetic and intelligent.
Neither of them are couch potatoes, and both need daily exercise to keep them healthy and to avoid boredom.
Particularly in the case of the Labrador, a breed prone to obesity, regular exercise is of special importance.
Labrador vs Labradoodle Health
The Labrador is susceptible to hip and elbow dysplasia, as well as some heart and eye problems. You can find the full list of health clearances as recommended by the Labrador Retriever Club here.
The Labradoodle carries the risk of these issues, along with the potential of some issues carried by the Poodle, such as Addisons Disease (a disease of the adrenal system) certain heart problems, epilepsy, bloat, eye problems, thyroid disease, Von Willebrand's Disease, and hip dysplasia.
While this might seem like a long list, bear in mind that many of these diseases are still rare amongst Poodles, and reputable breeders test to avoid breeding from dogs which carry the gene.
Additionally, because the Labradoodle is a cross breed, they may not carry as much likelihood of developing these issues as a pure Poodle would.
The issues shared between Labradors and Poodles should be of most concern, which include hip dysplasia and eye problems.
The inclusion of other breeds in the Australian Labradoodle has resulted in increased genetic diversity, which can decrease the risk of certain genetic issues.
Reputable breeders of cross breed dogs still carry out health checks to avoid breeding from dogs who are known to carry problems.
If you would like to see the list of conditions that the Australian Labradoodle Association asks their registered breeders to screen for, you can find more information here.
Which Breed Makes A Better Pet?
Both the Labrador and the Labradoodle make excellent family pets.
They have a great temperament and are eager to please their human family.
One big difference between the two is the coat.
If you or someone in your family has allergies, then the Labradoodle is a great option.
While their coat may look wild, if it is kept clean and matt free, the advantage is that it may not cause issues for allergic individuals.
Labradoodles may be more naturally reserved than Labradors, depending on the temperament of their Poodle parent.
If you want to bring either one of these dogs into your family, make sure you can give them exercise and training every day.
Not only will your dog thrive on the mental challenge, they will love you all the more for the time they get to spend with you.
Make sure to also check out our article on the best dog beds for Labs!
References and Resources
Get Pippa's free dog training tips delivered to your inbox