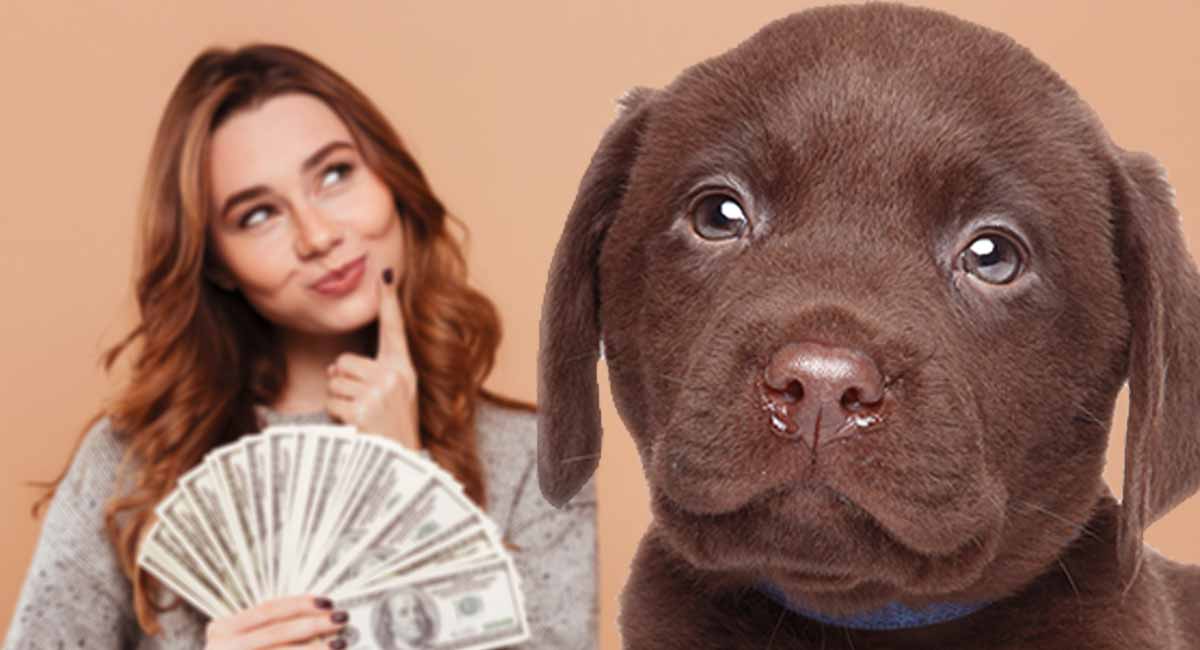 Labrador dog price can range from around $300 for an adult dog from a rescue shelter, to up to $3,000 for a puppy from a good breeder with champion working or show dogs in their breeding line.
But the average lifetime Labrador dog price will add up to nearly $15,000.
The Nitty Gritty Of Labrador Dog Price
You want a Labrador, because they're such great dogs. But what is the Labrador dog price you can afford?
How much does a Lab puppy cost, anyway?
As you factor in all you need for your new pet dog, of course you must fit it into your budget. With a dog, there are certain startup costs, followed by maintenance costs, to consider.
In this article on the overall Labrador dog price, take a closer look at how much your new Labrador puppy might cost!
The Cost Of Owning A Lab Puppy
In fact, actually buying a puppy will probably be your smallest cost. The fee you pay to take your pup home will be only the first of many expenses you will need to shell out for during your dog's lifetime.
Don't buy a puppy if you cannot afford her ongoing maintenance, including food, vaccines, veterinary care, training, socialization, and cleaning needs. Remember, too, your dog will need toys, travel crates, food dishes, and all kinds of accessories based upon your lifestyle and activities.
Labradors are generally healthy dogs, but they are prone to certain diseases such as hip dysplasia, so you'll need to take that into account as you create a budget to properly care for your dog.
Health issues are one reason finding the right breeder is important. That, too, may cost you money, since good-quality breeders will charge more for their good-quality care.
Getting a Labrador dog requires a financial commitment from you and your family. Don't skimp on this part!
The Cost Of Buying A Lab Puppy
Puppy cost varies based on many different factors. Are you getting one from a breeder? A rescue?
The cost of a pet dog is often linked to a breeder or rescue's cost in raising a puppy. So the price you pay for your puppy is not arbitrary. And with a good breeder, you might indeed pay more because your puppy has received quality care from the start.
Labs are the most popular dogs in the U.S., and have been so for almost three decades. That's both good news and bad news.
It's bad because you're going to be one of many prospective Labrador owners looking for responsible breeders, and competition may be high.
It's good, though, because high demand means more breeders may have Labradors available. And you have more options, both in terms of cost and pedigree.
Labrador Dog Price – How Much Does A Labrador Puppy Cost?
You'll find that getting a Labrador puppy from a reputable breeder will cost you $500-$3000. It's not uncommon to see well-bred, health-tested pups going for $2500 and up.
A good breeder will be happy to break prices down for you. The costs may include the pregnancy and labor costs of your pup's mom, registrations, health care and testing, stud fees, microchipping, food and vitamins, facility use and more. These definitely add up!
Additionally, market forces come into play. Gender, coat color, lineage and pedigree, temperament, supply and demand, and future show potential may all be factors.
You may be able to find Lab puppies with a smaller fee at rescues, but you can still expect to pay $300 or more.
You may plan to save money up front by buying a cheaper purebred dog. Just remember that you may pay later on when that dog, raised in lower quality conditions, develops expensive health problems.
How Much Does A Lab Puppy Cage Cost?
Once you get a Labrador puppy, you will need a cage or crate to confine him while the dog is unsupervised.
A dog crate can provide your pup with a safe and secure space for short periods of time. It can help acclimate your puppy to being alone and help with toilet training. And it can also help in recovering from medical procedures.
A good new crate for a dog the size of a Labrador can range from $20-$200. Higher end ones may be designed to look attractive and fit with décor. You can find decent sized crates of good quality for about $50.
Remember you will have to buy different sizes as your dog grows, because having the wrong sizes – whether too big or too small – causes problems. A too-big crate can encourage a puppy to use one corner for urinating and defecating. A small one may be uncomfortable.
How Much Do Lab Puppy Toys Cost?
Toys can come at any price. Heck, sometimes we find our pets enjoy the packaging more than the item that came inside! So feel free to DIY some toys your dog will love. Conversely, splurge on a monthly subscription to a service such as BarkBox.
Just make sure to provide proper stimulation for your dog's growing development. Teethers and chew toys, treat providers, balls and comfort items all help bring out natural behaviors in a non-destructive way and help fight boredom.
Toys are a necessity, not a luxury, and will need to be replaced from time to time. So as you create a pet-friendly budget, make sure the price of safe, interactive toys is on it!
Your mileage will vary, but expect to spend $35-250 a year on toys. Remember, buying a dog is just the first step – and it's only the first time you open your wallet for your pet's needs.
You will need to add toys, beds, accessories, medical care, a collar, and food to your tally as well. And then you'll have to keep it all coming for as long as your dog lives.
How Much Does Lab Puppy Food Cost?
Sometimes it might seem intimidating to find the right food for your dog.
You don't want to spend an arm and a leg, but you want to make sure your Labrador Retriever puppy has the best possible nutrition. After all, their food is an important factor in future health and longevity.
With Labradors, specifically, diet issues and overfeeding have been tied to hip dysplasia, elbow arthrosis, and osteochondrosis.
But prices on dog food vary widely based upon what you're feeding! Canned food, for example, costs more than a big bag of kibble. And good quality kibble, with animal protein sources among the first few ingredients, may cost a lot more than other kinds of kibble.
Additionally, your dog's activity level and age also play a role in how much food you'll go through.
Feeding Guides
In general, expect to pay up to $1000 a year for good-quality food for a medium-to-large breed dog like a Labrador.
Cut your costs a bit by buying bigger bags, if possible!
Use this site, from the Tufts University Cummings Veterinary Medical Center, to calculate pet food costs more exactly.
Don't forget to weigh in the cost of any supplements or vitamins you want to give your dog, or that your vet may recommend.
Other Lab Puppy Expenses
In addition to the items mentioned above, you should factor in other things.
Remember, with regard to veterinary care, you'll have to shell out for regular vaccinations, de-worming, flea removal options, and regular check-ups – to the tune of $700- $1500 a year, probably.
Not to mention additional costs if your Labrador develops any health issues. If pet insurance may seem like a good option for you, do some research before you buy.
Otherwise, setting aside some money for medical emergencies is a good idea.
Your city may require a license, so you may have to pay a small fee for that.
Grooming And Care Expenses
What about grooming? Labradors are notorious shedders; proper brushing and grooming can help with this.
You'll need to buy grooming supplies, such as brushes, dog shampoos, and bathing accessories – towels or a doggie tub, maybe. Or maybe you'd prefer to have grooming done professionally? If so, that will cost as well.
Do you spend all day away from home? Are you going away on vacation? You will have to factor in doggie day care, dog walkers, and pet sitters. Or even the cost of taking your sweet Lab pup with you wherever you're traveling!
If you're the type who likes to spoil your loved ones, don't forget to add expenses for cute dog clothing, accessories like blinged-out collars and bandannas, and special treats.
And if you don't want your pup to sleep on the bed with you, you may also wish to invest in a comfy dog bed for your Lab puppy.
How Much Does A Lab Puppy Cost?
These costs all add up! The American Kennel Club estimates the cost of owning a Lab for 10 years, his average lifespan, to be just under $15,000.
Just remember that your initial start-up cost isn't even close to how much you'll spend in maintaining your dog's healthy lifestyle over the years.
And enjoy your Lab puppy, because he will grow up too fast!
Readers Also Liked
References and Resources
Labrador Retriever Club, Inc.
American Kennel Club, Labrador Retriever.
Reisen, J. (2017). How Much Will You Spend on Your Dog in His Lifetime? American Kennel Club.
Keswick Labrador Retrievers, The Cost of Breeding: Why "Show-Bred" Puppies Are Priced Higher.
St. John, A. (2012). How Much Is That Doggie in the Window? The Surprising Economics of Purchasing a Purebred Puppy. Forbes Magazine.
Werber, J. 7 Simple Safety Tips Before You Buy Your Next New Dog Toy. Pet Health Network.
Burger, I. H. Energy needs of companion animals: Matching food intakes to requirements throughout the life cycle. The Journal of Nutrition, 124(12).
Sallander et al (2006). Diet, exercise, and weight as risk factors in hip dysplasia and elbow arthrosis in Labrador Retrievers. The Journal of Nutrition, 136(7).
Get Pippa's free dog training tips delivered to your inbox