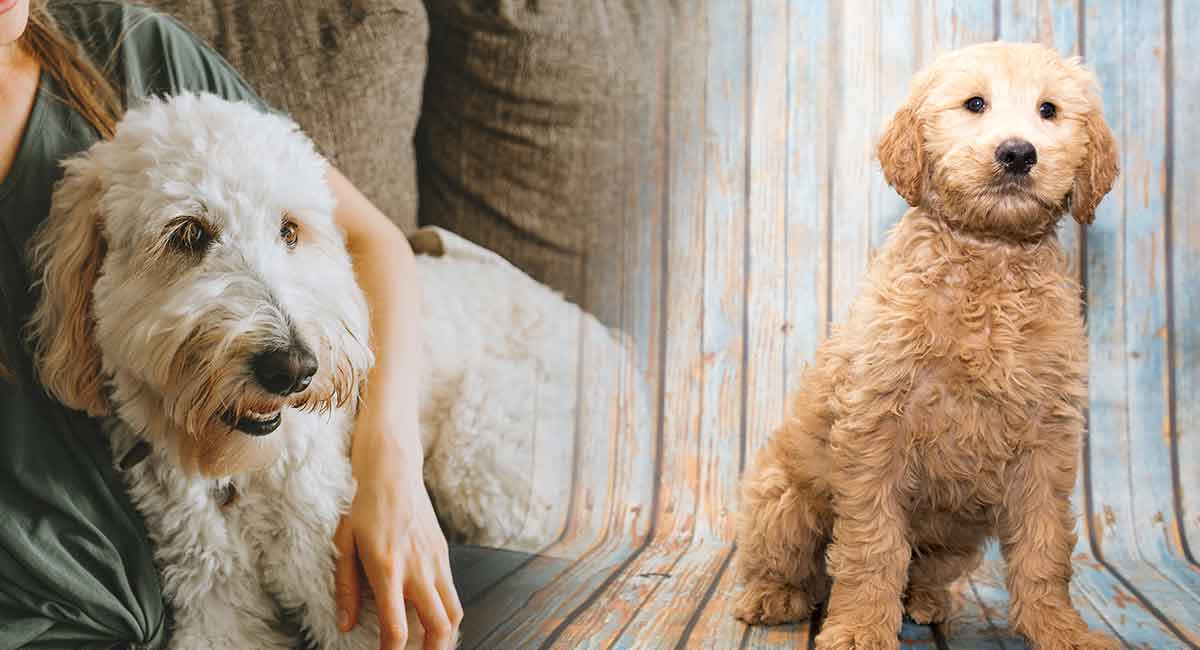 The most notable differences between a Labradoodle vs Goldendoodle are:
Coat length – thanks to their Golden Retriever heritage, Goldendoodles often have a slightly longer coat.
Temperament – the task orientated Labradoodle loves to work, whereas the Goldendoodle is more easily satisfied with just hanging out.
Health – Goldendoodles are more vulnerable to some cancers than Labradoodles.
But they have far more in common than divides them!
Choosing Between a Labradoodle vs Goldendoodle
The Labradoodle and the Goldendoodle just might be the most popular mixed breed dogs around. This isn't a surprise considering the three beloved parent breeds that go into these two cute mixes!
The Labradoodle is a cross between the Labrador Retriever and the Poodle. The Goldendoodle is a cross between the Golden Retriever and the Poodle.
There's a lot to love about both "doodles" — but which mix is the right choice for you?
We'll take an in depth look at both the Labradoodle and the Goldendoodle to help you decide which one will be your next best friend!
First, an overview of the three parent breeds.
Labradoodle vs Goldendoodle History
The Poodle
The Poodle is a well-known dog breed that is an important part of both doodle mixes.
There are three Poodle sizes: toy, miniature, and standard.
Any sized Poodle can be crossed with a Lab or Golden. The larger standard Poodle tends to be the most common type used in these mixes.
The Poodle is an old European water dog breed. Poodles are known for their intelligence, liveliness, and devotion.
The Poodle is also known for its distinctive curly coat, a characteristic that has made it a popular breed for several designer mixes.
The Labrador and Golden Retriever
The Labrador and Golden are both retriever-type dogs. They were bred to retrieve game for hunters.
They are both very popular breeds, known for their pleasant, friendly temperaments, trainability, and eagerness to please.
The Labradoodle and Goldendoodle are among the first designer mixed breed dogs, and they remain extremely desirable choices for dog lovers in search of an affectionate family pet.
Their good temperaments and trainability make them among the most common service and therapy dog breeds.
Labradoodle vs Goldendoodle Appearance
With their cute faces and wavy coats, the Labradoodle and Goldendoodle can look like each other, but are there any significant differences that stand out?
Standard Poodles are elegant, athletic dogs with a dense, curly coat that sheds minimally.
Labs and Goldens are medium sized and more sturdily built than Poodles. Both have double coats that shed seasonally.
What about the mixes? As with any mix, size and coat color and type can vary, depending on an individual dog's parentage.
Labradoodle Appearance
Generally, Labradoodles with standard Poodle parentage weigh between 50-65 pounds and stand 21-24 inches tall at the shoulder.
The Labradoodle coat can be wavy (also called shaggy) or curly like a Poodle's. Straight coats are rare but also possible.
There are three Lab colors: yellow, black, and chocolate. Since the Poodle's coat comes in a wider range of colors, more variations in color and markings are possible in the Labradoodle.
Goldendoodle Appearance
Goldendoodles with standard Poodle lineage can weigh between 50-70 pounds and stand around 20-25 inches tall at the shoulder.
Coat types are like the Labradoodle's, with wavy being the most common. The Golden has longer fur than the Lab, and this is also often the case with the two doodle varieties.
Goldendoodles can inherit the Golden Retriever's signature coloring. They can also inherit different coat colors from the Poodle side as well.
Labradoodle vs Goldendoodle Temperament
Both Labradoodles and Goldendoodles are known for their appealing temperaments and both make very good family pets.
But are there any differences in temperament between the two? Experts in the doodle mixes report that there are some small differences.
They note that the friendly and affectionate Goldendoodle makes a great therapy dog while the confident, task-oriented
The Labradoodle makes an excellent service dog.
The Goldendoodle is outgoing and very comfortable with strangers. While the Lab is known as an exuberant breed, the
The Labradoodle can be a little more reserved than the average Lab.
Both are a good choice for families with children, active adults, and older adults.
Labradoodle vs Goldendoodle Training
Intelligence and an eagerness to please make both doodle mixes very trainable. Many enjoy working as trusted service and therapy dogs.
Of course, training any new puppy, including the Goldendoodle and Labradoodle, can be challenging!
Both tend to be friendly and companionable around other people and animals, but formal training and socialization (such as puppy kindergarten classes) are always helpful.
Additional specialized training when your dog is older may be needed if you plan to take your doodle to visit hospitals, schools, nursing homes, and the like.
Service dogs are generally trained by professionals, but it is possible to teach a doodle certain tasks yourself. This is especially true with Labradoodles
All training methods for both the Goldendoodle and the Labradoodle should always be grounded in positive reinforcement and never punishment.
Labradoodle vs Goldendoodle Exercise
How much exercise will your dog need? All three parent breeds that go into the Goldendoodle and Labradoodle are active and playful.
While the purebred Labrador Retriever tends to be more high energy than the Golden Retriever, this difference does not always apply to the two doodle varieties.
Experts report that both tend to require about the same amount of regular exercise and play sessions.
Both enjoy daily walks and play time with their families or with other dogs at the park.
Many enjoy spending time in the water and participating in organized canine activities like agility and obedience trials.
Labradoodle vs Goldendoodle Health
The Labradoodle and Goldendoodle can share some health issues that are common to many dog breeds, such as hip dysplasia.
There can also be some health differences caused by different types of health issues seen in the Lab vs the Golden.
It's important to keep in mind that potential health concerns in any dog can be minimized. This is best achieved by dealing with a responsible breeder who tests their dogs for inherited health issues.
Let's look at each parent breed and then the mixes.
Poodle Health
Your doodle can inherit health conditions seen in the Poodle. What are the most common?
Unfortunately, a lack of genetic diversity in the standard Poodle has led to some serious inherited health problems.
These include the autoimmune conditions sebaceous adenitis (a skin disease) and Addison's disease (low levels of adrenal hormones).
Poodles can also be prone to other health issues including epilepsy, thyroid disease, and eye and joint problems.
Labrador Health
The Labrador Retriever's most common health issues include hip and elbow dysplasia, heart and eye problems, and exercise-induced collapse.
They can also be prone to obesity and ear infections.
Golden Retriever Health
Like the Lab, Golden Retrievers can suffer from hip and elbow dysplasia and heart and eye issues.
Sadly, Goldens have a higher incidence of four fatal forms of cancer than other dog breeds: mast cell tumors, osteosarcoma, hemangiosarcoma, and lymphoma.
Labradoodle vs Goldendoodle Health
What does this mean for the Labradoodle and Goldendoodle?
It is possible for both doodle types to inherit some Poodle health problems. Since they can be serious, it's important that your breeder tests all Poodle breeding stock for genetic health conditions.
The Labradoodle can inherit health issues seen in the Lab, while the Goldendoodle can inherit the Golden's health issues.
Some of the problems are common to both Labs and Goldens, especially joint, eye, and heart conditions. These can occur in both doodle types.
Goldendoodle owners should be aware of the increased risk of cancer in Golden Retrievers.
Responsible Breeders
Reputable Labradoodle and Goldendoodle breeders will test their Lab and Golden breeding stock for inherited health problems.
Because these two mixes are so popular, you will see lots of puppies offered for sale on the internet and in retail pet stores.
It's a good idea to avoid obtaining Labradoodle and Goldendoodle puppies from these sources, as they often come from puppy mills.
The best way to ensure that your puppy is as healthy as possible is to choose a responsible breeder who health tests and welcomes in-person visits from clients.
Which Breed Makes a Better Pet?
Both the Labradoodle and the Goldendoodle make great family pets, so choosing one over the other can be difficult!
These two appealing mixes share many similarities in looks, personality, training and exercise needs, and health.
Their differences can be minor, and keep in mind that as mixed breed dogs, there can be a good amount of variation among individual Labradoodles and Goldendoodles as well.
Both doodles are a great option for families with children, but they make excellent companions for adult households as well.
Has your heart been stolen by a doodle? Which one did you choose? Tell us about your dog in the comments!
Make sure to take a look at the Goldendoodle vs Golden Retriever debate for more breed comparisons!
References and Resources
Loder, R.T., Todhunter, R.J. The Genetics of Canine Hip Dysplasia in the United States and Canada. Journal of Veterinary Medicine, 2017.
Pedersen, N.C., Brucker, L., Green Tessier, N., et al. The Effect of Genetic Bottlenecks and Inbreeding on the Incidence of Two Major Autoimmune Diseases in Standard Poodles, Sebaceous Adenitis and Addison's Disease. Canine Genetics and Epidemiology, 2015.
McGreevy, P.D., Wilson, B.J., Mansfield, C.S., et al. Labrador Retrievers Under Primary Veterinary Care in the UK: Demography, Mortality and Disorders. Canine Genetics and Epidemiology, 2018.
Health Screenings for the Parents of a Litter. Golden Retriever Club of America.
Simpson, M., Searfoss, E., Albright, S., et al. Population Characteristics of Golden Retriever Lifetime Study Enrollees. Canine Genetics and Epidemiology, 2017.
Get Pippa's free dog training tips delivered to your inbox