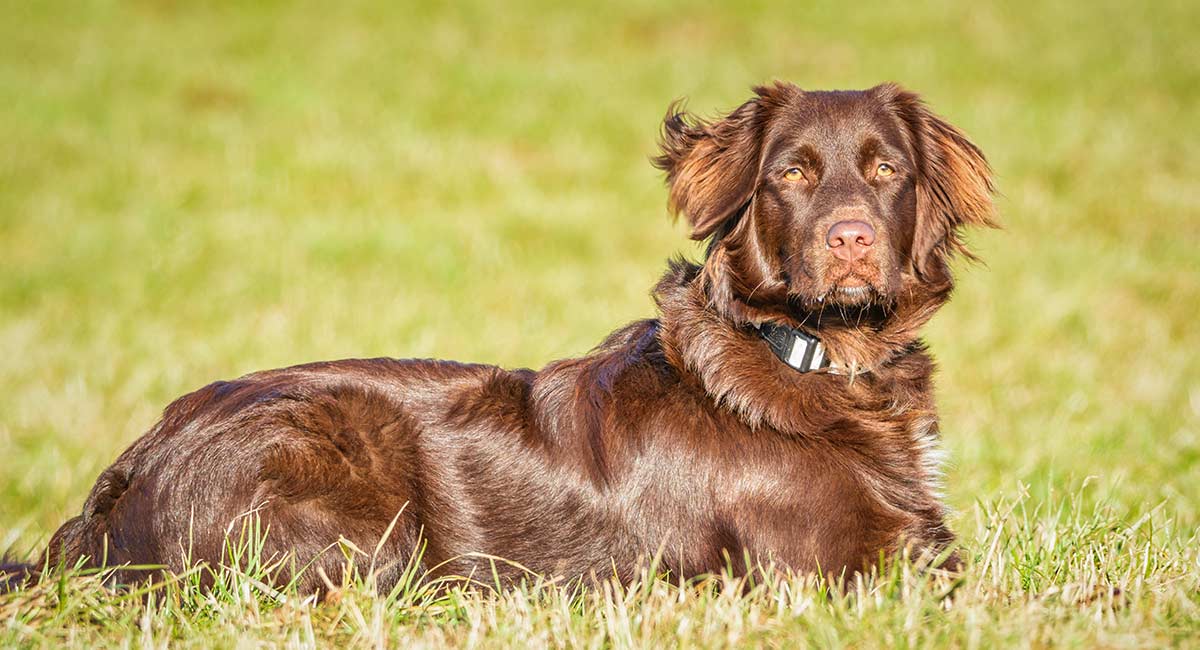 The Lab Setter mix is a cross between two family favorites—the Labrador Retriever and the Irish Setter.
Intelligent, playful, and full of love, the Lab Setter Mix is sure to make a wonderful crossbreed for the right person.
Is that person you? Let's find out!
What Is the Lab Setter Mix?
A cross between the purebred Labrador Retriever and the Irish Setter, the Lab Setter Mix is a hybrid dog with a huge personality.
What is a hybrid dog, you ask?
Also known as a designer dog or a crossbreed, hybrid dogs have become increasingly popular over the past 20 years.
But that doesn't mean they are free of debate. Keep reading to learn more.
The Designer Dog Debate
Before deciding if a crossbreed dog is right for you, it's important to take understand the crossbreed controversy.
Let's begin with the distinction between mutts and crossbreeds.
Is there a difference at all?
Well, this is part of the argument.
You see, some consider a crossbreed and mutt to be the same thing.
Mutt vs Design
Designer dogs are chosen from two purebred parents of differing breeds.
A mutt, on the other hand, is more of an accidentally mixed breed with an unknown lineage.
Learn more about the mutt verses crossbreed debate here.
Of course, there's a lot more than semantics that has these experts quarreling.
The issue of health is an important matter many are considering when it comes to the design dog debate.
Some experts claim that purebred dogs are less healthy than crossbreeds.
Unfortunately, it's true that purebred dogs are plagued by certain genetic health issues.
This is due to generations of being overbred in progressively shrinking gene pools.
Supporters of crossbreeding claim the practice may actually reduce the chances of these genetic health issues being passed down to dog litters by widening the gene pool.
Find out more about the most common objections to crossbreeding here.
And now that we have covered some of the basics of the design dog debate, let's move on to learn more about the Lab Setter mix!
How Did the Lab Setter Mix Come About?
Due to the fact that the Lab Setter mix is a newer generation crossbreed, there is still a lot to learn about their origin.
For now, we can learn more about how they came to be by looking into the histories of their purebred parents.
Let's start with the Lab.
History of the Labrador Retriever
Despite what the name may suggest, the Labrador Retriever originally comes from Newfoundland, Canada.
This is an ancient breed who has been around since long before the 1500s, utilized as boat dogs for duck hunting and fishing.
They are excellent swimmers, built for the water with a water-resistant coat, "otter's tail", and pronounced webbed paws.
True to the retrieving name, the intelligent and loyal Labrador was a fisherman's best friend.
And renowned for his ability to "retrieve" fragile game in the water without damaging their catch by biting down too hard.
The Labrador Retriever was such a beloved dog that British breed enthusiasts continued to refine them all the way up until the 19th century.
Meticulous breeding standards have ensured that the modern-day Labrador maintains its unique and desirable traits that continue to make them a family favorite.
But what about the Irish Setter? Are they as popular? Let's find out!
History of the Irish Setter
Another dog with a hunting background, Setter type dogs were used in hunting long before guns, utilized for their incredible sense of smell.
Setters would sniff out prey, such as small game-like birds, and alert their masters by lying flat on their bellies.
Once rifles came into the picture, Setters became known as gun dogs, meaning they hunted alongside huntsman with firearms.
Irish Setter vs Red Setter
The Irish Setter, in particular, was created by Irish hunters to roam and romp freely on the flat and grassy Emerald Isle during the 1800s.
Also known as "Red Setters," the Irish Setter breed garnered a name as not only a spritely, hard-working canine but also as a beautiful and trainable companion.
Thanks to their stunning appearance and ability to learn, the Irish Setter has been a favorite at dog shows since the 1870s.
Today, the Irish Setter is a popular family companion, although still often used by hunters and showmen.
With two breeds so loyal, good looking, and energetic as the Labrador and the Irish Setter, it is no surprise breeders thought to cross them.
But what will the temperament of their hybrid offspring be like? Let's see.
Temperament and Personality of the Lab Setter Mix
Since they are a crossbreed, the Labrador Irish Setter mix temperament is going to depend on which purebred parent they favor most.
Of course, we always suggest early socialization and obedience training for all dogs, and the Lab Setter mix is no exception.
Early socialization and obedience training will help stem any unwanted behaviors.
As well as help ensure your Lab Setter mix grows up into a happy, healthy, and well-rounded adult dog.
Still, due to the fact that both the Labrador Retriever and the Irish Setter are known to be energetic, playful, and friendly.
So you can expect your Lab Setter mix to be the same.
But what other behavioral traits could your Lab Setter mix dog inherit? Let's take a look.
Labrador Retriever Temperament
You don't land a spot at number 1 on the AKC's list of most popular dog breeds without earning it.
The Labradors are famous as family dogs owing to their incredible patience with children of all ages.
They are renowned for an ability to get along with just about everyone, and of course, intelligence and loyalty.
This is a breed who is eager to please and a rather fast learner.
Still, they can be slow to mature and this breed is full of lots of energy.
Gentle, sweet-tempered, and loving, the Labrador makes an excellent dog for active people who enjoy getting outside and partaking in the adventure.
However, without proper training and early socialization, the Labrador can be prone to chewing out of boredom.
They can also be a handful for the novice dog owner who isn't prepared for the amount of training, exercise, and discipline this breed requires.
But what about Irish Setters? Are they as active?
Irish Setter Temperament
Yes, the Irish Setter is another active and intelligent breed.
They are working dogs at heart and will need to be given doggy jobs like helping with the laundry, bringing in the newspaper, or carrying in the groceries, to feel complete.
This is a very affectionate breed who makes an excellent student and learns quite quickly.
They are eager to please their owners but need lots of exercise and room to run, just like their Labrador counterparts.
With this happy-go-lucky disposition and joy for life, the Irish Setter makes a great family companion and gets along well with children and other dogs.
Of course, just like the Lab, the Irish Setter requires early socialization and obedience training to ensure they too grow up to be an adaptable and sound adult.
What Will My Lab Setter Mix Look Like?
The appearance of your Lab Setter Mix is going to be left up to chance and genetics.
Of course, because they are a crossbreed, it will also depend on the type of purebred parent they are mixed with.
Labs come in three colors, so you could wind up with a Black Lab Irish Setter mix, an Irish Setter Chocolate Lab mix, or an Irish Setter Yellow Lab mix.
However, the shades of these colors can range, giving you interesting outcomes like silver and white!
Of course, there is also an English Setter, which looks different than the Irish Setter and could give you a different looking English Setter Lab mix.
Do you have your heart set on a Black Lab Setter mix or one of the other options mentioned above?
If so, then keep reading to learn about the genetic traits your Lab Setter Mix could inherit to help you better understand how to find the traits you want.
Defining Characteristics of the Lab
As previously mentioned, the Labrador comes in three color varieties, including:
The Lab is a medium-sized dog who stands around 22 to 25 inches tall and can weigh 55 to 80 lbs.
Labs are known for their adorable, expressive face, floppy ears, and a long tail.
What about the Irish Setter?
Defining Characteristics of the Irish Setter
Irish Setters are known for their stunning looks. With long, wavy ears, intelligent eyes, and happy looking face, it's no surprise this breed is such a show stopper!
Standing 25 to 27 inches tall and weighing around 60 to 70 lbs, the Irish Setter's sleek, silky coat comes in three reddish shades, including:
Remember, your Lab Setter Mix could inherit any number of the above-listed traits.
It's all going to be left up to chance!
How to Groom and Otherwise Care for Your Lab Setter Mix
So, how do you groom a Labrador Setter cross?
The truth is that grooming is going to depend on the type of coat your Lab Setter mix inherits from their parents.
Since both the Labrador Retriever and the Irish Setter are moderate shedders, brushing two to three times a week should help to keep loose hair under control.
This will also keep your Lab Setter Mix dog's coat and skin healthy.
If your Lab Setter Mix inherits more of their Irish Setter parent's silky, longer coat, you may want to consider brushing more frequently.
You'll also need to trim your Lab Setter Mix nails regularly to keep them from breaking.
They'll also need their floppy ears cleaned on a regular basis to prevent infections from forming due to moisture and wax buildup.
Exercise
As previously mentioned, socialization and obedience training for your Lab Setter mix is going to be key in making sure they are well-rounded and can adapt to any situation.
Both the Labrador and the Irish Setter are incredibly active and athletic breeds who will need plenty of exercising every day.
This means your Lab Setter Mix is going to need daily exercise, such as a good long walk or jog with their favorite person, as well as time to run freely in a large, fenced-in backyard.
Your Lab Setter Mix may also enjoy swimming, hiking, and playing at the dog park.
Training
Remember that both the Lab and the Irish Setter are intelligent dogs who enjoy having jobs to do.
Without proper mental stimulation, they could become bored, and bored dogs tend to become destructive.
If you don't want your Lab Setter Mix chewing on your furniture or tearing into your couch cushions, experts suggest consistent training.
Give them lots to learn and offer them plenty of chew toys and doggy jobs, as well as doggy puzzles to keep their active mind busy.
Of course, always use positive reinforcement as opposed to punishments and scolding.
Your Lab Setter Mix is going to be eager to please and will respond best to treats and praise.
Lifespan and Health Concerns of a Lab Setter Mix
The Lab Setter Mix will have an average lifespan of 10 to 15 years.
However, like all crossbreed dogs, your Irish Setter cross Labrador could be susceptible to any of the health issues his parent breeds are prone to.
For this reason, you may consider early health screening for your Irish Setter and Lab Mix puppy.
Early health screening can help you to prepare for or avoid certain health issues your pup may face in the future.
Of course, we also recommend looking into health concerns the parent breeds are genetically predisposed to.
Let's start with the Labrador.
Lifespan and Health Issues of the Lab
The Lab has a lifespan of 10 to 12 years.
The Health issues the Lab is genetically predisposed to include
Elbow dysplasia
Hip dysplasia
Loose knee joints
Ruptured ligaments in their hind legs
Heart disease
Eye disease
Epilepsy
Cancer
Obesity
Bloat
Chronic allergies
Lifespan and Health Issues of the Irish Setter
With a lifespan of 12 to 15 years, the Irish Setter is prone to a number of genetic health concerns.
These health issues include
Hip dysplasia
Progressive retinal atrophy
Hypertrophic osteodystrophy
Hypothyroidism
Osteosarcoma
Epilepsy
Finding the Best Lab Setter Mix Puppy!
If you are ready to take a look at Irish Setter Lab mix puppies, keep in mind that research is key.
Take your time and exercise patience.
Going through a reputable source is one of the most important things you can do to ensure you bring home the happiest and healthiest puppy possible.
Whether you are looking to check out Black or any other Lab Setter Mix Puppies, you'll want to go through sources you trust.
Breeders will usually charge around $500 to over $1000, and reputable breeders will have carried out health screened of their litters.
This means they should be able to provide you with certificates proving their puppies are healthy and ready to leave with you.
On the other hand, if you're looking to get your Lab Setter Mix from a shelter, you can expect to pay adoption fees ranging from $50 to $100.
Most shelters will also cover the initial veterinarian trip.
Similar Breeds
If you're looking for a slightly different breed with similar traits, we have plenty of other guides that you can check out.
Take a look at some below.
Is the Lab Setter Mix the Right Crossbreed for You?
Wondering if the Irish Setter Lab mix is the right dog for you?
Keep in mind that while this crossbreed makes an excellent addition to active families who enjoy being outside, they may not be best for those looking for a more laid-back dog.
The Lab Setter Mix is incredibly high energy and will require a lot of time and patience during puppyhood and adolescents when it comes to training.
They will also do best in home types with lots of room for them to play, as well as a large, fenced-in backyard where they can run freely and burn off any excess energy.
Of course, this is a hybrid dog who is family oriented and will do best with those who can be home more often than not, as they become very bonded with their people.
If you are an active person who loves adventure and have the time, patience, and ability to train and exercise your Lab Setter Mix, then they may very well be the perfect dog for you!
Are you the happy owner of a Labrador Setter Mix?
Do you have any advice for those looking to get this crossbreed?
If so, tell us about it in the comments!
References and Further Reading
American Kennel Club (AKC)
Turcsan B, Miklosi A, and Kubinyi E. 2017. Owner Perceived Differences Between Mixed-Breed and Purebred Dogs. PLoS ONE.
Howell TJ, King T, and Bennett PC. 2015. Puppy Parties and Beyond: the role of early age socialization practices on adult dog behavior. Veterinary Medicine: Research and Reports.
Sutter NB and Ostrander EA. 2004. Dog Star Rising: The Canine Genetic System, Nature Reviews Genetics.
Acumen L. 2011. The Genetic Connection; a Guide to Health Problems in Purebred Dogs, Second Edition.
Get Pippa's free dog training tips delivered to your inbox