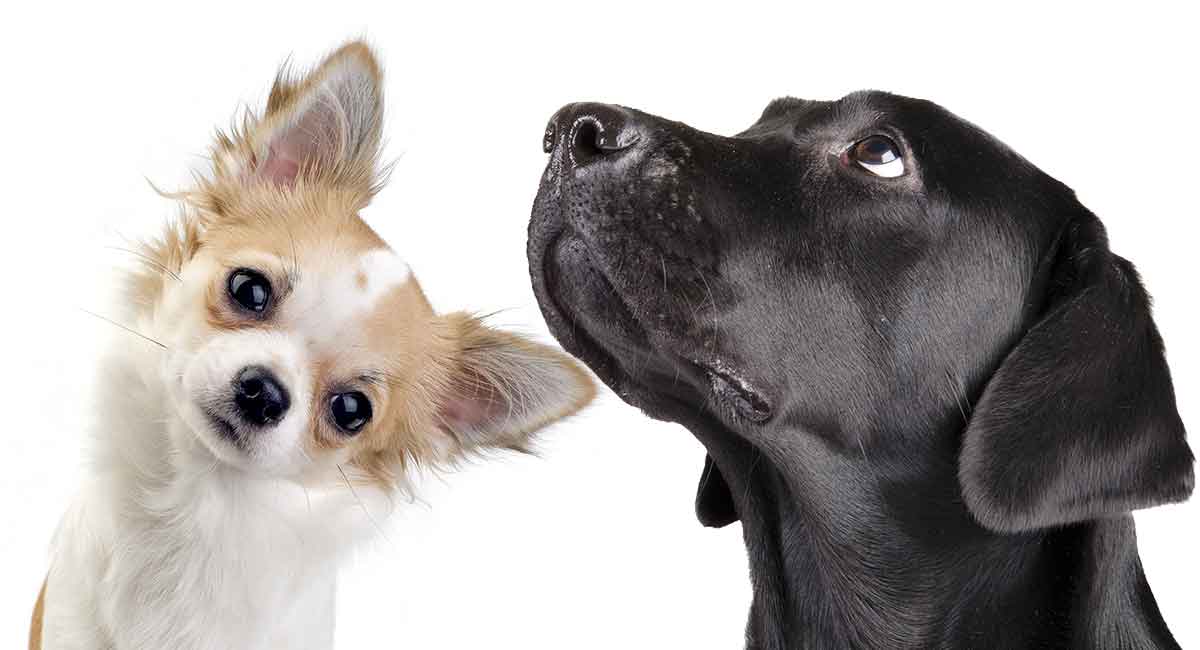 Interested in getting a Lab Chihuahua mix?
If this mixed breed dog might be the one for you, you'll want to know all about it first.
This mix aims to bring together the sweet mellowness of the Labrador Retriever with the sassy charm of the much smaller Chihuahua.
But he might not always turn out that way.
So before you run out to find a breeder, you should understand a bit about the ethics of what we call designer dogs and know how Lab Chihuahuas originated.
And then we can delve into the logistics of caring for and loving a pup with this distinctive background!
Where Does the Lab Chihuahua Mix Come From?
These days we see hybrid dogs of every conceivable type!
But it's impossible to pinpoint who created the first Lab Chihuahua cross.
The sizes of the dogs involved are somewhat disparate, so this particular hybrid seems a bit improbable.
It's not a natural mix and is not the result of two dogs meeting and mating – Labrahuahua puppies receive a helping human hand at the point of conception!
The American Kennel Club does not recognize any mixed breeds, including the the Lab Chihuahua..
But the Dog Registry of America does recognize it as a designer dog breed.
In fact, crossing breeds has a long tradition.
Many of our pure breeds probably wouldn't have survived without some crossbreeding of dwindling populations.
Nevertheless, it is a controversial practice.
That's because purebred dogs, when bred responsibly, are held to standards that maximize health and the signature attributes of the breeds.
However, if breeding isn't done with an eye towards health and better genetic diversity, it can cause problems.
Designer Dog Diversity
Putting two different breeds together results in more genetic diversity among their puppies.
The chance of inheriting breed-specific diseases from recessive genes can thus be lowered.
But is purebred better than mixed?
Well, that's up to you to decide for yourself, but just remember – the most important thing is that we put the welfare of our pets first, no matter where they came from.
Now, let's look at the two parent breeds.
The most important thing you should know about a mixed breed dog is that a pup from two purebred parents can inherit the traits of either parent in any amount.
So it's hard to know exactly how a designer dog will look or act, unless you know about its parents.
Origins of the Labrador
The Labrador Retriever actually started out in Newfoundland, where its ancestor, the St. Johns dog, was a waterdog that retrieved ducks and other waterfowl.
In the 1800s, English nobles took a liking to the dog and took them back to England, where the breed was standardized and refined.
Crossbreeding with other retrievers eventually threatened the Lab's existence, but several English aristocrats, the Earl of Malmesbury and the Duke of Bucceluch, saved them.
They were recognized by England's Kennel Club in 1903 and then by the AKC in 1917.
Today, they are a popular choice for guide and rescue dogs because of their trainability and intelligence.
Origins of the Chihuahua
Chihuahuas, as you may guess from their name, originate from the state of Chihuahua in Mexico.
Ancestors of the Chihuahua, the Techichi, were owned by the Toltecs a thousand years ago.
When the Aztecs conquered the Toltecs in the 12th century, they refined the Techichi into a smaller and lighter dog.
By the 1500s, the little dog was a big part of Aztec culture.
After the conquest of Cortez, the breed was considered lost.
However, they lived on in remote villages, and many were found in Chihuahua.
In the mid-1800s, they started becoming popular.
The first Chihuahua was registered by the American Kennel Club in 1908.
They are known for their grace, speed, alertness, and compactness.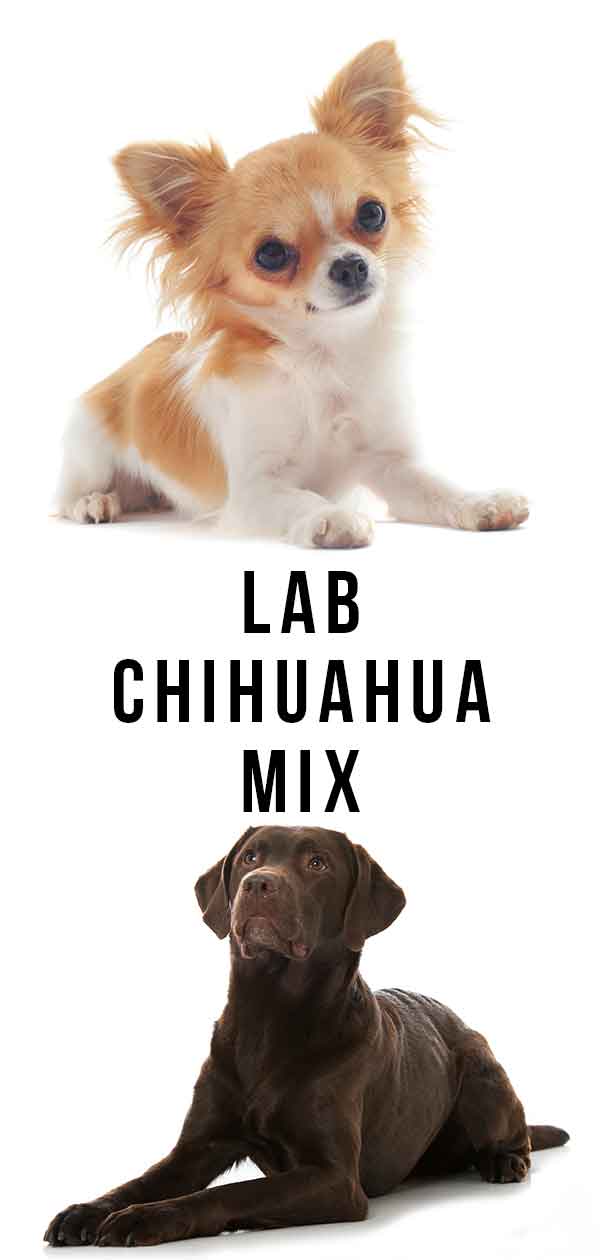 Fun Facts About the Lab Chihuahua Mix
Labrador Retrievers are, according to the AKC, the most popular dog in the U.S.
Chihuahuas rank at #30.
Chihuahuas are popular choices to star in TV shows and movies because of their size. One of the most famous Chihuahuas is the Taco Bell Chihuahua, Gidget – Gidget represented the chain from 1993–2004.
But Chihuahuas have appeared on Beverly Hills Chihuahua, Legally Blonde, Sex and the City, and other programs.
The Labrador is always mom of a Lab-Chihuahua litter – it would be too dangerous for a female Chihuahua to try carrying the puppies of a male Lab!
These dogs are also called Chihuahuadors or Labrahuahuas.
Lab Chihuahua Mix Appearance
With Labrador Chihuahua mixes, there's no telling which parent a pup will favor.
This is an unpredictable mix, appearance-wise.
Some dogs will look more like the Lab in their bodies, with more Chihuahua in the face.
Others will take the body of the Chihuahua parents and have facial features that resemble Labs.
Because the sizes of these breeds are so different, you will also see a variety of statures in Lab Chihuahua mixes.
They tend to be medium-sized dogs (in between the Chihuahua and the Lab) at up to 15 pounds, with a wide head, round eyes, and tipped ears.
Many Labrahuahuas are athletic  looking with long tails and broad chests.
They can be black, brown, beige, blue, white, two-colored, or tricolor.
Their coats are generally short and rough.
Just remember that they can take on the traits of both types of dog!
Lab Chihuahua Mix Temperament
Lab Chihuahua temperament can be more Lab, more Chihuahua, or somewhere in the middle.
So what can you expect at each end of the spectrum?
Labradors
Labradors are known to be good-natured, social, high-energy dogs that are good with kids and other dogs.
They are sweet, eager to please, and confident.
Labs are intelligent and non-aggressive, and they require lots of exercise because, as working dogs, they have a lot of stamina.
Chihuahuas
Like terriers, Chihuahuas are self-reliant, confident, proud, and alert.
These dogs can be fast, and they can also be stubborn.
They are an extremely loyal breed and quite protective of their owners.
Chiahuahuas are generally not thought of as good pets for homes with small children, and may show a challenging demeanor with other dogs.
They get along quite well with other Chihuahuas though.
And while they have energy and courage, Chihuahuas can get enough exercise in small spaces doing activities with their owners and should avoid overexertion.
However, Chihuahuas can be aggressive and show guarding behavior.
This includes growling, barking, and snapping.
They have been known to turn on their owners, other humans, and dogs.
Generally, then, Chihuahua Labrador mixes will be social, energetic, playful, loyal, and brave.
It's hard to know ahead of time what qualities offspring will inherit, as their temperament can be very individual.
Training Your Lab Chihuahua Mix
The intelligence and affection of the Lab may be your friend when it comes to trainability.
Labs, as bigger dogs, benefit from obedience, socialization, and agility and tracking training.
Crate training can help keep your pup out of trouble.
It can also help with potty training.
Chihuahuas are also smart and want to please their humans, but the terrier-like temperament within them means they need a firm, gentle hand during training.
Chihuahuas are not always the easiest to train and housebreak.
Clear rules and consistency will be key here.
Some owners may be tempted to let small dogs get away with certain behaviors, such as jumping and growling.
Superficially, these behaviors simply don't feel very threatening coming from such a tiny dog!
However, it's harder to correct bad behavior once it's out of control than to teach good behavior from the beginning.
So never reward bad behavior, and don't try to get away with not teaching good behavior.
A Chihuahua Lab cross is likely to be a medium-sized dog with a lot of energy, so training is still super important.
Stick to positive reinforcement techniques, and sign up to obedience classes so you can have fun sharing the experience with other new dog owners!
Lab Chihuahua Mix Health
Overall, mixed breed dogs enjoy better newborn survival, longer lives, and a lower frequency of inherited illnesses than their purebred cousins.
However, Labrahuahua puppies can still inherit some health concerns from their parents.
Let's take a look at what they might include.
Lab Issues
Labs are generally healthy dogs, living 10–12 years.
They face health issues such as obesity and related illnesses:
diabetes
arthritis
thyroid issues.
Labradors should weigh between 55–80 lbs., with female dogs being at the lower end.
Labs may experience hip and elbow dysplasia and certain vision problems, such as progressive retinal atrophy.
They can get cancers such as lymphoma.
Other inherited conditions include:
exercise-induced collapse
centronuclear myopathy
patella luxation (loose kneecaps)
ideopathic epilepsy
Labs can also have allergies that create skin problems, and their long ears can experience infections.
Chihuahua Issues
Chihuahuas, too, are generally healthy, with a 14–16 year lifespan.
But their small size (just 6 pounds for adults) causes certain health problems.
They are more easily poisoned and more likely to be injured from falls, being stepped on, hiding under things, or interactions with larger dogs.
Chihuahuas need more food, more often, because of their small stomachs.
They may also need to pee more often.
They are also prone to:
heart problems, such as patent ductus arteriosus and mitral valve disease
urolithiasis
pateller luxation
ideopathic epilepsy
hypoglycemia (sugar drop)
Legg-Calve-Perthes disease (top of the thigh bone deterioration)
watery eye stains (cherry eye)
choking cough
disintegration of the jaw
Their teeth can get crowded, making them more prone to tooth decay.
They may be more prone to allergies, tracheal collapse, and periodontal disease.
They also get certain eye diseases.
Health Testing
It is very important to have your Labrador x Chihuahua tested for known health issues in both breeds.
Responsible breeders will take extra care not to breed from two dogs who both have a family history of the same disorder.
So for Lab Chihuahuas, this includes luxating patellas.
Also, please note that if you are planning to breed a Lab Chihuahua mix with a smaller dog, such as another Chihuahua, consider that the size of pups may result in both small and large puppies – some too large for a small dog to carry to term safely.
Chihuahuas often have trouble giving birth anyway.
This trouble may be related to their bulging head shape.
Do Lab Chihuahua Mixes Make Good Family Dogs?
A Labrahuahua with a lot of Chihuahua traits may not do well with small children, as they are fragile, easily injured dogs and can be quite aggressive.
A dog with a lot of Labrador traits is better with children, but here the mix unpredictability comes into play.
So tread carefully if you want to get a Lab Chihuahua hybrid for your family.
Rescuing a Lab Chihuahua Mix
It may be quite difficult at the moment to find a Lab Chihuahua mix, as these are in-demand dogs that are relatively rare.
You may wish to look at breed-specific Labrador or Chihuahua rescues, which often also take in mixes.
The advantage of rescuing a Lab Chihuahua mix is that you will most likely be getting an older dog.
So it'll be clearer if it has inherited any early-onset genetic issues, and you'll have a better idea of its personality.
But you'll also have fewer choices about which dog to adopt.
So if you want to adopt, be patient!
Finding a Lab Chihuahua Mix Puppy
If you are looking for a breeder of designer dogs, start your search online.
Ask around for recommendations, too!
Labrador Chihuahua mixes can be really cute.
But don't fall in love before you've vetted a breeder properly!
Ask questions and make sure you are comfortable with the answers.
Ask to see your pup's environment, parents, and siblings.
Ensure that you have seen any health documentation and testing for both pup and parents.
Be certain you have sourced a reputable breeder.
With a hybrid like this, which cannot be created except by artificial insemination, this is especially important.
Avoid pet stores and puppy mills!
Here's a guide on what to do instead.
Raising a Lab Chihuahua Mix Puppy
Have questions about raising a Chihuahua Lab puppy?
You're not alone.
Fortunately, we have resources for you.
Visit our puppy training category to find out more about specific training issues, from crate training to different puppy stages!
Pros and Cons of Getting a Lab Chihuahua Mix Puppy
So what are the advantages and disadvantages of getting a Lab Chihuahua mix?
First, let's look at the cons.
Some Chihuahuas can be aggressive, so your pup could be that way too.
If the puppy takes more after the Chihuahua side, she is likely to be small and fragile, with all the attendant problems.
Both of these facts may make her unsuitable for families that have young kids around.
Also, Lab Chihuahua mixes are not naturally created, and the potential for large pups in the second generation must be carefully considered if you wish to eventually breed them.
So what are the pros of this mix?
The Lab side can temper some of the Chihuahua side, making the mix a bit more mellow than Chihuahuas in general.
Both Labs and Chihuahuas are generally healthy breeds.
A smaller size may make it easier to take your Chihuahua Lab mix with you when you go places, as compared to Labs.
Similar Lab Chihuahua Mixes and Breeds
If you're looking for similar breeds, we recommend looking at Labradors and Chihuahuas separately.
The English Lab, a Labrador Retriever that is on the smaller, stouter side, might be a good alternative.
It is a calmer Lab with the great qualities you've come to associate with the breed.
Chihuahuas come in many shapes and sizes, including long-haired, and might be a good option if you like small pups.
If you really desire a mixed breed, we invite you to consider other Lab mix options, such as the Springador, or Chihuahuas mixed with other smaller, healthy dogs such as the Corgi (the Cohuahua) or Jack Russell Terrier (the Jack Chi).
Lab Chihuahua Mix Rescues
If you're looking for a rescue that might harbor these dogs, start with some of these breed-specific ones below:
Do you know of more?
Let us know in the comments!
Is a Lab Chihuahua Mix Right for Me?
Only you can make the proper decision about whether this mixed breed is right for you.
Your Lab Chihuahua is likely to be a medium-sized dog that might have the stubbornness of the Chihuahua, laced with some potential aggression.
It might also have some of the qualities of the sweet yet high-energy Lab.
If you can handle all that, this might be your mix!
Resources and Further Reading
The Chihuahua Club of America, Inc. Health Statement.
American Kennel Club, Labrador Retrievers.
American Kennel Club, Chihuahuas.
Chihuahua Rescue Victoria, Caring for Chihuahuas.
Duffy, D. L. et al (2008). Breed differences in canine aggression. Applied Animal Behaviour Science, 114(3-4).
Leighton, E. A. (1997). Genetics of canine hip dysplasia. Journal of the American Veterinary Medical Association, 210(10).
Tappin, S. W. (2016). Canine tracheal collapse, 57(1). Journal of Small Animal Practice.
Get Pippa's free dog training tips delivered to your inbox