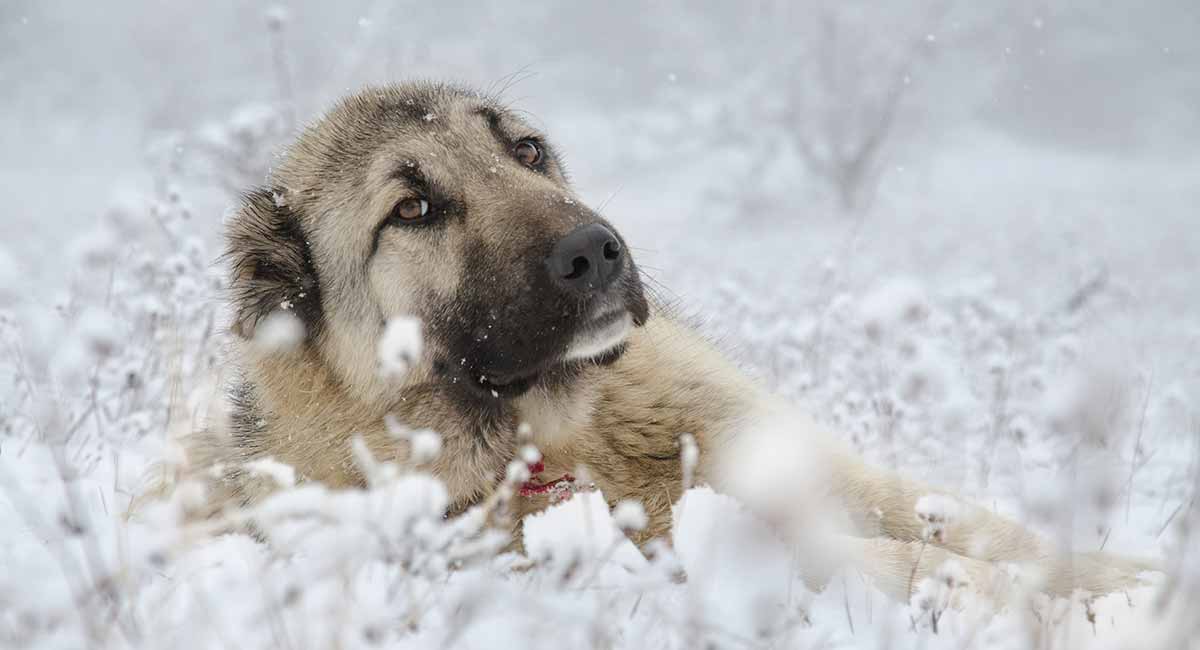 The Kangal is a giant Turkish dog breed, originally employed to roam over large areas and guard livestock against predators.
Also known as the Kangal Shepherd Dog, he is powerful, intelligent, and reliable.
Since it was desirable for his ancestors to work and make decisions independently, these dogs are still sometimes disinterested in training today.
Read on to find out more about this impressive breed.
Where Does the Kangal Dog Come From?
The Kangal dog is native to Turkey, where it is prized as the Turkish National Dog. The breed has even been declared a National Treasure!
And for good reason. This is an ancient and beloved breed, with similarities to mastiff-type dogs depicted in Assyrian art dating back thousands of years.
The breed began as a nomadic sheep guardian in Central Asia. His name comes from the town of Kangal, which is in the Sivas Province of Turkey.
Today, the Kangal still braves extreme terrain and weather in his ancestral homeland, stoically guarding livestock against natural predators like bears and wolves.
Kangal Dog or Anatolian Shepherd?
Over the years, there has been some controversy over whether or not the Kangal dog and the Anatolian Shepherd are in fact the same breed.
It really depends on who you ask.
As of 2018, the Fédération Cynologique Internationale (FCI), a governing body for international kennel clubs, officially renamed all Anatolian Shepherds as Kangal Shepherd Dogs.
However, both the United Kennel Club and the Kennel Club of the United Kingdom still hold separate breed standards for the Anatolian Shepherd and the Kangal.
Differences in Color
The main difference between the two standards lies in which colors are allowable. Certain colors, like brindle or large patches of white, are considered undesirable in the Kangal dog.
In Turkey, this dog most often protects Akkaramman sheep, which are dun-colored with a black mask. So the ideal coat is solid-colored with a black mask, with the main coloring ranging from fawn to gray.
By contrast, Anatolian Shepherds may come in a variety of different colors.
Mixture of Breeds
The Turkish Kennel Club has stated that the term "Anatolian Shepherd" doesn't refer to any distinct breed in Turkey, but instead is a general term that could refer to any number of Turkish breeds or mixes.
Some even believe the Anatolian Shepherd to be the result of a mixture of various Turkish working breeds — a sort of Westernized, less "pure" version of the Kangal dog. The difference in color is taken as evidence that the Anatolian Shepherd is mixed with other breeds.
Meanwhile, the American Kennel Club considers "Kangal" to be simply another name for the Anatolian Shepherd.
However, many breeders consider the Kangal to be genetically distinct from the Anatolian Shepherd.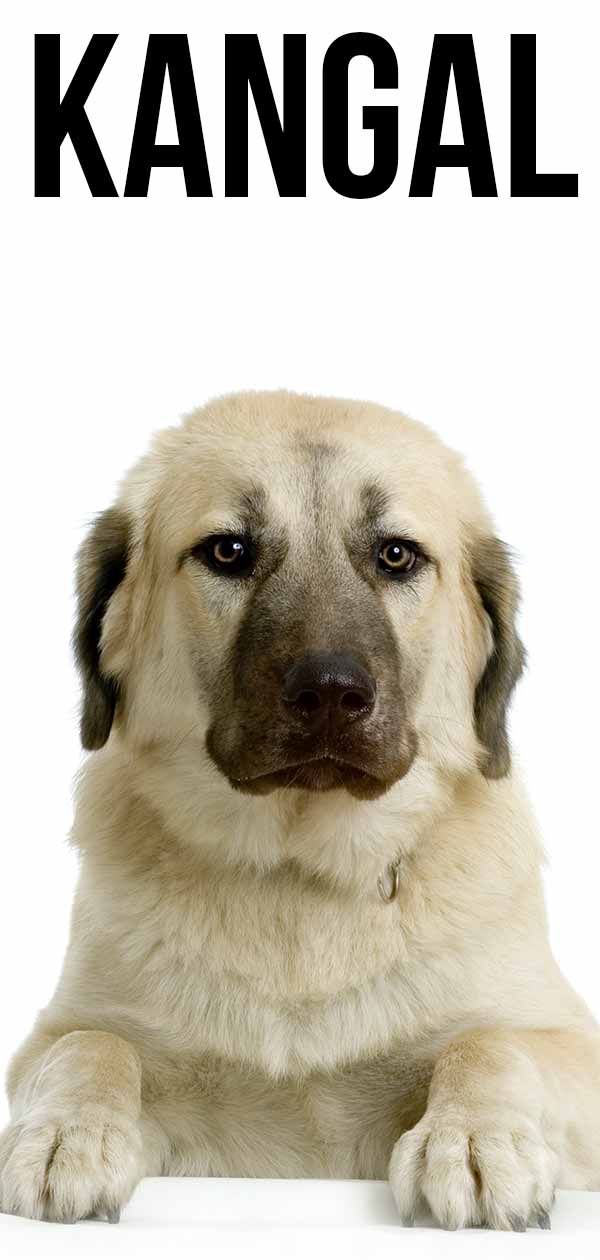 Fun Facts About the Kangal Dog
This breed is also known as the Kangal Shepherd Dog.
It isn't just a star in its native Turkey — the breed is helping to save wildlife all over the world!
Because livestock guardian dogs keep predators from killing livestock, they also prevent farmers from killing predators.
In Namibia, the dog has been an integral part of an effort to save the cheetah.
Meanwhile, in the United States, the Kangal has been specifically selected to help protect livestock from natural predators like wolves, coyotes, and even bears.
Kangal Dog Appearance
This dog is a giant-sized breed and can weigh anywhere from about 90 to 150 lbs.
Males can stand at 30 to 32 inches tall, and females typically stand at 28 to 30 inches tall.
Muscular and surprisingly agile for their size, Kangals are powerfully built. When they're in motion they give an overall impression of strength and grace.
Their coat is solid-colored, ranging from fawn to gray, and they should always have a black mask. Some might have a small amount of white on the chest, paws, or tip of the tail.
They have a thick, heavy coat to protect them from extreme weather conditions.
When alert, this dog carries his tail curled over his back.
Kangal Dog Temperament
The Kangal dog is a steadfast and loyal breed, with protective tendencies suited to a livestock guardian dog.
He can, however, be wary toward strangers and other dogs, especially when he's on the job.
This is also a highly intelligent dog. When he's working as a livestock guardian, the Kangal dog needs to be able to make life or death decisions in an instant.
Which means these dogs have been carefully selected over centuries to be able to think for themselves — without your input.
So he isn't exactly going to be an obedience champion.
And remember, those protective instincts don't go away even if you keep your Kangal dog as a pet. He may attempt to protect and "manage" his people.
Overall, this is a self-reliant, reserved dog who will not back down from a threat, but is gentle and patient with family members.
Training Your Kangal Dog
With his size, strength, and reactive nature, this breed is not the best breed for a first-time dog owner.
Training a Kangal isn't going to be like training a Labrador Retriever. This is a working animal that has been selected for centuries to be independent and intelligent.
Certain behaviors that you might find undesirable in an average dog are perfectly fine for a working livestock guardian.
This includes wariness toward strange people and animals, which can escalate to outright aggression in the wrong circumstances and without proper training.
Socialization, therefore, is extremely important if you are planning on keeping this dog outside of his preferred working environment.
His exercise requirements are only moderate considering his size, but he does have a tendency to roam.
So no matter where he's kept, the Kangal dog should always be given a large amount of space with extremely secure fencing.
Kangal Dog Health
This is a remarkably healthy breed, but no breed is entirely free of health issues. There are a few concerns you should be aware of before you decide if a Kangal dog is right for you.
Hip Dysplasia
Because this is a giant breed, they're especially prone to hip dysplasia. This means the hip joint doesn't form correctly, and it can cause painful arthritis-like symptoms even in a very young dog.
Any responsible dog breeder will obtain hip scores for their dogs before they breed. Both parents of a litter should have excellent scores.
Anesthetic Sensitivity
Some Kangals have been reported to be sensitive to anesthetic, so you may wish to discuss this with your veterinarian prior to any procedures.
Lipomas
Lipomas are fatty tumors which are usually harmless, but they may impede movement if they grow too large or are on the dog's legs. Kangal dogs can be prone to lipomas as they age.
Grooming
You won't have to worry too much about grooming this breed, even with that beautiful thick coat. They'll shed heavily twice per year, but other than that their coat requires very little attention.
Lifespan
The Kangal lifespan is unusually long for such a large breed. They can live to be anywhere from 12 to 15 years old.
Do Kangal Dogs Make Good Family Dogs?
This dog has been bred for thousands of years as a livestock guardian first and foremost.
It's definitely possible to keep this dog as a family companion, but they may not be very happy in this role if they aren't provided with a job.
A Kangal will bond closely with his family and is generally very gentle and patient with children.
However, they are also prone to digging, may catch small animals, will let out booming barks to alert you to anything they perceive as a threat, and are often wary of other dogs.
Not exactly a recipe for success if you're in the suburbs.
If you want a happy-go-lucky dog to play fetch with, this dog may not fit the bill.
But if you have the right environment, and you understand how to work with his natural instincts, then you'll find the Kangal dog to be a steadfast friend and protector.
Rescuing a Kangal Dog
Rescuing an adult dog can save you from having to do a lot of guesswork.
You won't need to wonder, for example, how big your puppy will get or how his personality will develop.
Adult dogs are often already housetrained and may even know basic obedience commands.
They're also out of the destructive puppy stage, so they're much less likely to chew up your furniture or shoes when you aren't looking.
Finding a Kangal Dog Puppy
When it comes to finding a Kangal puppy, it's important to do your homework.
A good breeder will perform all available health tests on their dogs before breeding. They should also be able to answer any questions you might have about the puppy's parents, including their health and temperament.
In fact, you should be able to meet your future puppy's parents and see for yourself how they behave.
Raising A Kangal Dog Puppy
Raising a Kangal puppy is not for the faint of heart or inexperienced.
This large breed has powerful instincts that you will need to understand and respect as you train your new puppy.
With his huge jaws, he's also uniquely capable of dealing a lot of damage if he gets bored and destructive.
And he will need extra socialization if you plan to keep him as a pet and not a working dog.
Kangal Dog Products and Accessories
Aside from the typical puppy essentials, you'll likely have some extra expenses when it comes to raising a Kangal dog.
Large breed dogs have slightly different nutritional needs, especially when they're growing puppies. Make sure you choose the right large breed dog food.
Big dogs with big jaws can be extra destructive if they're bored! You might want to invest in an indestructible dog bed for your giant guardian.
Pros and Cons of Getting A Kangal Dog
Still not sure if this is right for you? Let's go through the upsides and downsides of choosing to share your life with this ancient shepherd breed.
Pros:
– Steadfastly loyal to their family
– Excellent livestock guardian
– Calm and reserved; often described as "serious"
– Highly intelligent
– Remarkably healthy and long-lived
Cons:
– Needs a lot of space to roam
– Powerful working instincts
– Potentially aggressive toward strangers and other dogs
– Not a good choice for suburban or apartment living
Similar Breeds
Love the size and patient nature of this breed, but looking for a dog better suited to being a companion animal? Try one of these breeds:
Or if you can't get enough of livestock guardian dogs, you may want to check out the following breeds:
Kangal Dog Rescues
Thinking of rescuing one of these pups?
Here are a few organizations around the world helping to rehome these dogs in need:
Is A Kangal Dog Right For Me?
If you want an assertive, smart, self-reliant livestock guardian, you really can't go wrong with this breed. They've excelled in that role for centuries.
But if you want an easygoing family dog who won't mind greeting the neighbors…well, you may want to look elsewhere.
Are you hoping to provide a happy home for a Kangal Dog puppy? Or do you already have one of your own? Let us know in the comments!
References and Resources
Get Pippa's free dog training tips delivered to your inbox