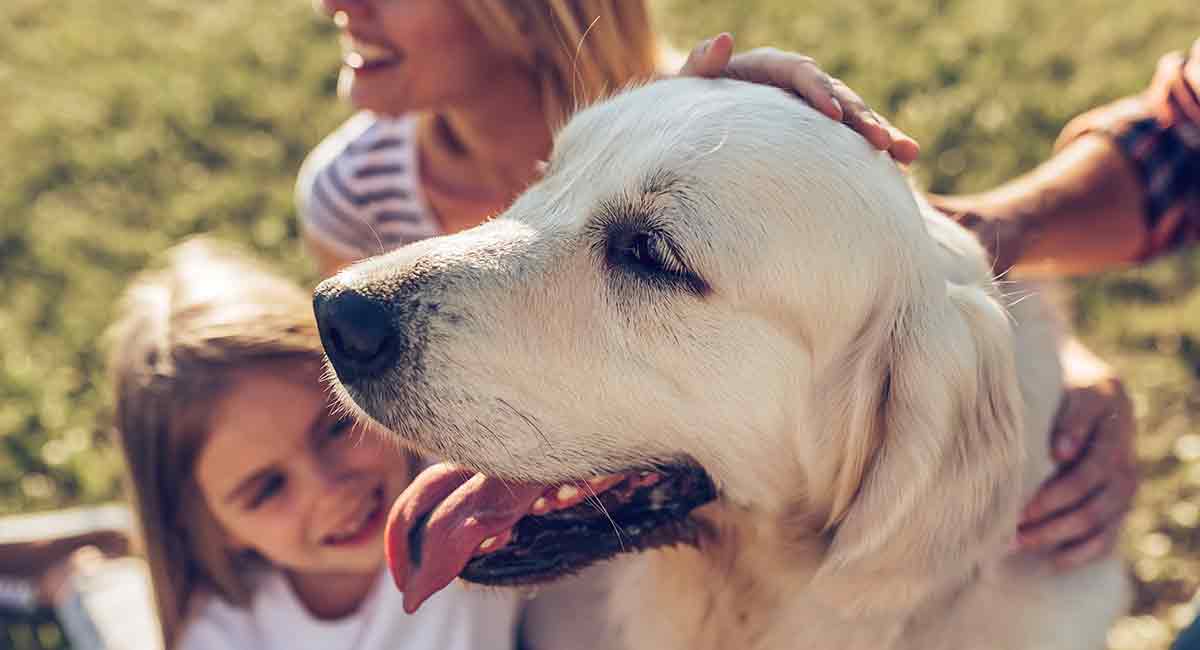 Is a Golden Retriever a good family dog?
Do they suit kids as well as they do adults?
And how can you prepare your family for this lovable pup's arrival?
Is a Golden Retriever a good family dog?
Let's dive straight in – for lots of families, the answer is a big, resounding yes!
The Golden Retriever is currently ranked as the third most popular pet dog in America.
So we know lots of people love Goldens as much as we do.
But is a Golden Retriever a good family dog for your particular family situation?
That is the real question we hope to help you answer in this article!
To do this, we will give you an overview of the Golden Retriever's
origin and history
personality and temperament
health
exercise and enrichment needs
energy level
involvement in family and community life today
The History of the Golden Retriever as a Family Dog
The Golden Retriever arose from crossbreeding two hunting breeds.
A yellow retriever dog and an ancient Scottish dog breed called the Tweed Water Spaniel.
The architect of the new dog breed kept detailed stud books recording the outcome of this first outcrossing.
Today, it is believed that every Golden Retriever may share genealogy with the four puppies from his very first litter!
We also know that, from the start, the dogs that were to evolve into today's Golden Retriever purebred dog breed were people dogs through and through.
These early dogs were carefully bred to work alongside humans to hunt.
Golden Retriever Personality and Temperament
The Golden Retriever good family dog qualities that are most often cited in breed literature include
friendly
merry
smart
devoted
outgoing
trustworthy
people-pleasing
However, you won't find any evidence that the Golden Retriever makes a good guard dog.
They are just too eager to make new friends!
But Golden Retriever dogs typically excel in therapy and service dog work with both children and adults.
Trauma Aids
One study paired veterans who were suffering from post-traumatic stress disorder (PTSD) with Golden Retrievers and Labrador dogs for six weeks.
Each veteran trained their canine partner to be a mobility-assistance dog.
And in return the dogs helped their human counterparts heal from the debilitating symptoms of PTSD.
In another special first, a Golden Retriever named Lily was chosen as the first therapy dog in the whole state of Connecticut.
Chosen to work with a special group of high-risk women who were recovering from assault.
Science Teacher
In this cheerful (and educational!) video, a group of 16 highly trained Golden Retrievers teaches kids about science.
Specifically, the inner workings of atoms.
Of course, it is never possible to issue blanket statements about a dog breed's typical personality and temperament.
There is also the importance of careful breeding for desirable traits and good health.
This is what we will talk about next as we continue exploring the question, "Are Golden Retrievers good family pets?"
Are Golden Retrievers Good Family Dogs Health-wise
Many purebred dog breeds can struggle with known breed-specific health issues, and the Golden Retriever is no exception.
In fact, in a first-of-its-kind long-term health research program, 3,000 Goldens and their owners are helping canine researchers better understand the high incidence of cancer in Golden Retrievers and what can be done about it.
An estimated 60 percent of Golden Retrievers develop cancer.
So cancer is the single leading cause of early fatality in this breed.
And the Golden is the dog breed with the highest incidence of fatal cancer.
While the Golden Retriever has a projected lifespan of up to 12 years, this is not the norm for most Goldens for a single reason: canine cancer.
Cancer Rate Study
One very recent study looked at the cause of death in Golden Retriever dogs for a 17-year period.
Of those fatalities, 65 percent were related to cancer, with an average lifespan of 9.83 years.
So is Golden Retriever a good family dog?
Overall, yes – this dog has so many wonderful traits and qualities that can bring a family together!
But currently there is no foolproof medical test to rule out the possibility that your Golden Retriever may develop cancer at some point in the future.
The known risks are high and currently no reliable prevention strategies exist.
This can cause great heartache as well as expense and is worth consideration when choosing your next family pet!
Golden Retrievers and Aggression
From everything we have explored thus far, it might seem unlikely that you would ever encounter trouble with Golden Retrievers exhibiting aggression.
However, there is some evidence that indicates the Golden Retriever as a dog breed may be getting more aggressive.
Aggression and Fear
One of the leading authorities on animal genetics and behavior, Dr. Temple Grandin, highlights how selective breeding practices may inadvertently introduce aggression into the Golden Retriever.
This is a dog breed that has historically been regarded as a low aggression risk!
For example, as breeders consistently select parent dogs based on calm temperaments and low fear response (high fear equals higher anxiety), this can cause aggressive incidents because the dog lacks the fear inhibition.
Aggression and Seizures
Research also reports how aggression and seizures have a positive correlation.
Golden Retrievers are known to be prone to seizures.
They typically fall into two categories: inherited (genetic) and idiopathic (unknown origin).
Idiopathic seizures in Goldens are thought to arise from changes in brain chemistry.
It is possible this results from overly selective breeding for traits like calmness.
Research highlights just how important it is to choose a reputable, health-focused breeder to work with to find your Golden Retriever puppy!
With a strong breed line where genetic health testing is a primary focus, you have a lower risk of possibly adding a Golden Retriever with aggressive tendencies to your family.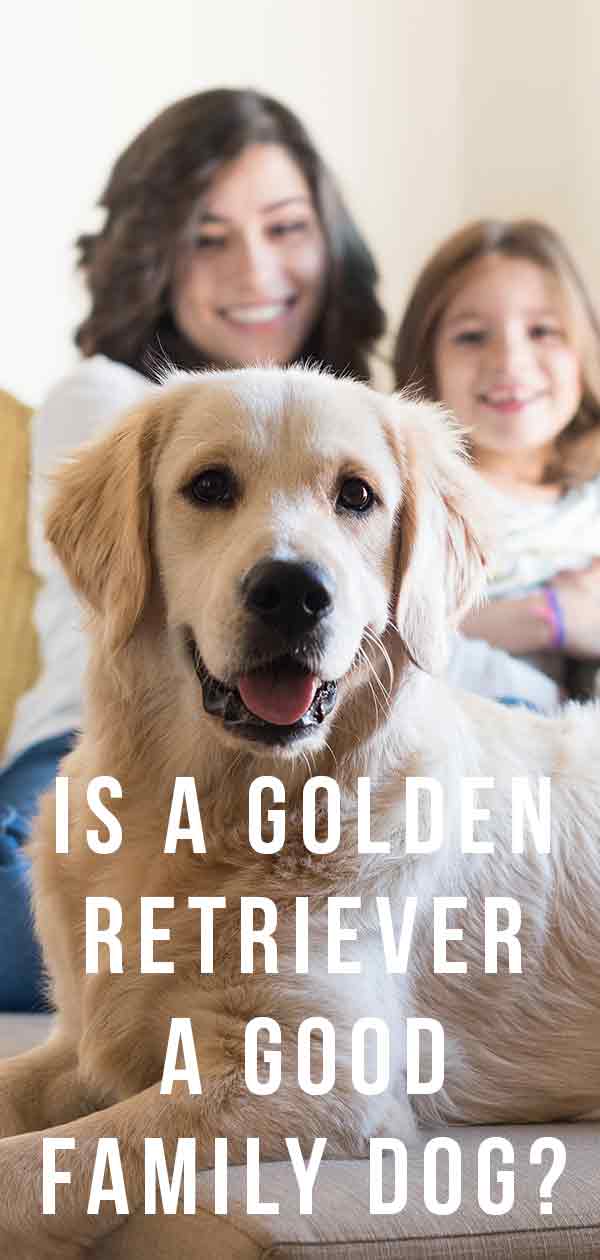 Golden Retriever Training and Socialization Needs
Answering the question, "Is a Golden Retriever a good family dog?" often boils down to simple training and socialization!
The earlier this process is started – ideally before your Golden Retriever puppy even leaves the litter – the better the outcome is likely to be.
Golden Retrievers tend to be excellent students because they really want to please their people.
They also tend to see all interactions as opportunities for social hour, including training sessions.
This makes them enthusiastic participants.
However, one big issue that often crops up with Golden Retrievers is that these exuberant, playful, friendly dogs don't know their own size and strength.
Golden Retrievers tend to weigh between 55 and 75 pounds as adults – that is a lot of dog!
Dealing With a Big Dog
So this is an area where you will definitely need to teach your Golden how to interact and play safely and appropriately with young children, other family pets, and strangers.
For example, until training and socialization teaches otherwise, your Golden Retriever may think it is a perfectly acceptable form of greeting to jump right up onto a guest (aka a new friend for your puppy to play with)!
So you will need to expose your dog to different people and animals and teach appropriate interaction.
Golden Retrievers also tend to be pretty high energy dogs, especially during puppyhood and young adulthood.
Since Golden Retrievers are also quite smart, if your Golden doesn't get enough exercise and play time, she will likely come up with her own fun games.
These may involve your couch cushions and household furnishings.
Beware of Exercise When Your Pup Is Young
Veterinarians typically advise against taking a Golden Retriever on any long strenuous hikes or runs or other activities until all the bones have finished growing (around the age of one year).
After your veterinarian signs off, however, you can enroll your dog in agility, tracking, obedience, dock diving, and other canine sports, which will readily burn all that extra energy!
Because a Golden Retriever is a working dog at heart and has been bred for this role, it is very important to be sure you or someone in your household has sufficient time to spend with your Golden for training, socialization, play and enrichment time and exercise.
This will ensure your dog grows up to be a great family dog!
Golden Retriever Shedding and Grooming
One big question many prospective Golden Retriever owners ask is related to the Golden's famously thick, wavy golden coat.
It just makes sense, looking at all that hair, to think you might be in for quite a lot of brushing and grooming duties! Luckily, we've got a guide to the best Golden Retriever brushes that will help with this!
As it turns out, this is quite true.
Is a Golden Retriever a good family dog?
He absolutely can be.
But you need to be prepared to spend some significant time brushing and grooming your dog, both for your dog's good health and for your own house-cleaning sanity.
It can be very helpful here to learn more about the Golden Retriever coat.
This dog has been bred from the start to swim and work in the water.
For this reason, the Golden Retriever's signature coat is a double layer.
The top layer is thick, coarse and water-repellant, and the under layer is shorter, thick, and highly insulating.
Seasonal Shedding
Twice per year, your Golden Retriever will do something remarkable called "blowing coat."
You will know this has started when you see dog hair everywhere.
This seasonal shedding replenishes your dog's coat and keeps it insulating and water-repellant the way it needs to be.
You will probably need to brush your dog daily during these periods.
Your Golden will also shed throughout the year.
Brushing every few days, along with regular bathing, can help keep the shed hair off your furniture and your clothing.
You will need to check your Golden Retriever's long floppy ears every time you brush your dog.
Be sure to clean them as needed to keep the risk of infection at bay.
Golden Retriever Family Dog Life
Even once you feel sure you are able to meet your new pup's needs, you may still have a few remaining questions about what it is like to live with a Golden Retriever.
One big question many families have is will a Golden be noisy.
Happily, most Golden Retrievers are fairly quiet unless someone knocks at your door, and then you can expect a round of excited barking to let you know!
You can also expect your dog to master the art of begging for food and treats quite early on.
You will want to watch your dog's weight as these pups do tend to pack on the pounds!
Is a Golden Retriever a Good Family Dog?
So is a Golden Retriever a good family dog?
The general feedback from Golden owners, breeders, canine training experts, and veterinarians says yes. Even popular Golden Retriever mixes like the Goldendoodle are seen to be good family dogs!
However, as you now know from reading through this detailed article, Golden Retrievers as pets require certain things to be a happy, healthy part of family and community life!
If you love Golden Retrievers, check out our guide to the English Cream Golden Retriever! 
Sources
Stewart, P. "Heart of gold: The families and veterinary teams of the Golden Retriever Lifetime Study." Veterinary Practice News DVM 360, 2018.
Liinamo et al. "Genetic variation in aggression-related traits in Golden Retriever dogs." Science Direct/Applied Animal Behavioral Science, 2007.
Colin, C. "How Dogs Can Help Veterans Overcome PTSD. Smithsonian, 2012.
Kent et al. "Association of cancer-related mortality, age and gonadectomy in golden retriever dogs at a veterinary academic center (1989-2016)." PLoS One, 2018.
Grandin, T., PhD, et al. "Calmness in Golden Retrievers." Animals in Translation, 2009.
Van der Berg, L. "Genetics of aggressive behaviour in Golden Retriever dogs." ResearchGate, 2006.
Skiendziel, A. "Understanding Seizures in Your Golden," Golden Retriever Rescue News, 2002.
Get Pippa's free dog training tips delivered to your inbox