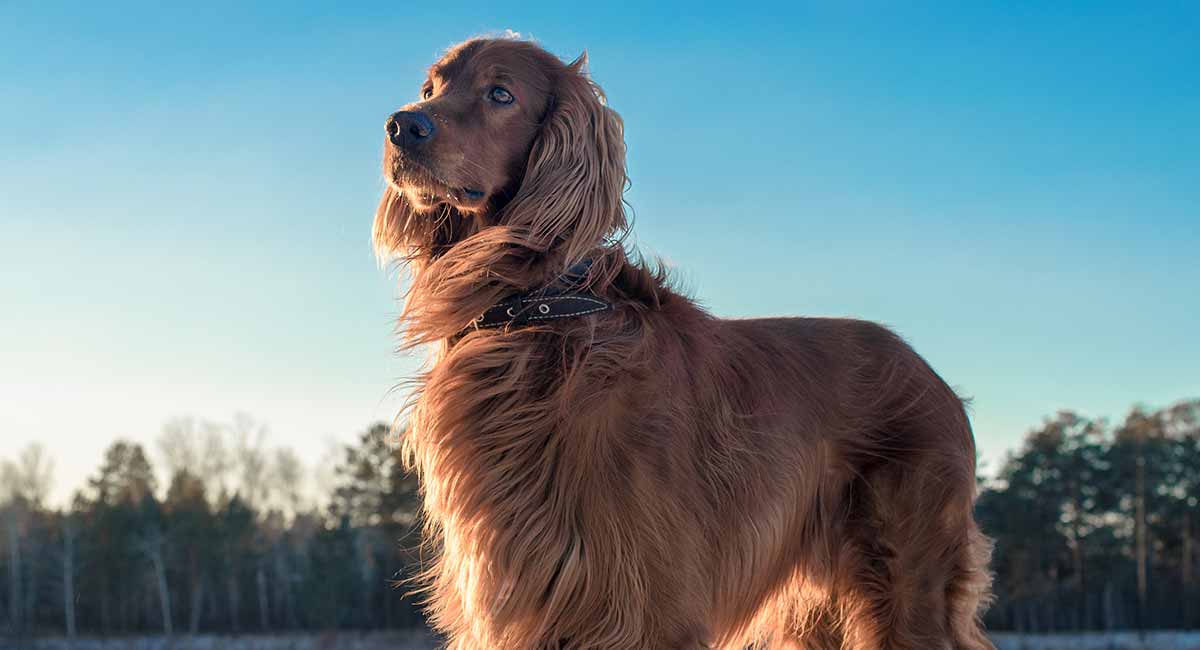 Irish Setters live for 12 years on average.
This puts them right in the middle of the range across all domestic dogs breeds.
Factors which improve Irish Setter lifespan include health testing parent dogs, preventative healthcare, diet and medicine.
Irish Setter Lifespan
'How long do Irish Setters live?' is the burning question for owners of these flame-colored beauties.
A study that carefully compiled information of purebred longevity, concludes the Irish Setter life expectancy is 12 years. [£]
Of course this is just an average. Some dogs sadly die prematurely whilst others live to a venerable age. But as a guide, the average Irish Setter lifespan is 12 years.
You can however skew the stats in your favor. When you drill down into the data, factors such as whether or not to neuter, along with diet, and careful selection of parents make a real impact of Irish Setter life expectancy.
Common Health Problems of the Irish Setter
It stands to reason that poor health impacts on Irish Setter lifespan. So, let's consider the health problems commonly linked to the breed.

Gastric Dilation and Volvulus (GDV)
GDV, also known as bloat, is a show stopper. This condition happens when the stomach flips over on itself, closing off both exits. Gas from digestion is trapped in the stomach, causing it to swell. This causes a cascade of serious complications which end in shock, organ shutdown, and death. [$]
Without treatment GDV is fatal within hours. Hence, avoiding bloat is a super-important way of extending Irish Setter life expectancy. Here are some ways you can help prevent GDV:
Prevention hinges on a good quality diet and avoiding exercise for 60 minutes after eating.
Feed several meals a day, rather than one large meal
Avoid exercise or play within 60 minutes of eating
Feed on the floor
Offer a good quality food high in meat protein, and avoid cheaper foods containing cereal (as these ferment and produce gas)
Megaesophagus
The esophagus is the muscular tube connecting the mouth to the stomach. Once swallowed, food passes along the esophagus or gullet. In the condition 'megaesophagus' the gullet lacks tone, food doesn't get pushed along and instead pools in the neck area.
The Irish Setter carries an increased risk of inheriting megaesophagus. The signs include poor growth, regular regurgitation of food, being underweight, and coughing.[&]
Megaesophagus shortens Irish Setter lifespan, and can cause life threatening aspiration pneumonia.
Treatment options are limited, but you can help reduce the side effects by:
Feeding the dog in an upright position so their head is above the heart
Keeping the dog upright for 15 – 20 minutes after eating
Hand feeding canned food rolled into 'meatballs'.
Gluten Malabsorption Syndrome
This is inheritable condition features a gluten-intolerance. Symptoms include diarrhea, and weight loss. [%]
The condition can be controlled by feeding a gluten-free diet. This helps keep the dog in the best health for a long and healthy life.
Canine Leukocyte Adhesion Deficiency (CLAD)
This genetic condition affects Irish Setter lifespan. It is an immunodeficiency, affecting young dogs. They are unable to fight infection properly and may die prematurely due from simple infections.
This condition is best avoided, by not breeding from parents carrying the gene. Thankfully, there is a genetic test for this condition.
The Importance of Health Testing the Parents
Genetic conditions can dramatically shorten the average Irish Setter lifespan. By dodging the bullet, and breeding only from dogs that don't carry those genes, Irish Setter life expectancy is raised significantly.
Happily, this is possible when breeders act responsibly.
Currently screening tests are available specifically for CLAD, along with inheritable eye conditions and hip dysplasia. All of these have the potential to be passed down the generations for Irish Setters.
General Rules to Help an Irish Setter Live Longer
Some things in life we can change, others we can't. As with any dog, keeping them in good health by avoiding preventable disease helps to extend life expectancy.
Preventative Healthcare
Thanks to modern medications dogs no longer have to succumb to life-threatening conditions such as heartworm, parvovirus, leptospirosis, tick-borne-diseases, or even overwhelming worm burdens.
Preventative medicine is easily available through your veterinary clinic. Your vet is a great resource as they will know which diseases are prevalent in your area and suggest a tailored healthcare package.
A good starting point includes:
Vaccination: Against core disease such as distemper, parvovirus, and rabies, plus any non-core vaccines for infectious disease in your area. Be sure to keep vaccine protocols up to date with the appropriate boosters.
Deworming: Roundworms, tapeworms, and hookworms all rob your dog of nutrients from their gut. This lowers the dog's general health, making them more vulnerable to other problems.
External Parasites: An effective de-flea and anti-tick product is a must. Not only does it get rid of blood suckers but it reduces the risk of tick-borne disease.
Weight Control
Fact: Lean pets live longer.
OK, OK, you've heard enough people banging on about how obesity predisposes pets to diabetes, heart disease, and joints problems.
But did you know it's be shown that staying lean is positively beneficial? A scientific study paired up cohorts of Labradors and followed them through life. The only difference in the two groups was that one group was fed 25% less than the other. [@]
Guess what? The slim group went on to live an average of 2 – 3 years longer. Plus, they stayed healthier for longer. So their tubby-buddies have poorer health and died younger. Hmm.
Neutering
Scientists now have a vast pool of data trawled from the computerized records of veterinary clinics. Researchers decided to look at the effect of desexing on life expectancy, and which groups lived the longest.
*Drum roll*
The conclusion was that the longest living group were spayed female dogs. They lived longer than entire females and males (be they desexed or entire.) So if you have a female dog, getting her spayed helps increase life expectancy.
The Longest Living Dog Breeds
How does Irish Setter life expectancy stack up against other dogs in general?
Those dogs with the long life expectancy are the small breeds. With the large or giant breeds having the shortest lifespan. [#]
Jack Russell Terriers, Poodles, Whippets and Dachshunds have the longest life
Great Danes and Dogue de Bordeaux have the shortest
The Irish Setter lifespan sits somewhere in the middle. But what's interesting about Irish Setter life expectancy is they tend to be an all-or-nothing breed. By this, we mean they may die at a distressing young age as a result of inheritable health conditions or bloat, or they live long healthy lives right into their teens.
No-one knows what the future holds, but you can do your bit to extend life expectancy. Choosing a pup from a responsible breeder, good preventative healthcare, keeping the dog lean, and spaying, all help you Irish Setter live to a ripe old age.
References & Resources
[£]
Longevity and Mortality of Owned Dogs in England
O'Neil et al, 2013. The Veterinary Journal [$]
Bloat: Gastric Dilation and Volvulus
. Ward, VCA Hospitals [&]
Integrative Approach to Megaesophagus
Saik, 2018. Innovative Veterinary Care [%]
Inheritance of Gluten Sensitive Enteropathy in Irish Setters
. Garden et al, 2000. AVMA Journals [@]
Effects of Dietary Restriction on Lifespan
. Kealy et al, 2002. AVMA Journals [#]
Longevity of British Dog Breeds in Relation to Sex, Size, Cardiovascular Variables and Disease
Michell , 1999. Vet Record
Get Pippa's free dog training tips delivered to your inbox