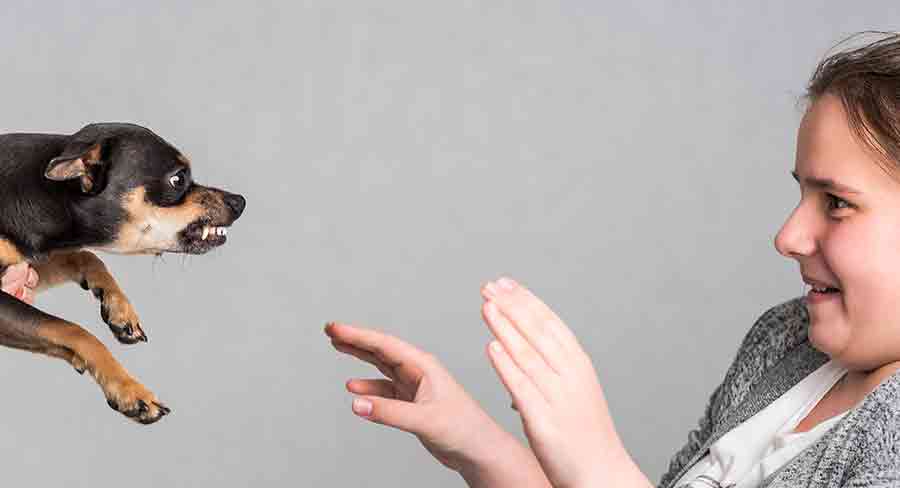 I hate my boyfriend's dog, but I love him! What am I supposed to do?
There are some things you can do if you hate your boyfriend's dog, but he needs to be prepared to work on the issue with you.
It's a tricky problem, and yet it is also one that is surprisingly common.
Because when you enter into a new relationship, it's natural to assume it's just about the two of you.
But very quickly the realities of life set in and you realise there are other people, or creatures, involved. Whether you want them to be or not!
And if one of those other creatures lives with them, uses up a lot of their time and attention, but isn't even human, who can blame you for feeling frustrated.
Or even starting to hate the cause of your problems.
But if you date someone who has a pet that they owned before you came along, the choice is simple.
You work out how to live happily with that pet too, or you decide that sadly this isn't a relationship that's going to have legs.
Fortunately, if it's a dog causing your issues there are often lots of good ways around it.
Because dogs are clever, and you have the power to help them become someone that is easier to get along with.
As long as your boyfriend is on the same page.
I hate my boyfriends dog, but I can't tell him that…
So lets firstly leave the word hate at the door. Or on this page. Just as long as it's not said within your man's earshot.
Use the word 'uncomfortable' or 'concerned'.
Don't lay fault at the dog's door, even if you feel that it firmly belongs there.
Because you don't want a fight, you want a solution.
Calmly explain how the dog's behavior is causing an issue, and hopefully we'll have the solution for you both below.
If your boyfriend is happy to help resolve it, then the relationship has a fair shot at going forward.
Why do you hate your boyfriend's dog?
To work out how to solve your problem with the dog, have a think about what it is that is making you mad.
It's likely to involve one of the following:
The dog stops you from going places
It slobbers on you
There is shed everywhere
It is noisy
The dog is aggressive
You feel your boyfriend loves their dog more than you
The dog stops you from going places
Dogs can be a real tie, especially if you have previously had a pup free lifestyle.
And some dogs can be left for a few hours happily, but others get very upset if they are alone.
Which leaves you in an awkward position, especially if it's not technically your dog that's causing the issue.
The solution to this is either to get a behaviorist to work with your dog to improve any separation anxiety if short trips out are your issue.
Or alternatively to arrange for doggy daycare if your problem is missing out on big days or weekends away.
Working in the cost of kennels or daycare when you make plans can seem annoying, but is a good way around the issue.
Another solution is to talk to a friend about reciprocal arrangements.
So they have your boyfriend's dog one day, then you have theirs another.
It slobbers on you
Dog drool is one of those things that doesn't bother you at all, or seriously grosses you out.
If you are in Camp Gross Out, then especially if the dog is a slobbery variety you will understandably not want it all over your nice pants.
Some dogs drool more in certain stressful situations, or when they are over excited.
In the car or at the dog park being classic examples.
When you are in these situations make sure you aren't wearing your favorite clothes, and carry a small cloth in your pocket.
Or avoid joining your boyfriend in the scenarios where it's going to be worse.
A quick gentle wipe around their snout every so often, always followed by a tasty treat, will help it to bother you less.
And those treats will increase the bond between you too.
There is shed everywhere
Shedding is something that every dog owner has to deal with.
And when you aren't used to it, it's quite annoying to pick off your clothes or out of your coffee cup.
There are two things which really help shed hair
Now, I'm not for a single moment suggesting you start vacuuming your boyfriend's apartment for him.
But very nicely pointing out that a more frequent routine would make you more inclined to stay more often, and more kindly disposed towards his dog, wouldn't be unreasonable.
The same goes for a more frequent or thorough grooming regime.
It is noisy
Barking is one of the biggest areas where dogs and owners find conflict.
I love that my Lab lets me know when someone comes to the door. But I don't want her announcing every time someone leaves the room, or walks past the backyard.
And if your boyfriend's dog is very vocal it might well start driving you up the wall, and impact on your feelings about it.
Fortunately, there are lots of things you can do about barking.
And the solution can depend upon what is causing the noise in the first place.
Click on the links for potential solutions:
The dog is aggressive
Aggression in dogs is a really tough one to deal with.
But sometimes what can seem aggressive is actually understandable and curable if you can get to the route.
If your boyfriend's dog is growling at you, then your first step is to make sure that you don't try to approach it or punish these scary noises.
Because when we punish growling we can stop the noise, but not the cause behind it.
Which means that the dog is now upset, but you aren't aware, and therefore the situation can silently escalate and be more likely to lead to a bite.
You need to work together to find a behaviorist that uses positive reinforcement methods to help.
You feel your boyfriend loves their dog more than you
This might sound silly, but affectionate love is not a competition. Even though it might feel that way sometimes.
Your boyfriend can adore his dog totally, but his love for you is a completely different kind of love.
They aren't at odds with each other. They are separate, wonderful things.
You don't need to feel jealous of the love for a pet, just as you shouldn't feel jealous of how a partner feels about their children.
Love comes in different forms, and those varying types of love are not in competition with each other.
I still hate my boyfriend's dog…
If you and your partner help your dog to overcome what you thought was the source of your upset, but you still hate his dog, then it might be time to throw in the towel.
Likewise, if he isn't willing to work together to resolve it, that's a bit of a red flag regardless of the dog.
However, hopefully once you've pinned down the source of your unhappiness with his dog you will be able to move forward more positively.
And maybe even one day grow to enjoy their company too!
Get Pippa's free dog training tips delivered to your inbox