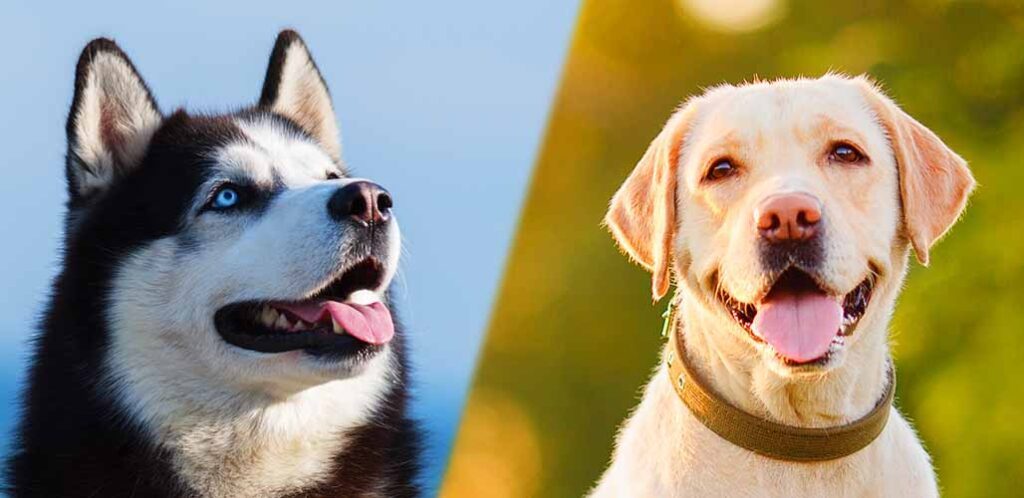 Husky vs Labrador – which of these large, energetic breeds is best? Both the Siberian Husky and Labrador Retriever breeds are intelligent, playful dogs with histories working closely alongside humans. However, their initial working roles and situations were very different, which had led to some very unique traits. Generally, Labradors are better for first time owners, but with proper socialization and training, Huskies can make great additions to a family home, too. As long as you're prepared for all of their grooming needs and chattiness!
Let's take a closer look at these two popular dog breeds to help you decide which one is right for you.
Husky vs Labrador at a Glance
| | | |
| --- | --- | --- |
| | Siberian Husky | Labrador Retriever |
| Height: | 20 – 23.5 inches | 21.5 – 24.5 inches |
| Weight: | 35 – 60 lbs | 55 – 80 lbs |
| Coat type: | Medium length, double coat | Short, dense, double coat |
| Shedding/grooming: | High shedding, regular grooming | High shedding, occasional grooming |
| Temperament: | Alert, energetic, independent | Friendly, intelligent, energetic |
| Activity level: | High | High |
| Trainability: | Can have a stubborn streak | Eager to please |
| Barking level: | Very vocal | Will bark when bored, or if barking is rewarded |
| Lifespan: | 12 years | 12 years |
| Puppy price: | $1000 – $2500 | $1000 – $2000 |
Husky vs Labrador History
A breed's history can impact the personality traits it has today, as well as its natural instincts. And, it can be fun to learn about! Both the Siberian Husky and Labrador Retriever have worked alongside humans for a lot of their histories. But, their working roles were quite different from one another.
Husky ancestors were originally sled dogs in northeastern Asia. They worked in packs to pull sleds in freezing temperatures. These dogs also saw plenty of success in sledding competitions. Although Huskies are more common as family dogs today, some Siberians still take part in sledding for fun or as a sport.
Labrador ancestors worked closely alongside fishermen in Newfoundland, Canada, to retrieve their catches from the water. Eventually, they were brought to Britain, where the breed was standardized and further used as a game retrieving dog. Throughout their history, Labradors have worked in almost every working dog role imaginable, including search and rescue, guide dogs, therapy dogs, and more.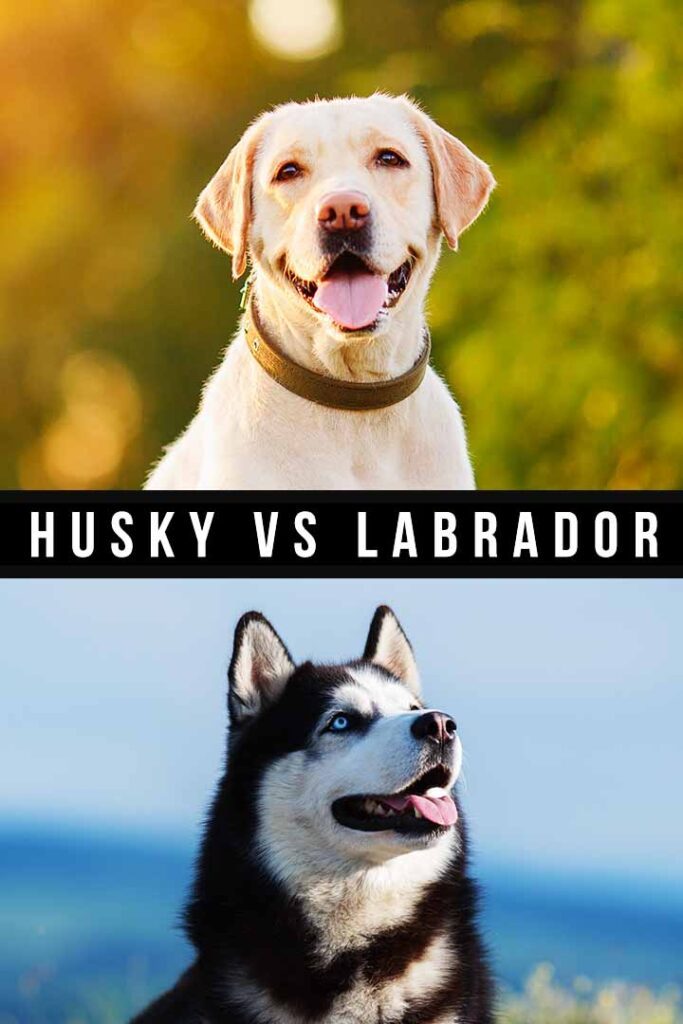 Labrador Retriever vs Siberian Husky Appearance
Though both Labradors and Huskies are large dogs, the Labrador is the bigger of the two. They grow to between 21.5 and 24.5 inches tall, weighing from 55 to 80 lbs as adults. Huskies, on the other hand, tend to reach between 20 and 23.5 inches, weighing 35 to 60 lbs. In both breeds, male dogs are most often larger than females.
Both breeds have dense, double coats. But, Huskies have longer fur than Labs. This means Husky fur is more prone to knots and tangles, so they have slightly higher grooming needs. But, both breeds are moderate shedders all year round, and heavy shedders in the hotter months. Grooming them regularly can help you keep this fur under control.
In body conformation, these two breeds are quite similar, with healthy faces and long slightly curved tails. But, Huskies have a more foxlike appearance, with erect, triangular ears to contrast the Lab's floppy ears.
Coat Colors
Labradors come in three accepted colors: black, chocolate, and yellow. There are some less common colors that fall outside the breed standard, such as dilute colors, but these can be quite controversial in Labrador breeder circles.
Huskies come in a much wider range of colors. They can be solid black or solid white, but are more often bicolor. Here are some accepted colors for Siberian Huskies:
Agouti and white
Black and white
Black tan and white
Brown and white
Grey and white
Red and white
Sable and white
They can also have piebald or saddle-back markings.
Siberian Husky vs Labrador Retriever Temperament
Typically, Labradors are very friendly with everyone they meet, including children and other animals. They are very people-oriented dogs that need a lot of company, and do best in homes where they aren't left alone for long periods of time. They are eager to please, and will be happiest when they're exploring the world or playing games by your side.
Huskies are often equally affectionate with their close families, and get along very well with other dogs. But, they can be more reserved around strangers, and may not get along with non-canine pets. Huskies are generally more independent, but they are overall playful, alert, and curious dogs.
Natural Instincts and Socialization
In studies on canine aggression, both the Labrador and Husky breeds are low scoring, particularly towards other dogs and strangers. Huskies scored slightly above average for aggression towards strangers, but if you have a respectful relationship with your dog, and train and socialize them well from a young age, this is unlikely to be a concern for you.
Labs tend to have natural retrieving instincts, so will enjoy games like fetch. Huskies, on the other hand are more likely to have natural pulling and chase instincts. This means teaching loose leash walking should be a priority. If your Husky sees a small animal running outside, like a cat or a squirrel, they are very likely to chase after them. So, it's best to keep them on a leash or in a safely enclosed space when exercising them outside. Since its early years, the Husky was bred to hunt independently, so don't rely on recall to prevent this.
Socialization is important for both breeds to minimize any risks of aggression. But, it is particularly important to reduce those chasing and hunting instincts in the Husky. You won't be able to eliminate them altogether, but it will make things much easier, especially if you have small children or other pets at home.
Husky vs Labrador Exercise Needs
Both the Siberian Husky and Labrador Retriever are large, energetic dogs. They each have roots in working histories. And, both dogs are very intelligent, meaning they are easily bored. So, neither of these dogs will suit a sedentary lifestyle. Whether you choose a Husky or a Labrador, you will need to dedicate at least an hour every day to exercising. This is particularly important when it comes to avoiding destructive or unwanted behaviors, like digging, barking, and more.
Labradors are also prone to obesity, so it's important to keep them at a healthy weight. There are plenty of forms this exercise can take. Both dogs will enjoy hiking, running, more. Huskies will particularly enjoy jobs where they can pull something, and Labradors tend to love canine sports that involve swimming and retrieving.
Siberian Husky vs Labrador Retriever Training
Generally, Labradors are very eager to please. They form strong bonds with their owners, which can be built upon with positive reinforcement training. Huskies can be more independent and wilful when it comes to training. But, positive reinforcement methods work very well with them, too. Make sure to keep training sessions short and consistent to keep your dog's attention, no matter their breed.
Regular training is important not only because these are both large breeds with potentially problematic natural instincts. It is also vital for mental stimulation. As energetic and intelligent dogs, both Huskies and Labradors need the chance to work their brains every day. Interactive toys are another great investment, but are not a replacement for any type of training.
Husky vs Labrador Health
All purebred dogs are prone to certain hereditary health conditions. Health testing is available for many problems, so choosing a reputable breeder can help to minimize your dog's risk of experiencing these issues. But, it's still important to be aware of the most common problems and the early symptoms.
Common Husky Health Issues
Hip and elbow dysplasia
Cardiomyopathy
Cataracts
Glaucoma
Progressive Retinal Atrophy
Epilepsy
Common Labrador Health Issues
Hip and elbow dysplasia
Arthritis
Gastric Dilatation Volvulus
Cataracts and eye issues
Obesity
Muscular dystrophy
Exercise induced collapse
Husky vs Labrador Lifespan
Studies into purebred dog lifespan have found that the Labrador and Husky breeds actually live to the same average lifespan. Both reach an average of 12 years. And of course, with proper care and good breeding, many will live above this average into their teens!
Husky vs Labrador Retriever Puppy Price
Both Huskies and Labrador puppies are popular, so it's likely you'll find plenty of breeders near you. Generally, they cost quite similar prices, somewhere in the range of $1000 to £3000 on average. Huskies can be a little bit more expensive, but prices will vary for both breeds depending on color, number of puppies, demand, pedigree, and more.
Because both breeds are quite popular, you may stumble across puppy mills or backyard breeders in your quest for a dog. It's important to avoid these places. Puppies from them are often less healthy and more likely to experience behavioral problems. Neither the dogs or puppies will be well cared for in a puppy mill. Though it can be tempting to buy puppies from them to "rescue" them, this will only support the bad breeders and encourage them to continue.
Both Huskies and Labradors are commonly found at official rescue centers if you're looking to give an older dog a new home. This can be highly rewarding, and rescue dogs are often much cheaper than puppies. But, work with rescue center staff to find a dog that's right for you.
Husky vs Labrador – Which is Better?
Neither the Husky or Labrador breeds are better than the other, but one may be more suitable for your circumstances. If you're a first time dog owner, the Labrador will likely be easier to train, and less work grooming. They also have easier-to-manage natural instincts. But, Huskies are a great choice for an active household with other dogs. Both breeds need lots of regular training and exercise to stay happy.
Do you have one or both of these breeds at home? Let us know which one is your favorite in the comments!
Readers Also Liked
References and Resources
Get Pippa's free dog training tips delivered to your inbox