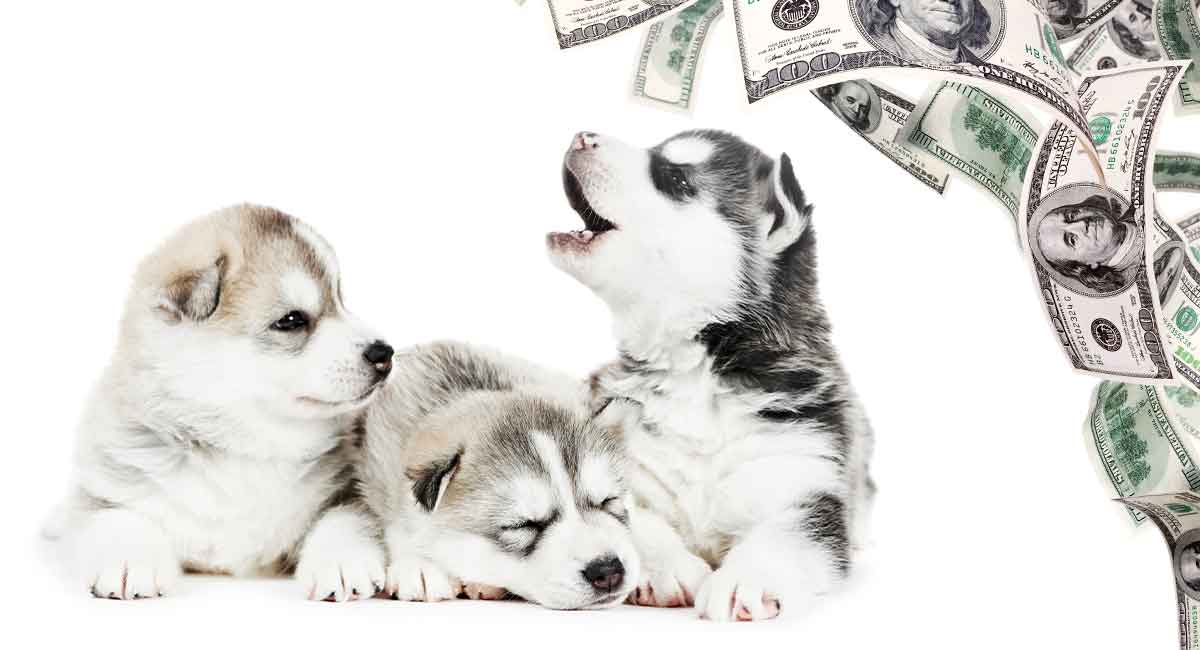 Husky price can range from $750 to $1,500.
At a minimum, the price of a Husky puppy needs to cover a responsible breeder's costs. Dogs from champion bloodlines can command a higher fee.
The true cost of a puppy, taking into account food, kit, and veterinary care in the first year, is even higher, though!
So let's take a look at what you could end up spending on a Husky dog.
Choosing A Husky
Huskies are highly intelligent, fiercely loyal, and a bit of a challenge for dog owners.
The Husky is a working dog. They have a history of working with their owners, primarily as sled dogs. Nowadays, Husky dogs make loving pets for homes that are well equipped to handle them.
There are two different breeds of Husky: Siberian Husky and Alaskan Husky.
You've decided you're up for the task and want to add a Husky to your home. So what costs can you expect to get your puppy? And what might the Husky price add up to over the 12-15 years of its life?
Calculating The Cost For A Husky Puppy
When you're looking at the cost of adding a puppy to your home, the first big expense will obviously be the cost of the puppy itself from the breeder. But where does the breeder's price come from?
Breeders price their puppies according to their expenses.
Before the puppies are even born, they have to make sure the mother is health tested and registered. They pay a stud fee to breed with a favorable male in good health and good standing. The dam will also need veterinary care during and after the pregnancy.
Once her puppies are born, they too will need vet visits. They will receive vaccinations, deworming treatment, and health testing. Breeders will usually pay for AKC registration for both mom and puppies.
Other Breeder Costs
Breeders will have whelping equipment to help the birth go as smoothly as possible for both mother and puppies. Natural birth is standard for Huskies, but if the pregnancy doesn't go smoothly and the mother needs a C-section, the vet cost goes up again.
On top of health costs, there's the general cost of caring for several dogs. Food, toys, collars and other such things must all be purchased for the puppies and mom.
Breeders also have to consider the cost of running a business on top of maintaining their dogs. Keeping mom and pups healthy and happy, plus business expenses, all factor into the final Husky price.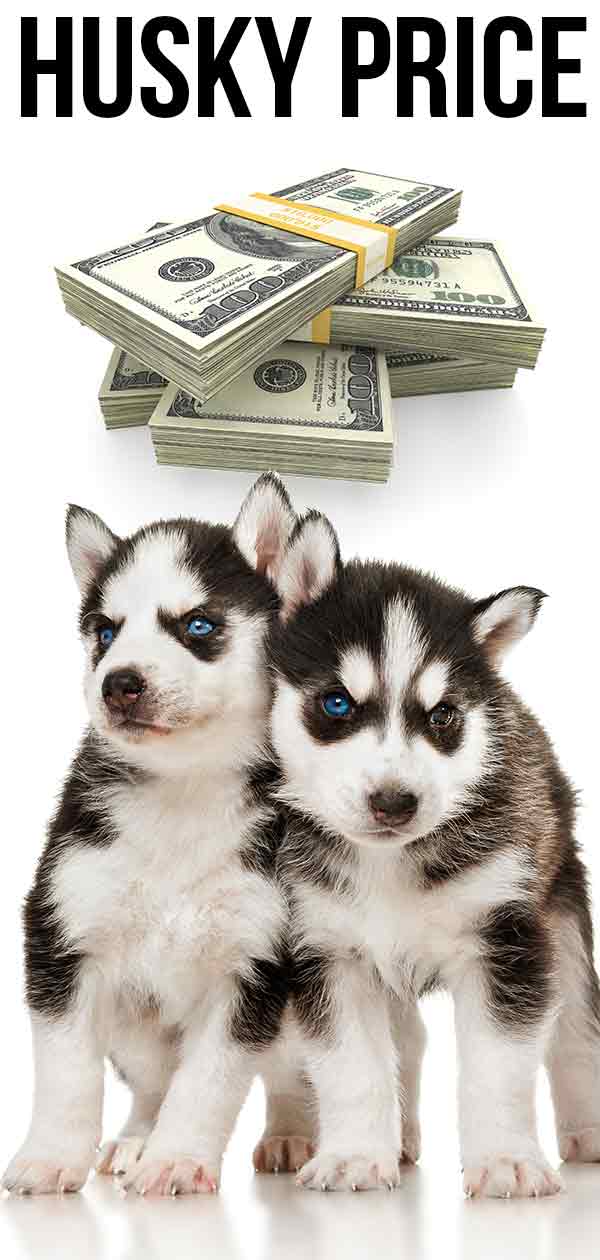 Expensive Puppies Vs Low Price Puppies
It's important to know what goes into the cost of a puppy, because it helps you to recognize when a price is too good to be true.
There are, unfortunately, people who choose to breed dogs purely for financial gain. This practice is known as a backyard breeding, a puppy farm, or puppy mill.
While reputable breeders have litters to better the lineage of their dogs, puppy mill owners cut corners and sometimes even lie to make as much money as possible.
Most often, backyard breeders sell online, or through pet stores.
Dogs are usually kept in awful conditions. Often, the dogs will be kept in crowded cages with no weather protection. They may not be fed properly, and likely won't see a veterinarian.
There are several telltale signs you can look for to avoid dealing with puppy mills.
Warning Signs
While reputable breeders encourage potential buyers to visit their home and see where the puppies grow up, a backyard breeder will insist on meeting in a public space and will refuse home visits.
They're usually hiding awful living conditions, health concerns, and sometimes even lies about the breed.
Reliable breeders have buyers sign a thorough contract. This includes requirements for vaccinations, breeding, and returning the dog to them should the need arise. You won't hear any of this from a backyard breeder.
The number of breeds they work with and number of puppies they have on hand is also a clear sign. People who look to better a breed will work with a single breed, maybe two.
Backyard breeders have several breeds, including designer mixes and dogs of specific sizes. They will always have at least one litter ready to go. Responsible breeders have a wait list.
The easiest sign to spot, however, is the price. Puppy mills undercut reputable breeders to pull in buyers who don't thoroughly research their options. Naturally, people who don't know any better will be inclined to choose (what seems on the surface) a more reasonable Husky price.
Finding the right breeder means finding the absolute best puppy for you. It takes some reading and researching to make sure you're getting a happy and healthy dog. But it's a small effort compared to the happiness of adding a well-bred dog to your family.
What Is The Cost Of A Husky Puppy
When you begin looking at breeder prices, you will find a little variation.
Costs will depend on different factors such as the puppy's lineage and the breeding intention. Some choose to breed for show, while others breed to capitalize on the Husky's working genetics.
The pup's age, health, and AKC registration will affect the price as well.
Listings on the American Kennel Club website range from $750-$800 to $1200 or even $1500 for champion bloodlines.
Prices may vary a little depending on region, or the breeder's waitlist. The average price for a Husky puppy is about $1000.
Are There Other Costs With A Husky Puppy?
The price of purchasing your puppy is not the only cost that being a Husky owner will incur. Before your dog comes home, you need to make sure the house is puppy ready.
Your new pup will need a bed, some strong toys, a good brush, food and treats. You'll also want to get them a strong collar and leash or harness, and a crate.
Then, there are the vet bills. Your Husky puppy will have several vet visits over the first year of their life. Between vaccinations and wellness exams, you will get to know your veterinarian well.
Health Vaccinations
Your puppy will need shots for illnesses like:
rabies
parvovirus
Lyme disease
influenza
and more.
After the first year, you will have annual wellness exams.That's without any extra health issues your Husky might encounter—it's important to be prepared for an emergency!
Microchipping is not a necessity, but it's one of the best things you can do for your pup. If they get lost, a microchip will help them get home quicker.
Food Costs
When it comes to feeding your pup, Huskies need less than you might assume given their size. Their genetics set them up to conserve energy, so don't be surprised if your Husky doesn't eat as much as you expected.
The cost of food will depend on what you choose to feed them. With dry food, premium brands tend to fall between $60 and $70 for a 30 pound bag.
Depending on how much your Husky eats, the cost of dry food will likely fall between $55-$65 a month.
If you choose to go with wet food, you can expect nearly double the price. Huskies require around 2 cans of food a day. Prices can range from $1.50-$2.50 a can depending on what quality level you decide on.
This will put your wet food cost somewhere between $90 and $150 monthly, depending on how much they eat.
If you decide to mix the two, expect to budget somewhere between $80 and $100 a month for food. This soon adds on to your Husky price!
Husky Price For Grooming
Another thing to budget for is grooming supplies. While grooming a Husky isn't difficult, there is a lot of hair to deal with. Huskies have a double coat that molts year round, particularly in the spring and fall.
You will need a quality brush to clear loose hair from their undercoat. Huskies need daily brushing. An undercoat rake is an asset as well.
Since their coats shed naturally, they don't need clippings from a groomer. The overcoat protects them from the sun, so clipping them can actually be detrimental.
A bath when they shed their undercoat helps remove the hair more easily. Other than that, their bath needs are minimal as well. Once a month, or even less, is usually sufficient.
Unless they've gotten dirty or smelly!
How Much Is A Husky
Adding a furry friend to your family is a big long-term decision to make. So you need to really consider whether the Husky price suits your budget!
You need to consider the cost and time that goes into caring for a Husky. From the breeder's cost to vet bills and every day necessities, you need to plan and prepare to add a pet to your household.
But the cost is minimal when compared to the love and companionship you will experience with a Husky!
Other Husky Info
If you love everything about Huskies, you'll love some of the other articles we've got.
Take a look at some awesome Husky mixed breeds, or some essential Husky products that add to the Husky price!
References and Resources
Brown, S. K., Darwent, C. M., Wictum, E. J., Snacks, B. N., "Using multiple markers to elucidate the ancient, historical and modern relationships among North American Arctic dog breeds," Heredity, 2015
Leroy, G., "Genetic diversity, inbreeding and breeding practices in dogs: Results from pedigree analyses," The Veterinary Journal, 2011
Prestige Animal Hospital
South Boston Animal Hospital
American Kennel Club
Get Pippa's free dog training tips delivered to your inbox