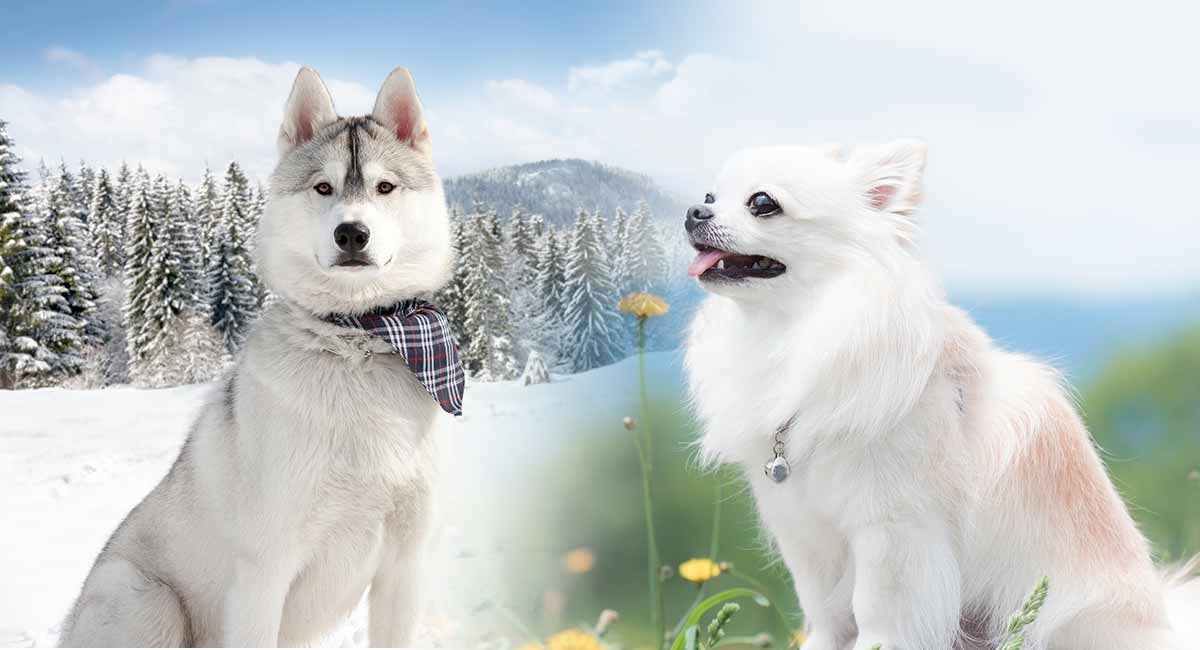 The Husky Chihuahua mix is one of the most unusual and surprising designer crossbreeds.
Husky Chihuahua mix puppies are always born to a female Husky, and might inherit any mix of traits from their parents.
This mix is likely to be feisty and independent, which could be too much of a challenge for a first time dog owner.
Your Husky Chihuahua Mix
Have you heard about the Chihuahua Husky cross?
You might be wondering how this mix came about, and whether it would suit you and your family.
Read on to find out more about the history, temperament, and health of the Husky Chihuahua cross.
Where Does The Husky Chihuahua Mix Come From?
As this is a pretty unusual cross, there isn't that much official information out there.
Unlike some more popular mixed breeds, such as the Labradoodle, the origins of the Husky Chihuahua mix are less well documented.
To find out a bit more about the Husky Chihuahua mix, we can take a look at the history of each of the individual breeds in turn.
Husky
The Husky, or Siberian Husky, can trace its origins back to the Chukchi people of Northeast Asia. Used as both sled dogs and family companions, these dogs were bred to haul sleds over vast distances.
By the 1900s, the breed had become known as the Siberian Husky. Their ability and endurance made them highly sought after.
It also meant that they caught the eye of private owners, and their popularity grew.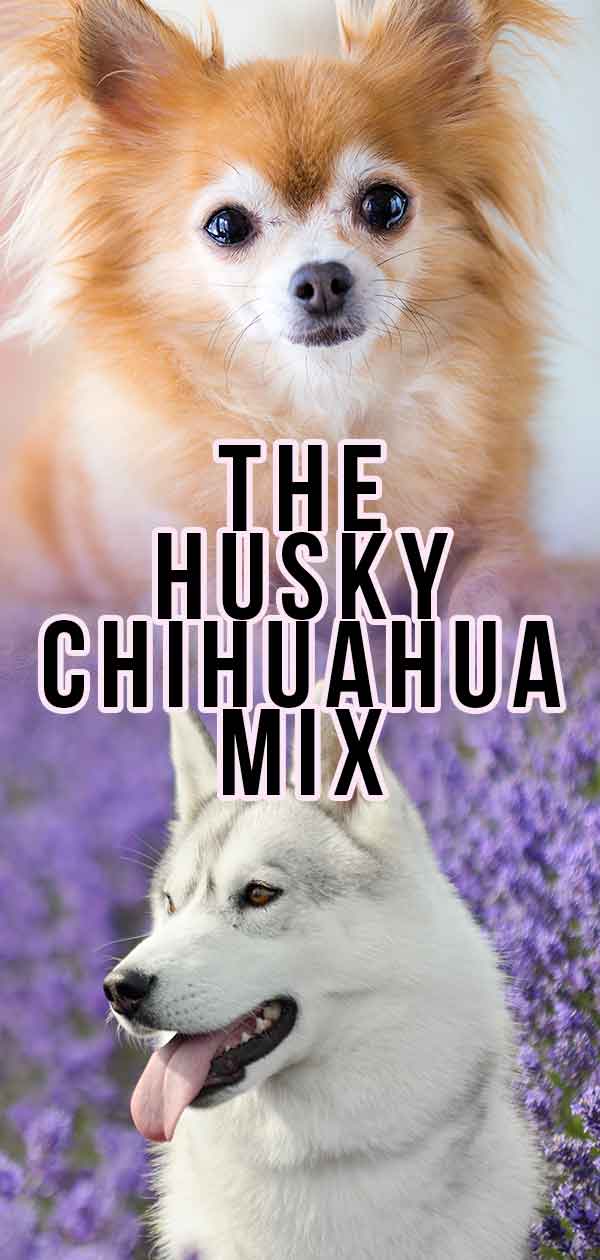 Chihuahua
This tiny breed has a rich history. Small dogs which fit their description can be seen on artifacts of ancient civilizations.
They're thought to descend from the larger Techichi breed. The name Chihuahua was given to the breed in the 1800s, due to the fact that many of these little dogs were found in this state of Mexico.
Mixed Breed Versus Pedigree
If you are considering buying a mixed breed dog such as the Husky Chihuahua mix, we recommend reading more about the debate of mixed breeds versus pedigree dogs. 
Because pedigree dogs have particular, and predictable, characteristics, some people believe they should only be bred with other dogs of the same breed. That way it's easier to predict what the health and temperament of any puppies will be like.
Despite this, it's well known that mixed breeds can help improve the overall health of dogs and avoid some of the more serious health problems that can affect pedigree dogs.
Fun Facts About The Husky Chihuahua Mix
This mix is sometimes called the Huskychi, or the Huskyhuahua.
A Husky Chihuahua mix puppy will always have a Husky mom and a Chihuahua dad. But this isn't just a funny quirk, it's also really important for her health and safety that a female Chihuahua never tries to carry the puppies of a Husky.
Of course, because of the size difference between a female Husky and her Chihuahua suitor, it's not surprising that Huskychi litters are only conceived by artificial insemination by the breeder.
Husky Chihuahua Mix Appearance
It's incredibly difficult to predict the appearance of puppies from an unusual mix such as this. Your pup may look more like one parent, or the other.
And given that the Chihuahua is a tiny toy dog, and the Husky a larger working dog, there's going to be a huge amount of variation.
The best thing to do is to consider the appearance of both parent breeds, and be prepared that the resulting puppies may look more like one or the other. They may, of course, end up looking like a combination of both mother and father!
Husky Appearance
The Siberian Husky is a member of the Working Dog group, with males standing at 21 – 23.5 inches high, and females at 20 – 22 inches.
Males weigh between 45 – 60 pounds, with the females lighter, at 35 – 50 pounds.
Their bodies are compact and powerful, and should be well muscled but not overweight. Their ears are relatively small in comparison to the size of their skull.
Huskies often have an alert, and slightly mischievous expression! One dead giveaway of this breed is their characteristic and well-furred tail, which is carried curled up and over their backs.
This breed has a double coat, found in many colors, with the breed standard stating that any color from black to pure white is permissible. The combination of gray and white is particularly common, and Huskies often have distinguishing facial markings.
Chihuahua Appearance
In contrast to the strong and powerful shape of the Husky, the Chihuahua sits at the other end of the scale. This tiny dog belongs to the Toy group. They stand at 5 – 8 inches high, and weigh no more than 6 pounds.
Their round, 'apple-dome' skulls are set off by a pair of large, erect ears. Their elegant bodies are also swift, and they should be slightly longer than they are tall.
Chihuahuas can have either short or long coats. Any color is allowed, with either a solid coat, or one that is marked or splashed with another color.
Husky Chihuahua Mix Temperament
Both Huskies and Chihuahuas have pretty strong temperaments. So they're not necessarily the best choice for first time dog owners.
It's impossible to predict what sort of temperament your cross breed pup will inherit. But, where both breeds share similar behaviors, there's more likelihood that the puppies will inherit the same.
So, if both of the parent breeds have strong characters, your pup has a higher chance of inheriting this trait.
Huskies are well-known for being escape artists. If they want to go somewhere, they'll usually find a way! Any yard needs to be Husky proofed as a result. They should not be let off leash when on walks, due to their innate desire to run. They will often 'switch off' from their owner's attempts to recall them.
Huskies are mentioned in a range of studies into canine aggression, although their guarding instinct is not that strong. 
Don't let the Chihuahua's small size fool you into believing they're a walkover. As a general rule, they have strong characters, which can be a challenge when it comes to training. Their intelligence means they can sometimes be willful!
Chihuahuas have also been found to show higher than average levels of aggression. This was found to be directed towards both humans, and other dogs. 
Training Your Husky Chihuahua Mix
As with any puppy, early training for this mix is so important.
A Husky Chihuahua mix puppy will likely be intelligent, but due to the slightly stubborn nature of both parent breeds, you'll need to stay on top of your training in order to help your puppy grow into a well-mannered dog.
Positive reinforcement techniques will work well, and socialization with both other dogs and humans is vital.
Huskies need a lot of exercise, and won't enjoy being stuck in the house all day. Chihuahuas need far less exercise, so it's probable that your mixed breed pup will fall somewhere in the middle.
If your puppy ends up on the small side, then potty training needs to be carried out carefully. 
Whatever size your puppy ends up, it's a great idea to crate train them. 
Husky Chihuahua Mix Health
Because the Husky Chihuahua mix is an unusual cross, there's not much information out there as to the potential health issues they may face.
The solution is to take a look at the health issues that affect both parent breeds. Be aware that any of these could affect your mixed breed puppy.
Husky Health
Huskies are a healthy breed, but they can suffer from a few issues, including:
Eye problems, including juvenile cataracts and Progressive Retinal Atrophy
Skin issues
Hearing issues
Hip dysplasia.
Our full breed review for the Siberian Husky goes over all these, and more, in detail. 
The Siberian Husky Club of America recommends the following tests:
Eye examination
Hip examination
Huskies have a thick, medium-length double coat, which needs regular brushing. This is especially true during the shedding season, when their old coat needs to be raked out daily.
The life expectancy of a Husky is 12 – 14 years. They will do well on a high-quality dog food, but Huskies who work pulling sleds will need a higher level of protein.
Chihuahua Health
Chihuahuas can suffer from a range of health problems. You can read about them in detail here. As a summary they can include:
The Chihuahua Club of America recommends the following health tests:
Cardiac exam
Ophthalmologist evaluation
Patella evaluation
Unfortunately, Chihuahuas can also have problems giving birth – another reason why females should never be mated with a much larger Husky. 
Chihuahuas tend to live for around 14 – 16 years. They can have either a short or long haired coat. Short haired Chihuahuas need only a quick brush once a week, while the long haired variety will need longer grooming sessions.
It's best to select a dog food designed specifically for Toy breeds, and be careful with portion control as Chihuahuas gain weight easily. You will also need to keep an eye on their teeth, as they're prone to dental issues.
Do Husky Chihuahua Mixes Make Good Family Pets?
They certainly have the potential, as do many other mixed breed puppies.
Small dogs like Chihuahuas can be prone to injury. So if your puppy ends up on the smaller side, and you have young children, be sure to show them how to handle a small dog correctly.
Huskies love to run, and if your pup inherits this trait you'll not only need a very secure backyard, but will need to keep them on a leash at all times when taking them for walks.
It's incredibly difficult to predict the suitability of a relatively unknown mixed breed dog as a family pet.
But, given the temperament of both the Husky and Chihuahua, you may find this mixed breed could present a challenge.
Of course, another option is to consider rescuing an older Husky Chihuahua mix, so let's take a look at that next.
Rescuing A Husky Chihuahua Mix
Adopting a rescue dog is an excellent idea, as all rescues will test their temperament, and suggest the type of family they could suit. 
While you will have to pay an adoption fee, this covers a range of services including vaccination and microchipping.
Finding A Husky Chihuahua Mix Puppy
The Husky Chihuahua mix is an unusual one, and there aren't many breeders specializing in them as a result.
We always recommend taking the time to find a reputable breeder who can talk to you about health screening. They should also be happy for you to meet both parent dogs.
Mixed breed dogs have surged in popularity, so many breeders now concentrate on a particular mix. But, in the case of the Husky Chihuahua mix, finding a breeder just might not be possible as they're not that popular.
This can be frustrating, but it's still important not to succumb to puppy mills, pet stores, or backyard breeders. With any of these, the welfare of parent dogs and their puppies are not the priority. 
If you find it difficult to locate a reputable breeder, we suggest you look at some alternative breeds instead. We'll suggest some a little bit later in this article.
Raising A Husky Chihuahua Mix Puppy
If you do manage to find a Husky Chihuahua mix puppy, you might be wondering what you'll need to keep them safe and happy at home. Head over to our guide for new puppy parents to find a full list and plenty of advice. 
Our puppy training guide also includes tips and advice on how to bond with, understand, and effectively train your puppy. 
If your puppy ends up with more of a Chihuahua like temperament, you might like to read our training advice written specifically for Chihuahua owners!
Pros And Cons of Getting A Husky Chihuahua Mix
It's almost impossible to predict how your puppy will turn out.
Bear in mind as well that a pro for one family could be a con for another.
Cons:
Chihuahua mixes can be fragile
May be more prone to aggression
Should not be let to run off leash
Husky mixes may be prone to howling
Pros:
Husky mixes tend to have an overall family friendly temperament
Lots of character
Intelligent and loving
Similar Husky Chihuahua Mixes And Breeds
If you like the thought of this mixed breed, but think that an alternative with a proven track record of producing nice pups would be a better option, take a look at these:
Husky Chihuahua Mix Rescues
You won't find any rescue centers that deal specifically with this mixed breed.
But it's definitely worth contacting rescues that concentrate on either the Husky or Chihuahua, to register your interest.  
Is A Husky Chihuahua Mix Right For Me?
In all honesty, this is an unusual mix without any dedicated breeders that we can find.
That makes it a lot harder for you to have any idea of how your pup might grow up.
Given the huge size difference between the Husky and Chihuahua, it's impossible to know what size your pup would mature to.
Chihuahuas are prone to a wide range of health conditions, so your pup may well inherit some or all of those.
It's definitely worth considering whether a more established mixed breed using either the Husky, or Chihuahua, would be a better choice.
If you have a Husky Chihuahua mix, we'd love to hear from you! If you do choose one of these puppies, make sure to take a look at some great name inspiration here!
References and Resources
Official Standard of the Siberian Husky.
Official Standard of the Chihuahua.
Health Statement. The Chihuahua Club of America.
Nilsson et al. (2018) Heritability of patellar luxation in the Chihuahua and Bichon Frise breeds of dogs and effectiveness of a Swedish screening programme. The Veterinary Journal.
Guy et al. (2001). Demographic and aggressive characteristics of dogs in a general veterinary caseload. Applied Animal Behaviour Science.
Duffy et al. (2008). Breed differences in canine aggression. Applied Animal Behavior Science.
Moon et al. (1998). Perioperative management and mortality rates of dogs undergoing caesarean section in the United States and Canada. Journal of the American Veterinary Medical Association.
Meola. (2013). Brahycephalic Airway Syndrome. Topics in companion animal medicine.
Get Pippa's free dog training tips delivered to your inbox