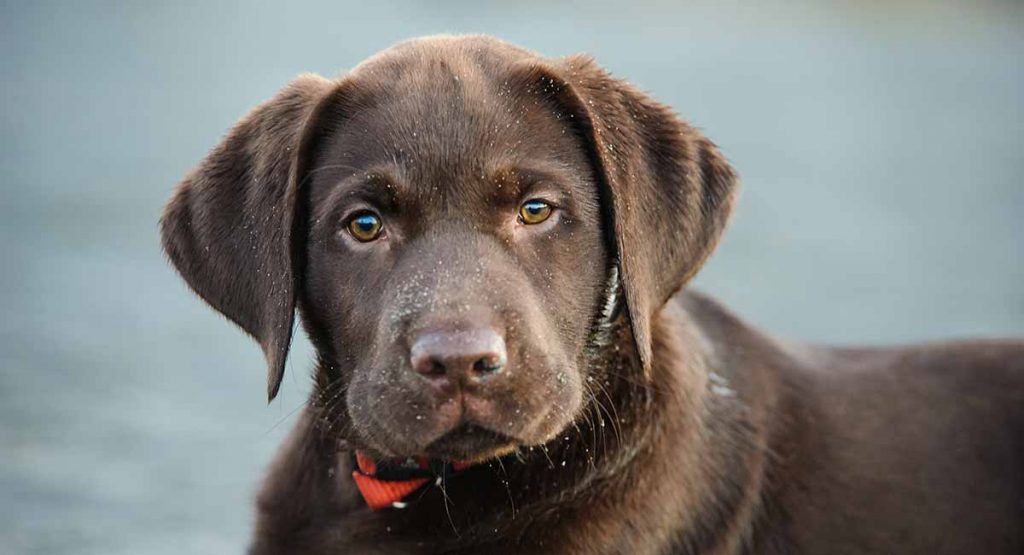 Nobody wants to upset their puppy or be mean to them. But most new puppy parents quite naturally want to know how to correct a puppy when they are naughty.
People ask "how do I stop my puppy from jumping up?" or "how do I stop my puppy barking?" or "how to I stop my puppy stealing from the trash?"
And they expect some form of correction to be offered. We'll look at the techniques most people try first, then show you a different way!
Hang on in there, things are about to get better.
You can also grab my free email training tips, to help you along the way!
Stop that puppy!
What you are looking for is a word that stops the puppy in their tracks, so that whatever they are doing, they stop it.
Right now!
Traditionally, that word has always been "NO!". And it is a word that has been used to discipline a puppy since time immemorial.
That doesn't mean it's the best way though, and many modern training systems now take a different approach. Let's look at why.
What does NO mean to a puppy?
Most humans understand the word NO pretty well.
You can tell a five year old child, "no, you can't do that – and if you do there will be a consequence" (no trip to the seaside tomorrow, or whatever).
But dogs not so much.
You can't explain about consequences, they can only experience them, by failing.
Saying NO nicely
Try saying the word 'no' in the same way the you might say the word "jam" when someone asks you what your favorite sandwich filling is.
If you say "no" to your dog when they climb into your favorite chair, using that exact bland and emotionless tone of voice, how much effect do you think it will have?
The answer is none at all. That's because the power of NO, lies elsewhere. Let's look at that.
Does NO work?
We've all seen the word NO work well for some dogs, and in some situations.
And it can work (albeit on a temporary basis and we'll look at that some more below). Sometimes, and in some situations.
But why does it work? And where exactly, does that word get its power?
The power of NO
No-one wants to threaten their dog. But the uncomfortable truth is that the power of NO often lies in the 'threat' implicit in the word.
Dogs that obey the word NO usually do so for one of two reasons
Either because the word NO is in itself 'punishing' (maybe it's said in a growly, scary way).
Or, because the word has become associated with punishment. In other words it is acting as a punishment marker.
You may say, so what? It works and that's what counts. But there are some issues here.
The trouble with punishment
One is, that many people nowadays don't want to use punishment – even or especially without realizing they are doing it. For many reasons, ethical and otherwise.
There are also recognized downsides to the use of punishment, even mild punishment, including a raised risk of aggression in dogs.
The other key issue is that to work as a punishment marker, the word NO has to be regularly associated with some kind of punishment.
Event markers
The event marker you are probably most familiar with is a click from a clicker. NO often becomes an event marker of a rather different kind. It becomes a punishment marker.
Event markers are signals that identify an event, in dog training, that event will be something the dog just did.
They are usually followed by a reward, and they are useful because they tell a dog exactly what the reward was for.
Punishment markers
A punishment marker is any kind of signal that you give, that is repeatedly associated with something the dog doesn't like.
The marker eventually has the same effect as the punishment itself. For a while, at least.
How punishment markers work
For a punishment marker to work, and to keep working, it must be frequently paired with a punishment*.
Just in the same way as we keep our regular event markers (such as a CLICK or the word YES) powerful by always following them with a treat.
*By punishment I mean anything that diminishes the behavior it's associated with. I'm not just talking about abuse here, but what many people refer to as corrections (mild punishment).
Making NO work for you
If you teach a puppy the NO means STOP what you are doing right now, you need to find a way to keep your marker word powerful.
And just as we escalate rewards when we first train a new skill among distractions.
You are going to have to do the same with your punishment marker when you take your young dog into the big wide world.
Escalating punishment
A sharp NO might be enough to keep your dog from climbing in the dishwasher, but it isn't going to cut it at the dog park.
You are going to need a stronger punishment, just as you might need stronger treats. At least to begin with.
And somehow, escalating punishment, isn't much fun.
Training with punishment
The bottom line is that:
Punishment always escalates. Even mild punishment.
Punishment markers must be regularly associated with punishment.
Punishers must be more powerful among distractions.
Are you really up for that?
So many ways to go wrong
And think of this too:
In many contexts at home and outdoors there are many different ways for a dog to go wrong and be naughty. Many different actions that you will have to eliminate with punishment.
One the other hand there is often one clear way to behave appropriately.
And one clear way to go right, and to be good.
One way to go right
On the beach your dog could chase seagulls, annoy other dogs, steal ice creams from toddlers. There are so many choices.
You can pursue him, cajole him, punish him, ignore him, shout at him, and generally have a stressful time.
Or, he can walk at heel, or fetch the ball you throw.
Management vs training
Many people allow their dog to pursue his own agenda and then get frustrated because it isn't theirs.
Or because he embarrasses them, and puts himself at risk.
And of course you can't always be training. This is where managment comes in.
Don't ignore the humble leash
Actively managing your dog and supervising or restraining where necessary has huge benefits.
People are often desperate to lose the leash and have their dog under control without one. This is a great aim, but shouldn't be pursued slavishly.
There is an old trainers' saying "the dog off the leash is often the dog that most needs to be on one."
Plenty of highly obedient dogs wear a leash a lot of the time. Wearing one never reflects badly on the owner.
Focusing on YES
In almost every situation you find yourself with your dog, there is an ideal behavior for you and your family.
You simply need to identify what that behavior is and teach your puppy to do it.
This means a different way of training. A big shift in focus. A shift from NO to YES.
What if I slip?
It won't hurt your dog if you say NO and get cross occasionally. We all do it. It's human nature.
However, it's a poor basis for training and only serves to divert you from a better path.
So if you find yourself doing it think about how you'll manage that situation in the future, and move on.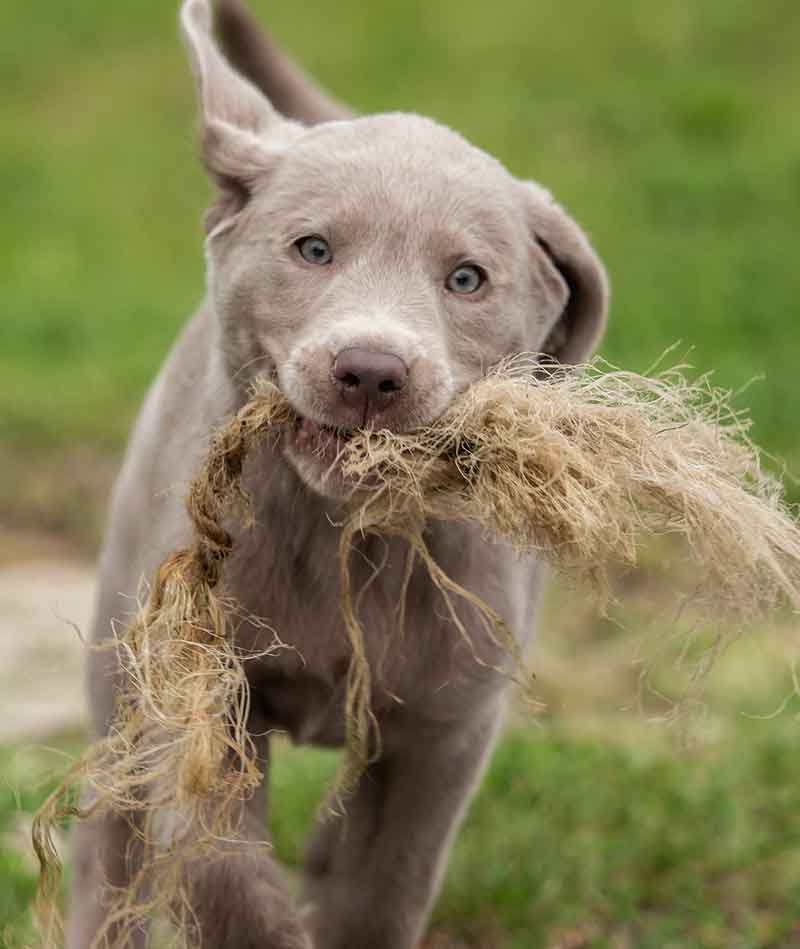 Decide what you want
Focus on the behavior you want and teach your dog to do it.
Reinforce that behavior generously and proof it thoroughly (you can find out how to do this in our Foundation Skills online course )
For example:
If your puppy jumps on visitors when they arrive put a basket by the front door and teach him to get into it when the doorbell rings. Have a pot of treats nearby for visitors to give the dog when he gets it right.
If you can't train – manage
When you can't train, manage. Many conflicts between puppies and their families are the result of poor management and lack of supervision.
Can't teach your dog not to jump up today? Put the dog in a different room until the visitors are sitting down.
And have your puppy on a house-line when in the room with visitors so you can control what happens.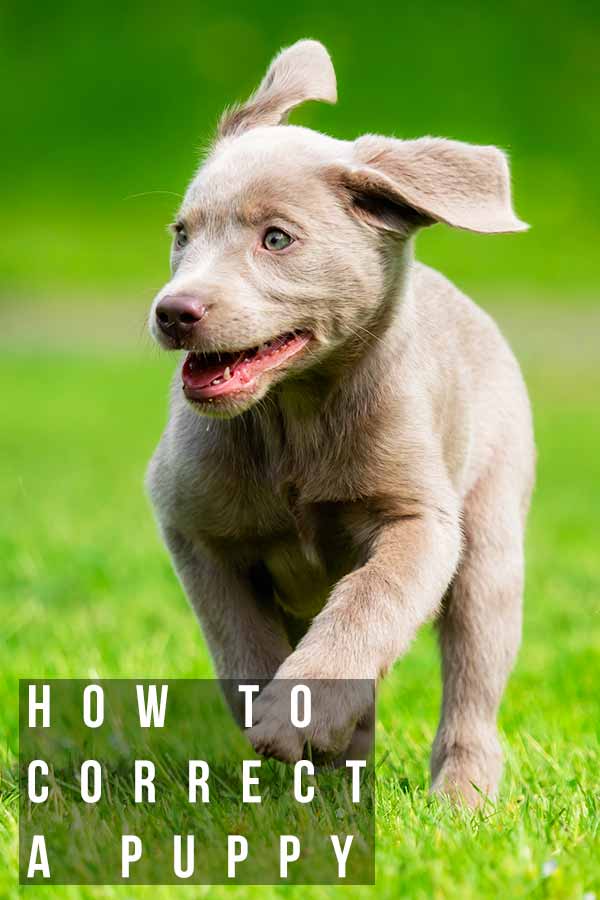 Make dog food easy to grab
Training with food is VERY effective. Don't be shy of it.
But rewarding your dog needs to be easy and quick, or people soon stop bothering.
Keep puppy food in your pocket, on the kitchen table, and meaty treats in the refrigerator.
Focus on ways to say YES to your dog and follow that up with food. You'll find it's actually fun.
If you need support with training your puppy – checkout our Puppy Parenting Course
Engage with your dog
If you leave your dog to do his own thing, it might not be the thing you desire.
Modern dog training is about engaging with your dog and taking an active role in his life, rather than having him tag along for the journey.
Yes, sometimes it is more effort. But it is always worth it, it gets better results, and it's a much nice experience for you both.
Have fun with your puppy!
'How To Correct A Puppy' was written by Pippa Mattinson, best selling author of Total Recall and The Happy Puppy Handbook, and the founder of the Dogsnet Training Program
Get Pippa's free dog training tips delivered to your inbox