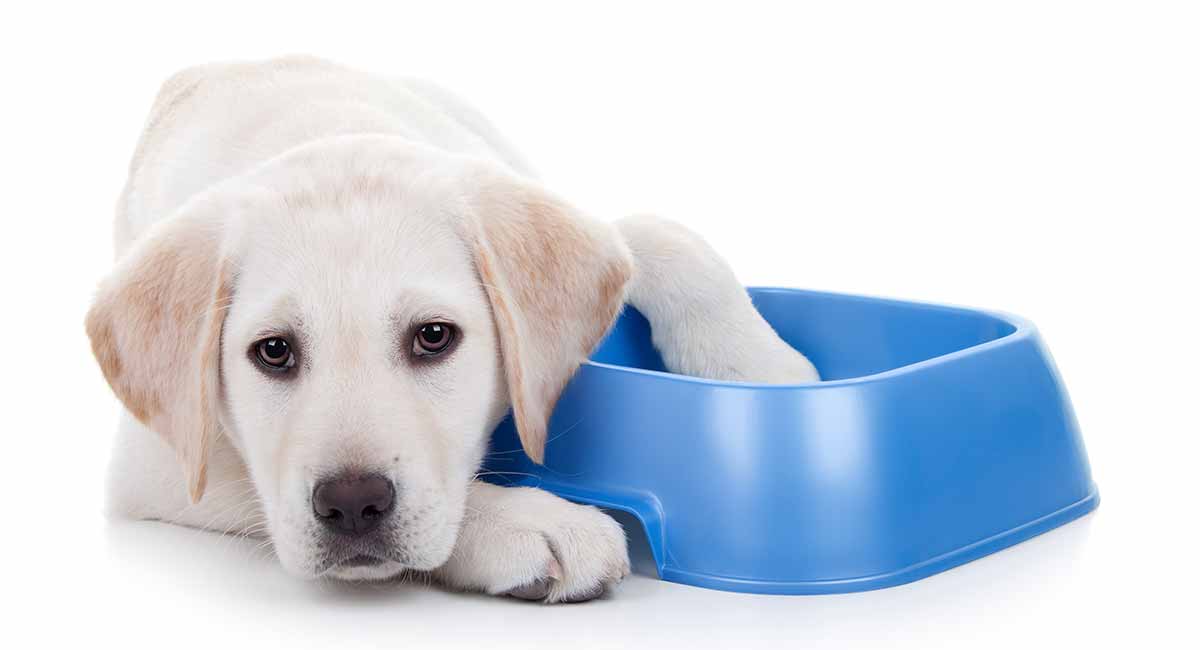 Most dogs should eat one to three meals a day.
But deciding whether one, two, or three meals is right for your dog depends upon their age, size, and shape, and individual needs.
Choosing the right schedule is important, and there is a lot of research to help you.
How Often Should I Feed My Dog?
Are you wondering how often to feed a dog each day?
Not only is it important what to feed your pooch, but the feeding schedule can make a big difference for your dog's well-being, too.
We will have a look at what the science says and what the pros and cons of different feeding schedules are.
Let's find out how often you should feed your dog!
Possible Feeding Schedules for Dogs
Most people feed their dogs once or twice a day.
Too Few
Any less than once a day is not recommended.
If your dog is fasted for more than one day, he or she will start tapping into the body's protein resources.
Too Many
More than three times a day seems unnecessary, and there's no evidence to support that it would bring any benefits.
You see, dogs still have some physiological similarities with the wolves they descended from.
Contrary to wild cats, wolves do not catch multiple smaller prey throughout the day.
Instead, they generally gorge on large prey and then go prolonged periods without eating.
Therefore, feeding your dog more than three times a day is probably not necessary.
So if less than once and more than three times a day is ruled out, let's have a look at the numbers in between.
Should you feed your dog once or twice (or even three times) a day?
How many times a day should a dog eat?
How Often Do You Feed a Dog – The Factors
A lot of different factors go into how often you should feed your dog.
The type of food is relevant, especially when talking about bloat, as we will see later.
Also important is your dog's appetite and temperament, as well as the breed.
Small breeds and toy breeds do well with multiple feedings, as they can easily get hypoglycemic (low blood sugar) if fasted for too long.
Large dogs could do well with only one meal per day – but should they?
Of course, it's very handy to feed a dog once daily.
But there are some drawbacks.
The cons of feeding your dog one large meal per day are:
the danger of bloat
hunger in dogs with hearty appetites
higher acidity levels in the stomach.
Let's have a look at all three in detail.
The Danger of Bloat
Bloat is a life-threatening condition that's also called GDV (gastric dilatation and volvulus).
When asking the question, how many times a day should a dog eat, bloat is an important consideration.
It occurs when your dog's stomach dilates rapidly – due to food and gas production – and in some cases starts to rotate within the abdomen.
We're still not quite sure what causes bloat, but one of the biggest risk factors for bloat is feeding your dog one large meal a day.
This correlation has been shown for kibble, but not for raw feeding.
So if you feed your dog raw, one meal a day should be all right.
However, if your dog's breed is at high risk of developing bloat, we recommend feeding two meals a day to be on the safe side.
Dogs with the highest risk of experiencing bloat are large and deep-chested breeds, for example, Great Danes, German Shepherds, and Greyhounds.
This list isn't exhaustive – ask your vet if you're not sure whether your dog is at risk.
Of Hunger and Satiety
Do you have the kind of dog that wolfs down his food within seconds and starts begging for more before he's even done?
(I'm looking at you, Labradors.)
So how often should you feed a dog that's constantly hungry?
Obviously, your dog will stop feeling full a couple of hours after his last meal.
If you distribute your dog's daily portion into multiple feedings throughout the day, you can make the most of each feeding.
Satiety is a key point when discussing how many times a day a dog should eat.
If you've got a hungry one, experiment with two or three feedings daily.
Stomach Acidity
In fasted dogs, the pH in the stomach is lower – which means that the acidity is higher.
High acidity can cause some dogs to vomit between meals.
Anecdotally, we see this more often in small breeds.
If your dog is throwing up occasionally, try two to three meals daily and see if it helps.
A Word on Free Feeding for Dogs
By this point, you're probably thinking of skipping the question, how many times a day should a dog eat, altogether and opting for free feeding.
Free feeding means leaving your dog's bowl out – and filled – at any time.
Free feeding has its own disadvantages.
Dogs with insatiable appetites are more likely to overfeed, which contributes to obesity.
On the other hand, pet parents of picky eaters sometimes report that they eat even less, because the food is constantly under their noses and loses its appeal.
Okay, So – How Many Times a Day Should a Dog Eat?
Let's sum up the science on how many times to feed a dog.
We would recommend feeding your dog two meals per day.
There are several drawbacks to feeding your dog only once a day.
However, if you would prefer only feeding once daily, you can try and see how your dog feels on this feeding schedule.
A word of caution – We would advise against one meal a day if your dog is:
a breed at high risk of bloat
a small breed or toy breed
constantly hungry
vomiting between meals.
If you feel like your dog would benefit from three meals per day, that's certainly worth a try.
It might help your dog feel full between meals.
Either way, it's important to stick to your chosen schedule and keep mealtimes regular.
How Many Times a Day Should a Dog Eat – Puppies
Growing puppies have different needs than adult dogs.
They cannot go as long without food.
When considering how many times a day a dog should eat, if your pooch is still growing, opt for at least two meals.
Here's a quick cheat sheet on how many times a day to feed a puppy:
2–4 months of age: 4 meals daily
4–6 months of age: 3 meals daily
above 6 months of age: 2–3 meals daily.
Conclusion
I trust we've answered the question, "How many times a day should a dog eat?"
If you have any tips or questions, don't hesitate to leave us a comment.
We love to hear from you!
Resources
MSD Veterinary Manual – Feeding Practices in Small Animals
Sagawa, K., et. al., Fed and fasted gastric pH and gastric residence time in conscious beagle dogs. Journal of Pharmaceutical Sciences, 2009.
Brady, L.J., et. al., Influence of Prolonged Fasting in the Dog on Glucose Turnover and Blood Metabolites. The Journal of Nutrition, 1977.
Brambillasca, S., et. al., Digestibility, fecal characteristics, and plasma glucose and urea in dogs fed a commercial food once or three times daily. The Canadian Veterinary Journal, 2010.
Romsos, D.R., et. al., Influence of Meal Frequency on Body Weight, Plasma Metabolites, and Glucose and Cholesterol Metabolism in the Dog. The Journal of Nutrition, 1978.
Glickman, L.T., et. al., Multiple risk factors for the gastric dilatation-volvulus syndrome in dogs: a practitioner/owner case-control study. Journal of the American Animal Hospital Association, 1997.
Raghaven, M., et. al., Diet related risk factors for gastric dilatation/volvulus in dogs of high risk breeds. Journal of the American Animal Hospital Association, 2004.
American Kennel Club: Bloat in Dogs
Mech, L.D., 'The Wolf: The Ecology and Behavior of an Endangered Species'. University of Minnesota Press, 1981.
Get Pippa's free dog training tips delivered to your inbox