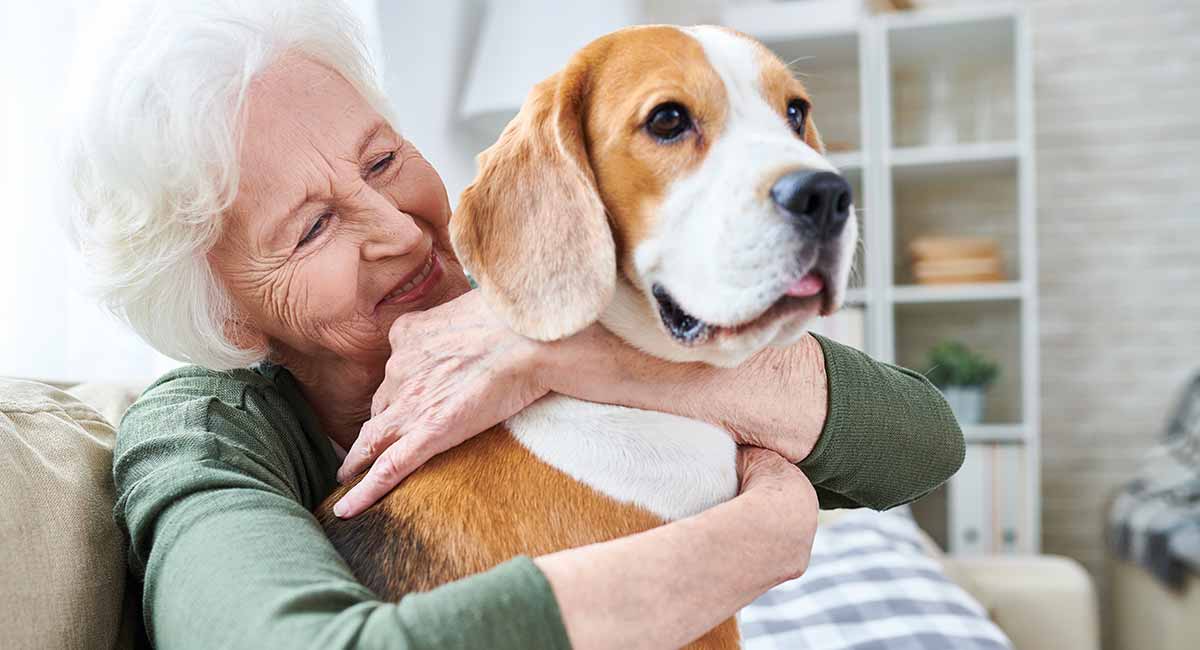 How long can a dog live with hip dysplasia?
Canine hip dysplasia is a common hip problem in dogs. Unfortunately, there is no way to know just how long a dog with hip dysplasia will live. Especially with the different breed lifespans out there.
But, steps like early detection, treatment, and management can make a huge difference.
Here, we'll look at how hip dysplasia can impact a dog's lifespan and quality of life.
We'll also discuss the need for health testing.
Do you think your puppy has hip dysplasia? How long can a dog live with hip dysplasia?
Let's learn more.
What Is Canine Hip Dysplasia?
Canine hip dysplasia is one of the most common orthopedic problems in dogs.
It's when your dog has a malformed ball and socket joint. This means the bones don't fit properly.
The joint grinds rather than slides smoothly when the dog moves. It can lead to lameness and painful arthritis.
Hip dysplasia is a genetic condition often affected by environmental factors and diet.
When Can It be Detected?
All puppies are born with normal hips. They have no signs of the disease.
But, it starts to develop in the first few weeks of life as the pup grows.
Biomechanical changes caused by joint laxity or malformation of the hip bone socket can show in puppies.
This can be as young as 2 months old.
Breeds Prone to Hip Dysplasia
Many dogs are prone to hip dysplasia.
But, it is most common in medium, large and giant breeds.
Bigger dogs put more strain on their joints. They often go through a period of fast growth when they're puppies.
Plus, larger dog breeds often have shorter life spans than smaller pups.
Dogs who are spayed or neutered at a young age are at an higher risk of suffering from symptoms of hip dysplasia.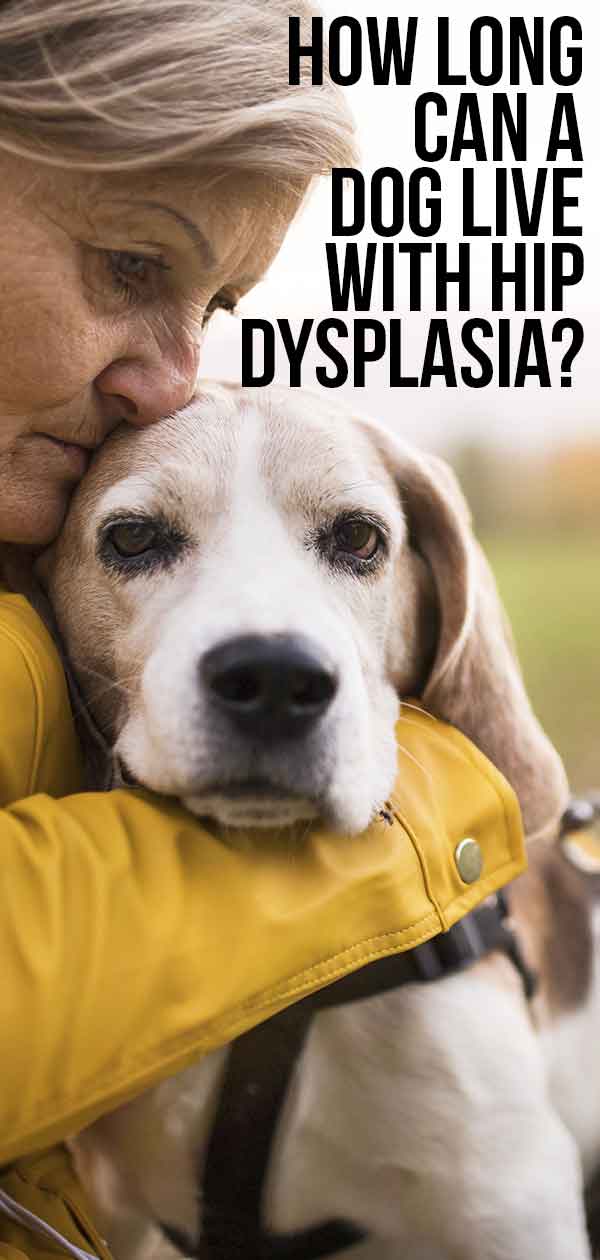 Large Breeds to Be Aware of Hip Dysplasia
Here are some large breeds who are affected by hip dysplasia and their average life spans:
Bernese Mountain dog: 7 to 10 years
German Shepherd: 7 to 10 years
Golden Retriever: 10 to 12 years
Great Dane: 7 to 10 years
Labrador Retriever: 10 to 12 years
Newfoundland: 9 to 10 years
Rottweiler: 9 to 10 years
As you can see, these dogs are already quite short-lived.
But does this disease shorten their life even more?
And how long can a dog live with hip dysplasia?
How Long Do Dogs with Hip Dysplasia Live?
There's no way to gauge exactly how long a dog with hip dysplasia can live.
Like most diseases, early diagnosis, treatment and management make a big difference.
In fact, dogs diagnosed and treated in the early stages are often able to live normal, happy lives.
This is why it's important for your vet to diagnose your puppy early. If you think he's got hip dysplasia, consult your vet right away.
Many dogs with mild forms of canine hip dysplasia show no obvious signs until they're much older. If at all.
Dealing with Dogs Suffering from Hip Dysplasia
But, severe conditions can be so debilitating that the dog can't get around without being in extreme pain.
Sometimes when a dog's life is so badly impacted by the disease, euthanasia stops suffering.
It is also the most humane solution.
This study found that dogs with moderate or severe hip dysplasia had a higher risk of vet care.
Mortality is also higher compared to dogs assessed as free or mild.
This Danish study of 2928 dogs attributed 4.6 percent of deaths to hip dysplasia.
Hip Dysplasia Long-Term Effects
If left untreated, hip dysplasia can lead to cartilage lesions and partial or complete tearing of the ligament.
Dogs with affected joints usually develop degrees of:
inflammation
cartilage damage
osteophytes
subchondral bone sclerosis.
Hip dysplasia also leads to osteoarthritis. This can also cause extreme pain and difficulty walking.
How Hip Dysplasia Impacts a Dog's Life
How long can a dog live with hip dysplasia?
In most cases, hip dysplasia doesn't shorten a dog's life span. But, it affects their quality of life.
If your dog has hip dysplasia, treatment depends on how badly the joint is damaged.
Caught early, mild hip dysplasia requires managing your dog's diet and exercise.
Overeating and lack of exercise can lead to obesity. Extra weight puts more strain on joints.
On the other hand, too much exercise can also put excess pressure on their joints.
This study found that a lifetime diet restriction postponed the onset.
It also decreased the severity of hip joint osteoarthritis for a positive impact on both the length and quality of life.
Hip Dysplasia Treatment
If your dog's hip dysplasia is more severe, medication may be required.
Anti-inflammatories manage the pain and reduce swelling.
These non-steroidal, anti-inflammatory drugs are also referred to as NSAIDS.
Surgery for dogs with hip dysplasia is fairly common.
There are a number of options. They depend on the dog's age and severity of the disease.
Hip Dysplasia Surgery Options
Juvenile public symphysiodesis (JPS) can only happen on puppies under 6 months old who are mildly to moderately affected.
It's a minimally invasive procedure that can improve joint conformance.
This procedure also reduces laxity and prevents progression of degenerative joint disease in the hips.
Other Surgeries
Triple pelvic osteotomy (TPO) is a procedure for puppies stopping or reducing the development of osteoarthritis.
It involves cutting the bone so the joint socket can rotate over the ball.
The bones are secured with a plate and screws.
For older dogs with severe hip dysplasia and arthritis, a total hip replacement is the only way.
If the hip joint is unsalvagable, a prosthetic hip designed for the dog fits his joint.
While this procedure is costly and complications may vary, the success rate is over 90 percent.
The Importance of Health Testing When Finding a Puppy
All purebred and mixed breed dogs are prone to health conditions that affect their parents.
But, hip dysplasia affects many breeds, especially large ones.
One of the best ways to prevent hip dysplasia is to choose a puppy whose parents are health tested.
Using X-rays, experts can rate the quality of a dog's joints with a numerical score.
Zero is the highest and is equivalent to a score of excellent.
You may want a breed prone to hip dysplasia. But only buy from a breeder who proves both parents have excellent hip scores.
Hip dysplasia is not only genetic. So it's important to monitor your puppy's diet and exercise.
Can a Dog Live with Hip Dysplasia?
How long can a dog live with hip dysplasia?
We know many dogs lead happy lives with hip dysplasia.
But, their quality of life is impacted by this chronic disease.
If you think your puppy is affected, take him to your vet as soon as possible.
Symptoms of Hip Dysplasia
Here are the symptoms to be aware of:
Limping
Hind leg lameness
Lack of coordination
Stiffness
Joint looseness or laxity
Abnormal or swaying gait
Audible "click" sound when walking
Bunny hopping
Reluctance to run, jump or climb stairs
Decreased activity
Exercise intolerance
Difficulty standing up
Trouble laying down
Difficulty squatting to pee or poop
Loss of thigh muscle mass
Pain in hip joints
Back legs too close together
Summary: How Long Can a Dog Live with Hip Dysplasia?
If you're buying a large breed puppy, there's a good chance he'll be prone to hip dysplasia.
But, even some small breeds like the French Bulldog and the Pug may need a hip evaluation.
You may want a breed who's prone to hip dysplasia. But only buy from breeders who prove the parents have low hip scores.
Managing weight and exercise is also crucial.
If your puppy has any symptoms, get your vet to check them straight away.
How long do dogs live with hip dysplasia?
With fast detection and good care, they can live a long time.
References and Further Reading:
Adams, W.M., et al., 1998, "Early Detection of Canine Hip Dysplasia: Comparison of Two Palpation and Five Radiographic Methods," Journal of the American Animal Hospital Association
Beuchat, C., 2015, "The 10 Most Important Things to Know About Canine Hip Dysplasia," The Institute of Canine Biology
Dennis, R., "Interpretation and Use of BVA/KC Hip Scores in Dogs," BMJ Journals
Galis, F., et al., 2007, "Do Large Dogs Die Young?" Journal of Experimental Zoology Part B Molecular and Developmental Evolution
Holsworth, I.G., et al., 2005, "Comparison of Arthroscopic and Radiographic Abnormalities in the Hip Joints of Juvenile Dogs with Hip Dysplasia," Journal of the American Veterinary Medical Association
Kapatkin, A.S., et al., 2002, "Canine Hip Dysplasia: The Disease and Its Diagnosis," University of Pennsylvania
Linn, K.A., 2017, "Juvenile Pubic Symphysiodesis," Veterinary Clinical North American Small Animal Practice
Malm, S., et al., 2010, "Association Between Radiographic Assessment of Hip Status and Subsequent Incidence of Veterinary Care and Mortality Related to Hip Dysplasia in Insured Swedish Dogs," Preventive Veterinary Medicine
McLaughlin Jr., R.M., et al., 1991, "Force Plate Analysis of Triple Pelvic Osteotomy for the Treatment of Canine Hip Dysplasia," Veterinary Surgery
Montgomery, R.D., et al., 1992, "Total Hip Arthroplasty for Treatment of Canine Hip Dysplasia," The Veterinary Clinics of North America: Small Animal Practice
Proschowsky, H.F., et al., 2003, "Mortality of Purebred and Mixed-Breed Dogs in Denmark," Preventive Veterinary Medicine
Schachner, E.R. and Lopez, M.J., 2015, "Diagnosis, Prevention, and Management of Canine Hip Dysplasia: A Review," Veterinary Medicine & Science in Auckland
Smith, G.K., et al., 2006, "Lifelong Diet Restriction and Radiographic Evidence of Osteoarthritis of the Hip Joint in Dogs," Journal of the American Veterinary Medical Association
Spain, C.V., et al., 2004, "Long-Term Risks and Benefits of Early-Age Gonadectomy in Dogs," Journal of the American Veterinary Medical Association
Wilson, B.J., et al., 2013, "Genetic Correlations among Canine Hip Dysplasia Radiographic Traits in a Cohort of Australian German Shepherd Dogs, and Implications for the Design of a More Effective Genetic Control Program,"  PLOS One
Get Pippa's free dog training tips delivered to your inbox