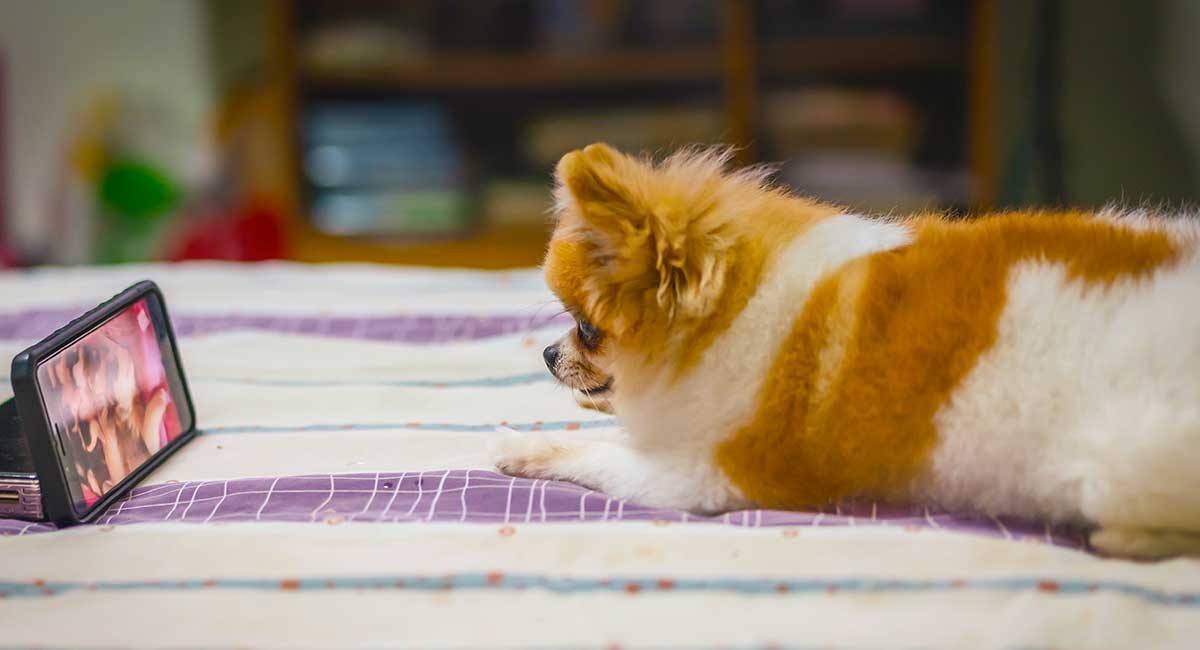 How do dogs see color on tv, and what does it mean?
Studies have shown that dog color perception is more complex than we originally thought. This recent study suggests dogs might see the world the same way a red/green colorblind person does. But brightness levels can also affect a dog's ability to distinguish between colors.
Plus, not every dog sees colors exactly the same way. There is variation between individual pups, just as there is in humans!
So let's look at this study into how dogs see color on tv in more detail!
Does It Matter?
Did you ever wonder what your dog sees when he's staring at a TV screen? How do dogs see color on TV, anyway?
We love our dogs, and we want them to be happy. Giving them the best life possible involves trying to put yourself in their place so that their lives are stimulating and sweet.
Scientists feel the same way! Perhaps that's why some Australian researchers decided to look at how the brightness of on-screen visuals affect how dogs see color.
The findings of a study like this one can tell us how dogs think. Just how do dogs take in information, and how do they process it?
Why Choose to Study This?
With TV and device screens being such a big part of our lives, their effect on dogs seems like a great topic to research!
I don't know about you, but I've often wished to see life through the eyes of a dog, and to understand the way their minds work.
This study gets us a step closer to finding out.
Interested? Let's check out this new research.
Furthering the Research on Dog Color Perception
Scientists have long studied how dogs think by looking at the way they perceive the world.
But there hasn't been a lot of work comparing the way humans think versus the way dogs think.
Instead, we assume dogs think like us. But do they really?
That's hard to know because it's difficult to study.
So How Can We Learn?
But what we can do is try to figure out how dogs experience the world, knowing that this probably affects how they react to it.
Scientists have long believed that dogs probably see colors the same way that red/green color-blind people do.
That's because of the cone photoreceptors in a dog's retina. They are composed the same way as the photoreceptors of humans who can't distinguish red and green.
Humans have three types of cone photoreceptor cells of different wavelengths – red (long-wave), green (medium wave), and blue (short-wave). Dogs only have two, which correspond to our short-wave and long-wave cells but have a slightly different range.
We have assumed, therefore, that green, red, and yellow colors that are closer to the middle of the spectrum are harder for dogs to see.
Were We Correct?
However, some assessments show that dogs may be able to tell the difference between red and green after all! Certain studies conclude that many dogs can see red, green, blue, and yellow across different brightness levels.
What this tells us is that dog color perception is basically more complicated than we realize, and that color is probably a more fundamental feature of a dog's perception than we previously thought.
So, the Australian scientists in this study wanted to find out more.
After all, if we are going to learn how our canine pals react to the environment around them, we need to understand exactly how they see it.
Today, dogs probably get more stimuli from computer screens, just like we do. What do they see when we show them our phones?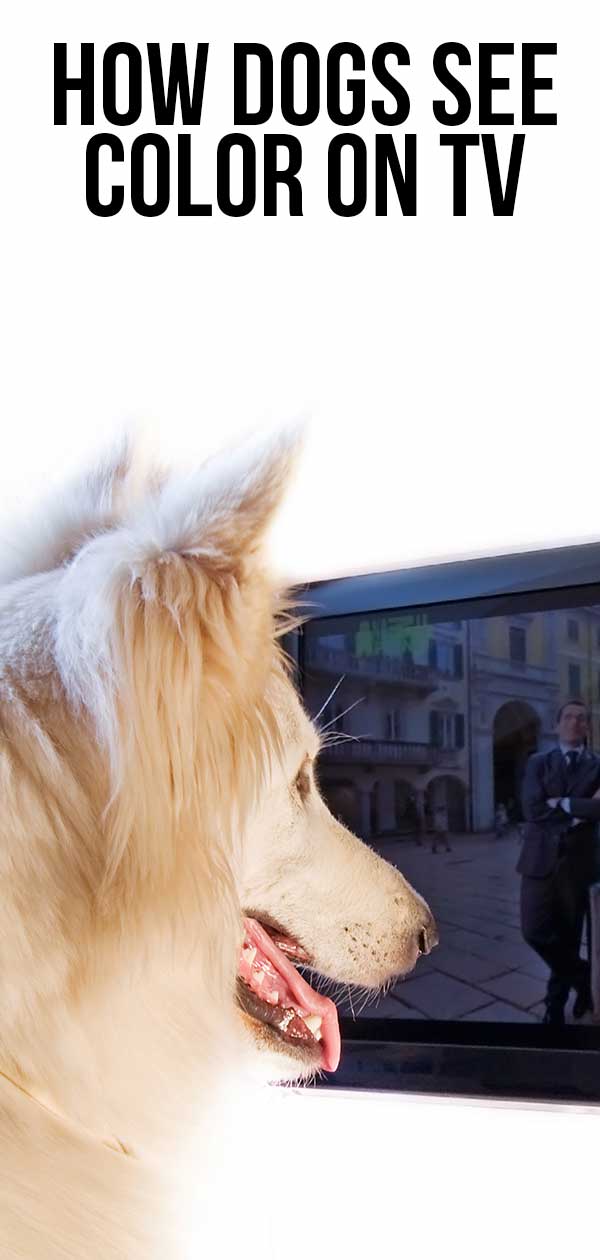 How Scientists Research Dog Color Perception
To study how do dogs see color on TV, the scientists got eight companion dogs of the same breed. In this case, Lagotto Romagnolos – from one owner.
They showed pictures to the dogs using PowerPoint slides and recorded the data. The humans were out of view.
Dogs could select one of the pictures by touching the image with their noses. If the dogs chose correctly, they would receive a treat through a remotely-controlled treat dispenser under the computer monitor.
Dogs also received treats randomly for being in the starting position for the next test. This means they were rewarded just for participating.
They were also made to understand with what was going to happen in familiarization sessions beforehand. These test trials also helped the researchers assess how good the dogs were at discriminating between sizes and colors generally.
Running the Tests
The researchers ran several experiments. In the first one, they set colors and luminance (the brightness of an object) to maximum focal values.
The dogs turned out to be very good at discriminating between two circles on a colored background, when one was black and one was colored.
In the next three experiments, the researchers changed the brightness levels of the color so that the RGB values and luminance intensities were different.
The dogs were shown the same stimuli as before, but each colored circle was shown on a contrasting color background.
This included red on green, green on red, blue on yellow, and yellow on blue. To start, they also used black on white as control trials.
Other Control Tests
Another control test was conducted to make sure dogs weren't just choosing the side opposite the black.
The researchers explored different analyses based on what they saw in the experiments.
Scientists use certain tests to make sure their conditions are met and that their experimental and control differences are significant. So once data is gathered, they utilize these to make sure they're not overlooking important data.
What the Results Showed
In order to study how do dogs see color on TV, the scientists showed dogs four colors – yellow, blue, green, and red – at different brightness levels and intensities.
What they found was that difference in luminance levels can affect a dog's color discrimination ability.
At maximum levels, in fact, dogs can distinguish between yellow and blue, black and white, and red and green with no problem.
At different levels, though, they fail to distinguish red on green or blue on yellow.
Changes in Light Levels
When the pictures were dimly lit, all the dogs did equally well on all the color combinations. Dogs have scotopic vision, which means their visual system functions better in dim light.
As the intensity increased, certain color contrasts became more difficult for the dogs, like red on green.
The scientists were surprised that the dogs had trouble with blue on yellow, since dogs do have short-wave cones that should allow them to see the contrast.
They theorize that color saturation caused by physical luminance makes color look more white, and dogs can't see as well when this happens.
Of course, the results varied between individuals. One dog's poor performance discriminating blue on yellow brought the average for the whole group down!
What Do The Results Tell us?
Our vision is different from that on dogs, so we should be careful drawing parallels. But the research does confirm a few things for us.
For one, it shows that many dogs may see the world the same way a red/green colorblind human does.
For another, it shows that vision may vary based on individuals. Some dogs may be able to see red and green, and others can't!
It also shows that the brightness level of computer screens and TV monitors do affect the ways that dogs see. This should be taken into account during dog cognition studies.
Right now, scientists have tools that interpret dog vision for humans. These "dog-vision" replications can and should be reevaluated to create more accuracy for further studies.
What's Next In Studying How Dogs See Color on TV?
It's always important to note, when look at scientific research, what limitations a study might have.
In this particular one, the population studied is quite small and homogenous. They are dogs of all the same breed, living together.
In reality, many dog breeds as well as individual dogs may have differences in their eyes based on the composition of their retinas.
So using a different sample, or a larger one, would probably yield different results. Would they be more accurate? Maybe – maybe not.
What This Means
The takeaway here is that more studies should be done on how do dogs see color on TV before we can come to any big conclusions. The more information we have, the better!
The authors of the research note that it might be better to look at the interaction between color, physical isoluminance (when two colors have the same physical luminance), and the brightness of the colors.
Putting these together, instead of viewing them all and testing them all as separate factors, might lead to more accurate insights about a dog's perception of the world.
Other Great Reads
If you've found this article really interesting, we've got some other great reads for you!
Check out some of the links below to find out even more interesting stuff about our favorite canine pals!
How Do Dogs See Color on TV? – A Summary
Basically, this new study tells us that dog vision is more complicated than we realize!
And what colors they see on a screen may be dependent on how bright it is. They see better in dimmer light. They see more colors then, too.
But we still have a long way to go before we feel confident that we understand the ways dog perceive colors.
Thus, as we study how dogs think and see, we need to take intensity levels of luminance and brightness into effect because they will have an impact on the results.
Now we've learnt more about how do dogs see color on TV, do you have a sneaking suspicion your pooch can see in color? Let us know in the comments!
References and Further Reading
Byosiere S-Elizabeth, Chouinard P. A., Howell T. J., Bennett P. C. (2019). The effects of physical luminance on colour discrimination in dogs: A cautionary tale. Applied Animal Behaviour Science.
Get Pippa's free dog training tips delivered to your inbox