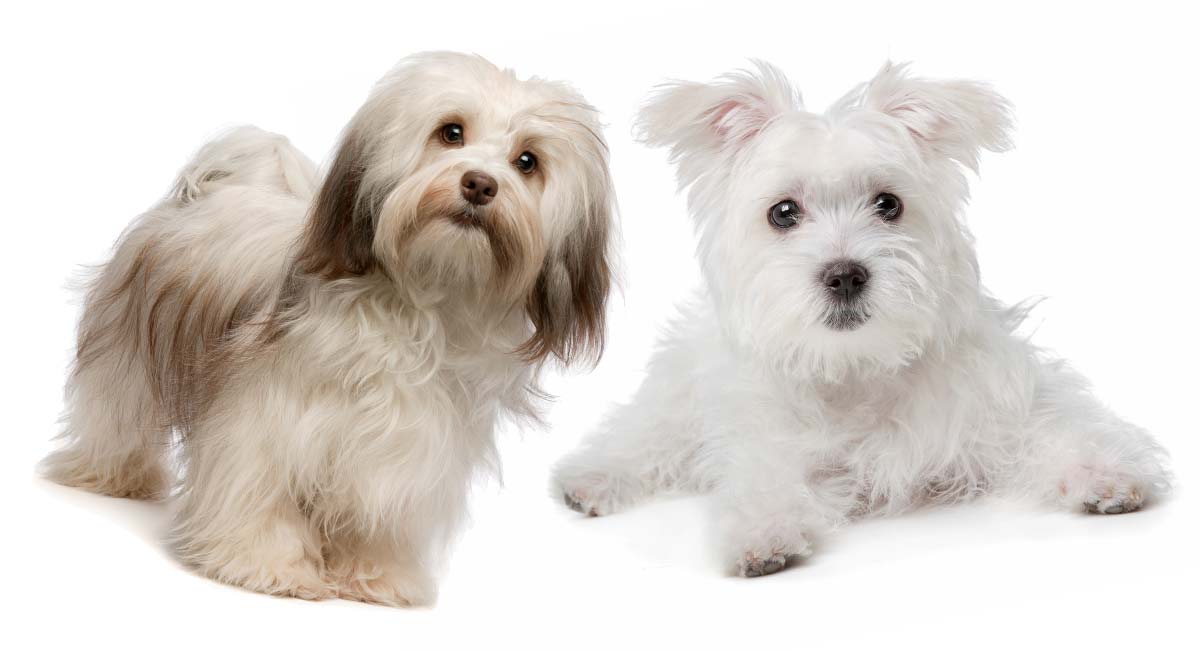 Havanese vs Maltese: Although these two toy breeds can seem similar, there are a few key differences.
These breeds both descend from the ancient Bichon family of dogs, and are popular choices for lapdogs. However, there are some small differences in histories, appearance, and even health.
Both of these dogs make absolutely adorable companions.
Although they share plenty of traits, the Havanese and the Maltese are two distinctive breeds.
So looking more closely at each dog in terms of temperament, health, exercise, and training can help you come to a decision.
First let's look at where they come from.
Havanese vs Maltese History
It's no coincidence that the Havanese and the Maltese look similar.
That's because both breeds are part of the ancient Bichon family of little white dogs.
These lively lapdogs were born to be the devoted and doted upon companions of royals and aristocrats, while larger breeds worked.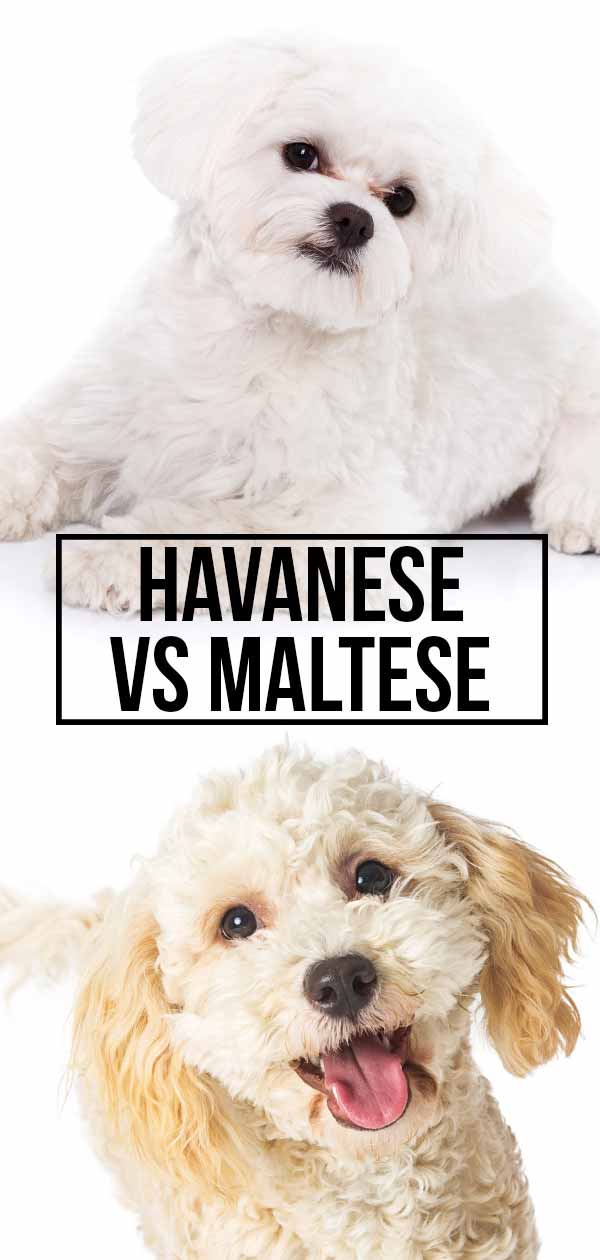 Havanese History
Named for the capital city of Havana, the Havanese is the national dog of Cuba.
It's debatable whether it was Italian or Spanish colonizers who brought the breed's ancestors to the island nation.
But for about 300 years they were refined, and possibly mixed with the Poodle, to create the Havanese we know today.
Maltese History
The history of the Maltese extends back thousands of years, so it's hard to pinpoint their exact origins.
Their name comes from the island of Malta in the Mediterranean Sea which was a thriving seaport as far back as 3500 B.C.
It seems likely that trading spread the Maltese to other parts of the world.
Images of a similar dog were depicted on Greek ceramics and Egyptian hieroglyphics.
They were the favored companions of fashionable ladies throughout the Roman Empire.
After the fall of Rome, Chinese breeders perfected the breed before exporting them back to Europe.
At New York's first Westminster show, in 1877, they were exhibited as the Maltese Lion Dog.
Havanese vs Maltese Appearance
From a distance, these two breeds can appear really similar. Well, even from up close!
However, there are some small differences that can help you distinguish between the two.
Let's take a look.
Havanese Appearance
The small but sturdy Havanese stands 8.5 to 11.5 inches and weighs from 7 to 13 pounds.
Their gorgeous silky coat comes in a wide variety of colors and can flow to floor length.
Big, brown eyes and a broad, black nose peek out from all of that facial hair.
A plumed tail curls over a back that is slightly longer than they are tall.
Maltese Appearance
Maltese are even smaller, standing 7 to 9 inches and weighing under 7 pounds.
Their long, straight, silky white coat also grows to floor length.
Bright, black button eyes and a gumdrop nose are irresistible.
Shedding
Despite their excessive coats, neither of these breeds shed very much, which can reduce allergens.
However, if you're an allergy sufferer, your best bet is to spend time with a dog before bringing them home.
Havanese vs Maltese Temperament
In many ways these dogs are very alike.
Spirited, affectionate, cheerful, playful, and intelligent are words used to describe both breeds.
Havanese and Maltese make wonderful family pets and terrific companions.
However, they are best suited to a home that doesn't have small children.
Little dogs can be seriously hurt if mishandled or dropped by accident.
Best Homes for Both Breeds
These breeds are happiest when they get to spend lots of time with those they love and hate to be left alone.
For this reason they're ideally suited to seniors or adults who are able to devote plenty of time to them.
If they're left alone for long periods, behavior problems can arise.
Havanese vs Maltese Training
Both of these dogs are very intelligent and eager to please their humans—traits which come in handy during training.
However, it's important to use only positive training methods.
The Havanese in particular can be quite sensitive to harsh words.
Consistency, praise, encouragement, and rewards will get you results.
Maltese can be a little more stubborn, but will also respond best to positive training methods.
These smart little dogs often do well in dog sports and excel at learning tricks which they'll love to show off.
Training Problems
It's not uncommon for toy breeds to be more difficult to potty than larger dogs.
Small puppies will have very tiny bladders and little control over them.
Try to be proactive with plenty of trips outside.
Socialization
Early socialization is important even for small dogs, so that they don't become fearful of, or snappy with, strangers and other dogs.
Calmly expose them to a wide variety of people, places, and situations so that it's a positive and non-threatening experience for them.
Make sure to supervise small dogs like the Havanese and Maltese around larger breeds.
Many big dogs have an instinct to hunt and little dogs appear as prey.
Havanese vs Maltese Exercise
For many people, part of the appeal of a small dog is the fact that they require less exercise.
While it's true that neither a Havanese, nor a Maltese will need anywhere near the amount of daily activity that a Labrador Retriever does, they still have moderate exercise requirements.
This means daily walks, playtime in an enclosed yard, or romping around indoors with their favorite human.
Havanese should never be over-exercised.
If they're panting or struggling to keep up during a walk, it's time to pick them up and take them home.
Havanese vs Maltese Health
Like most small dogs, the Havanese and the Maltese are generally healthy overall.
However, there are several inherited health issues that affect these breeds.
Both are prone to liver shunts which occur when there's an abnormal connection between the vascular and circulation systems.
Havanese Health
Havanese are at risk for skeletal defects, particularly osteochondrodysplasia (OCD).
This genetic disorder causes slowed bone and cartilage growth and development.
A 2004 study by the Havanese Club of America (HCA) found bowed or shortened forelegs affected 44% of the breed population.
Other Problems
Havanese are also prone to:
Legg Calves Perthes, a hip joint disorder, and
Patella luxation or slipped kneecap.
This decades-long North American study found a prevalence of cataracts in the breed.
Deafness and heart murmurs are other health conditions to be aware of.
Havanese have an average lifespan of 14 to 16 years.
Maltese Health
The size of these dogs puts them at risk for tracheal collapse.
This progressive condition usually affects smaller breeds and makes it difficult for the dog to breathe.
Using a harness instead of a collar and leash will reduce the chance of tugging on their delicate trachea.
White Shaker Dog Syndrome
Maltese have been known to develop white shaker dog syndrome.
Environmental conditions are believed to trigger this autoimmune reaction that causes full body tremors.
Heart Problems
Heart murmurs affect the Maltese as well.
Breeders should also test for heart abnormalities such as patent ductus arteriosus (PDA), and encephalitis.
Maltese have an average lifespan of 12 to 15 years.
Havanese vs Maltese Grooming
It should come as no surprise that bringing a dog with long, lustrous hair into your life requires a commitment to regular grooming.
Many owners of these pets opt to have their dog's coat clipped to reduce grooming time.
If you want to keep their hair long, you may want to consider a professional groomer.
However, these dogs will still require daily brushing to avoid mats and tangles.
You can do this by gently running a brush over the dog while he sits in your lap.
Get them accustomed to being brushed right away and make it a positive experience by offering plenty of praise and a treat.
Other General Care
The corners of the eyes should also be gently cleaned daily to prevent tear-staining.
Ear checks should be done weekly to gently remove excess wax or other debris.
The Maltese may require more regular bathing and coat conditioning to keep their hair clean and flowing.
Due to their small size, the Havanese and Maltese may also be prone to dental problems.
Frequent teeth brushing is recommended.
Havanese vs Maltese Feeding
Either of these breeds would do well with a high-quality, age-appropriate dog food.
Both the Havanese and the Maltese have a tendency to become overweight.
Obesity is now the most prevalent pet disease in the world.
It can lead to numerous other conditions, including diabetes, heart disease, and osteoarthritis.
Toy dogs tend to get extra coddling and less exercise than larger ones.
They also have those beyond adorable faces that can coerce you into treats for no reason at all.
Although treats can be an important aid in training, giving too many can lead to an overweight pup.
If you suspect your dog has a weight problem, check with your veterinarian.
Similar Breeds
We've looked at two small but mighty dogs in this breed comparison.
But perhaps you're looking for something slightly different!
Check out some other similar breeds to these two below.
Other Breed Comparisons
Perhaps you still aren't sure which is the best pet for you.
If so, we have lots of other breed vs breed comparisons that you might want to check out!
Which Breed Makes a Better Pet?
Choosing between two such similar and charming pets can be difficult.
Either the Havanese or the Maltese is well-suited for apartment living, seniors, families with older kids, or adults who have plenty of time to spend with these companion breeds.
This choice really comes down to personal preference.
If you want a very small dog, then the Maltese may suit you better, but they may require more grooming.
Havanese or Maltese, there's no right answer, and when it comes to two these loveable breeds, you really can't go wrong.
What are your thoughts on these two breeds? Let us know below!
References and Resources
Get Pippa's free dog training tips delivered to your inbox