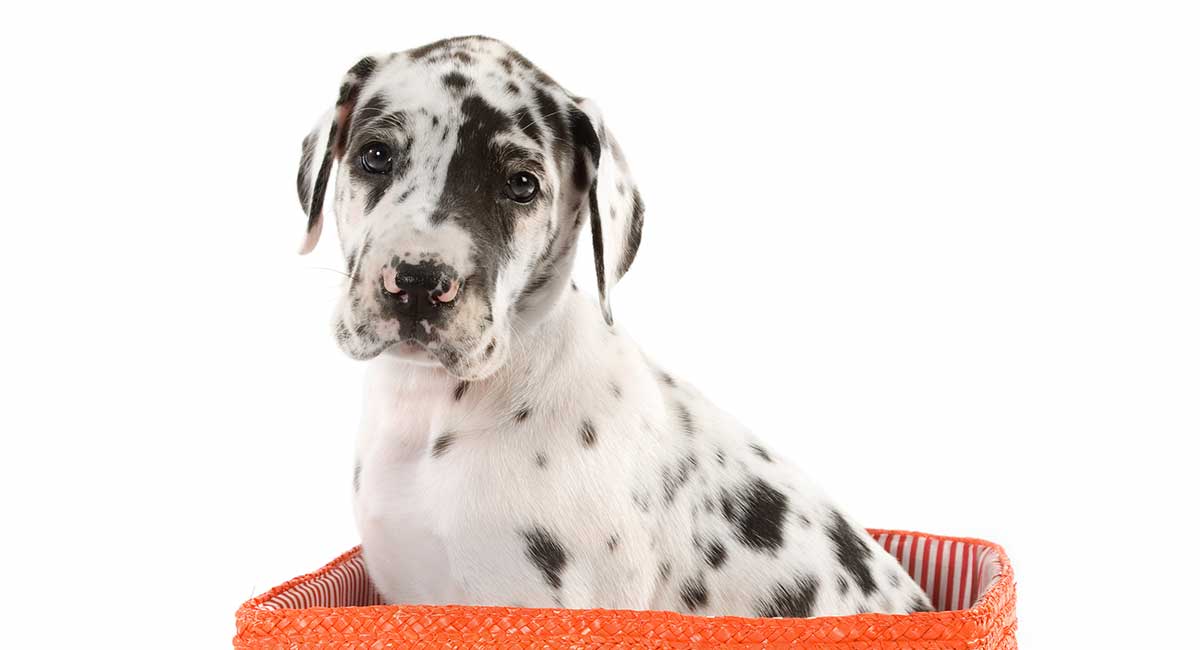 The harlequin Great Dane has white fur with dark spots and patches on top. The harlequin color is a modifier of 'merle' coloring, which can have different colored backgrounds.
Harlequin color will only appear with a particular arrangement of genes (known as the genotype).
But, irresponsible breeding of harlequin Great Danes can cause serious health issues in puppies.
Safely making harlequin Great Danes is harder than you may think.
First we will learn about the Great Dane breed. Then, we'll look at color genetics and how they affect harlequins and their pups.
About the Great Dane
Before we look at the harlequin coloring of Great Danes, let's take a look at the general breed.
Great Danes developed in 1800s Europe.  They were allegedly used for boar hunting.
In 1876, Great Danes were declared the national breed of Germany.
So, despite their name, they are not actually Danish!
Changes in Purpose
Eventually, Great Danes were not used for hunting. Instead, they became companions and guard dogs.
Great Danes are generally calm. They are often called gentle giants. They are affectionate, patient dogs that are good with children.
Despite their size and hunting past, Great Danes are couch potatoes! They love relaxing. Your lap may turn out to be a great headrest!
Great Danes are also huge. Adults stand between 28 and 32 inches tall at the shoulder. They will weigh between 110 and 175 lbs.
Harlequin Great Dane Genetics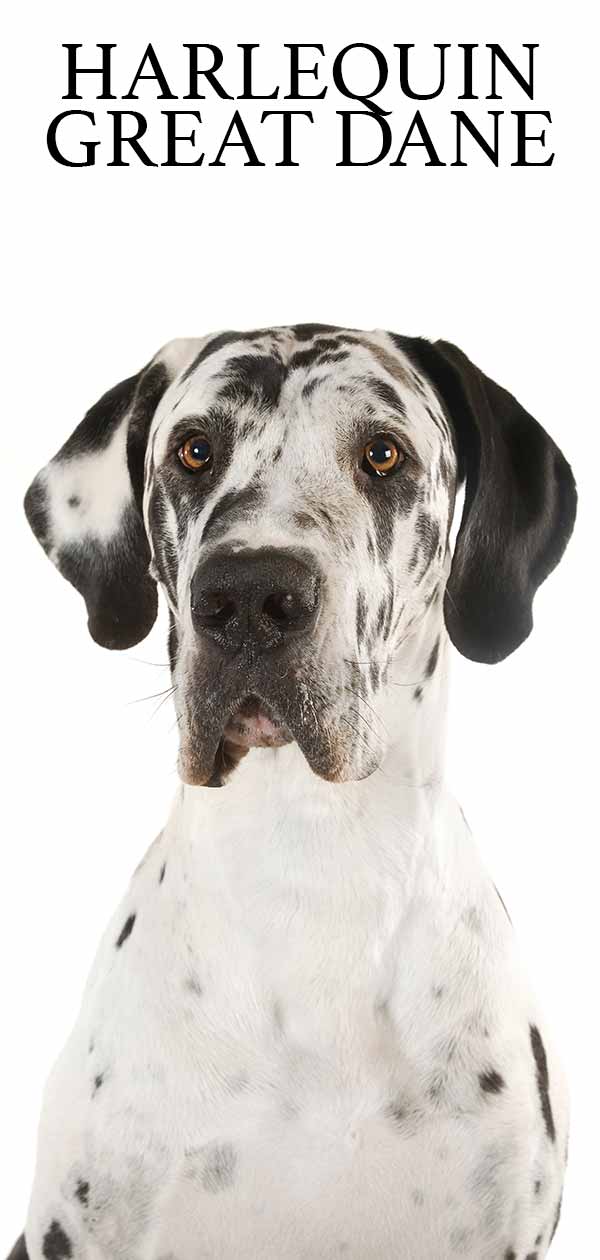 To understand how the harlequin coat happens—and the problems it can cause—we need to look at the genetics behind it.
Harlequin coloring cannot exist without the genes that cause merle coloring. It is considered a "modifier" of merle.
Merle usually appears as patches and spots on top of a colored background. But, harlequin changes this by creating a white base.
But achieving this is quite hard. Harlequin Great Danes need a HhMm (H for Harlequin modifier, M for merle) genotype.
With any other genotype, the coat color will not appear harlequin. So, we need at least one dominant harlequin allele (Hh) to get the harlequin color.
Additional Genetic Considerations
With no dominant (hh) alleles, the harlequin color will not appear.
But, with two dominant harlequin alleles (HH) there is a real chance the puppy won't even be born.
HH genotypes are embryonic lethal as they can be fatal to the developing embryo.
Problems Caused by Merle
It is also important that the merle part of the harlequin coloring is heterozygous (Mm).
If a dog is homozygous recessive (mm) for merle, the harlequin pattern won't appear.
With this genotype, there is no merle coloring for the harlequin genes to modify. And without merle, you can't have harlequin!
But, two dominant merle alleles (MM)—known as double merle—is also a problem.
This genotype usually affects the expression of harlequin and results in a dog that is mostly white.
To make matters worse, many double merle dogs suffer from congenital defects. Let's discuss these more later.
So, any genotype besides HhMm can be problematic, if not dangerous.
Harlequin Great Danes Can Produce Double Merles
Most harlequin Great Danes are as healthy as any other Great Dane.
But it's important to discuss the dangers of double merle. Since breeding two harlequin dogs can give rise to double merles.
A Great Dane will have a harlequin coat as long as they have only one dominant allele for both harlequin (H) and merle (M).
So, what happens when the genotype is HhMM?
This is called double merle.
Double Merle Coloring
Sometimes, double merles have excessive amounts of white. Whereas other times they look almost the same as a heterozygous (Mm) merle.
Most HhMM Great Danes end up being completely white.
Another genotype that can be caused by harlequins is "merlequin." This is double merle dogs born from a harlequin pair.
Merlequins have a hhMM genotype and typically appear merle in color. They may also have excessive areas of depigmentation (whiteness or pink lips, nose, and eye rims).
Problems Associated with Double Merle
Double merle is a dangerous genotype as it often results in dogs with ear and eye defects.
One study found that 15% of the double merles examined were bilaterally deaf and 10% were unilaterally deaf.
Some evidence suggests this genotype is also lethal. It suggests a developing fetus will have only a 50% chance of surviving past the prenatal stages of pregnancy.
Double Merle Eye Problems
Plus, double merles can suffer from a number of eye defects. This includes
microphthalmos
microcornea
scleral staphyloma
persistent pupillary membranes (PPMs)
heterochromia iris
iridal hypoplasia/coloboma
pseudopolycoria
iridocorneal angle dysplasia
lenticular coloboma/cataract/subluxation
choroidal hypoplasia
optic nerve coloboma
retinal dysplasia
retinal detachment.
Many of these defects, such as microphthalmia (the eyeball is abnormally small), can result in full or partial blindness.
Although a true harlequin Great Dane (HhMm) is not likely to experience these issues, it is important to discuss them.
How to Prevent Health Issues
Prevention is simple.
Harlequin dogs should not be bred with other harlequin or merle dogs.
Safe breeding practices are crucial. They help stop dogs with these issues being born in the first place.
Tweed Great Danes also carry merle genes and should not be bred with harlequins or merles.
But, some breeders still breed harlequins together in the hopes of getting more harlequin colored pups.
This is irresponsible and inhumane. You should never buy from a breeder who does this.
Harlequin Great Dane Health and Lifespan
As we've seen, problems can occur when harlequin Great Danes are bred together.
However, true harlequins with HhMm genotypes have no extra defects or health problems compared to other Great Danes.
Also, there is no evidence that a harlequin Great Dane will have any behavioral differences.
But if you're truly interested in this breed, you need to be aware of the health conditions that could affect your dog.
Harlequin Great Dane General Health
Great Danes are at risk of the following health-related problems:
dilated cardiomyopathy (DCM)
hypothyroidism
cataracts
bloat (gastric dilatation and volvulus)
cancer (especially osteosarcoma and lymphoma)
wobbler syndrome
hypertrophic osteodystrophy (HOD)
Panosteitis.
Wobbler Syndrome
Wobbler Syndrome is the name for several spine-related issues, including
CSM – cervical spondylomyelopathy
cervical vertebral instability
cervical vertebral malformation-malarticulation.
If you've ever met a Great Dane, or other dog, with wobbler syndrome you'll know where this name comes from.
Dogs with this tend to wobble as they walk. They are not stable on their feet and appear uncoordinated.
Problems This Causes
This trouble with movement is caused by compression of the spinal cord and its roots. In turn this can result in neck pain and other neurological problems.
You need to seek veterinary attention right away if your Great Dane seems to have neck pain.
Wobbler syndrome in Great Danes typically occurs before three years of age.
Harlequin Great Dane Lifespan
Unfortunately, Great Danes do not have a very long lifespan.
Studies performed on Labrador Retrievers suggest yellow and black Labs live longer than chocolate ones. But no such studies have been done on Great Danes.
So, we can only assume that the harlequin Great Dane will have a similar lifespan to any other Great Dane.
According to the American Kennel Club (AKC), Great Danes live between 7 and 10 years.
Summary
Great Danes were once used to hunt boars and originate in Germany.
These dogs are calm, affectionate, patient, and often good with kids.
Harlequin Great Danes are not that athletic. Instead, they prefer to relax.
They still enjoy a couple of brisk walks throughout the day. But overall, they prefer relaxing.
If you are getting one of these dogs, you'll need to find the perfect name to suit it! 
Harlequin Great Dane Coats
When it comes to their health and behavior, there are no studies indicating problems related to the color of their coat.
However, breeding two harlequin Great Danes should never be done. This could produce puppies with dangerous genotypes.
One such genotype would create double merle dogs who can suffer from eye and ear defects.
Another genotype is believed to be fatal during embryonic development.
So, you should never breed two harlequin Great Danes. Nor should you buy from a breeder who does.
If you're not sure this is the dog for you, there are still plenty of beautiful dogs you can choose!
Even others with interesting colors!
Do you have a harlequin Great Dane? We'd love to hear your story in the comments.
References and Further Reading
Clark L et al. 2011. A missense mutation in the 20S proteasome β2 subunit of Great Danes having harlequin coat patterning. Genomics. DOI: 10.1016/j.ygeno.2011.01.003
Esson DW. 2015. Merle Ocular Dysgenesis (MOD). Clinical Atlas of Canine and Feline Ophthalmic Disease. DOI: 10.1002/9781118840801.ch86
McGreevy PD et al. 2018. Labrador retrievers under primary veterinary care in the UK: demography, mortality and disorders. Canine Genetics and Epidemiology. DOI: 10.1186/s40575-018-0064-x
O'Sullivan N and Robinson R. 1988. Harlequin colour in the Great Dane dog. Genetica. DOI: 10.1007/BF00055640
Strain GM et al. 2009. Prevalence of Deafness in Dogs Heterozygous or Homozygous for the Merle Allele. Journal of Veterinary Internal Medicine. DOI: 10.1111/j.1939-1676.2008.0257.x
da Costa RC. 2010. Cervical Spondylomyelopathy (Wobbler Syndrome) in Dogs. Veterinary Clinics of North America: Small Animal Practice. DOI: 10.1016/j.cvsm.2010.06.003
Get Pippa's free dog training tips delivered to your inbox