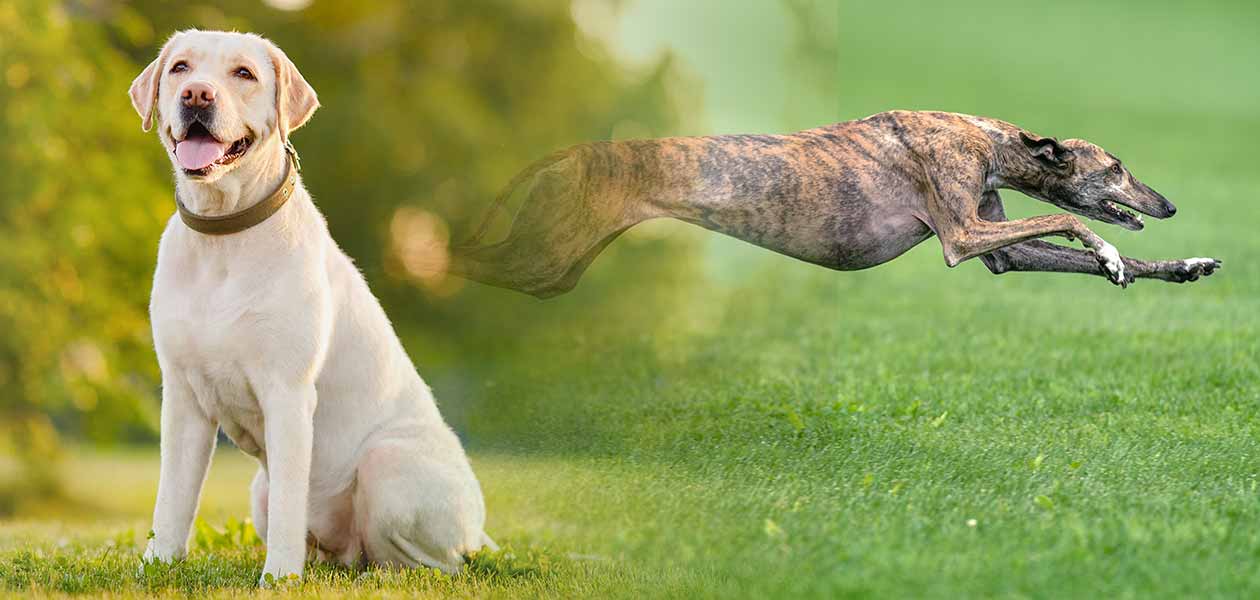 A Greyhound Lab mix, also known as a Greyador, combines a famous sighthound and an even more famous retrieving breed.
Labrador Retrievers are one of the most popular dog breeds. They've held the top spot in America for 28 years in a row.
The gentle and athletic Greyhound has been admired for centuries.
What happens when you put these two breeds together?
Let's examine each breed to see how they might combine. Predicting traits of mixed breeds is challenging, but we'll explore the possibilities of the Greyador.
Where Does The Greyhound Lab Mix Come From?
This mix's history is not well-documented. Mixing breeds for desirable traits of each has become more common in the past few decades. The resulting dogs are sometimes referred to as "designer dogs."
There is a debate about the health of purebred dogs versus that of mixed breed dogs. Those on the purebred side don't want to mix genes into healthy pedigrees. Those on the mixed breed side think that mixing genetics will overcome health issues that plague some breeds.
Who's right in this debate? That's a difficult question, as both sides bring up good points.The health of any dog depends on several factors:
breeding practices
parent dog health
socialization and training.
There are pros and cons to purebred and mixed dogs.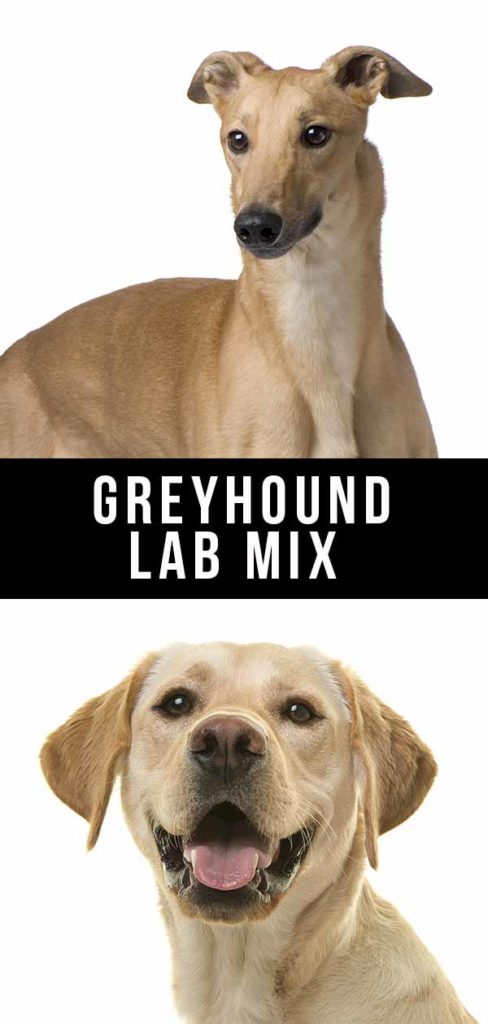 Greyhound History
Greyhounds are sighthounds, which are hunting dogs that rely on sight rather than smell. This is called "coursing."
Greyhound history dates back nearly 5,000 years to ancient Egypt. Pharaohs used Greyhounds to chase and capture wildlife such as rabbits, hares, and deer.
During Medieval times, hunters used packs of Greyhounds for game hunting.
Coursing for sport developed in England during the mid-1500s. The sport of Greyhound racing—purely for speed—originated in the early 1900s.
Today, Greyhounds are bred mostly for show. However, there are some regions in which Greyhound racing is still popular.
Labrador Retriever History
The Labrador Retriever breed originated on the Canadian island of Newfoundland, near the continental region of Labrador.
In the early 1600s, the ancestors of today's Labs worked alongside fisherman retrieving nets from chilly waters and hauling fish carts. These dogs were called "St. John's Dog."
Labradors gained the favor of English nobles visiting Canada in the 1800s. Once in England, hunters used Labradors as waterfowl retrievers. Superb swimming skills and a soft mouth allowed them to return game to handlers unspoiled.
Today, Labradors are not just popular family companions. They're also used as guide dogs and are still used as retrievers by hunters.
Greyhound Lab Mix Appearance
The physical traits of mixed breed puppies are hard to predict. A Greyador might more closely resemble its Greyhound or Labrador parent.
Greyhounds are built for speed with long, narrow heads and muzzles. Their bodies are "S-shaped," with a deep-chest swooping back to high-cut hips. They are very muscular, and have very long, whip-like tails.
Labrador Retrievers are also built athletically. They're sturdy and strong with even body proportions. Labs have a long and broad "otter tail," which propels and steers when Labs are swimming.
A Greyador will likely be a mix of these features. It might have the balanced proportions of a Labrador with the long neck and head of a Greyhound. It may inherit the "S-shaped" Greyhound body to some degree. Both breeds have floppy ears, so a Greyador will as well.
Size
Greyhounds weigh 60 to 70 pounds and stand 27 to 30 inches tall.
Labradors weigh 55 to 80 pounds and stand 21.5 to 24.5 inches tall, slightly shorter than Greyhounds.
A Greyador will fall somewhere in the range of these two breeds. It will be a large and strong dog.
Fur And Coloration
A Greyhound's coat is short and smooth, almost satiny to the touch. Coloration was not important to breeders, as they were only concerned with building a dog for speed! Greyhounds are solid or brindle of many colors, including black, red, fawn, and white.
A Lab's coat is also short, but very dense. It is a double coat and water-repellant – almost greasy – an important feature for water dogs. Coloration is chocolate, black, or yellow. Some Labs have white markings.
The range of Greyhound colors make Greyador coloration possibilities abundant! Some colors are more popular, such as black and black brindle.
Fur length depends on which parent the puppies take after more. It will be short, but whether it is dense and sheds frequently depends on if the puppies favor the Lab parent.
Greyador Temperament
In addition to its parents, a Greyador's temperament depends on its environment, care, and socialization. Greyhounds are even-tempered, quiet, and gentle dogs. They are friendly and social but can be reserved with strangers.
They can be sensitive to small children. A Greyhound has no body fat or thick fur to protect it from children touching and grabbing at it. If you have small children, teach them how to properly interact with a Greyhound in addition to socializing the dog to the kids.
Additionally, Greyhounds have a strong instinct to chase anything they perceive as prey. This includes small animals, such as cats. Training and socializing a Greyhound to a cat is possible but may be challenging.
Labradors are famously friendly and outgoing. They're energetic and love to play. They don't make the best watchdogs, as they'll probably want to hang out with an intruder.
A Greyador will be friendly, social, and loving. The combination of these two breeds results in a desirable temperament for a family dog, keeping in mind small children and small pets!
Training Your Greyhound Lab Mix
Early socialization and training are vital to the happiness and health of any dog breed, especially a Greyador.
Greyhounds are the fastest dog breed and can reach speeds of 35 miles per hour. If something catches their attention, they are gone in an instant! Because coursing doesn't rely on human commands, they're unlikely to respond to you once they're off running.
Greyhounds are known to be independent and more challenging to train. Short, positive training sessions are most beneficial for Greyhounds.
Labradors are considered very smart and easily trainable. As a sporting breed, they have a high desire to work and please their owner. You'll need to put their energy to work, since they can be destructive when bored.
Training may be challenging if your Greyador inherits the Greyhound's short attention span. Be prepared to spend time modifying training techniques depending on which parent dog the puppy takes after most!
Exercising Your Greyhound Lab Mix
A Greyador must live in a home with a fenced backyard, due to the Greyhound's instincts to chase.
It will need a lot of exercise, too, as well as time to run around in a fenced yard, walks, or other playtime.
Greyhounds are cheetah-like; they conserve their energy for a chase. It's possible that a Labrador's high energy will be tempered by the Greyhound's desire to rest and save energy.
Greyador Health
A healthy Greyador may live 10 to 13 years. Veterinary care, exercise, and diet contribute to a Greyador's health.
Mixed breed pups can inherit illnesses from their parents. Additionally, some breeds have health issues related to their size, conformation, or pedigree.
Although not definite, a Greyador may inherit or develop health problems at some point during their lifetime. When selecting a breeder, ask about the parent dogs' and puppies' health. Some health problems can be genetically assessed or screened for otherwise.
Here are some of the common health issues with each parent breed.
Greyhound Health Risks
According to the Greyhound Club of America, the breed is very healthy.
Like many deep-chested breeds, Greyhounds are susceptible to bloat. This is a life-threatening condition that happens suddenly and requires immediate veterinary care.
Greyhounds are also at risk of developing a neuropathy caused by a gene mutation. It causes muscle weakness, an odd gait, and an intolerance for exercise.
The Greyhound Club of America recommends DNA screening for the gene that causes the neuropathy. Additionally, they recommend a cardiac and ophthalmology screening.
Labrador Retriever Health Risks
The Labrador breed is also relatively healthy. Common health problems seen in the breed include:
obesity
hip and elbow dysplasia
progressive renal atrophy
centronuclear myopathy
exercise-induced collapse
bloat
Recommended screening tests for Labs include:

hip and elbow dysplasia
eye examination
exercise induced collapse
DNA tests
centronuclear myopathy and cardiac exam (optional).
Greyador Grooming
Greyador grooming will be low maintenance, unless it has a Lab coat. If so, you'll need to be prepared for a lot of shedding!
Regular bathing and brushing can help manage shedding.
Greyador Feeding
Greyhounds burn more calories than most other breeds, so a high protein diet is beneficial.
However, Labradors are prone to obesity.
Work with your vet to determine a well-balanced diet with all the proper nutritional requirements for a Greyador.
Do Greyhound Lab Mixes Make Good Family Dogs?
A Greyador is an excellent option for a family dog! They're friendly, affectionate, and fun.
You will need a fenced yard for a Greyador to play in. You'll also need to provide plenty of play time and exercise for this mixed breed. They have a lot of energy to burn!
A Greyador is a fairly large dog. Monitor it around small children and make sure your children know how to interact with such a big dog.
If you decide on a Greyador you may need to reconsider adding small pets, such as cats, to your home. The Greyhound's natural chase instinct can take over. Training may help with this, but there are no guarantees.
Rescuing A Greyhound Lab Mix
If you're ready to bring a Greyador into your life, check shelters. Greyadors may end up in shelters if owners were not prepared for their energy or the training this breed needs.
Many rescues are past the puppy stage, which is ideal if you don't want to deal with potty training. However, there may be socialization or behavior issues that will need additional work.
Finding A Greyador Puppy
If you're ready for a Greyador puppy, start searching online for breeders. Research the breeder's reputation to ensure they adhere to responsible breeding practices to create healthy puppies.
We don't recommend pet stores or puppy mills. They typically don't produce healthy puppies or properly care for parent dogs.
Pros And Cons Of Getting A Greyhound Lab Mix
CONS:
Requires a fenced yard
Might be sensitive around small kids
Might have a strong prey drive
PROS:
Energetic and active
Unique appearance, especially coloration
Social and affectionate
Similar Greyhound Lab Mixes And Breeds
If you're not certain about a Greyador mix, here are some other mixes to consider:
Greyhound Lab Mix Rescues
Greyador shelters are hard to find, so look at organizations that specialize in the parent breeds. Here are a few places to start:
USA
CANADA
AUSTRALIA
UK
If you come across any rescues for this mix, please leave us a comment and let us know!
Is A Greyhound Lab Mix Right For Me?
A Greyador is right for you if you're ready for the commitment of training, socializing, exercising, and caring for a large dog.
You'll also need a fenced yard or at least a fenced dog park to visit.
If you can handle possible fur shedding and moments of high energy, a Greyador is absolutely the right dog for you.
References And Resources
American Kennel Club. "Official Standard of the Greyhound."
Orthopedic Foundation for Animals. "The Canine Health Information Center."
Easton, Lucy. "Your Lab Breed Information Center." The Labrador Site, 2018.
Greyhound Club of America. "About the Greyhound."
The Labrador Retriever Club, Inc. "Breed History."
Lofgren, Sarah E. Et al. "Management and personality in Labrador Retriever dogs." Applied Animal Behaviour Science, 2014.
Optigen. "Neuropathy in the Greyhound."
Smith, Gail K. VMD. et al. "Evaluation of risk factors for degenerative joint disease associated with hip dysplasia in German Shepherd Dogs, Golden Retrievers, Labrador Retrievers, and Rottweilers." Journal of the American Veterinary Medical Association, 2001.
Get Pippa's free dog training tips delivered to your inbox