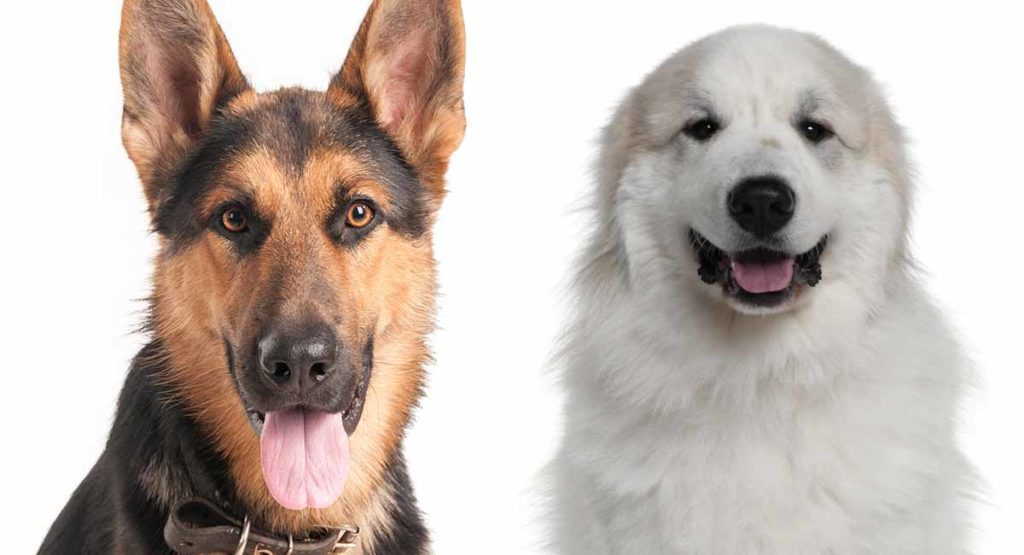 The Great Pyrenees German Shepherd mix goes by many names, including the Shepnees, Shep Py, and Germanees.
These dogs are large bundles of energy bred from two guarding breeds. They are well-suited to farm life and large back yards due to their history.
They're also incredibly intelligent working dogs and need lots of attention, including mental stimulation and daily exercise.
Is this sweet pup right for you? Let's find out.
Where Does the Great Pyrenees German Shepherd Mix Come From?
The Great Pyrenees German Shepherd is a mixed breed dog. These dogs can either have one Great Pyrenees and one German Shepherd parent or have parents who are mixes of these breeds themselves.
German Shepherds originated in Germany. They were bred to work with livestock, herding them while also protecting them from predators.
The man who created the breed thought his founding sire looked and behaved just the way a working dog should, so he continued to breed his descendants for that appearance and temperament. Indeed, the results are beautiful dogs in body and spirit!
The Great Pyrenees comes from the Pyrenees Mountains, which are located in France and Spain.
Great Pyrenees were also bred to protect livestock, just like the German Shepherd!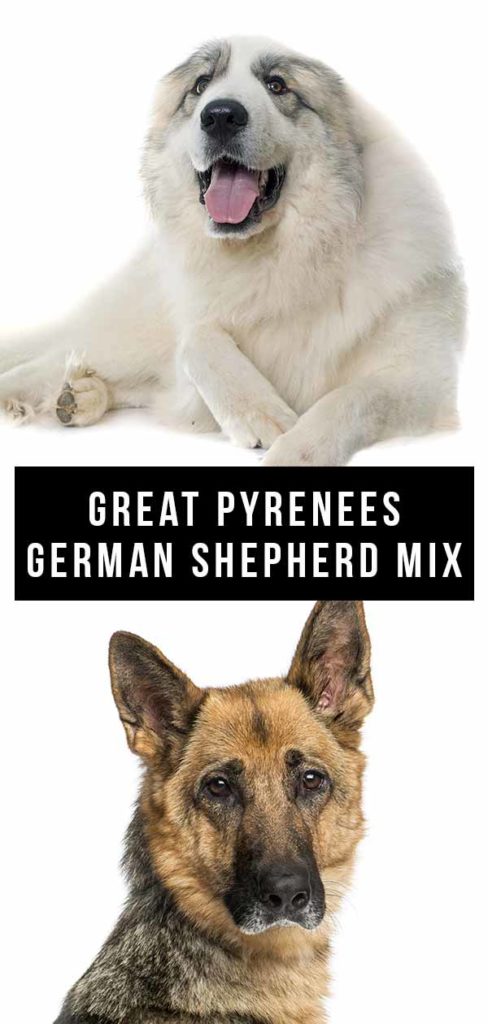 Fun Facts About the Great Pyrenees German Shepherd Mix
Great Pyrenees are nocturnal, as they used to protect their owners and livestock at night.
As for German Shepherds, they're the third smartest dog breed in the world.
This makes them great for many lines of work—including protecting livestock, helping the police and military, and even acting!
This mix is also known as the Shep Py, the Shepnees or the Germanees.
Great Pyrenees German Shepherd Mix Appearance
A Great Pyrenees German Shepherd puppy will take traits from both parent breeds, forming a unique look from other puppies, even those from the same litter.
These are big dogs, standing anywhere from 22-36 inches tall. They weigh 75-160 pounds when fully grown and definitely aren't lap dogs!
They're also very muscular.
Both of the Shep Py's parent breeds have a history of withstanding cold environments. Therefore, your pup will have a dense coat.
Their fur may be medium-length or long, depending on which parent breed they take after. If they take after the Great Pyrenees parent, their coat may be water-resistant.
As for colors, Germanees' fur can come in any Great Pyrenees or German Shepherd color combinations. These include white, black, grey, and brown, among others.
Great Pyrenees German Shepherd Mix Temperament
It can be difficult to predict a mixed breed's personality.
Our best guess comes from looking at the similarities and differences between the parent breeds.
Although Great Pyrenees and German Shepherds have very similar backgrounds, they are two very different breeds.
Great Pyrenees Temperament
Great Pyrenees are calm and serious dogs who are quite independent. While they're loyal to their families, they may not take quickly to new people.
As a guard dog, they need to be properly socialized. This way they won't try to guard when the need isn't there, such as when friends or family they've yet to meet enter your home.
They also tend to bark at night, as their job was originally guarding livestock. Since predators tend to be nocturnal, so is the Great Pyrenees.
They can be stubborn and difficult to train, especially for those without experience training dogs.
Because Great Pyrenees are so independent, they may have a habit of running away from home and wandering on their own.
Fencing should be strong and tall so that they are forced to stay in their own yards, rather than roaming down the street.
These dogs also need lots of daily exercise.
Great Pyrenees are beautiful and can make great companions, but in the wrong home, they can be aggressive and destructive.
German Shepherds Temperament
German Shepherds are bred to work. No matter the job, they are dedicated. This has made them great farm dogs throughout their history and, more recently, they've been excellent service dogs.
They're incredibly smart and eager to please, so they learn new things quickly. However, because they're so smart, they need mental stimulation that includes tricks, toys, and games that test their minds.
They also need plenty of exercise every day to stay fit and happy.
If German Shepherds don't receive proper mental stimulation or a good amount of exercise, they're prone to anxiety. They may also display problem behaviors such as digging, chewing, or excessive barking.
Another problematic behavior comes from their guard dog background. German Shepherds may take time to warm up to new people, or display guarding behaviors at inappropriate times if they're not properly socialized.
Overall, these devoted pups are a joyous addition to the family, but they also need a lot of attention.
So, what does this mean for the Shepnees?
These are smart, high-energy, working dogs. They do well guarding homes or livestock.
Far from timid, they're confident and independent. They may be easy or difficult to train, depending on which parent breed they take after.
They will need plenty of exercise and also require mental stimulation, like their German Shepherd lineage.
Although super loving to their family, they may be wary around strangers, or even prone to aggression if not socialized properly.
Always be aware of the situation you're putting a dog into and keep an eye on how new people, especially children, interact with them. Don't leave a dog of any breed alone with a child.
These dogs may also bark through the night, which can cause problems if you have neighbors close by.
Just like their parent breeds, Germanees are great family dogs if you have the space and the time to accommodate their needs. However, many problem behaviors may arise if they're not properly cared for.
Training Your Great Pyrenees German Shepherd Mix
Training a Shepnees right is incredibly important because they are very large dogs prone to guarding tendencies. You do not want them to bite strange people or animals.
An important step, when possible, is to socialize them while they are young.
Introduce them to new people regularly, and reward them for greeting new acquaintances calmly with all four paws on the floor. This way, they can learn how to behave around strangers.
Depending on which parent breed they take after, Great Pyrenees German Shepherd mixes may prove difficult to train for the inexperienced.
Great Pyrenees German Shpeherd Mix Exercise
Germanees dogs should get plenty of exercise. You should walk them daily and play with them indoors, but they also need space to roam outdoors. A big yard with sturdy fencing is a must for these dogs.
However, you will need to watch them in the heat. Their thick coats are suited to cold temperatures, and your pup will probably love the snow!
But they retain heat more than your average dog, and will need ways to cool off in the summer heat like staying indoors when it's very hot or splashing in a pool.
Great Pyrenees German Shepherd Mix Health
Great Pyrenees German Shepherd mixes typically live 10-15 years. They have the potential to develop several health problems. Below are some common health concerns to watch out for.
Hip Dysplasia – hip socket not formed correctly
Elbow Dysplasia – elbow socket not formed correctly
Bloat – stomach full of gas, food, or fluid
Degenerative Myelopathy – a neurological disease that results in the dog having trouble moving
Osteochondrodysplasia – abnormal bone growth
Panosteitis – pain in the bones due to inflammation and rapid growth
Epilepsy – a seizure disorder
Autoimmune Diseases
Allergies
Hypothyroidism
Cancer.
It's best to begin looking after your pup's health early on. If you are adopting from a breeder, you should ensure they breed healthy dogs that are up-to-date on health tests and vaccines.
If you are adopting from a shelter or rescue, that is a different situation!
You may not know everything about the dog's history, but you still might consider having your veterinarian test for common health problems. This way, you can be prepared to manage them.
You will also want to bring your dog to the veterinarian for regular check-ups, keep them on flea and heartworm preventative, and stay up-to-date with their vaccines.
We can't prevent all illnesses in our dogs, but these steps will keep them as happy and healthy as possible.
Feeding Your Great Pyrenees German Shepherd Mix
Feed your dog a well-balanced diet is another great step to take for their health.
You may consider talking to your veterinarian about dog food brands and portions, or ask your breeder what they recommend.
Dogs' food should be broken down into two to three meals throughout the day.
Grooming
When it comes to grooming, these dogs are high-maintenance due to their thick coats.
They will shed heavily, but some of this can be prevented by brushing them daily.
You should also bathe your dog regularly.
Do Great Pyrenees German Shepherd Mixes Make Good Family Dogs?
Great Pyrenees German Shepherd mixes can be good family dogs—in the right circumstances.
They aren't suited to apartment or suburban life. These dogs love to roam, so they need large back yards that they cannot escape from.
They are also quite loud and very active. Families should expect to spend a lot of time exercising and caring for a Germanees.
That said, families who can handle these pups will receive a ton of love in return! These smart, loyal, active dogs have a lot to offer.
Rescuing a Great Pyrenees German Shepherd Mix
Rescuing a dog is a fantastic option. There are countless dogs in need of homes, and rescue pups have a lot of love to give.
That said, it may be difficult to find a specific mixed breed in a general shelter or rescue. If you're having trouble, look into breed-specific rescues in your area.
Great Pyrenees rescues and German Shepherd rescues often help rehome mixed breeds as well, and may have a Shepnees waiting for you!
Finding a Great Pyrenees German Shepherd Mix puppy
If you are looking to buy a Shepnees puppy, there are some things to keep in mind. Firstly, you want to avoid puppy mills and pet stores.
You don't want to inadvertently support bad breeding practices or animal abuse, and that's why you should always visit the home the dogs are raised in.
Here you should be allowed to see the parents, other puppies, and medical records. The dogs should be kept in an appropriate space—with water, space to run around, and a properly enclosed yard.
Puppies and parents should all be vetted and up-to-date on vaccines.
Pros and Cons of Getting A Great Pyrenees German Shepherd Mix
Pros
These dogs can make great family pets for those living in an area with a big back yard, who have lots of time to spend with their dog.
They also make excellent guard dogs, either for homes or for livestock.
Shepnees are intelligent dogs who will be extremely loyal to their families.
Cons
Great Pyrenees German Shepherd mixes are large dogs with a ton of energy. They also tend to bark at night and love to roam.
They are ill-suited to suburban living. Instead, they should be raised in a house with a large back yard and fencing they cannot escape from.
They are also quite high-maintenance. Shepnees dogs need daily exercise and brushing, as well as mental stimulation in the form of challenging tricks or games.
Great Pyrenees German Shepherd mixes may also be wary of strangers due to their guarding tendencies.
They aren't suited for hot climates due to their thick coats.
Similar Great Pyrenees German Shepherd Mixes and Breeds
If you're looking for other dog breeds, here are some to consider:
German Shepherd
Great Pyrenees
German Shepherd Akita mix
German Shepherd Australian Shepherd mix
Great Pyrenees German Shepherd Mix Rescues
The following are some rescues that may have Great Pyrenees German Shepherd mixes. If you know of any others, please let us know in a comment below!
Great Pyrenees German Shepherd Mix Rescues USA
Great Pyrenees German Shepherd Mix Rescues Canada
Great Pyrenees German Shepherd Mix Rescues UK
Great Pyrenees German Shepherd Mix Rescues Australia
Is A Great Pyrenees German Shepherd Mix Right For Me?
A Great Pyrenees German Shepherd mix is right for you if you live in an active family and have a large back yard that is properly enclosed.
You must have time to brush and exercise them daily, as well as keeping them mentally stimulated.
These dogs are great at guarding but can be prone to barking at night.
If you live in a suburban area, or are looking for a less active breed, now isn't the right time to adopt a Great Pyrenees German Shepherd mix.
References and Resources
Get Pippa's free dog training tips delivered to your inbox