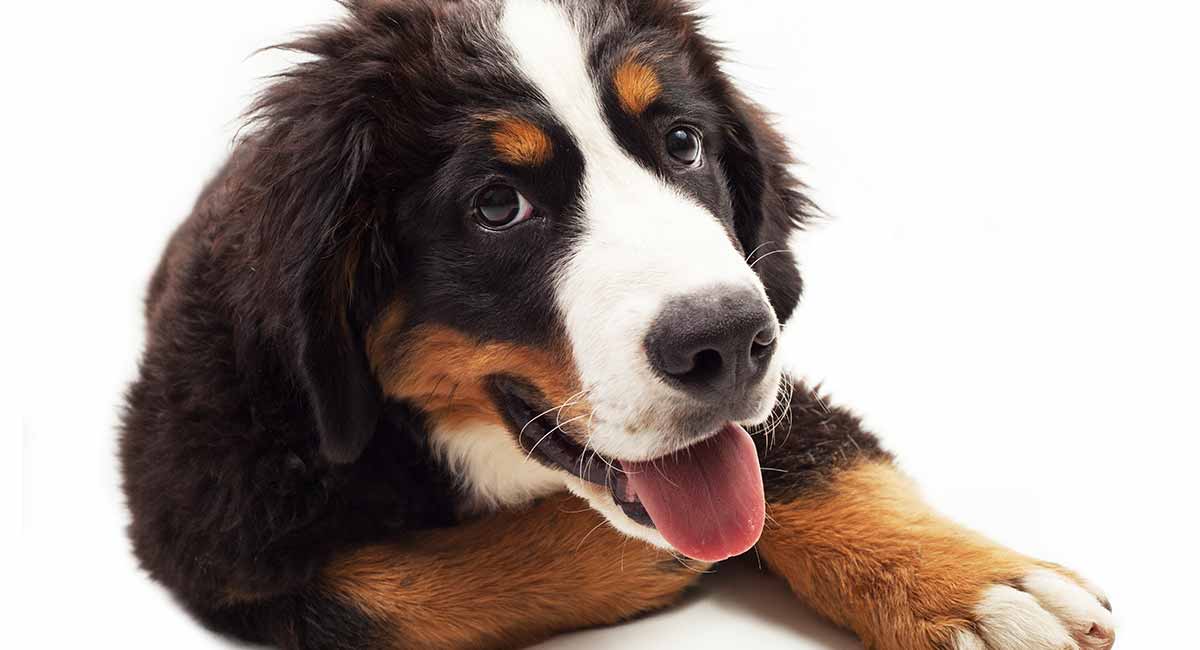 The Great Bernese mixes the territorial, loyal Great Pyrenees with the confident but gentle Bernese Mountain Dog.
The two parent breeds resemble each other in size and build. So, you are going to get a large dog. These puppies tend to have patches of color on a black or white background. But, they can differ greatly in terms of looks and temperament.
Mixing two breeds of dog can always throw out an unpredictable variety of different traits. It's impossible to know exactly how any particular dog will turn out. If you are considering adding a Great Bernese to your family, here are some general guidelines on what to expect.
Where Does the Great Bernese Come From?
To get a better understanding of where this mix comes from, let's take a look at the history of both parent breeds.
Great Pyrenees History
Since ancient times, the ancestors of today's Great Pyrenees have been working with shepherds in the Pyrenees Mountains. That's on the border between France and Spain.
As livestock guardians, these fearless dogs were employed to protect sheep. They fought off predators such as wolves and bears.
Bernese Mountain Dog History
The Bernese Mountain Dog hails from the agricultural region of Bern in Switzerland. Like the Great Pyrenees, it was bred to survive the freezing, bitter conditions in mountainous regions.
These versatile farm dogs were used in herding, guarding, and transporting goods by pulling carts.
Great Bernese History
As popular as these two giant breeds are, there is no clear history of their cross.
The Purebred versus Mutt Debate
Deliberately crossbreeding dogs is a highly controversial modern practice. Mixing up the gene pool by outbreeding can promote hybrid vigor. This is the idea that a strong genetic mix can make the offspring larger, stronger, and healthier than their parents.
Defective recessive genes in one parent can be masked by healthy genes in another. This means that the offspring are more likely to be healthy. However, there is a risk that those masked genes could be expressed in the next generation instead.
A 2018 study found that crossbred dogs are more likely to carry genetic defects. Although the same dog are less likely to suffer symptoms of genetic disease. But, there is surprisingly limited evidence for hybrid vigor in dogs.
Today, crossbreeds are often promoted as inheriting the best traits in terms of health, temperament, and looks from both parents. While some traits are regulated by dominant and recessive genes, the genetics behind most traits are much more complex.
Crossbred puppies may inherit any trait from either parent. That includes some which may not have been obvious in the parents.
Fun Facts About the Great Bernese
Bernese Mountain Dogs and Great Pyrenees are no strangers to celebrity life. Sarah Michelle Gellar and Courtney Cox both had Bernese Mountain Dogs.
Luna the Bernese Mountain Dog is a super successful influencer, with over 115,000 followers on Instagram. According to her profile she is an adventurer, author, and snuggle bug.
Elvis Presley had a pampered Pyrenees named Muffin. A Great Pyrenees was also the star of 1960s TV show, Belle and Sebastian.
Both Great Pyrenees and Bernese Mountain Dogs are known for their fearless actions in the face of danger. Bella the Bernese was reported to have dragged her owner from a fire in 2013. According to observers, another Bernese, Nico, acted on impulse in 2015 to save two strangers from a riptide.
In March 2019, several newspapers reported that a Great Pyrenees named Zero took bullets for his family. As the gunman fired at a mother and her kids, Zero leapt at him repeatedly. Because of Zero's actions, all the shots taken by the family were below the waist. Unfortunately Zero died from his wounds.
Great Bernese Appearance
Bernese Mountain Dogs are tricolored dogs with long, silky hair and a bulky but athletic build. Great Pyrenees are predominantly white, but can have gray or tan markings. Both breeds are giant, majestic, and heavy-boned.
Great Bernese dogs vary hugely in appearance, depending on which parent they take after most! They tend to have patches of fawn, brown, and/or black on a white background.
Great Pyrenees males stand at a massive 27 to 32 inches at the shoulder, and females reach 25 to 29 inches. They usually weigh upwards of 85 pounds. Bernese Mountain Dogs are a little smaller. Males measure from 25 to 27.5 inches, and females from 23 to 26 inches.
Great Bernese Temperament
The Great Pyrenees is known to be more independent than the Bernese Mountain Dog. That said, their similar histories have given both breeds a calm, gentle demeanour.
Both breeds are loyal and gentle towards those they consider their family, but can be aloof with strangers.
Great Bernese will tend to inherit their parents' calm, affectionate natures, and may lean towards independence. They are likely to inherit strong protective instincts, developing during or shortly after puberty.
The mixed puppy may inherit the Great Pyrenees' a natural distrust of strangers, and make great guard dogs. But, be aware that your dog may take it upon himself to "defend" you from anyone he doesn't know. Even if they are friendly.
Training Your Great Bernese
Great Bernese are not known for their obedience. But they need to learn a few key skills in order to coexist peacefully with you and your world.
Potty and Crate Training
Most Great Pyrenees and Bernese Mountain Dog owners seem to find potty training easy and quick.
Your mixed puppy may not give any signal that they need to go outside. So, consider investing some time to teach them a cue.
Potty training is much easier with the help of a crate. Due to their size, Great Bernese will need the largest crate you can find. Look for one with dividers so that you can give your puppy a small, cosy section to hang out in while you potty train him.
Socialization
Great Bernese may be gentle and friendly in most cases. But they are so powerful and fearless that they can easily injure a human. They are often willing to fight to the death to defend their family.
Even a friendly greeting, like jumping up, can knock a child or an older person over. So if you own one of these giants, it is your responsibility to ensure it is socialized and trained to prevent dangerous behaviour.
Socialization is a major part of making sure your hybrid puppy doesn't grow into a suspicious, unpredictable adult.
Effective socialization involves far more than just letting your puppy play with other dogs. Your puppy needs to learn about all the elements in his world, and how he should behave in different situations.
Other Breed-Specific Training
In addition to socialization, your training program for your Great Bernese should emphasize a strong recall, and loose leash walking. Great Pyrenees are notorious for ignoring recalls, and your puppy may inherit this awkward habit.
You also need to ensure your dog walks nicely on his leash. As he may otherwise pull you over when he grows up.
Exercise Requirements
Giant dogs, such as the Great Bernese, are vulnerable to spine and joint problems. This is especially true as puppies when their young bones have to support a large, growing body.
Giant dogs must have carefully controlled exercise away from hard surfaces before their growth plates close at 9-18 months of age. Neutering before maturity can increase the risk of some joint problems. Such as cranial cruciate ligament damage.
Older Great Bernese do well with moderate exercise. A 30-60 minute walk every day should be sufficient to keep them happy. Speak to your vet about your dog's exercise needs if they suffer from bone and joint issues.
Great Bernese Health
Unfortunately, giant dog breeds suffer from a multitude of health problems, and have a shortened life expectancy. Great Bernese can be expected to live around 7-8 years.
Inherited Disorders
Great Pyrenees and Bernese Mountain Dogs, like most giant breeds, are prone to developing cancer and bone and joint issues. The Bernese Mountain Dog is one of the top five dog breeds with the highest mortality from tumour-related death.
In particular, one meta-analysis found that histiocytic sarcoma (a cancer of the immune system) causes 25% of deaths in Bernese Mountain Dogs. Symptoms include lethargy, weight loss, and refusing to eat.
Giant dog breeds are more likely than smaller breeds to develop osteosarcoma, a cancer of the bone. Among giant dogs, Great Pyrenees are particularly susceptible.
Bone and joint disorders are best prevented by responsible breeding, including tests for all recommended conditions depending on the parent breeds. However, correct diet and appropriate exercise go a long way to keep your dog's skeleton healthy. Keeping your dog lean and fit takes the strain off his bones, and keeps them strong.
Responsible breeders of Great Bernese should have both parents hip and elbow scored by the Orthopaedic Foundation for Animals (OFA). They should only breed if the scores are below the recommended threshold.
Important Health Tests
The Bernese Mountain Dog parent will need:
an eye exam
a cardiac evaluation
a DNA test for degenerative myelopathy (a disease of the spinal cord)
a screen for histiocytic sarcoma.
The Great Pyrenees parent will need a patellar luxation evaluation.
Other Health Issues
In addition to inherited disorders, large breed dogs can have trouble cooling down. Since the Great Bernese also has a thick coat, it is particularly susceptible to heat stroke. On hot days, make sure your dog has shade and water, and watch for the signs of heat stroke.
This mix also has floppy ears. As a result, they may develop ear infections. Check the ears often to make sure they are clean. Get him used to having his ears examined.
Grooming and Feeding the Great Bernese
Your Great Bernese's long coat will need frequent grooming, daily if possible. These fluffy dogs shed throughout the year. An undercoat rake will help to minimize the impact on your furniture during spring and fall, when shedding is heaviest.
Giant dog breeds have particular nutritional requirements, particularly as puppies when their rapidly growing bodies need exactly the right amount of nourishment. Too much protein, in particular, can interfere with bone development.
Do Great Bernese Make Good Family Dogs?
Advocates of this mix praise their loving, affectionate, loyal nature towards their family. They will usually protect their families, including children and pets, if they need to.
A Great Bernese could be a wonderful family pet if you can cope with his size, health issues, and strong territorial instinct.
They may not be suitable dogs for families with young children. Young giant dogs are notoriously clumsy. Even in play, a young, rambunctious Great Bernese can knock a small child over unintentionally, or even injure them.
The health issues suffered by giant breeds may also make a Great Bernese less suited to many families. Health issues suffered by giant breeds are hard on the heart, and the wallet.
Overnight stays at the vet may cost more for a giant breed than for other dogs, and their short lifespan can be a difficult lesson for small children.
Rescuing a Great Bernese
Adopt a Pet is a good place to start looking for a Great Bernese in need of a home.
Unofficial groups of Great Bernese owners on social media may know of any available rescues.
Finding a Great Bernese puppy
Sadly, some people try to take advantage of the popularity of particular dog breeds to make money. When searching for a puppy of any breed, do not look at pet stores or any suspicious facilities that may be puppy mills.
The popularity of mixed breed dogs has led to some good breeders trying to produce quality puppies. However, less responsible breeders still forego health testing.
Good breeders will genuinely want their puppies to go to good homes. They will ask you questions, tell you about their blood lines, health test both parents, and may prefer to pick a puppy for you based on temperament.
You need to ask the breeder about the parents, how the dogs live and what their temperaments are like, and how the puppies have been reared.
A good breeder will probably make you sign a contract. They will take their puppies back if things don't work out, rather than expecting you to find a new home.
Raising A Great Bernese Puppy
Young puppies are little balls of cuteness and fun, but that can wear off quickly when you realise how much time they take up. Raising a healthy, happy puppy is a lot of work.
To help lighten the load, here are our Puppy Care and Puppy Training Guides!
Great Bernese Products and Accessories
This mix will certainly inherit the large floppy ears of both their parents. These are an ideal breeding ground for bacterial infection. But you can protect your dog by using a regular ear cleaner.
You'll also need to find a seriously big bed for them. We've rounded up some of the most spacious and supportive right here.
Pros and Cons of Getting A Great Bernese
Cons:
can be aggressive towards strangers and other dogs
long, thick double coat sheds throughout the year
short lifespan and major genetic health issues
Pros:
affectionate, loyal, and gentle with family
does not usually require a lot of exercise
protective of family
can be a good fit for families with older children
Similar Mixes and Breeds
If the shortened lifespan and strong susceptibility to illness turn you away from the Great Bernese, here are some similar large guarding dogs you might consider.
Great Bernese Rescues
Since the Great Bernese is a crossbreed, there are no official crossbreed-specific rescues. But, from time to time the parent breed rescues may take in crossbreeds.
USA and Canada
UK
Australia
While you search, bear in mind that the Great Pyrenees is called the Pyrenean Mountain Dog in the UK and Australia.
If you know of any other great rescues for these breeds let us know in the comments!
Is A Great Bernese Right For Me?
Giant breeds are generally not a good idea if you have never had a dog before. Any aggression issues that develop can quickly become unmanageable. Their health issues can put strain on your bank account and heart.
But if you want a loving, devoted family member who is gentle with you and your family, the Great Bernese could be for you. So long as you don't mind having a large dog that sheds a lot of hair!
Do you have a Great Bernese? Let us know all about them in the comments below!
References and Resources
Great Pyrenees Breed Standard. American Kennel Club, 1990.
Bernese Mountain Dog Breed Standard. American Kennel Club, 1990.
Hart, B. L. et al. Long-Term Health Effects of Neutering Dogs: Comparison of Labrador Retrievers with Golden Retrievers. PLOS One, 2014.
Duerr, F. M. et al. Risk factors for excessive tibial plateau angle in large-breed dogs with cranial cruciate ligament disease. Journal of the American Veterinary Medical Association, 2007.
Torres de la Riva, G. et al. Neutering Dogs: Effects on Joint Disorders and Cancers in Golden Retrievers. PLOS One, 2013.
Baltzer, W. Preventing Injury in Sporting Dogs. ResearchGate Peer Reviewed, 2015.
Nicholas, F. W. Hybrid Vigour in Dogs? The Veterinary Journal, 2016.
Donner, J. et al. Frequency and distribution of 152 genetic disease variants in over 100,000 mixed breed and purebred dogs. PLOS Genetics, 2018.
Hansen, I. et al. Livestock-Guarding Dogs in Norway: Part I. Interactions. Journal of Range Management, 1999.
Dobson, J. M. Breed-Predispositions to Cancer in Pedigree Dogs. ISRN Veterinary Science, 2013.
Ru, G. Host Related Risk Factors for Canine Osteosarcoma. The Veterinary Journal, 1998.
Selman, C. Ageing: It's a Dog's Life. Current Biology, 2013.
Bosak, J. K. Heat Stroke in a Great Pyrenees Dog. The Canadian Veterinary Journal, 2004.
Nap, R. C. The Influence of the Dietary Protein Content on Growth in Giant Breed Dogs. Veterinary and Comparative Orthopaedics and Traumatology, 1993.
Get Pippa's free dog training tips delivered to your inbox