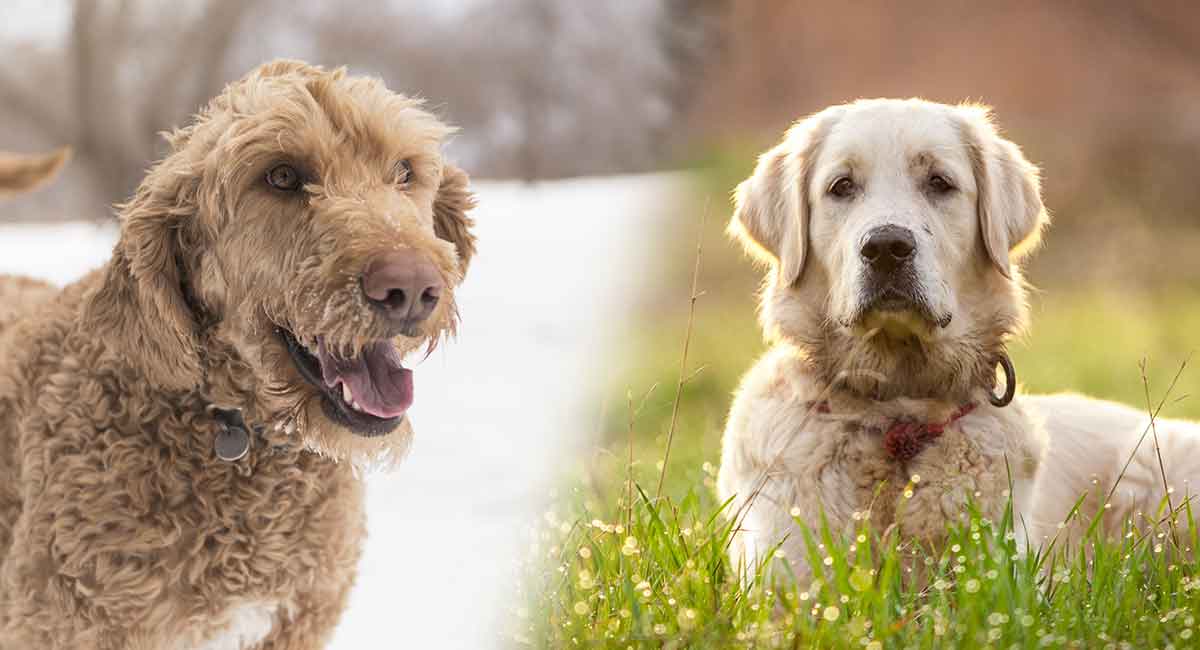 It's the Goldendoodles vs Golden Retriever debate! These breeds are both attractive, intelligent, relatively easy to train dogs.
A Goldendoodle is likely to be slightly smaller than a Golden Retriever, and they might inherit the non-shedding Poodle coat.
Goldendoodles might be more vocal than Golden Retrievers and also more prone to separation anxiety and nervousness.
Goldendoodle vs Golden Retriever
The Golden Retriever is a purebred that is loved the world over. Many of their devoted fans would argue that they are one of the best breeds for families.
Their popularity is so great you would be hard-pressed to find someone who hasn't heard of this beautiful breed!
But, over recent years another breed has been steadily rising more and more in popularity, looking to challenge the throne of the Golden Retriever!
The Goldendoodle is a crossbreed between a Poodle and a Golden Retriever. And they have quickly gained their own set of devoted fans!
So which is better? The purebred or the designer dog? Let's compare the Golden Retriever vs Goldendoodle and see what we can find out!
Goldendoodle vs Golden Retriever History
The Goldendoodle was first bred in 1969 by a breeder named Monica Dickens.
At the time, the Poodle was being used in many different crosses to try and create a breed that could reliably be used as a hypoallergenic guide dog.
While this effort did succeed and the Goldendoodle can be used as a guide dog, many simply fell in love with them at first sight, leading to them steadily becoming a popular companion dog.
What About the Golden Retriever?
As for the Golden Retriever, they have a much longer history than this new kid on the block!
The Golden Retriever was first bred within the 1800s by a man named Dudley Majoribanks. He was looking to breed the ideal gundog for his estate in the Scottish Highlands. One suited to the rough weather and terrain.
After decades of breeding, he developed the Golden Retriever as we see them today. They were first shown at a dog show in the early 1900s. They began to appear in America and Canada for the first time around this date too.
Nowadays, they are used in a variety of roles. But many families keep them as companion dogs.
Goldendoodle vs Golden Retriever Appearance
Despite the fact that Goldendoodles are commonly made up of 25%-50% Golden Retriever genes, they can look significantly different from the purebred!
So let's see how the Goldendoodle vs Golden Retriever appearances compare.
Height and Weight
Goldendoodles are usually bred with Standard Poodles. As opposed to the miniature and toy variations of the Poodle.
This leads to the cross having an average height of around 15-24 inches and an average weight of 40-75 pounds. The exact final numbers vary depending on the Goldendoodle's gender and the size and height of the parent dogs.
The Golden Retriever hits heights of 21-24 inches and can weigh around 55-75 pounds.
As you can see, the Goldendoodle has the potential to be quite a bit smaller than the Golden Retriever!
It's worth noting that miniature versions of both the Golden Retriever and the Goldendoodle do exist. They will be significantly smaller than the ranges given above.
So, Goldendoodle vs Golden Retriever size – which is right for you?
Physical Traits
As for physical characteristics, the Golden Retriever is a symmetrical, well-built dog. They have a strong and straight muzzle and an intelligent but kind expression. Their tail should be fluffy and with a slight curve.
Goldendoodles may have a shorter muzzle and a straighter tail than the Golden Retriever. Liver-colored noses, eye-rims, and lips can also appear, as opposed to the usual black.
The biggest difference you may see between these two breeds is the coat.
Coat and Colors
The Golden Retriever should have a dense coat that may be either straight or wavy with moderate to heavy feathering existing on the back of the legs, underbody, neck, and underside of the tail.
A Goldendoodle may have a coat similar to the Golden Retriever. Or they may inherit the Poodle's naturally corded coat.
As the name hints, the Golden Retriever is commonly a shade of yellow-gold in their coat. The feathering may be lighter than the rest of the coat. But there should be no white or off-color patches.
As the Goldendoodle has been bred with a Poodle, many more colors are commonly seen in their coats.
Here are some colors you can expect to see in this cross!
Yellow-Gold
Blue
Gray
Silver
Café-Au-Lait
Black
Cream
White
Apricot
Goldendoodle vs Golden Retriever Temperament
So how do the temperaments of these two breeds stack up against one another? We will first take a look at the Golden Retriever.
Golden Retriever Temperament
The Goldie is lauded by many to be one of the best dogs for families around. This is due to their cheerful, patient, and accepting nature.
They tend to be very good with kids and other dogs and bond strongly with their owners.
But, no breed is perfect, despite the hype! Golden Retrievers are still not right for every family.
They have a tendency to be quite "mouthy". They love to chew things, carry toys around in their mouths, and in some cases, play bite human hands, limbs, or clothing.
It's important to train this out from a young age, as it can lead to inadvertent injury. Especially when your Goldie grows up and has much stronger jaw strength!
Playful Nature
Another potential issue is that Golden Retrievers can be puppy-like for quite a while; rowdy and extremely playful! They may jump up at people when excited, or generally cause a little bit of mayhem.
For this reason, if you have very young members of your family, it may be better to adopt an adult Goldie than purchase a puppy.
It can be easy for them to accidentally knock a toddler down in excitement. Even though they mean no harm.
Goldendoodle Temperament
As for the Goldendoodle, they may share many of the traits that the Golden Retriever has. But, they may also inherit traits from the Poodle.
This can include barking; some Poodles like to be very vocal! You may need to watch out for this trait in your Goldendoodle and deal with it at a young age if you want to remain in your neighbor's good books!
Some lines of Poodles have problems with anxiety. This may appear in a Goldendoodle as a result.
It can lead to a lot of negative behaviors. So proper socialization from a young age is doubly important to help them overcome their fears.
Which of the Goldendoodle vs Golden Retriever temperaments are right for you?
Goldendoodle vs Golden Retriever Training
As for how easy both breeds are to train and socialize, we have to say it's very even between the two of them!
The Golden Retriever and the Goldendoodle are both intelligent dogs and people-pleasers. They will quickly pick up new commands and generally love to learn!
Positive, reward-based training is perfect for both breeds.
It's very important to thoroughly cover both obedience training and socialization with both of them.
The Golden Retriever and the Goldendoodle both are athletic dogs that can sometimes be a struggle to control physically. So, obedience training is key.
The Goldendoodle can be an anxious dog. They will need extra thorough socialization training to stop this trait from appearing.
Goldendoodle vs Golden Retriever Exercise
Again, this is an area that both breeds are very similar within.
The Goldendoodle and the Golden Retriever are both very energetic breeds. They need a good amount of daily exercise to remain happy.
Both breeds will require 1-2 walks a day and some off-the-leash play on top of this. Fetch is usually a big favorite of both!
A close-by dog park or a good-sized yard is vital for this breed to be able to stretch their legs and run around to their heart's content.
Be sure you have the time daily to properly exercise these breeds before getting one! Not exercising them enough will lead to negative behaviors and simply isn't fair on the dog.
Goldendoodle vs Golden Retriever Health
As the Goldendoodle shares a significant amount of genetic information with the Golden Retriever, they are at risk for many of the same genetic conditions.
Health problems common to both include:
Hip and Elbow Dysplasia – a developmental disorder of the hip and/or elbow joint, leading to painful arthritis from a young age
Aortic Stenosis – A narrowing of a valve within the heart means it must work harder, increasing the risk of dangerous complications
Bloat – A very serious condition where the stomach fills with gas and then distends
Cataracts – Clouding of the eye lens leading to vision loss
Progressive Retinal Atrophy – A progressive eye condition that leads to blindness at a young age
Pigmentary Uveitis – Another genetic condition that can lead to blindness in senior dogs via chronic inflammation
Epilepsy – Tendency to experience seizures
Von Willebrand's Disease – Blood clotting disorder that leads to excessive bleeding from minor injuries.
As you can see, there is sadly quite a lot of serious health conditions that both the Golden Retriever and the Goldendoodle are at a higher risk for.
Which Breed is Healthier?
So which is the healthier of the two breeds? Well, it can be hard to say with confidence.
They both share a lot of genetic health problems. But, a study performed in 2013 found that in general crossbreed dogs tend to live longer than their purebred counterparts.
This is thought to be due to increased genetic diversity, which has been shown to correlate with better health. For more information, check this link here.
We can possibly see this effect in the average lifespans of the two breeds. The Golden Retriever is said to have a lifespan of 10-12 years. While the Goldendoodle is said to have a lifespan of 10-14 years.
Due to this reason, you could make the argument that the Goldendoodle is the healthier one of the two. But, this would just be conjecture.
Studies on Health
There are no studies comparing the general health of these two breeds in detail to fully prove such a statement.
So, until more studies are performed, we will have to estimate that neither breed is significantly healthier than the other.
Regardless, it is incredibly important that you buy any puppies of either breed from a reputable and trustworthy breeder who can prove the genetic health of the parent dogs.
Many of the health issues outlined above can be avoided with good breeding practices. So, looking for a breeder you can trust should be your top priority as it gives you the best chance of receiving a healthy puppy, regardless of which one you choose.
Feeding and Grooming
As for feeding, both dogs will do well on high-quality dog food. Ensure that they are getting all the nutrition they need each day. A vet can help devise a diet plan if you are unsure about this!
So what about Goldendoodle vs Golden Retriever grooming?
Grooming wise, the Goldendoodle requires a lot more daily work than the Golden Retriever. On the other hand, Golden Retrievers shed a lot more!
Goldies will require brushing once or twice a week. But during shedding season this may become more of a daily affair.
Goldendoodle's will either need a thorough brushing of their corded coat each day to prevent matting or a trim every few months to keep the coat in a more manageable state. The trim can be performed by professional groomers or yourself if you know what you are doing!
Finally, both breeds will require frequent trimming of the nails and their teeth brushed regularly.
Which Breed Makes a Better Pet?
So, Goldendoodle vs Golden Retriever. After all that information and research, which breed is the better pet?
Well, not to be a cop-out, but I believe we may have to call this one a draw!
They are very even on a lot of aspects, from their temperament to their health issues. The biggest differences between the Goldendoodle vs Golden Retriever lie in their size and grooming requirements.
So, we'd say the Goldendoodle makes a better fit for those who are looking for a dog on the smaller side but are able to deal with the potentially high upkeep of their coat. For more insight into this mix, check out our guide to a 1 year old Goldendoodle.
On the other side, the Golden Retriever is great for those who have space for a bigger dog and have less time to deal with large grooming needs.
Goldendoodle vs Golden Retriever – Which is Best for You?
Both breeds can make for a fantastic family pet. But, they are both at risk for serious health conditions. Plus, they can be quite troublesome while they are still young.
For that reason, we'd recommend maybe taking a look at rescuing an adult dog. This way, you can avoid that puppy exuberance and potentially the risk of severe health conditions too.
Goldendoodle vs Golden Retriever. Which of these breeds do you feel is the best? Let us know in the comments below!
More Comparison Guides
If you've loved the Goldendoodle vs Golden Retriever guide, we've got plenty of other great reads for you.
Take a look at some of our other breed comparisons below:
References and Resources
Get Pippa's free dog training tips delivered to your inbox