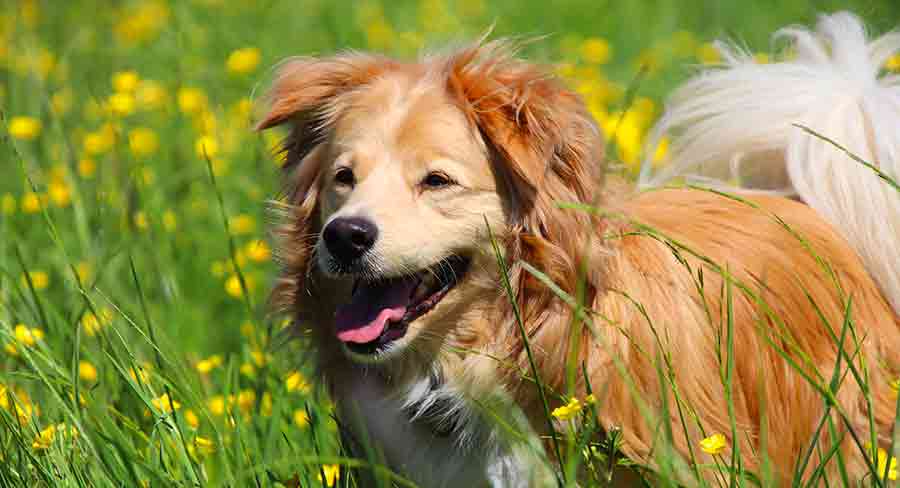 Golden Retriever mix puppies are among the most sought after designer dogs. They mix one Golden Retriever parent with another purebred dog. Such as the popular Goldendoodle.
Goldens have gentle and people-loving personalities. So, they're a popular mixed breed parent. Crossing Goldens with another breed tries to harness desirable qualities from the other breed too.
It might be something in their temperament, a more low maintenance coat, or a difference in size.
In this article, we take a look at some of the most appealing, successful, and unexpected Golden Retriever hybrids.
Golden Retriever Mix Dogs
You can use these links to jump to the Golden mixes which most interest you, or prove your Golden fan status by reading about them all!
Of course, one of the best known things about designer dogs is their mashed-up names.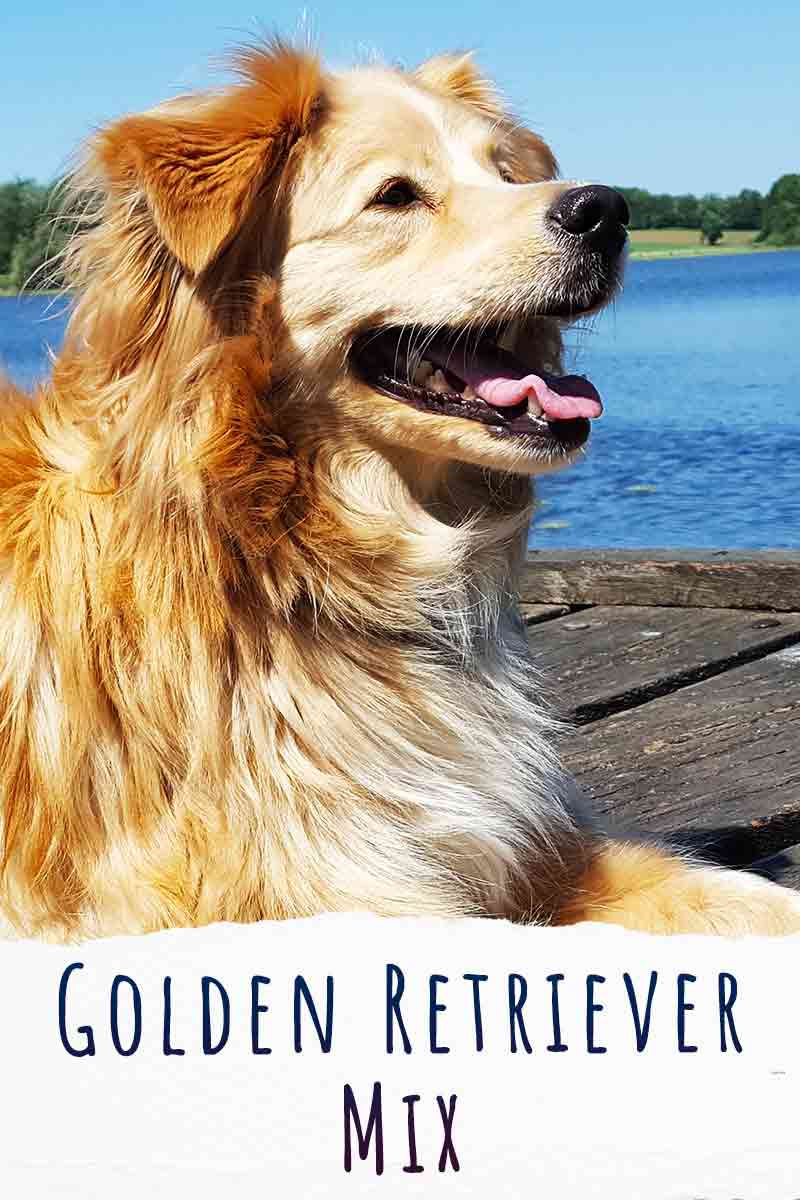 So can you guess what some of these Golden Retriever mix breeds are known as before you get to them?
Let's start with the Golden Retriever cross Labrador.
1. Labrador Retriever Golden Retriever
A.K.A. Goldador
The Labrador Retriever Golden Retriever mix combines two similar gun dog breeds.
The Golden and Labrador Retriever breeds were both started in Scotland. They were bred by wealthy landowners who wanted dogs to fetch waterfowl and other game on shoots.
Physically, and in terms of temperament, Labs and Goldens are very similar.
So we can say with confidence that a Goldador will be a large dog weighing 60-80lbs. And they will have a thick double coat to protect them from cold winds and icy water.
The length and color of their coat will depend on which parent they most take after.
Both of their parents are athletic, intelligent and eager to engage with humans. So, Goldadors are sure to be too.
2. Pitbull Golden Retriever
Our next Golden Retriever hybrid is a little harder to predict.
Pitbulls have a divided reputation. Some people still associate them with blood sports and bad breeding. Whilst others champion modern Pitbulls for being soft, goofy, and loving.
A Golden Retriever Pitbull mix is likely to be similar in size or a little smaller than a purebred Golden.
Possible advantages of this hybrid are:
A coat which is shorter and easier to manage than a purebred Golden.
A playful, loyal, and affectionate temperament which is similar to a purebred Pitbull, but without the negative reactions Pitbulls often receive in public.
However, they might also be prone to dog-directed aggression. So careful early socialization is vital.
You can read more about the Golden Pitbull mix in our detailed review here.
3. German Shepherd Golden Retriever
A.K.A. Golden Shepherd
German Shepherds and Golden Retrievers are the 2nd and 3rd most popular purebred dogs in America, respectively.
So it's not surprising that GSD Golden mix dogs have a lot of interest.
Goldens are famous for being friends with everyone. But German Shepherds have a long history as herding and guarding dogs. So, they're more wary and reserved around unfamiliar people.
Golden Shepherds can take after either parent in this regard. Or sit somewhere in between.
What you can be sure of is that their own unique personality will come inside a large 60-80lb dog, with a fabulous coat that sheds like nothing else.
4. Corgi Golden Retriever
The next of our Golden Retriever mixes is the Golden Corgi hybrid.
It's often said that Corgi mixes look like Corgis in fancy dress as the other breed.
That's because Corgis carry a genetic mutation for dwarfism. If their mixed breed offspring inherit it, they will have the same short Corgi legs.
Corgis are another herding breed. So, Golden Corgi puppies might also have a strong herding instinct.
This means they might chase smaller pets and even small children, and even nip at their ankles to round them up. They might also have difficulty relaxing at home if their human family isn't all together.
You can find out more about owning and living with a Golden Retriever Corgi mix dog, here.
5. Golden Retriever Australian Cattle Dog
A.K.A. Golden Heeler
Goldens and Australian Cattle Dogs – also known as Blue Heelers – are both blessed with gorgeous coats. But for very different reasons.
Blue Heelers have short coats with distinctive speckling on a blue or red background.
Golden Heelers can look more like either parent. There can even be very different looking puppies in a single litter.
In terms of temperament, Goldens are clever. But Blue Heelers are ultra smart.
So this Golden Retriever mix breed is likely to excel at obedience, field work, and other complex training activities.
In fact, their need for mental stimulation can easily overwhelm a novice dog trainer. This mix is best suited to experienced trainers, with a lot of time for their dogs.
6. Siberian Husky Golden Retriever
A.K.A. Goberian
Here's another Golden Retriever mix which might not be for the faint hearted, but has a lot to recommend it.
Goldens and Huskies are both:
similar in size
athletic and love acting as hiking buddies and running companions
easy going and affable
and proud owners of thick, medium length, high-shedding coats.
So Goberians will be reliably the same again.
But whilst both breeds are intelligent, Huskies can be harder to train. They're also famous escape artists and mischief makers.
Take a look at our complete Goberian guide, to find out if you're ready for this mix.
7. Poodle Golden Retriever
A.K.A. Goldendoodle
Poodle crosses are amongst the most desirable designer dogs, due to their non-shedding coat.
But, it's important to bear in mind that:
Non-shedding does not equal hypoallergenic. Dogs produce allergens in their saliva, not their fur.
Non-shedding doesn't mean low maintenance either. Non shedding coats need to brushed several times a week, and clipped regularly.
And finally, Goldendoodles can also inherit the shorter, shedding coat of their Golden parent rather than the non-shedding Poodle coat anyway.
Coat aside, Poodles are another breed traditionally used for retrieving waterfowl.
So, Goldendoodles are likely to be keen swimmers, and enthusiastic participants in training games.
They might also be less confident around new people than a pedigree Golden, if their temperament takes after their Poodle parent.
8. Miniature Poodle Golden Retriever
A.K.A. Mini Goldendoodle
The Golden Retriever is a large dog. One popular reason for breeding Golden Retriever hybrids is to harness some of their wonderful qualities in a more compact canine.
Smaller dogs are attractive because they take up less space, need less food, and remain easier to pick up for their whole lives.
Mini Goldendoodles are Golden Retrievers crossed with Miniature Poodles.
They have similar pros and cons to standard Goldendoodles. But since Mini Poodles weigh less than 20lbs, mini Goldendoodles are often much smaller.
You can find out more about their looks, health and temperament in this article.
10. Golden Retriever Dachshund
A.K.A. Golden Dox
Another pint-sized Golden Retriever mix breed is the Golden Dox.
Like Golden Corgis, Golden Doxes may inherit a form of dwarfism from their Dachshund parent, giving them distinctive short legs.
They might also inherit the Dachshund's long face and even longer back. But, this long back is linked to an increased risk of painful intervertebral disc disease.
Golden Retrievers and Longhair Dachshunds have similar coats. But of course, when they mix, the grooming needs of their puppies will be much smaller in scale compared to a pedigree Golden Retriever.
Dachshunds can also have short- and wire-haired coats, which may be reflected in the coats of Golden Dox puppies.
You can read more about their looks and health, as well as details about their personality, in our complete guide to Golden Doxes.
11. Golden Retriever Chihuahua
A.K.A. Golden Chi
One of the smallest and most surprising Golden Retriever mixes is the Golden Chi.
The tiny Chihuahua never weighs more than 6lbs in show condition. Although pet Chis might be a bit larger.
Which still makes it barely one tenth of the size of a Golden Retriever!
For this reason, Golden Chi litters are usually achieved by artificial insemination. The Golden Retriever should always be the mom, since carrying the puppies of such a large hybrid would be very dangerous for a Chihuahua dam.
Chihuahua temperament is very different from Golden Retriever personality. Chis are one of the breeds (alongside Dachshunds) most likely to exhibit dog-directed and stranger-directed aggression.
They are also prone to separation anxiety, and are very vocal.
If you commit to raising a Golden Chi puppy, you won't know until they are grown up which characteristics they've inherited from each parent.
9. Bernese Mountain Dog Golden Retriever
A.K.A. Golden Mountain Dog
Whilst lots of Golden mix dogs are designed to capture the charm of a Golden Retriever in a smaller package, some people want the opposite – bigger Goldens!
Bernese Mountain Dogs weigh up to 120lbs. So Golden Mountain Dogs are typically very large or even giant dogs.
Berners are beloved for being placid, good natured dogs. A Golden Mountain Dog might be as calm as a Berner, or keep some of the Golden Retriever's high energy.
Unfortunately, dogs' life expectancy tends to decrease as they get larger. Bernese Mountain dogs only live for 8 years on average, compared to the Golden Retriever's 12. And a Golden Mountain Dog's lifespan might reflect this.
Very large dogs are also more prone to joint diseases including hip and elbow dysplasia too.
So only ever buy a puppy from health tested parents.
12. Golden Retriever Cocker Spaniel
A.K.A. Golden Cocker Retriever
We've got one last Golden Retriever mix left on our list. And it's a real cutie.
The Golden Cocker Retriever combines a Cocker Spaniel and a Golden Retriever.
This mix has a lovely flowing coat. It often weighs between 40 and 50lbs, and combines two clever, trainable breeds.
In the United States, Cocker Spaniels are companion dogs. But English Cocker Spaniels are still popular working dogs, and it shows in their intelligence and energy levels.
So make sure you're clear which Cocker has been used to create this Golden Retriever mix.
For more information, visit us here.
Is A Golden Retriever Mix Right For You?
Golden Retrievers are enduringly popular dogs.
They've held a top three place in the AKC's most popular breeds list for several years because they're good all-rounders, and fit well into lots of different kinds of homes.
If you're interested in a Golden Retriever mix puppy, think about what qualities you're hoping they will take from each parent. And how you'll feel about them if it doesn't turn out that way.
The more different from a Golden the other parent breed is, the more potential there is for variety in their puppies.
Whilst puppies from a Golden and a very similar breed, like a Lab, are more likely to turn out how you'd expect.
Which Is Your Favorite Golden Retriever Mix?
Let us know in the comments box down below!
Readers Also Liked
References
Get Pippa's free dog training tips delivered to your inbox